Expect The USWNT And Canada To Go All Out With An Olympic Berth On The Line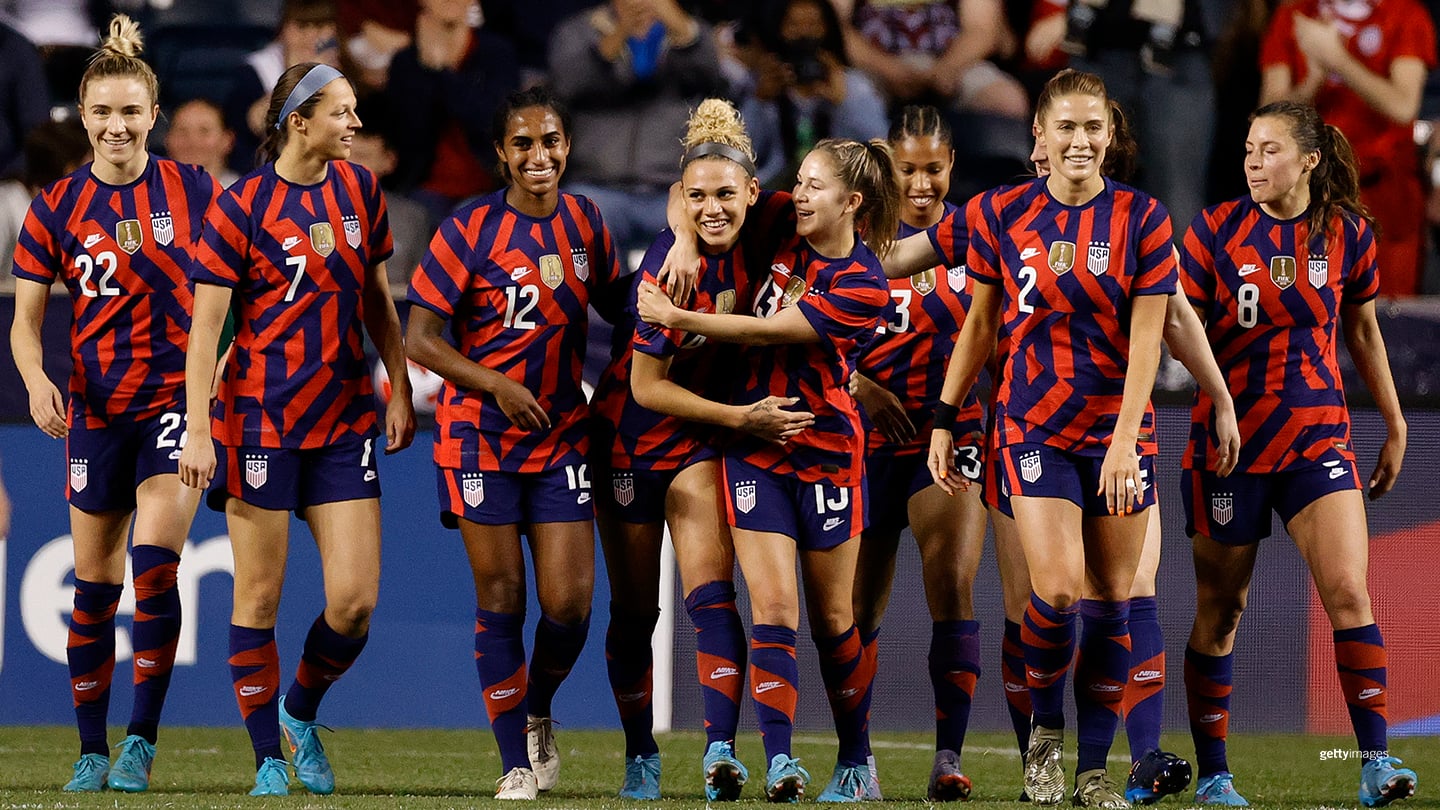 The USWNT celebrate a goal by Trinity Rodman during the second half in a friendly against Uzbekistan on April 12, 2022 in Chester, Penn.
From the start of the Concacaf W Championship, an eventual final between the U.S. and Canada appeared likely.

They are the two best teams in the region — U.S. is No. 1 and Canada is No. 6 in the FIFA rankings — and they've been playing like it so far in the competition between teams from North America, Central America and the Caribbean.

Statistically, the squads are dead even so far. Both teams are undefeated and have not allowed a goal in the competition. Both sides finished 3-0-0 in group play, outscoring their respective opposition 9-0. In the semifinals, both sides recorded 3-0 triumphs, the U.S. over Costa Rica and Canada past Jamaica.

Now the heavily anticipated final is set to take place tonight at 10 p.m. ET in Monterrey, Mexico, where the winner will have the unique opportunity to qualify for the Olympic Games Paris 2024, two years before the event kicks off. The losing side will meet the third-place team in Monterrey for the second Concacaf Olympic berth at a time to be determined.

Until the game kicks off tonight, the Canadians have the upper hand in the rivalry because of their win over the U.S. at last year's Olympic Games Tokyo 2020. After Canada defeated the Americans 1-0 in the semifinals, it went on to win gold over Sweden; the U.S. settled for bronze.

U.S. coach Vlatko Andonovski said that Olympic defeat is rarely talked about by his team.

"We haven't really talked about it a lot," Andonovski said on a Sunday morning virtual press conference. "Probably one of the reasons why is because if you look at the group of players that is here, I don't know if there's more than four or five players that were on the field in that game. I haven't really looked into it a little bit deeper, but that's probably one of the reasons why the players are not talking about it."

For the record, seven current U.S. players competed in that match — goalkeeper Alyssa Naeher, who was replaced in the 30th minute after suffering a knee injury; defenders Becky Sauerbrunn and Kelley O'Hara; midfielders Lindsey Horan and Rose Lavelle; and forwards Alex Morgan and Megan Rapinoe. Defender Emily Sonnett was also in the squad but did not play.
Canada head coach Bev Priestman has been observing the U.S. closely since last year's Olympics and notices some slight differences in its approach to the game.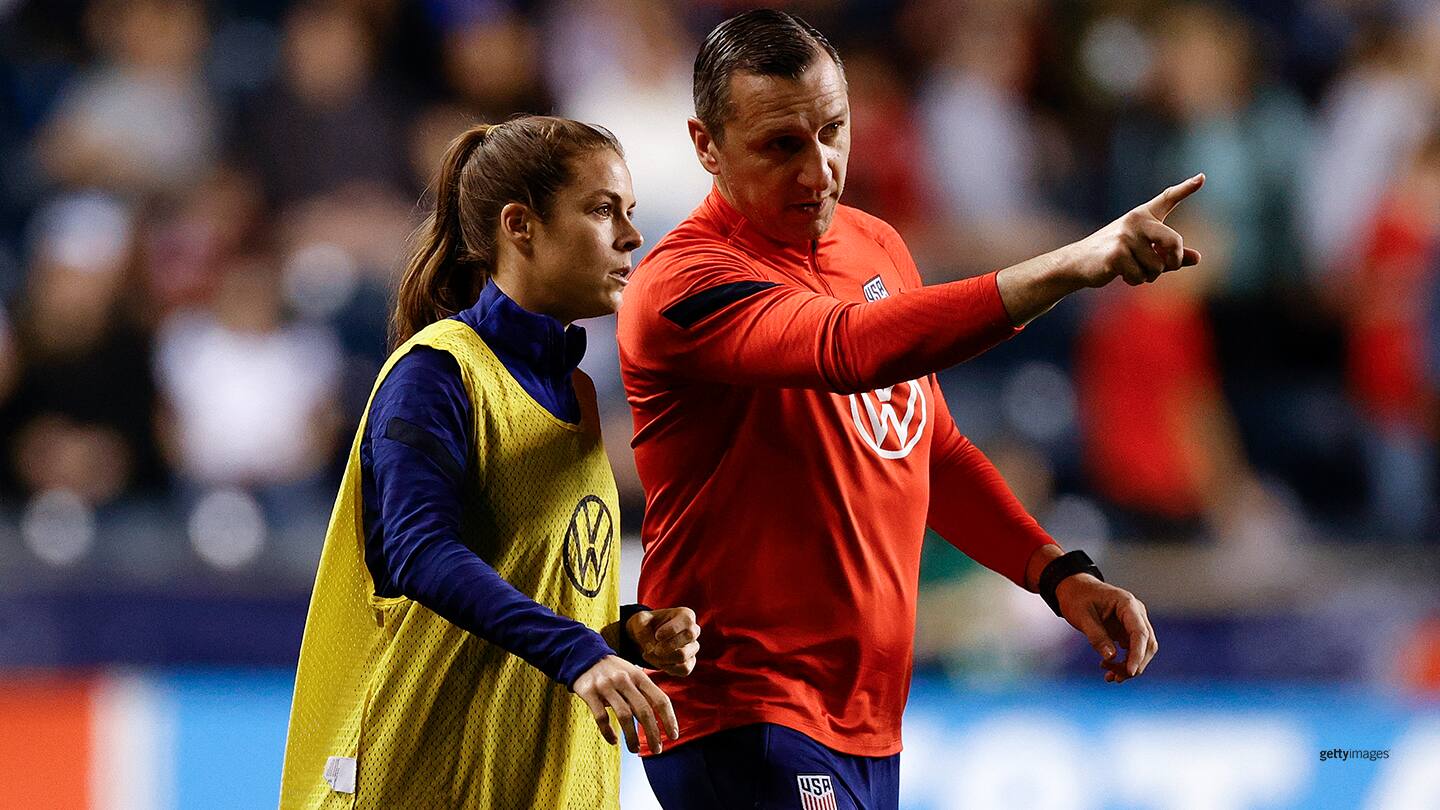 (L-R) Kelley O'Hara and manager Vlatko Andonovski speak on the touchline in a friendly against Uzbekistan on April 12, 2022 in Chester, Penn.
"You look at the team and how they've evolved since we last played in Tokyo," Priestman said. "They've changed in some ways. I think most of the goals used to come in the first 15 minutes. Now they look to finish games strong and score most of the goals in that part of the game. I think they're evolving. They look hungry, but what I would say the style of the team hasn't changed dramatically. I think that the tendencies and trends are still the same."

Andonovski said he used that semifinal defeat and other suboptimal performances to improve the team.

"I look at losses, at every failure a little bit deeper and I will use that as a learning opportunity going forward, whether it's against Canada or any other national team that we're facing," he said.

The Canadians? They don't plan on living in the past.

"We won't rest on what we did in Tokyo," Priestman said. "I thought we really took it to them in Tokyo. I think there's a new mindset of this Canadian team. ... It has given the players a level of confidence, but not a level of arrogance."

Historically, the U.S. leads the all-time series 51-4-7, while outscoring Canada 181-40. But both teams are about as even as possible heading into this matchup.

Andonovski doesn't think there are any surprises left between the two teams given the familiarity they have with one another.

"Nothing that we saw from Canada has surprised us so far," Andonovski said. "I think that their qualities are very well known. I mean, they're very good team, very organized, disciplined, attacking minded. I'm sure we know a lot about them, and they know about us. There are not many secrets. We're excited to get on the field tomorrow and compete."

The Americans and Canadians have both been the aggressors in their games thus far, attacking heavily against teams who played in a low block while keeping many players behind the ball. On Monday, both teams are expected to go out and attack, which could make for the best match of the competition.

While Priestman is focused on leading her team to victory, she's also aware of the spectacle this could be for neutral fans watching.

"It'll be the game we expect," she said. "I think it'll be getting the best out of both teams. I think for any player, world-class player or a coach, these are the games that you live for. These are the games that where you have to bring your absolute best and to get a result and that anything can happen on the day. But I think it will be what we expect it to be, which is a fantastic game of football, where both teams will do anything to secure that Olympic spot."
Michael Lewis, who covers soccer for Newsday, has written about the sport for four decades and has written six books about soccer. He is a freelance contributor to TeamUSA.org on behalf of
Red Line Editorial, Inc.