Shilese Jones Leads Strong U.S. Showing To Open Gymnastics World Championships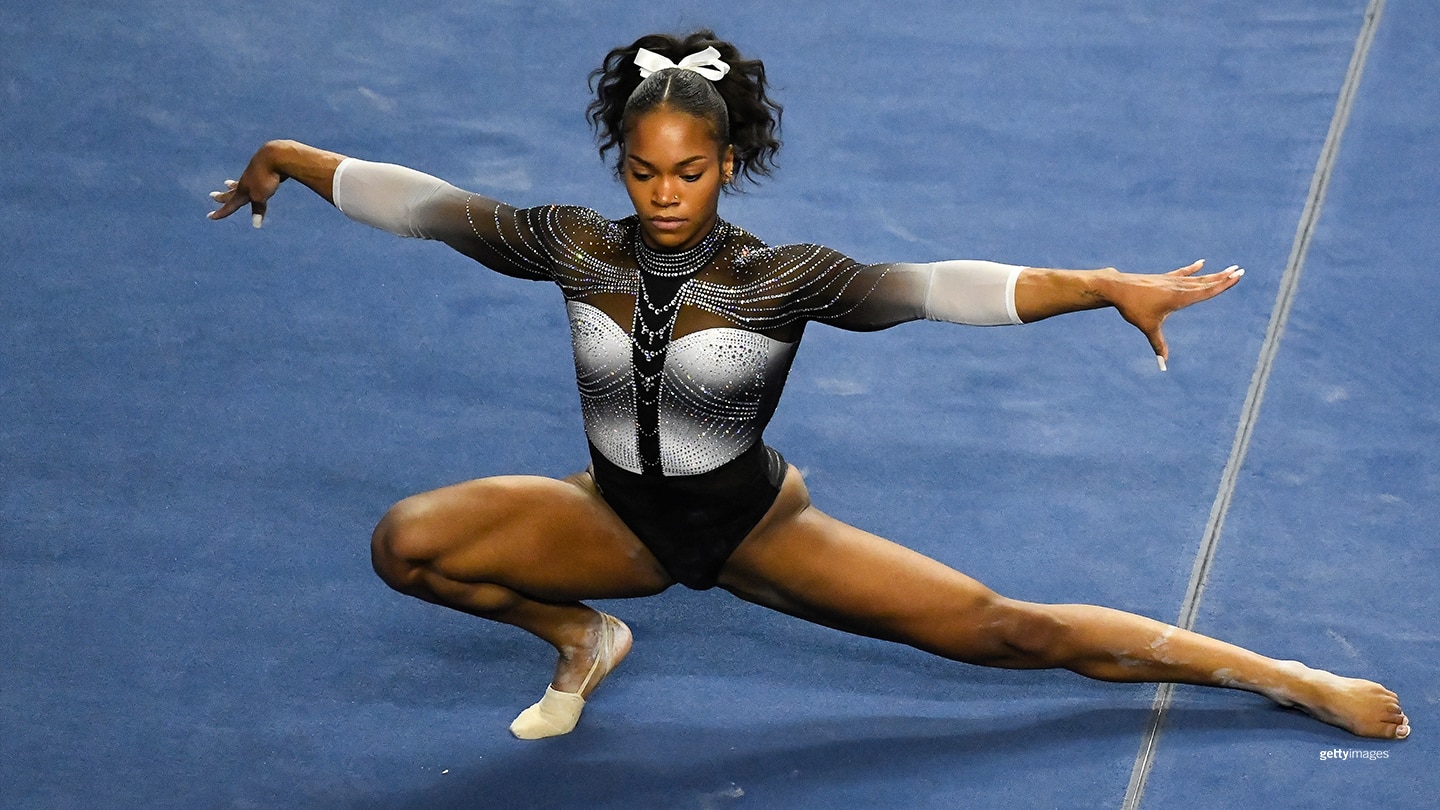 Shilese Jones competes during the women's floor routine at the 2022 U.S. Classic on July 30, 2022 in West Valley City, Utah.
Two months after finishing as runner-up at the U.S. championships, Shilese Jones posted the second-best all-around score while leading the American women to the top score in the qualifying round of the World Gymnastics Championships this weekend in Liverpool, England.

Jones, a 20-year-old who almost gave up elite gymnastics after falling short of last year's Olympic team, has been one of the sensations so far in this condensed 2024 Olympic quad, and now she has the potential to win as many as three medals in Liverpool. In total, U.S. gymnasts earned eight spots in the individual all-around and event finals later this week.

In qualifying, each team fields four gymnasts per apparatus, with the top three scores counting for the team event. Individually, the top 24 all-arounders and top eight in each event advance to finals, though with a maximum of two per country.

The U.S. competed in the first of 10 subdivisions on Saturday, then had to wait for everyone else. When all was said and done Sunday, the Americans' score of 167.263 held up for first, more than 2.5 points ahead of Great Britain (164.595).

The Americans will go for their sixth consecutive world title in the team final on Tuesday. Jones, Skye Blakely, Jade Carey, Jordan Chiles and Leanne Wong make up the U.S. team.

Chiles, a 2020 Olympic silver medalist, returned to elite gymnastics this summer following her freshman season at UCLA, and through three rotations in qualifying appeared to be on her way to the all-around finals. However, two falls on the balance beam in the final rotation dropped her behind Jones and fellow 2020 Olympian Carey.

Jones' score of 55.766 held up for second place behind Brazil's Rebeca Andrade (57.332), while Carey scored 55.132 to also advance to the all-around finals in third place. Chiles' score of 53.998 put her in ninth place and she was not eligible for the finals due to the two-per-country rule.

Carey also qualified for the all-around finals at the Olympic Games Tokyo 2020, where she finished eighth. Formerly considered more of a specialist on floor exercise and vault, Carey qualified for finals in both of those as well.

The reigning Olympic floor champ, Carey scored 14.066 in qualifying to place fifth, while her two-vault average of 14.483 ranked first. Like Chiles, Carey is back in elite gymnastics after competing in college last season for Oregon State.

Though Chiles will miss out on the all-around final, she still advanced to two event finals. She posted the second-best score on floor exercise (14.100) but was slotted fourth due to tie-break rules, and was second to Carey on vault (14.316).

Jones, meanwhile, is in the uneven bars finals after scoring 14.566, good for fifth place, in qualifying. She is a reserve for the beam finals with a score of 13.200.

Rounding out the American event finalists is Blakely, whose score of 13.733 on balance beam held up for second place.

Men's qualifying is set for Monday, followed by the women's and men's team finals the next two days, and then the women's and men's all-around finals. The world championships conclude with the individual event finals next weekend.
Chrös McDougall has covered the Olympic and Paralympic Movement for TeamUSA.org since 2009 on behalf of
Red Line Editorial, Inc.
He is based in Minneapolis-St. Paul.