Shilese Jones' Star Turn Puts Her In Pole Position Going Into Day 2 At Gymnastics Nationals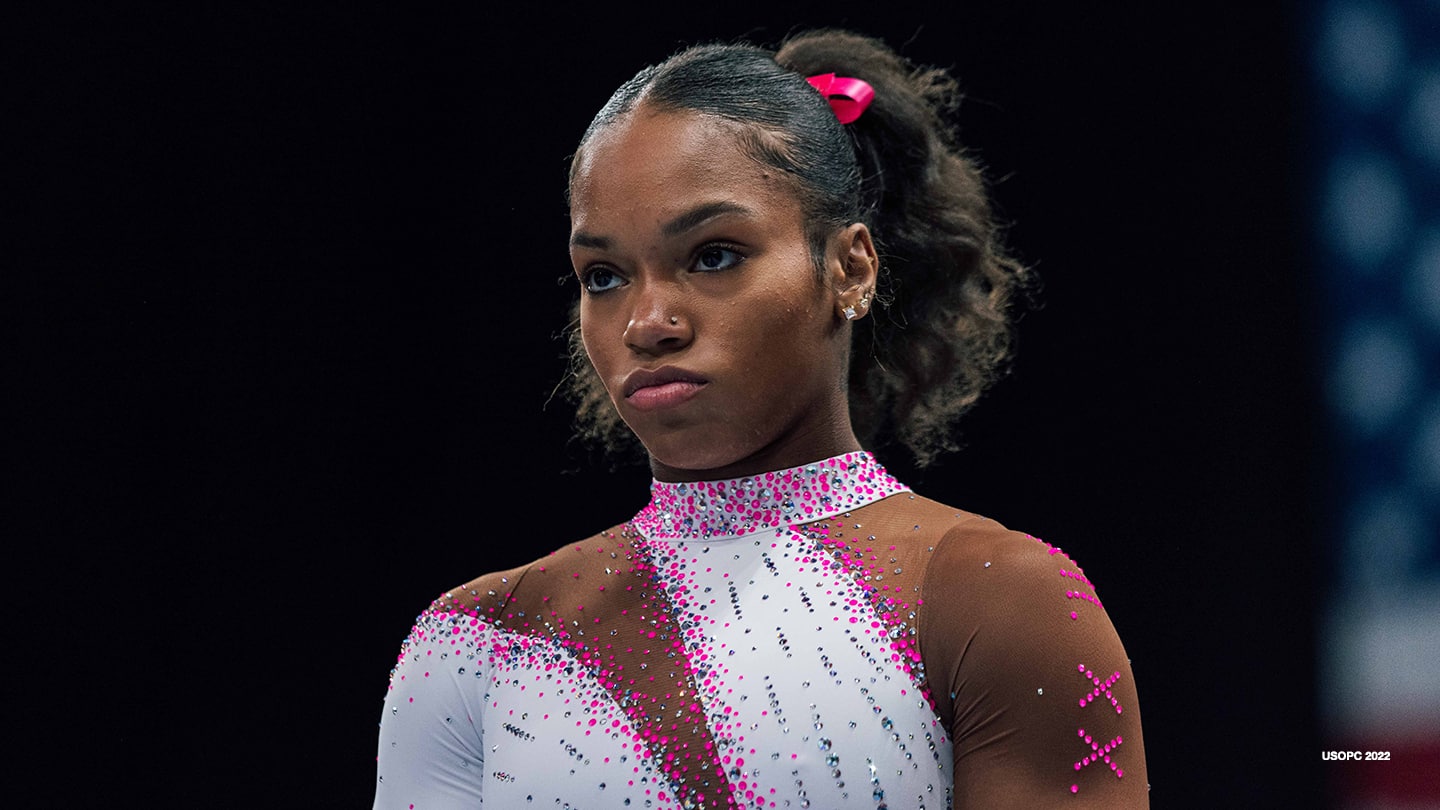 Shilese Jones prepares to compete in the women's balance beam at the 2022 U.S. Gymnastics Championships on Aug. 19, 2022 in Tampa, Fla.
TAMPA, Fla. – More often than not, when Shilese Jones answers a question the first word out of her mouth is absolutely.

The word just naturally comes out.

Remove the literal translation, though, and the word is a projection of confidence.

So when the 20-year-old gymnast is asked whether, after a year of heartbreak and tragedy and, ultimately, fortitude, she could have written a better script for her return to the national championships, the beginning of her response makes even more sense.

"Absolutely," she said Friday, after posting the top score of 57.200 on night one of the OOFOS U.S. Gymnastics Championships in Tampa, Florida.

"I've been dreaming about it, and I knew it was possible," she continued. "Anything is possible."

Coming into the first U.S. championships in the post-Simone Biles era, upwards of six women entered with a realistic chance of winning the all-around title. Two are Olympians, one of them a gold medalist. Two others reached the all-around podium at last year's world championships, while another yet was a teenager identified years ago as a star in the making for the 2024 Olympic quad.

Yet, at least on this night, it was Jones who not only came out on top but did so emphatically.

It started with her thunderous uneven bars routine that scored 14.850 — the highest score on any event. Performing with the poise of a superstar, she dazzled through the night, also posting the highest-scoring floor exercise (14.100) and vault (14.550), while ranking third in balance beam (13.700).

This was the same Jones who was devastated last July to miss out on the 2020 U.S. Olympic Team, then heartbroken in December when her father, Sylvester, died following a long battle with kidney disease.

Long content in her plan to take one real shot at the Olympics in 2020, then embark on an NCAA career at Florida, Jones changed her mind after her dad died. Encouraged by other gymnasts to keep going, she moved from her training base in Ohio back home to the Seattle area earlier this year. Her start date at Florida is now set for fall of 2024 — after the Olympic Games Paris 2024.

Jones has a long way to go, with the next test coming Sunday in night two of the U.S. championships. Scores from both nights are combined to determine the national champions.

"I'm just really proud and really thrilled to be in this position," she said.
In recent history, the women's leader on the first day of the U.S. championships has always gone on to win the all-around title. The last gymnast to come back from a deficit to win the title was 2008 Olympian Bridget Sloan, who went from third to first in 2009.

A talented group will be nipping at Jones' heels Sunday.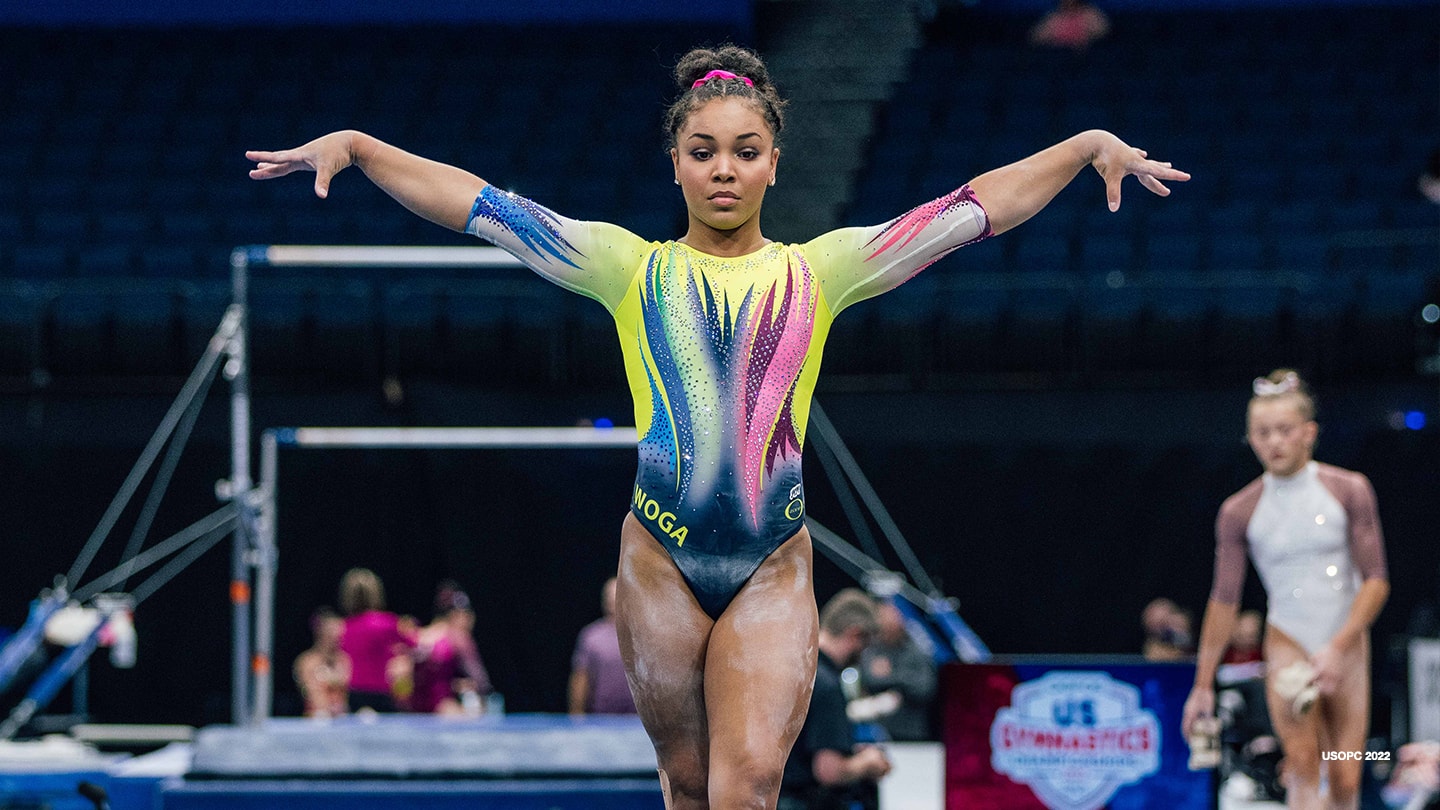 Konnor McClain competes during the women's floor exercise at the 2022 U.S. Gymnastics Championships on Aug. 19, 2022 in Tampa, Fla.
Konnor McClain finished less than a point behind Jones on day one, and she did so while performing at only 75 percent, by her estimation. The 17-year-old from West Virginia had long been pegged a star-to-be in the sport, and she finally got to show it, starting with a confident beam routine that scored 14.800, which held up to tie for the second-best score across all events, trailing only Jones' bars.

McClain and Jones were tied after three rotations before McClain ended with her one shaky performance of the night, which came on bars. She trails Jones by less than a point with a day one score of 56.400.

Following a tumultuous year and a half in which she too lost her father while also upending her training plan, switching to a new gym halfway across the country and battling injuries, the performance was a relief.

"It's really like a thank god moment," she said. "It's just so nice. Honestly I couldn't be prouder of myself for getting here and doing the job I did today."

Jordan Chiles (56.150), Kayla DiCello (55.950), Jade Carey (55.650) and Skye Blakely (54.700) all remain in striking distance of podium spots. Among the top six, only Blakely registered a major mistake on Friday when she fell off the beam in her first rotation.

Cumulatively, it was a remarkably strong showing, especially for a post-Olympic year when many gymnasts are new to this stage of competition, ironing out elements for the coming years, or both.

Chiles and Carey are the two returning Olympians in the field, and both are coming off strong freshman seasons on the college level — Chiles for UCLA, Carey for Oregon State.

Chiles, 21, was part of the silver-medal U.S. team in Tokyo. Coming into Tampa she wasn't sure if she'd compete on bars, but she ended up with the second highest score of the night on that event at 14.250. Performing to roaring cheers from the crowd all night, she ended with top-four scores across all four events.

"It honestly went better than I thought it was going to go. Not going to lie," Chiles said. "I just wanted to come into this competition just hitting four-for-four honestly, and that's what I did."

Carey, 22, is coming off an Olympic gold medal on floor exercise (she competed in Tokyo as an individual), and she proved strong especially on her two key events. Her Cheng vault scored 14.800 to easily top those standings, while her 14.100 on floor trailed only Jones.

"Obviously it wasn't a perfect day, but I'm proud of the routines that I put together today," she said.

Eighteen-year-old DiCello, coming off an all-around bronze medal at last year's world championships, was herself solid with top-five scores on bars, beam and floor.

Her world championships teammate, Leanne Wong, was expected to be among the contenders in Tampa as well. She's coming off an all-around silver and floor exercise bronze medal at the world championships, as well as a successful freshman season at Florida. However, Wong appeared to land awkwardly on her beam dismount and withdrew from the final two rotations Friday. Her status for Sunday is unclear.
Chrös McDougall has covered the Olympic and Paralympic Movement for TeamUSA.org since 2009 on behalf of
Red Line Editorial, Inc.
He is based in Minneapolis-St. Paul.