In A Wide-Open Women's Field, Gymnasts Begin A Post-Biles Era At U.S. Championships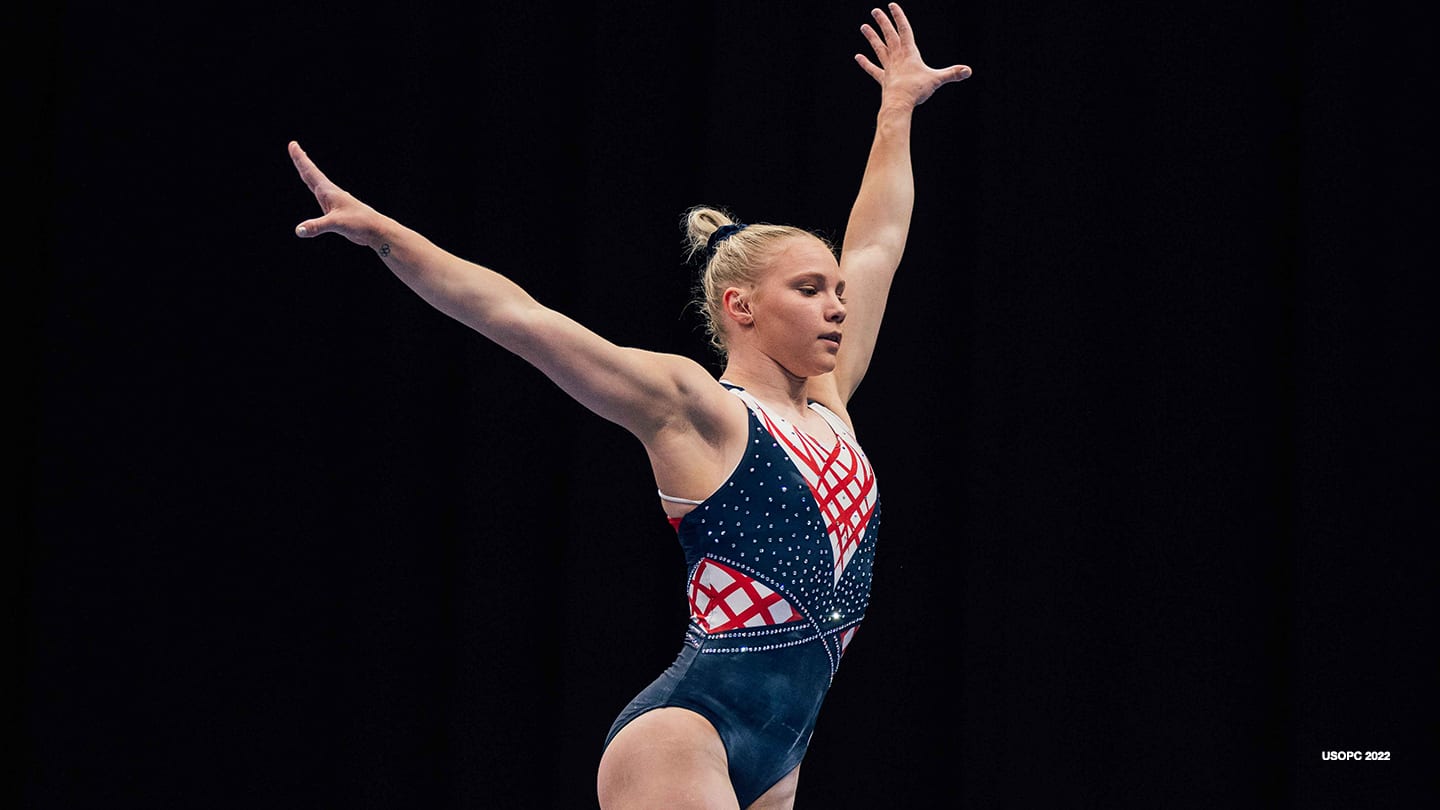 Jade Carey during women's podium training at the 2022 U.S. Gymnastics Championships on Aug. 17, 2022 in Tampa, Fla.
TAMPA, Fla. – When the final woman dismounts Sunday to close out the OOFOS U.S. Gymnastics Championships, no one's quite sure what to expect.

It's been a while.

In recent history, a 4-foot-8 cloud has cast a shadow over the competition. As long as Simone Biles was competing — and her peers readily admitted this — everyone else knew they were going for second place. At least in the all-around. But really, Biles' combination of difficulty and execution was so high that she was all but a lock to win vault, and in most years floor and beam, too. Heck, she even won a national title on bars in 2018.

With the most decorated gymnast of all time having stepped away from the sport following the Olympic Games Tokyo 2020, the 20 women competing at this year's nationals in Tampa, Florida, find themselves in a unique position.

Not only has Biles' absence opened up the race for national titles, but the competition is also wide open.

The women's event takes place Friday and Sunday nights at Amalie Arena, with scores from both competitions being combined to determine the national champions. At least a half-dozen women enter with a reasonable chance to win the all-around title. More still are jockeying for position on the five-woman team that will compete at the world championships in October in Liverpool, England.

Since Biles debuted in 2013, only one other woman has achieved that: Regan Smith won in 2017, when Biles sat out as part of her post-Olympics hiatus.

Jade Carey could be in the driver's seat.

The reigning Olympic floor exercise champion is the most decorated gymnast in Tampa — she also has four medals from the world championships. At 22, she's coming off a fruitful freshman year at Oregon State and brings some of the most difficult routines.

Originally known as mostly a floor and vault specialist, Carey has developed into a strong all-arounder and made the Olympic final in Tokyo, ultimately finishing eighth.

"That was the point where I was like, I'm going to make it back here again and do even better," she said.

Her Olympic teammate Jordan Chiles, who was a member of the silver-medal U.S. team (Carey competed as an individual), is also back, as is Leanne Wong, who went to Tokyo as a U.S. alternate, then a few month later returned to Japan for the world championships and won all-around silver and floor exercise bronze.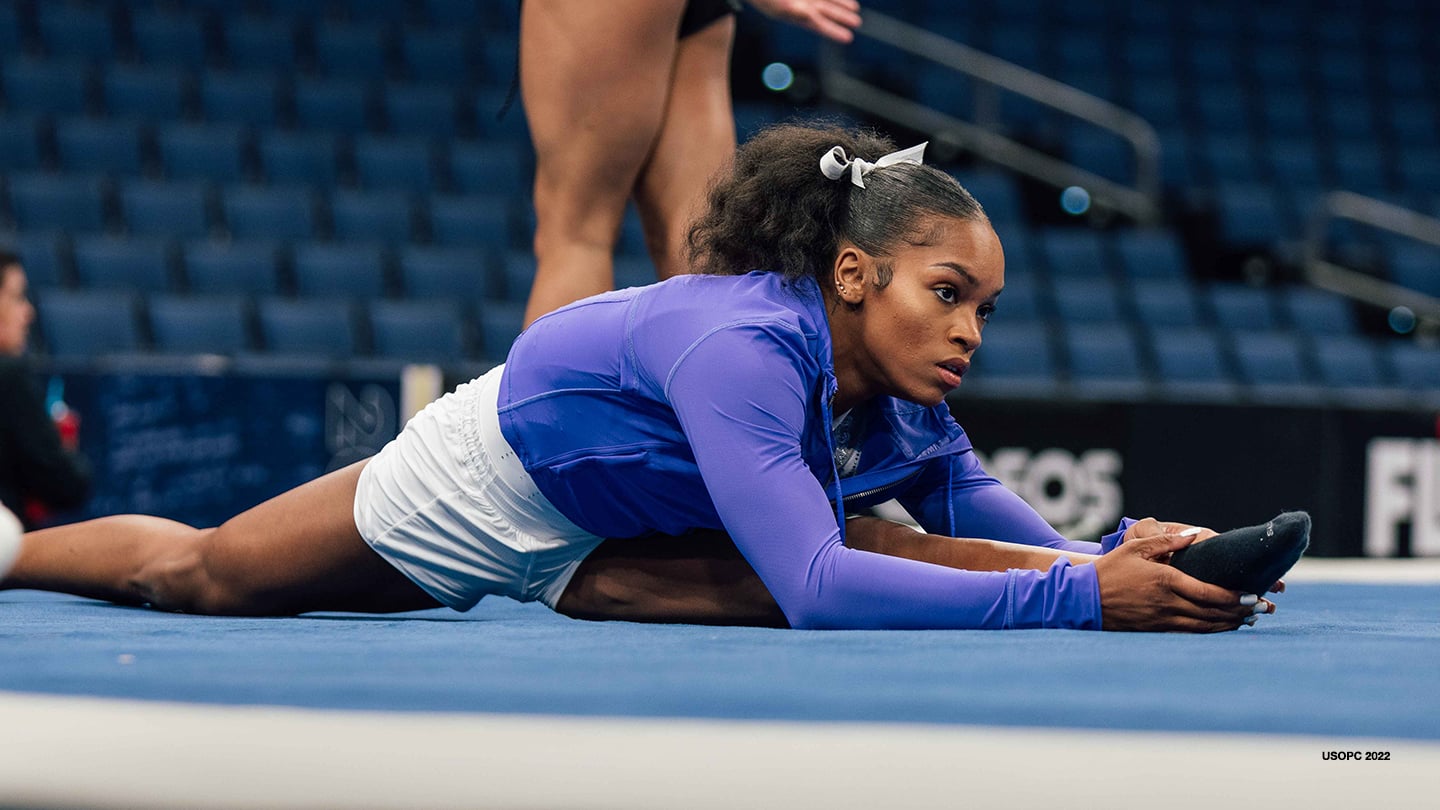 Shilese Jones during women's podium training at the 2022 U.S. Gymnastics Championships on Aug. 17, 2022 in Tampa, Fla.
Like Carey, Chiles (UCLA) and Wong (Florida) are back at the elite level after competing in NCAA gymnastics this past season.

Those three all bring the pedigree, and Wong comes in with momentum after winning the U.S. Classic last month in her return to elite gymnastics.

Another veteran, Shilese Jones, 20, thought she'd be competing for Florida now too. Instead, she's back at elite nationals and ready for one more go at making an Olympic team in 2024. She changed her mind and came back to elite gymnastics, she said, after hearing encouragement from others during last year's post-Olympic tour. Her motivation was hardened after her dad, Sylvester Jones Jr., died following a long battle with kidney disease in late 2021.

She's so far looked sharp in 2021 and finished as runner-up to Wong at the U.S. Classic.

"I always told myself as a kid, I'm going to try for one Olympics and if I don't make it then I'm done," Jones said. "Just hearing those words from everybody, and with my dad passing away, he was very motivating in whatever I'm doing, and pursuing my 2024 Olympic dream, I'm doing it for him.

"I know there's still more left for me."

Konnor McClain is also pursuing her Olympic dream after losing her father, Marc McClain.

His death last December came after a tumultuous 2021. A top junior gymnast, McClain was firmly on the path to competing for a 2024 Olympic spot when the Tokyo Games were postponed a year. A corresponding adjustment to the minimum age limit in April 2020 suddenly made her eligible.

With less than a year to prepare, she decided to go for it — then abruptly changed course after a difficult showing at the U.S. Classic.

Shortly thereafter, she left her home gym in West Virginia to train at the esteemed WOGA in the Dallas area. She was there in December when Marc died thousands of miles away. Her grandmother died less than a week later.

She's talked in interviews about considering quitting the sport. Instead, she won the all-around at two early-season meets and reestablished herself as a leader on the road to 2024. Though she missed the U.S. Classic with injury and says she's only at about 70-75 percent ready for this weekend, she combines the technical ability and versatility to contend for her first U.S. senior title.

"I feel like now I'm back on the road to 24," she said.

To underscore how potentially wide open this weekend is, this story still hasn't mentioned Kayla DiCello yet.

Like McClain, she's coming off a decorated junior career that saw her win three medals, including vault gold, at the 2019 junior world championships. At her first senior world championships in 2021, she won all-around bronze. The 18-year-old has only competed once this year but should also be in contention.

Others still are worth watching. Lexi Zeiss and Skye Blakely won silver and bronze medals at the Pan American Championships in July.

"No matter who is here, I always take it really seriously," Jones said, "and anybody can come out on top."
Chrös McDougall has covered the Olympic and Paralympic Movement for TeamUSA.org since 2009 on behalf of
Red Line Editorial, Inc.
He is based in Minneapolis-St. Paul.