Gymnast Paul Juda Has Big Dreams; The Paris Olympics Aren't Even The Half Of It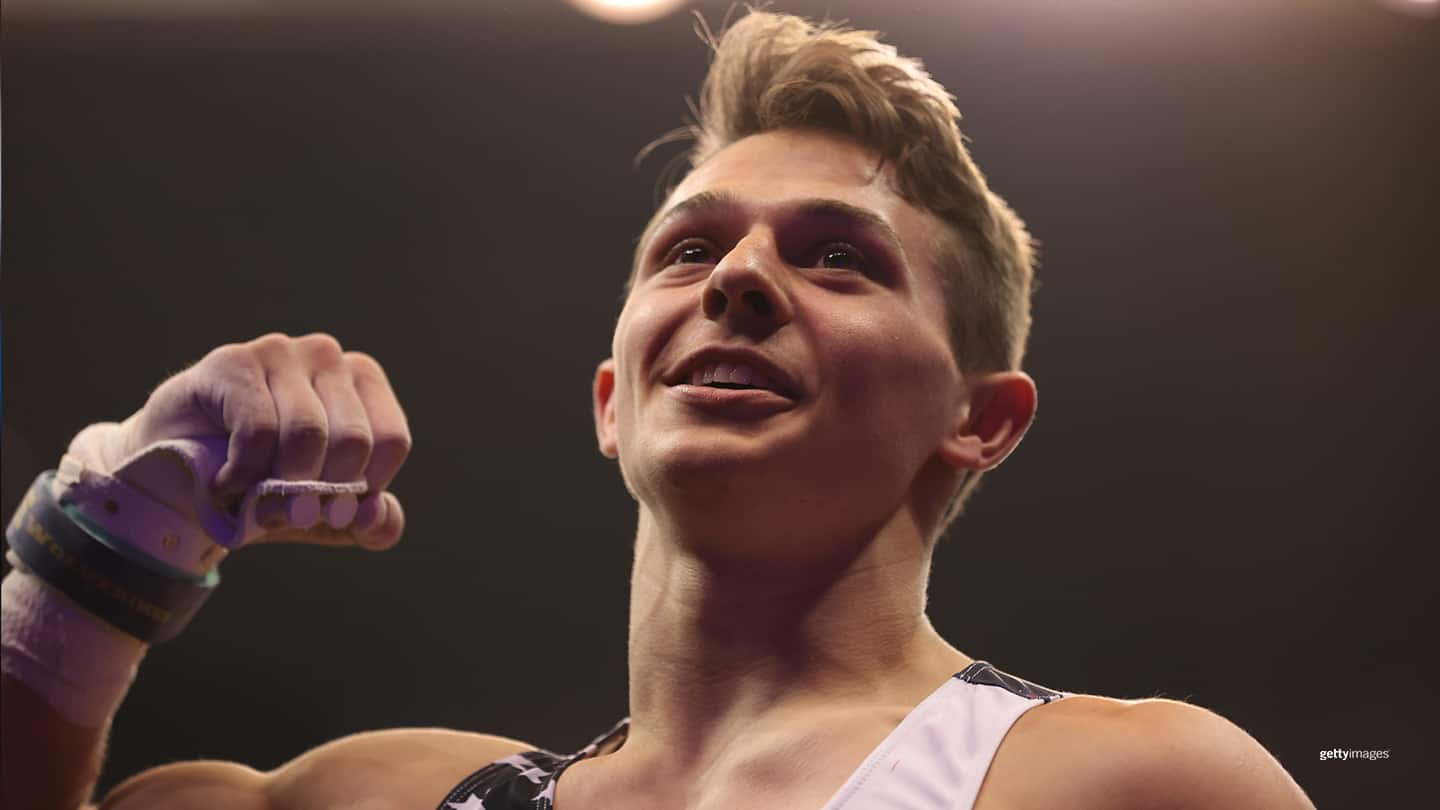 Paul Juda reacts during Day 1 at the 2021 U.S. Olympic Trials on June 24, 2021 in St Louis.
For Olympic hopeful Paul Juda, the dreams are big and small and, let's face it, sometimes a bit peculiar.

"I slept in a little today," the charmingly candid NCAA men's gymnastics champion says, apologizing for his slightly rumpled appearance as he appears onscreen for a Zoom chat one morning this past June. "I'm going to be honest: I was having a pretty crazy dream, so I wanted to keep dreaming it. And then, of course, you know what happens when you have a dream: you want to restart it and keep going."

This particular dream involved Juda and two of his University of Michigan teammates balancing precariously on a bicycle while searching for an office on a street full of unmarked buildings, but the 21-year-old could just as easily have been talking about gymnastics, the sport that has dominated his waking life for the past dozen or so years.

Like most who have risen to national team level, Juda also dreams of competing at the Olympic Games one day. It seemed on the brink of coming true in the summer of 2021, when his stellar all-around finish at the Pan American Championships in Rio de Janeiro netted Team USA an extra berth to the Olympics just six weeks before the Opening Ceremony in Tokyo.

Most of the time, Olympic qualification in gymnastics is secured by a team effort at the world championships; rarely does one individual's performance earn an Olympic place for their country. A rule change for the 2017-2020 cycle allowed already qualified teams the possibility of earning supplementary places for individual gymnasts at the Games through performances at continental championships, among other things, and Juda's silver in Rio earned the U.S. the very last extra spot available.

It did not go to him. The berth was non-nominative, meaning the national federation ultimately named the gymnast who suited up for the U.S. in Tokyo. By the end of the Olympic selection process, it was clear that the U.S.'s best medal hope was one of two pommel horse specialists, Alec Yoder or Stephen Nedoroscik. Yoder was selected and finished sixth in the Olympic final, the best U.S. placement since 1984. Nedoroscik was tabbed to compete at the world championships two months later, where he became the first U.S. world champion on the apparatus.

Juda, a generalist who finished eighth all-around at the U.S. Olympic Trials, took it all with characteristic good humor.

"I think I was a little too young last year," he says philosophically. "I went to the Olympic trials, and I was there, in my opinion, to take in as much as I could, so that the next time I came I would feel much more confident.

"I knew that I did my best, and that's what I was happy about. I went through the meet with no major errors. And I thought, if that was enough (to get the U.S. another spot), that was enough and I'm happy. I knew that my story to my grandkids would be, 'You know what? I contributed.' That was enough for me at that time — to be able to say I had an impact. I had a direct impact. I was proud to bring something back for Team USA, and I was also proud to bring back a story that I could tell for generations."

The brush with the Olympics did force a reckoning. Regarded as a rising star for several years, Juda's trajectory was following along the same lines as many who eventually tumble on world and Olympic stages. He discovered gymnastics as an outlet for excess energy when he was a child. The local gym was five minutes away, and he was immediately scouted for the competitive team.

The solid club grounding helped him earn a full ride to Michigan, and the chance to benefit from an NCAA coming-of-age. His parents Ewa and Jozef, Polish immigrants who did not learn that boys did competitive gymnastics until they had one themselves, worked hard to afford the expensive sport. Juda says one of the best days of his life was when he was able to tell them they did not need to pay for his education, too.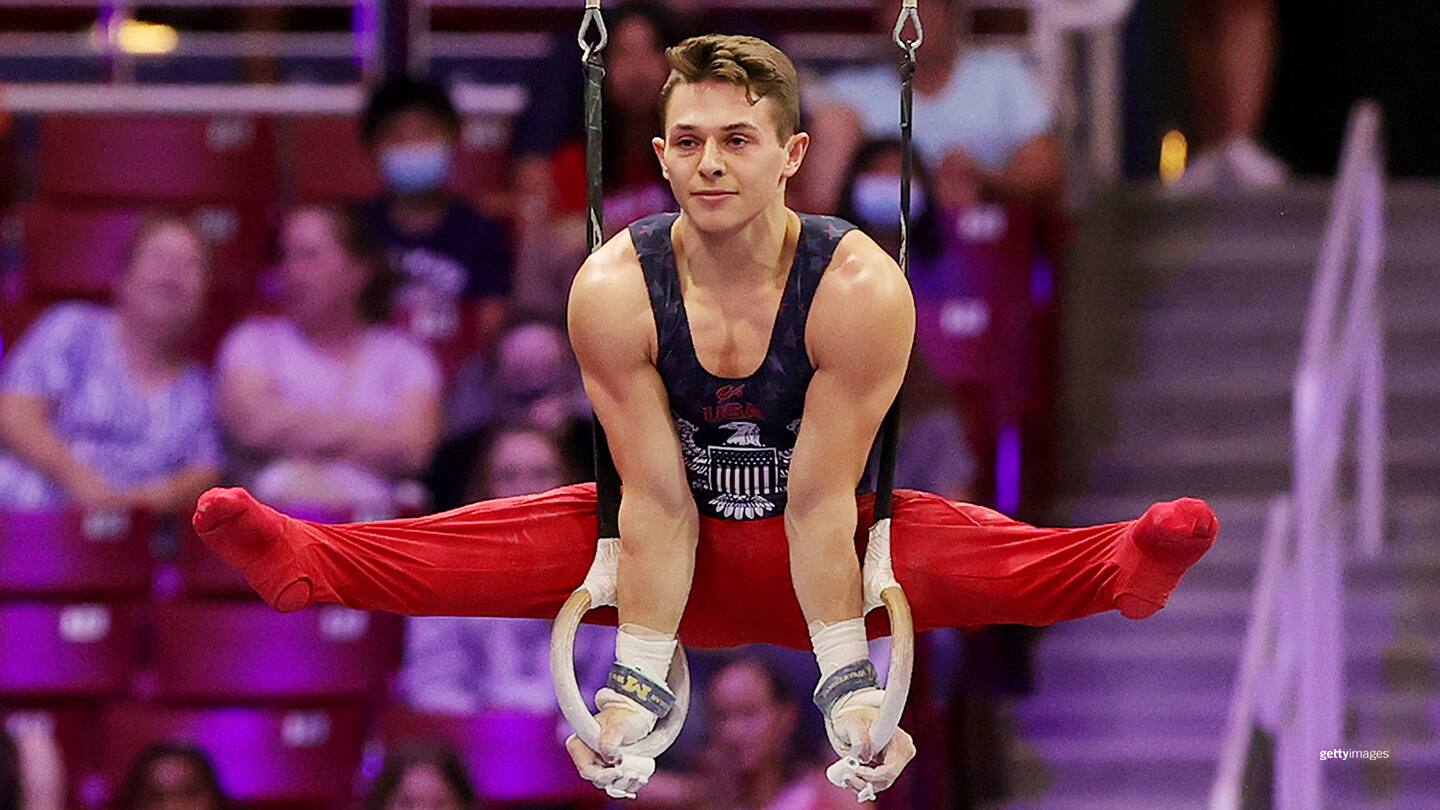 Paul Juda competes during the men's rings competition at the 2021 U.S. Gymnastics Olympic Trials on June 26, 2021 in St Louis.
But what kind of gymnast was he, and how far was he willing to go to earn big scores? Would he compromise some of his characteristically good execution if he could up his difficulty, and potentially his marks? During the past 12 months, Juda has spent a lot of time mulling it over.

"You're not a soccer player," his club coach Leo Krivitsky would tell him. "In soccer, they don't care how you score the goal. You can hit it this way, you can hit it that way, it doesn't matter. But in gymnastics, it does matter how you do it."

So Juda cares about pointing his toes, keeping his legs straight, and making things look effortless, qualities prized by greats like Kohei Uchimura and reigning Olympic champion Daiki Hashimoto, both of Japan.

"I love gymnastics that looks good," he said. "I believe in doing hard gymnastics, but I also believe in doing very well. I believe in high quality execution. I also believe in making things look effortless. I believe that's the only way to really make gymnastics look."

After the NCAA Championships in April, where he toppled U.S. team leader Brody Malone for the all-around title in a shocker that showed just how good he could be, Juda said that he didn't think he would be happy going to the Olympics "with the current state of my gymnastics."

"I don't think anyone's wowed by my difficulty," he said. "Gymnastics now, the hardest part, is gaining that difficulty."

It was no surprise then that he showed up to the U.S. Classic at the end of July with several new things in his bag of tricks, including an intricate 2.5 twist to double front tumbling pass on floor.

"I was a little nervous, but I was ready," he recalled. "I honestly felt really in my groove."

Warming up, he misjudged the timing of the landing on the double front. Too high in the air after juicing his takeoff, he could not avoid landing with his legs straight, a cringeworthy, hide-your-eyes impact that appeared to damage his left knee.

"Right when I opened up and saw the ground I knew this was going to be a bad one," Juda recalled. He had time for a solitary thought — "I just hope it's not really bad" — as he came down. The second thought, after landing: there goes the rest of the year.

The prognosis turned out less dire than Juda feared. Exams, X-rays and MRIs revealed findings similar to hyperextension injuries, but nothing that required surgery. In August, Juda sat in the stands in Tampa, Florida, and watched Malone cruise to his second U.S. title, an experience he called "a little emotionally challenging … and motivating."

"More than anything, it's taught me to be resilient," he said.

Since then, he has been rigorously applying himself to building himself and his gymnastics back up.

"I rehabbed like crazy," he said. The days have been filled with physical therapy, lots of icing, and more reflection.

"I've played it back in my head about 2,000 times, thinking about what went wrong and how I could avoid it next time," Juda said. "I've embodied the whole you don't lose, you just learn, and I've been trying to learn as much as possible."

This week's selection camp for the world championships in Liverpool, England, presents another learning opportunity. Juda will compete four apparatus, everything but floor and vault.

"I'm not trying to rush anything," he said. "Being someone that didn't think they would be in contention at all, to go out there and do four events is going to be a really good step for me."

He expects to be ready on all six by the time the NCAA season begins, where he will be one of the captains on Michigan's team.

"I just want to be out there with my team," he said.

So a place on the world championships team, though it would be nice, is not the big goal right now; the real prize is competing again.

"After that we can set different kinds of goals," he said. Those dreams, already so vivid, will only get bigger.
Blythe Lawrence has covered four Olympic Games and is a freelance contributor to TeamUSA.org on behalf of
Red Line Editorial, Inc.
Follow her on Twitter @_BlytheLawrence.