Felled By An Untimely Knee Injury, Gymnast Eddie Penev's Will Is Unbending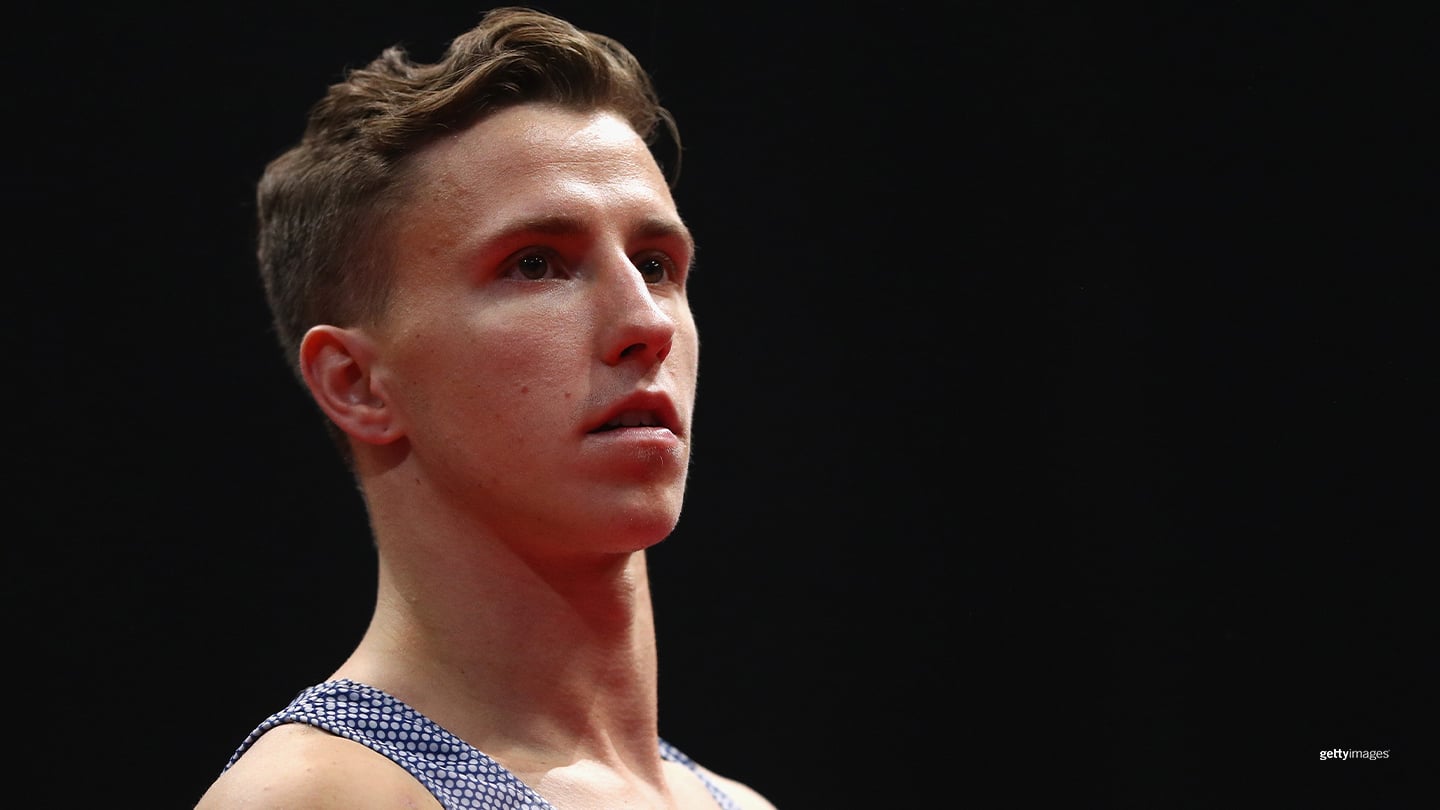 Eddie Penev looks on during the Men's P&G Gymnastics Championships on June 3, 2016 in Hartford, Conn.

Just before he was supposed to leave for this weekend's U.S. Olympic Team Trials for Gymnastics, Eddie Penev packed his car and drove five and a half hours from Colorado Springs to American Basin, a stunning stretch of the San Juan Mountains where rocky peaks rise over a vast meadows carpeted with wildflowers.

Among his camping gear was an ice machine for his injured right knee, which Penev hurt last Friday. The torn ACL, his third in eight years, will keep the U.S. floor exercise champion out of this weekend's Olympic trials, where he had hoped to snag the spot for individual competitors in men's gymnastics at this summer's Tokyo Games.

In American Basin, Penev didn't indulge in the kind of "crazy hiking" that would serve as a decent substitute for the intense cardio he does as a gymnast.

"Although I probably could," he said. "The first mountain I ever climbed, I didn't have an ACL, because I was getting surgery a couple days later."

Then, as now, the spectacular scenery gave him something else to focus on, something to appreciate. He has loved the mountains ever since.

This latest injury, so far, has been accommodating. Other than the swelling that provided his first indication that something was really wrong, the 30-year-old has not experienced much in the way of physical pain or suffering.

"What's been explained to me in the last few days is that often when you tear a graft from a repaired ACL, the response from the body is a little different; it swells a little bit less and it doesn't hurt quite as bad," Penev said. "I've taken maybe a couple ibuprofen since and that's it."

Still, caution carried the day in the American Basin. Mindful of his limitations, Penev slept in his car.

"If a bear comes, I can't run," he noted.



The Leap
The injury happened during a mock meet at the U.S. Olympic & Paralympic Training Center. In addition to the four-man team that will contend for team gold, the U.S. men earned the right to send an additional individual competitor to Tokyo.

To maximize Team USA's medal potential, that selection is likely go to a man who, like Penev, has been rather undersung in the media but demonstrates the potential to qualify for at least one apparatus final at the Games.

Pommel horse specialists Stephen Nedoroscik and Alec Yoder are in strong contention. Alex Diab stands out on rings. Donnell Whittenburg has a world silver medal on vault, and Paul Juda, much like new national champion Brody Malone, may represent the next generation of all-around contenders.

Penev knew was in the mix too. Already among the best in the sport on floor and vault, he wanted to maximize his chances, even after winning the national title on floor and silver on vault three weeks ago in Fort Worth, Texas.

An upgraded vault, he thought, would make his case even more convincing. For some time he had been mastering the Li Xiaopeng — a roundoff onto the springboard, half turn onto the table and front layout with two and a half twists off — with an eye to doing it at trials. The vault, one of the most complex in gymnastics, carries a very high difficulty score. But there is a reason most people don't attempt it.

Penev is at peace with not making the Olympic team this year. But he wishes it could have been on his own terms, and that's where this injury really stings.

"If I didn't make it, honestly, I would have been OK with that," he said. "I would have been upset, but I would have been fine. This way is just so much worse.

"I was like, why was I doing that vault? I should have stuck with what I was doing and taken my chances that I was good enough on floor. People are always telling me don't do that to yourself, don't ask, 'What if?' But I do right now. It's just the fact of the matter. Like, why should I have been doing it? I could have…"

His voice trails off.

"I thought it was important."

"The bottom line is that it is what it is," he continued, "but there's going to be a bit of a grieving period, which I can cope with. It's just going to be tough."



The Road Ahead
It may or may not be the end of his gymnastics career. Having rehabbed two serious ACL injuries, Penev is sure he can come back from this one too, if he decides that's what he wants.

"I never want to be forced out of something," he said. "I'm not going to close the door on anything, because I want to end on my terms. And if that means that in six months I'm recovered and I want to pursue other things, I'll make that decision. But I do plan on doing a recovery that will enable me to be an athlete.

"That's my personality. You just have to do what you can."

He's looked through the men's gymnastics code of points that will take effect early next year and thought about which of his multitude of tumbling skills would cull the best score in the new system.

But he is also ready to explore other options, like graduate school in sports management or some time traveling beyond Colorado, ticking a few things off his bucket list.

Last Monday, Penev wrote the social media post he'd been dreading, telling the world about his knee injury. The outpouring of love and support from the "gymternet," the vocal online fan community that has always appreciated his elegance and tenacity, has left him touched.

"I've never felt at any point in my career so supported by everybody," he said. "I felt like everybody was really rooting for me and it was kind of nice just getting some of those messages. I haven't really taken the time to get back to people yet, but I can really sense that people were really gunning for me, and I really appreciate that. I maybe took it for granted before."

He decided against traveling to St. Louis this weekend, though he will follow the event online.

"So many guys are just incredible gymnasts and I definitely want to support them," he said.

Eventually, he'll watch the full broadcast. Just not quite yet.

For now, the injury is still too raw. Not to the knee. The other one.
Blythe Lawrence has covered two Olympic Games and is a freelance contributor to TeamUSA.org on behalf of
Red Line Editorial, Inc.
Follow her on Twitter @rockergymnastix.