Brody Malone Heads Into Gymnastics Nationals As Defending Champion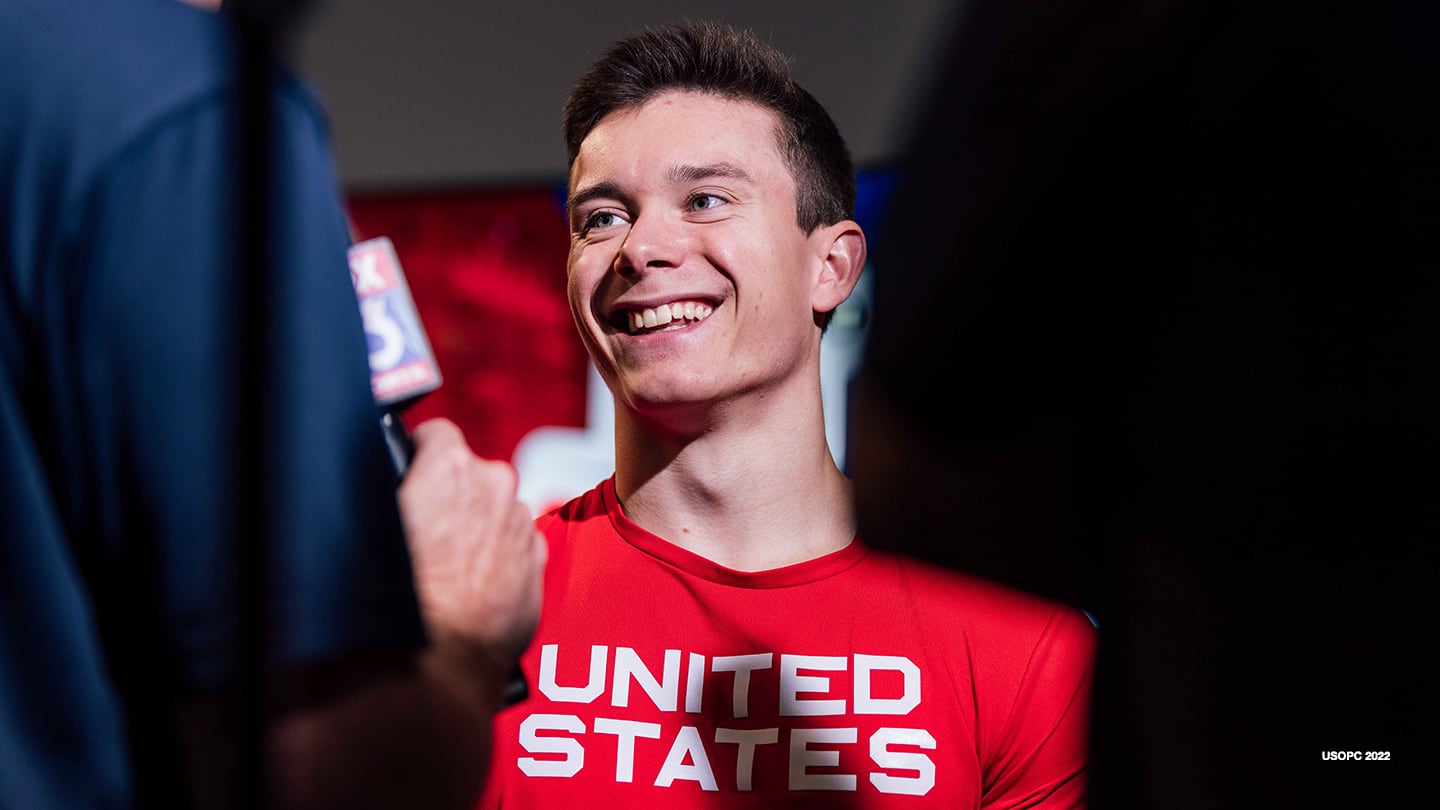 Brody Malone speaks to media after the men's podium training at the 2022 U.S. Gymnastics Championships on Aug. 17, 2022 in Tampa, Fla.
TAMPA, Fla. – In six tries between 2013 and 2019, Sam Mikulak was the U.S. men's gymnastics all-around champ six times. Often it wasn't even close.

Then Brody Malone came along.

Coming out of the pandemic and a lost 2020 season, Malone entered the 2021 Olympic year as a little-known Stanford gymnast from a small town in northwest Georgia. He ended the year as the clear new star of the U.S. men's program.

With Mikulak having since retired, the question at this week's OOFOS U.S. Gymnastics Championships in Tampa, Florida, is whether any of the other Americans can stick with Malone and challenge him for a second U.S. title.

One answer to that is simple: Paul Juda, a standout gymnast for Michigan, edged Malone at the NCAA Championships in April, denying the Stanford junior of his third all-around title in as many tries (he won in 2019 and 2021, with the 2020 event canceled due to the pandemic).

Juda normally would be one of the key names to watch when the men compete Thursday and Saturday at Amalie Arena. Instead, he's back home nursing an injury sustained during warm-ups at last month's U.S. Classic. Juda may try to return and compete for a spot on the U.S. team for this fall's world championships as an event specialist. A national championships showdown with Malone will have to wait until next year.

Instead, the task of dethroning Malone comes down to a cast of some familiar names, plus some who might be new to most fans.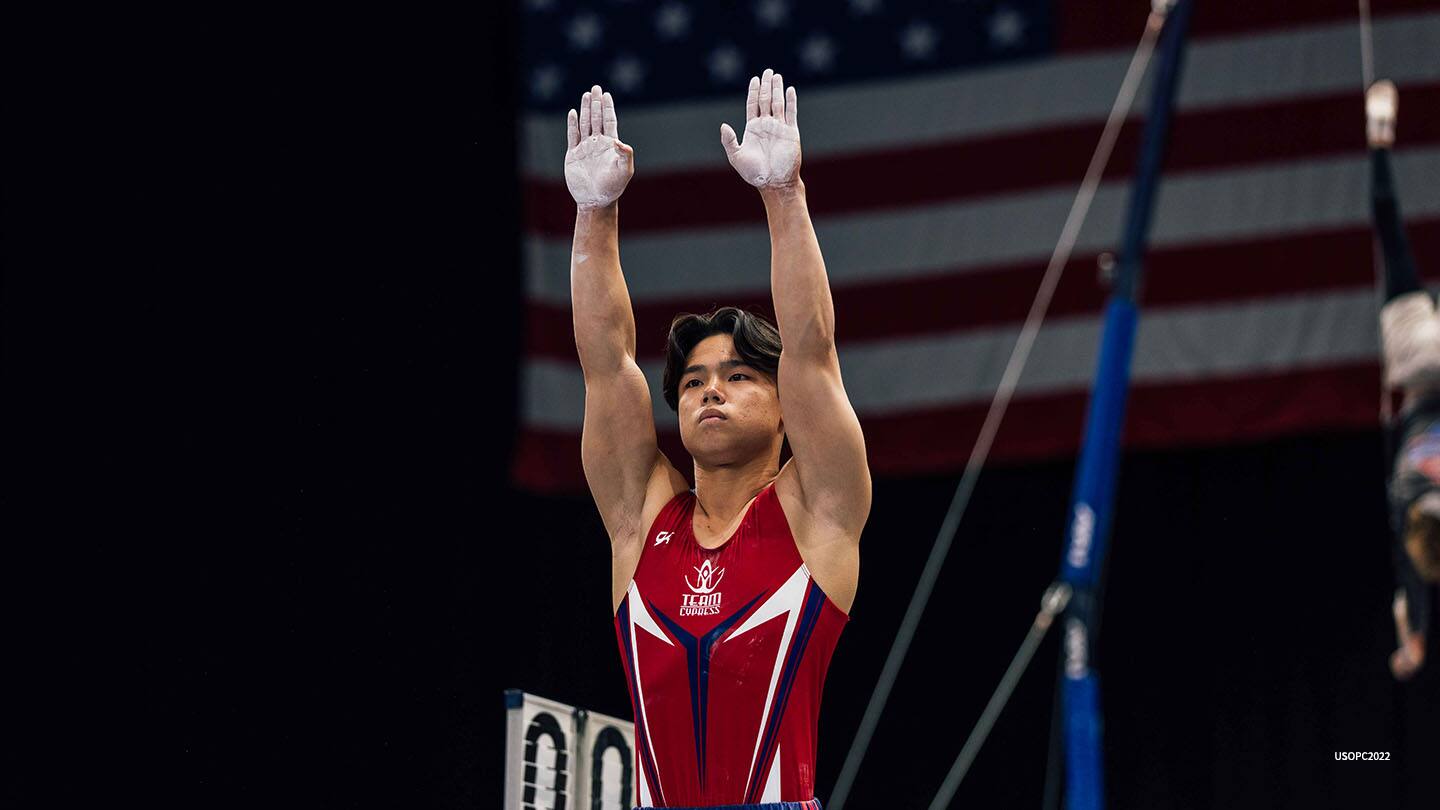 Asher Hong during men's podium training at the 2022 U.S. Gymnastics Championships on Aug. 17, 2022 in Tampa, Fla.
The most recognizable names are Malone's Olympic teammates, Yul Moldauer and Shane Wiskus.

Both come into Tampa as something of an unknown.

Moldauer, 25, is a former U.S. champ and worlds medalist, though he's battled injuries this season and only competed on three events at the U.S. Classic last month. The 23-year-old Wiskus shook off some rust in finishing eighth at the U.S. Classic. That was only his second meet of 2022, a stark contrast from previous years when he competed every weekend with his college team.

Wiskus described that U.S. Classic meet as "trying a lot of new skills, seeing what was ready and what wasn't." He's feeling much more confident this time.

"I took a couple skills out just to be smart, and changed some constructions," he said. "I just really feel like the last two weeks I've ironed out a lot of the things that I left on the table at Classics. So I feel really good."

The natural turnover at the start of a new quad leaves the door open for some new faces.

Stanford's Colt Walker could be primed to step up. The 21-year-old from Austin, Texas, was second only to Malone at the U.S. Classic and is strong on vault, parallel bars and floor.

Up-and-comer Asher Hong, 18, of Tomball, Texas, and 22-year-old Vitaliy Guimaraes, who competes for Oklahoma, are two who could be poised for big meets.

And then there's Donnell Whittenburg, the veteran of the group at 28 (his birthday is Thursday). After years battling injuries and other setbacks, the Baltimore native was back in a big way last year to make his fourth world championships team. His body holding up, Whittenburg is back to take care of some unfinished business.

After placing third at the U.S. Classic, and with world-class vaults in his arsenal, he's believing.

"I still feel like I'm missing something, and that's literally the one thing," he said. "I've done just about everything you can possibly do in this sport except go to the Olympic Games."

Other U.S. gymnasts this weekend are worth watching. Stephen Nedoroscik is the defending world champion on pommel horse, and he's one of a handful of event specialists who is hoping to break onto the U.S. team for the world championships. Alex Diab (rings), Eddie Penev (floor) and Curran Phillips (parallel bars) are also strong on individual events.

The clear all-around favorite, though, is Malone.

His rise obscured by the pandemic, Malone surprised many when he showed up at last year's U.S. Championships in Fort Worth, Texas, and soundly won over Moldauer and Mikulak. After repeating as champ a few weeks later at the U.S. Olympic Team Trials, and then posting the top all-around finish in Tokyo, the transition was complete.

The NCAA Championships notwithstanding, Malone, 22, cemented his status as the guy to beat with a string of strong performances, including this summer at the Pan American Championships and the U.S. Classic. He helped the U.S. team win the former, then soundly won the latter.

In the pandemic-disrupted calendar, 2021 ended up having a world championships a few months after the Tokyo Games. Malone, who never seems to miss an opportunity to compete, was back in Japan to win a high bar bronze medal. Now he's looking like a potential medal contender in both that event and maybe even the all-around.

Going from mostly anonymous in 2021 to the guy on the event signage in 2022 hasn't seemed to phase the matter-of-fact Malone.

"I try not to think of myself like that," he said, "and try to just do my gymnastics and be good."
Chrös McDougall has covered the Olympic and Paralympic Movement for TeamUSA.org since 2009 on behalf of
Red Line Editorial, Inc.
He is based in Minneapolis-St. Paul.