U.S. Women Win Fourth Consecutive Basketball World Cup, Qualify For Paris Games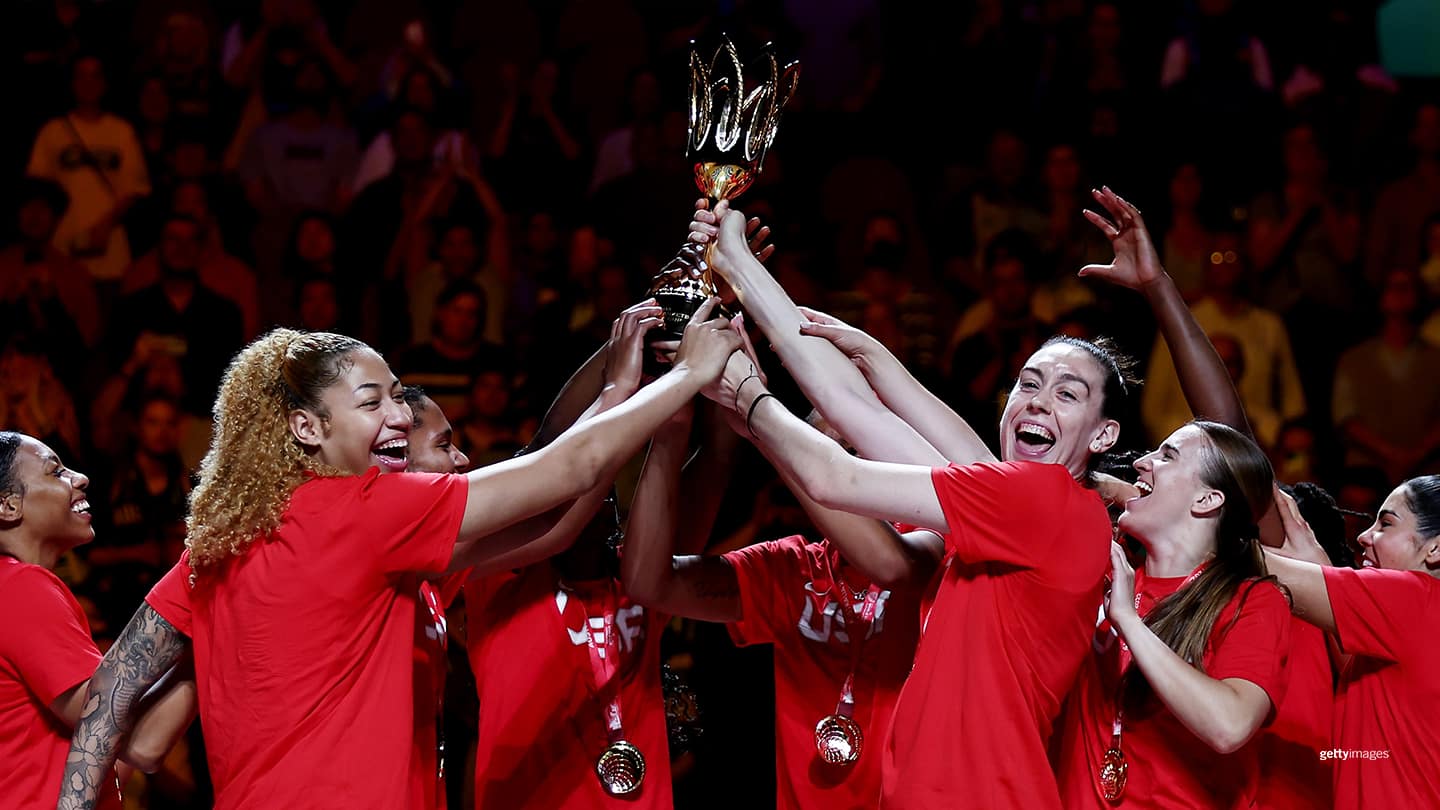 Breanna Stewart holds the trophy alongside U.S. teammates following the final against Team China at the 2022 FIBA Women's World Cup on Oct. 1, 2022, in Sydney.
Even for the most successful team in the history of the FIBA Women's Basketball World Cup, the gold medal the U.S. secured Saturday came in particularly dominant fashion.

The 83–61 victory over China in the final at the Sydney Superdome in Australia featured another incredible effort at both ends of the floor in a tournament in which the Americans outscored opponents by a team-record 40.7 points per game. The 22 points the U.S. won by Saturday was the largest margin of victory in a World Cup final. The U.S. defense allowed an average of just 58.0 points per game.

All of it added up to the program's 11th World Cup title — its fourth in a row — and a spot at the Olympic Games Paris 2024.

"It's been incredible, (it's) just a journey to continue to lay that foundation down," said tournament MVP A'ja Wilson, who paced the U.S. with 19 points Saturday. "So many of the greats have been in front of us and they laid it down and now it's our turn to step up and be in that situation."

It's been quite a few weeks for Wilson, the WNBA MVP who went from celebrating her league title with her Las Vegas Aces teammates on Sept. 18 to leading the U.S. to a World Cup gold medal. It was the second World Cup gold for Wilson, adding to her Olympic gold won last year at the Olympic Games Tokyo 2020. Wilson was one of five members of that team on the court in Australia.

Wilson's Tokyo teammate Breanna Stewart hit a clutch three with 4:24 left to go in the first half Saturday as China was mounting a run to pull within four points. Stewart's trey extended the U.S. lead to 33-26, and China never drew as close again. It was a good night for other Tokyo Olympians as Kelsey Plum — who won her Olympic gold medal with the 3x3 team — was second on the team with 17 points, and Jewell Loyd hit three three-pointers.

"I'm just really proud," said Plum, who plays with Wilson on the Aces. "I'm really proud of myself. I'm really proud of my teammates. It's just, it's a great feeling."

The win, in front of a sellout crowd of nearly 16,000 in Sydney, was the U.S.' 30th straight in World Cup play, dating back to 2006.

The U.S. won the World Cup without some familiar faces in Sue Bird and Diana Taurasi. Stewart was the longest-tenured member of the squad, with now three World Cup gold medals to her name to go with two Olympic golds. Stewart became the eighth player in World Cup history to win three gold medals.

The next major tournament then for the U.S. will be the Olympic tournament in less than two summers. Team USA is the seven-time defending Olympic champion and has won in all but two tournaments it has entered. But first, some rest.

"I need a massage," said Plum. "It's been a long couple of weeks but a great couple of weeks."
Todd Kortemeier is a sportswriter, editor and children's book author from Minneapolis. He is a contributor to TeamUSA.org on behalf of
Red Line Editorial, Inc.