U.S. Women's Basketball Is On To Gold Medal Game After Win Over Serbia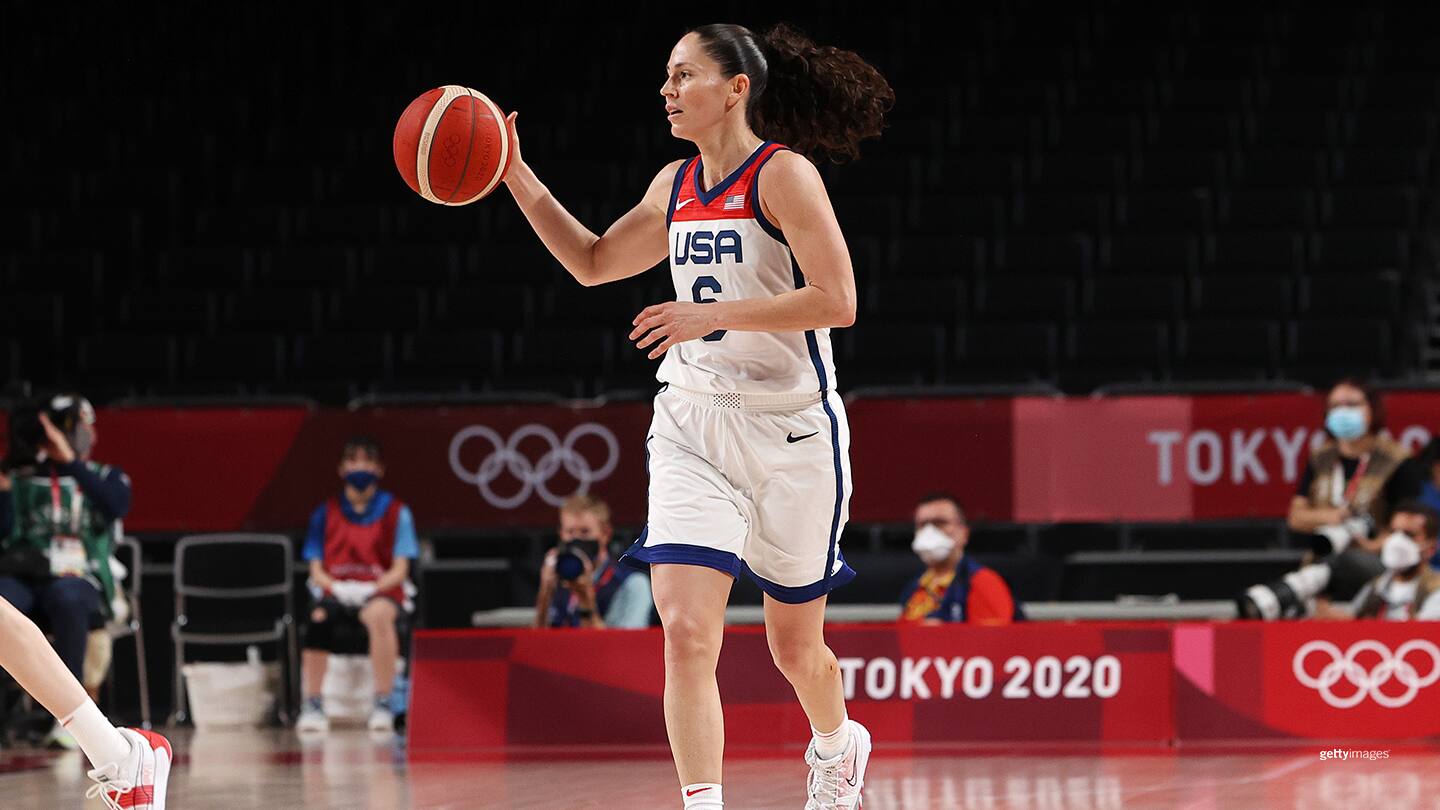 Sue Bird dribbles the ball in a game against Serbia at the Olympic Games Tokyo 2020 on Aug. 6, 2021 in Saitama, Japan.

It won't go down as one of the prettier wins in U.S. women's basketball team history, but it put the Americans on the precipice of history.

Brittney Griner had 15 points and 12 rebounds as the top-ranked U.S. rolled past eighth-ranked Serbia 79-59 Friday in the semifinals of the Olympic Games Tokyo 2020. The Americans, winners of 54 straight Olympic games, will be back at Saitama Super Arena and aiming for a seventh straight gold medal Saturday at 10:30 p.m. ET (11:30 a.m. Sunday in Japan) against either France or host Japan.

Winning a seventh gold medal in a row would tie the U.S. men's basketball team's streak (1936-1968) that began with the debut of the sport in the Olympics.

In addition, Diana Taurasi and Sue Bird will be going for their fifth gold medals, which would break a tie with fellow American Teresa Edwards (1984-2000), for the most basketball golds — men's or women's — in Olympic history. Edwards also won a bronze.

Chelsea Gray added 14 points and Breanna Stewart 12 for the U.S., which has won eight golds in the 10 Olympics it has played in. Yvonne Anderson led the Serbs with 15 points.

Coming off a bronze medal in its first Olympics appearance in 2016, Serbia went up 4-3 to start the game. That's when the U.S. kicked things into gear and went on a 21-9 run to close the first quarter up 25-12. It was balanced scoring early, with Stewart notching six points and the usually low-scoring Bird adding five.

In the second quarter, the U.S. offense bogged down. After going 10 of 18 (55.6 percent) in the first quarter, the U.S. only made six baskets (on 12 shots) in the second quarter. But the American defense continued to stifle the Serbs, who shot just 27.8 percent (10 of 36) in the first half, including 1-for-11 from 3-point range. That combination allowed the U.S. to take a 41-23 at halftime.

Bird, who had 18 points in her four previous games, followed up a nine-point effort in the quarterfinals with eight first-half points against Serbia.
Want to follow Team USA athletes during the Olympic Games Tokyo 2020? Visit TeamUSA.org/Tokyo2020 to view the medal table, results and competition schedule.
Steve Drumwright is a journalist based in Murrieta, California. He is a freelance contributor to TeamUSA.org on behalf of Red Line Editorial, Inc.