Three Team USA Storylines To Watch During The 2022 FIBA Women's World Cup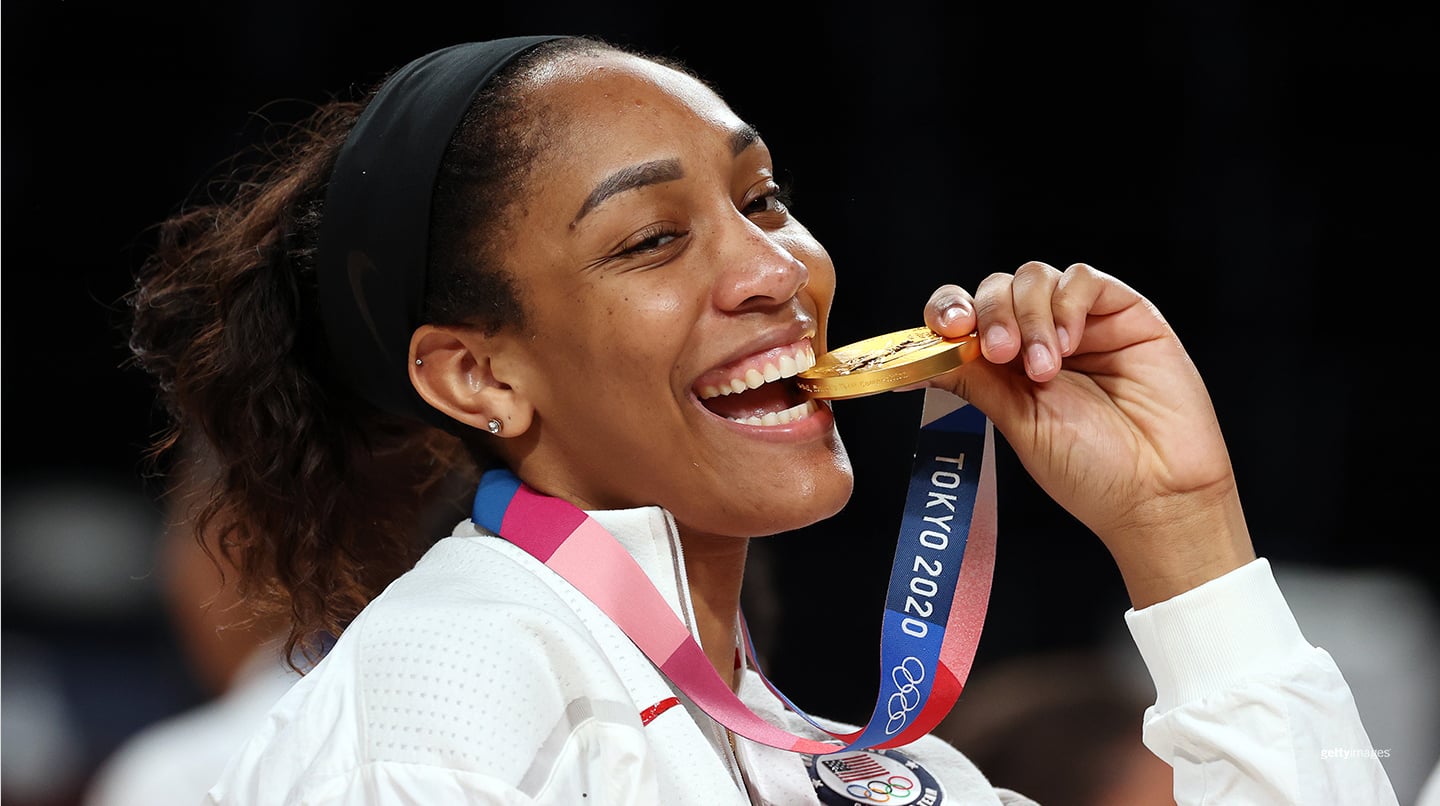 A'Ja Wilson bites her gold medal during the women's basketball medal ceremony at the Olympic Games Tokyo 2020 on Aug. 8, 2021 in Saitama, Japan.

A new era for the U.S. women's basketball team begins Wednesday night when the FIBA Women's World Cup tips off in Sydney.

Gone are longtime stars Sue Bird, Tina Charles, Diana Taurasi and Sylvia Fowles. In their place, look for Breanna Stewart and A'ja Wilson to lead the U.S. in its quest for a fourth consecutive and 11th overall World Cup title.

Here are three storylines to follow heading into Sydney:

The last time Team USA lost in the World Cup, Breanna Stewart was still in middle school. Since finishing third at the 2006 World Cup, the U.S. has won 22 straight games in the tournament.

The U.S. roster is loaded with WNBA talent, with Stewart, 28, and Wilson, 26, among five players back from last year's Olympic team that won a gold medal in Tokyo. Ranked No. 1 in the world, the U.S. enters as the favorite, though its win streak could be challenged by an increasingly deep field.

The U.S. opens Thursday (9:30 p.m. ET Wednesday) against a tough Belgium team that's ranked fifth in the world and has a formidable front court in Emma Meesseman and Kyara Linskens. Group A play continues through Sept. 27 with games against Puerto Rico, China, South Korea and Bosnia & Herzegovina.

Things will only get tougher from there. Japan is coming off its first Olympic medal in the sport after taking the silver last year in Tokyo. France is coming off an Olympic bronze medal. Meanwhile, perennial power Spain comes into the tournament ranked No. 2, and Australia, the 2018 runner-up playing on home soil, is No. 3.

U.S. coach Cheryl Reeve said she isn't worried about what other teams are doing at this moment. She is concentrated on how her team is executing.

"You really have to lock in on what you do," Reeve said. "You're going to have your schemes and (have to decide) which ones you will utilize. Belgium is highly skilled. We played them and Puerto Rico in February, and so the first two games for us are a repeat of what we did in February. I think we have a good understanding about what their identity is."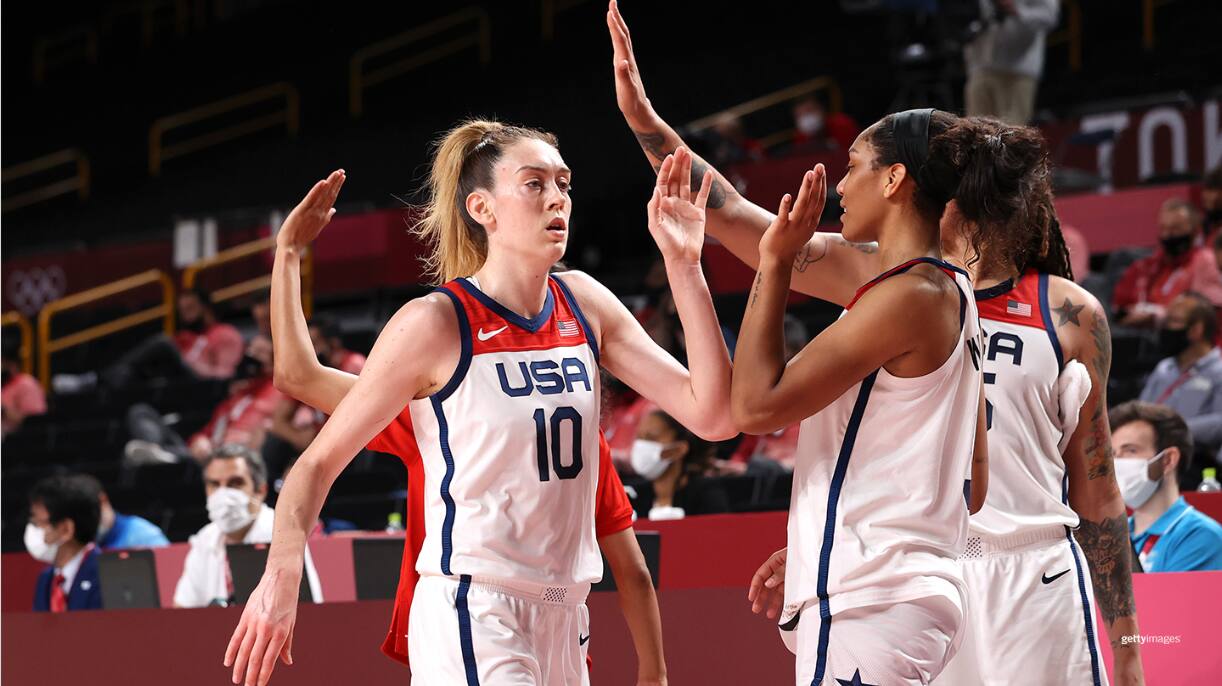 (L-R) Breanna Stewart high-fives teammate A'Ja Wilson during the second half of the women's basketball gold-medal game at the Olympic Games Tokyo 2020 on Aug. 8, 2021 in Saitama, Japan.

Breanna Stewart, coming off an MVP performance at the 2018 World Cup, is the most decorated U.S. player with two Olympic gold medals and two World Cup titles, though Jewell Loyd, Kelsey Plum and A'ja Wilson each arrive in Sydney with a single championship at both tournaments.

Ariel Atkins and Chelsea Gray are both Olympic champions, too.

However, half the squad — Shakira Austin, Kahleah Copper, Sabrina Ionescu, Brionna Jones, Betnijah Laney and Alyssa Thomas — will be making their debuts in a global championship tournament.

With the WNBA season continuing all the up through this past weekend, several other young players were able to join the U.S. in camp, with WNBA Rookie of the Year Rhyne Howard and University of South Carolina star Aliyah Boston among the final cuts on Tuesday.

Minnesota Lynx forward Kayla McBride, who also took part in camp but didn't make the team, praised the young players in a teleconference last week.

"The young bucks, they are going in head on," McBride said. "I think that's how you have to do it. When you're younger, you're going to make mistakes but just bring the energy. I've been really impressed top to bottom. They all bring something a little bit different. The confidence is through the roof, as it should be; that's how you have to approach (USA Basketball)."

The U.S. will be able to roll out one of the most versatile rosters among World Cup pool, but fatigue could play a factor for players coming in from the WNBA season. The Las Vegas Aces, who won the WNBA Finals on Sunday, played their starters 208 more minutes than any other team in the league. Among them are A'ja Wilson, Chelsea Gray and Kelsey Plum, who all averaged over 33 minutes per game in the playoffs.

Brionna Jones, who played on the opposing Connecticut Sun, is also coming off a long WNBA playoff run highlighted by brute force and physical play.

Now they all must find another gear.

Going immediately from one season to the next is a tough reality women's basketball players must balance every year. The WNBA regular season switched back to its normal 36 games in 2022, and back-to-backs took a toll on the players this season. However, Seattle Storm guard Jewell Loyd looks at it from a different perspective.

"Any time you get a chance to represent the USA, I think you get another sense of life," Loyd said. "It's bigger than you. It's bigger than basketball. For me, I understood what the WNBA season would hold, but I was looking forward to this."

Fatigue will play a factor for Team USA, but Reeve has lauded how deep the roster is and how they prepared for players coming in late.

"We're used to this," Reeve said.