U.S. Sets New World Cup Winning Streak In Victory Over Bosnia And Herzegovina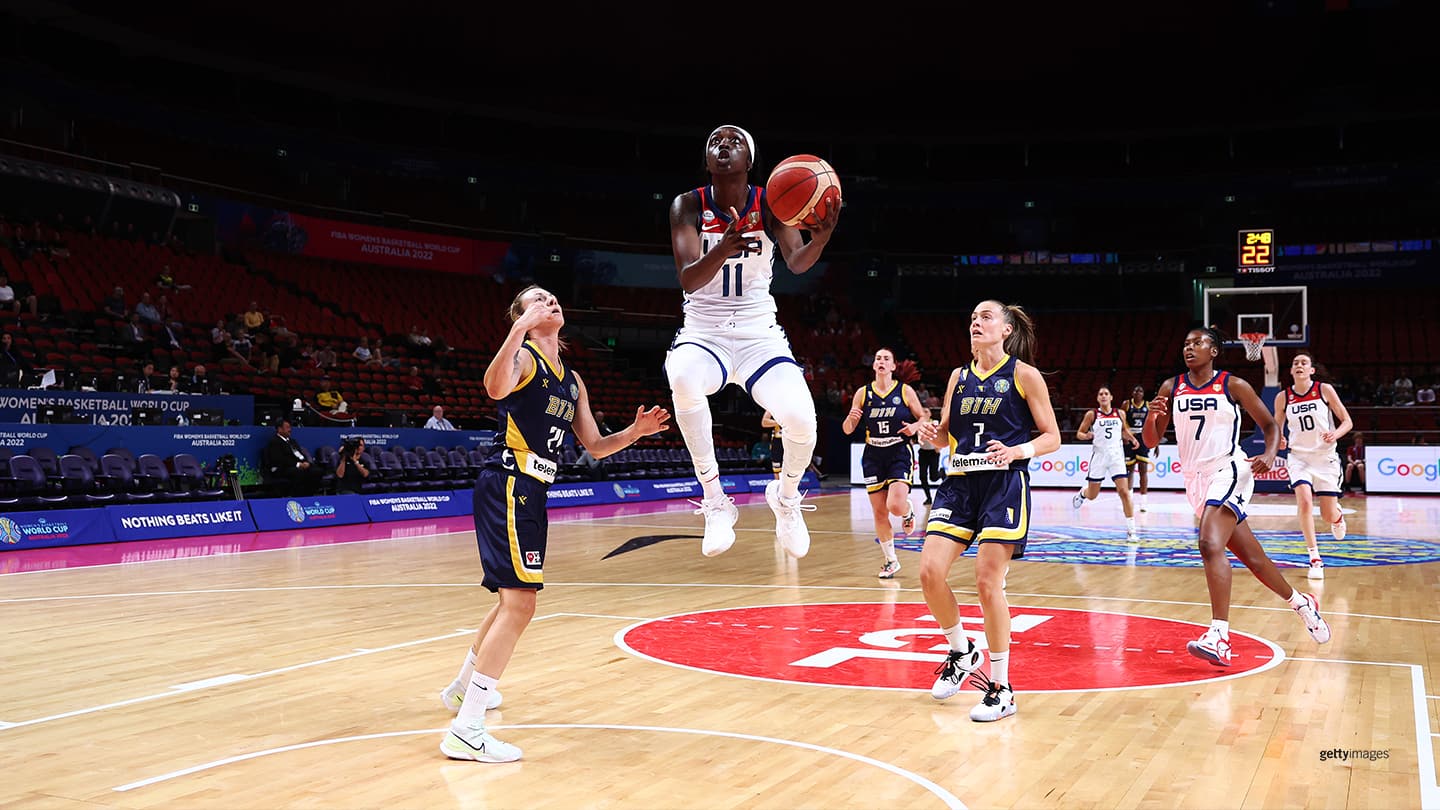 Kahleah Copper competes during preliminary round against Bosnia & Herzegovina at the 2022 FIBA Women's Basketball World Cup on Sept. 27, 2022 in Sydney.

The U.S. women's basketball team added an exclamation point to its dominant start at the 2022 FIBA Women's Basketball World Cup with a 121-59 win over Bosnia and Herzegovina to close out group play on Tuesday in Sydney.

The Americans finished the group phase with a 5-0 record and will play in the quarterfinals on Thursday against Serbia. The victory was their 27th straight in World Cup play, breaking the previous record of 26 consecutive wins set by their compatriots from 1994 to 2006.

The U.S., which is seeking its fourth World Cup gold medal in a row, was the only team to get through group play undefeated. China, Australia and Canada all went 4-1.

Kelsey Plum led the U.S. with 20 points, as she was one of seven Americans who posted double figures in scoring against Bosnia and Herzegovina. In the first meeting between the two teams in World Cup play, the U.S. forced their opponents into 23 turnovers.

As impressive as their group play finale performance was, it wasn't the Americans' most dominant outing of this World Cup thus far. That came in Monday's 145-69 win over South Korea. The 145 points were the most ever scored in a World Cup game, eclipsing the previous mark of 143 set by Brazil 32 years ago.

The Americans' closest game in group play was a 77-63 victory over China.

The U.S. team, which features six players with a combined 12 Olympic and World Cup gold medals, ran roughshod over the opposition in this tournament, winning by an average margin of 46 points. The Americans also averaged 107 points per game.

Eight Americans averaged double figures in scoring during group play. A'ja Wilson led the way with 18 points per game, followed by Plum (15.7), Brionna Jones (15.3), Breanna Stewart (14.8), Shakira Austin (13.5), Kahleah Copper (11.0), Chelsea Gray (11.0) and Alyssa Thomas (10.2).

Wilson, Stewart, Thomas and Austin all averaged more than six rebounds per game.

The U.S. has taken full advantage of its depth in Sydney. The American bench has contributed 49.6 points per game.

"That's been the key for us, the depth we've been able to play with," said U.S. coach Cheryl Reeve, "and change the game with styles of play."

Those offensive numbers have been racked up thanks to the Americans' relentless defensive play. The U.S. has stifled its opponents, holding them to an average of just 61 points per game. They forced 21.6 turnovers per game in group play, averaging 30.4 points on the takeaways. The ball-hawking Americans averaged 13.2 steals per game.

Jones said defense will be the key going forward.

"The intensity that we come out with has been great during pool play," Jones said.

"I thought we were really locked in defensively," Reeve said. "I thought we came out the way we wanted to come out."
Bob Reinert spent 17 years writing sports for The Boston Globe. He also served as a sports information director at Saint Anselm College and Phillips Exeter Academy. He is a contributor to TeamUSA.org on behalf of
Red Line Editorial, Inc.