U.S. Women Strike For Third Straight Rivalry Series Win Against Canada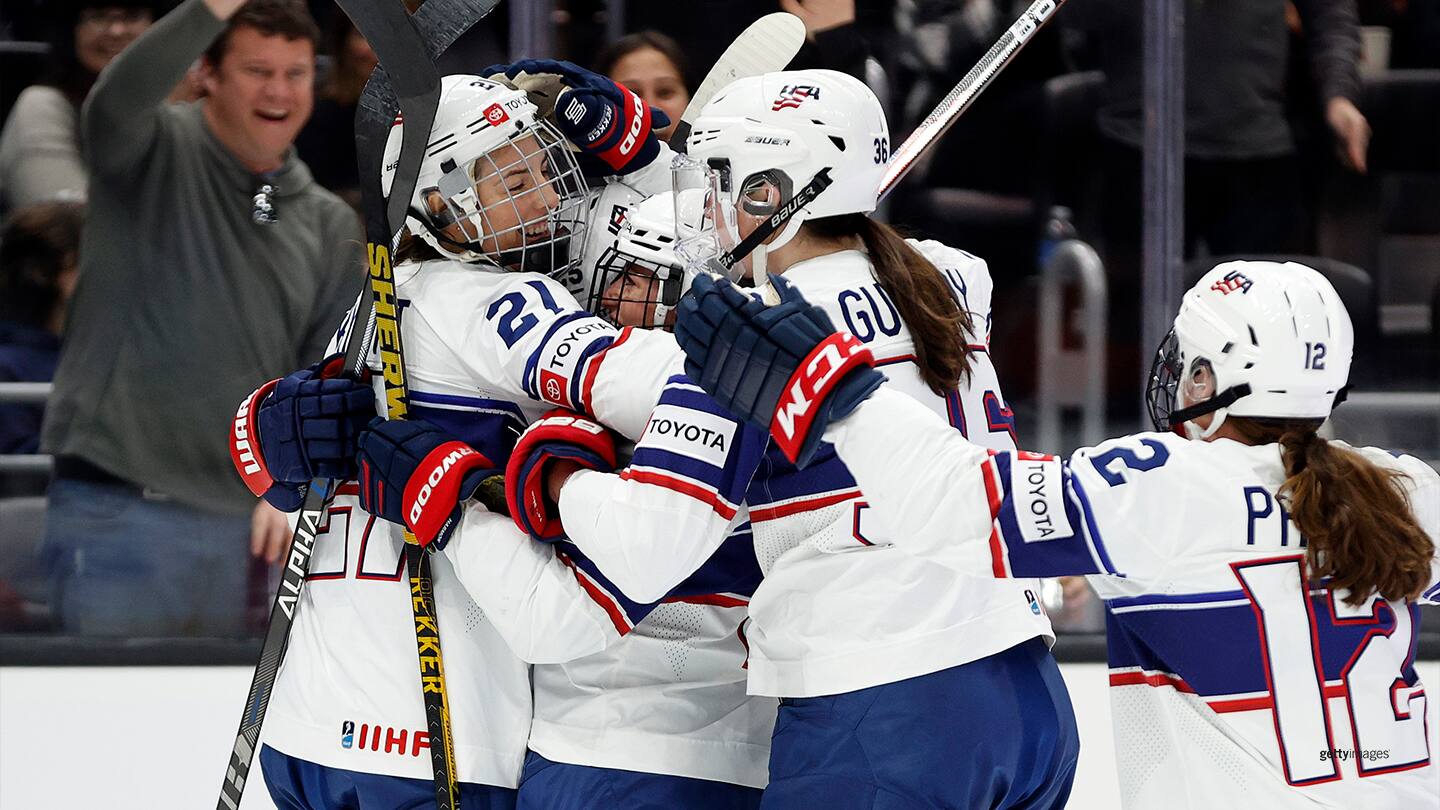 The U.S. women's hockey team celebrates a goal during the first period against Canada on November 20, 2022 in Seattle.
A third consecutive win Sunday by the U.S. women's hockey team in the Rivalry Series against Canada was one for the record books.
The U.S. defeated Canada 4-2 in front of a record crowd of 14,551 at Climate Pledge Arena in Seattle, setting an attendance record for a women's national team hockey game played in the United States. The previous record was 13,320 for a game played three years ago in Anaheim, California.
Four-time Olympic medalist Hilary Knight, who is the all-time leader in points at the IIHF Women's World Championship was presented with a golden stick to commemorate her record-breaking 87th career point in world championship play. She celebrated by recording two goals and an assist. The California native has had four goals and two assists through the first three games of the Rivalry Series.
The victory marked the first time since 2019 that the U.S. women have won three straight times against Canada, the reigning Olympic champions.
The U.S. started the game off quickly with a Savannah Harmon goal just 40 seconds in. Play was focused along the boards, leaving Harmon room to move in from the blue line with clear ice between her and the goal. Knight saw Harmon going toward the net, threaded the puck through the middle and Harmon picked out the far corner to score.
Marie-Philip Poulin of Canada scored in the first period to tie the game, but the U.S. responded early in the second on a power play. Amanda Kessel, Kendall Coyne Schofield and Abby Roque caught Canada pressing too high on the penalty kill and took advantage with a fast transition. Coyne Schofield gathered the puck in the neutral zone and passed it to a quick-moving Kessel. Kessel then moved the puck across to Roque for a one-timer from the faceoff circle.
Knight scored her first goal of the evening on a breakaway feed from Lee Stecklein during 4-on-4 play. Her backhanded shot struck the net for a 3-1 U.S. lead.
Canada closed the gap again on a goal scored by Sarah Nurse.
Kelly Pannek found Knight alone in the slot during a third-period power play and Knight took advantage of a screen to put the puck through the goalie's five-hole for the fourth U.S. goal.
The five-game series will continue Dec. 15 in Henderson, Nevada.