U.S. Women's Hockey Survives Czech Upset Bid To Reach Olympic Semifinals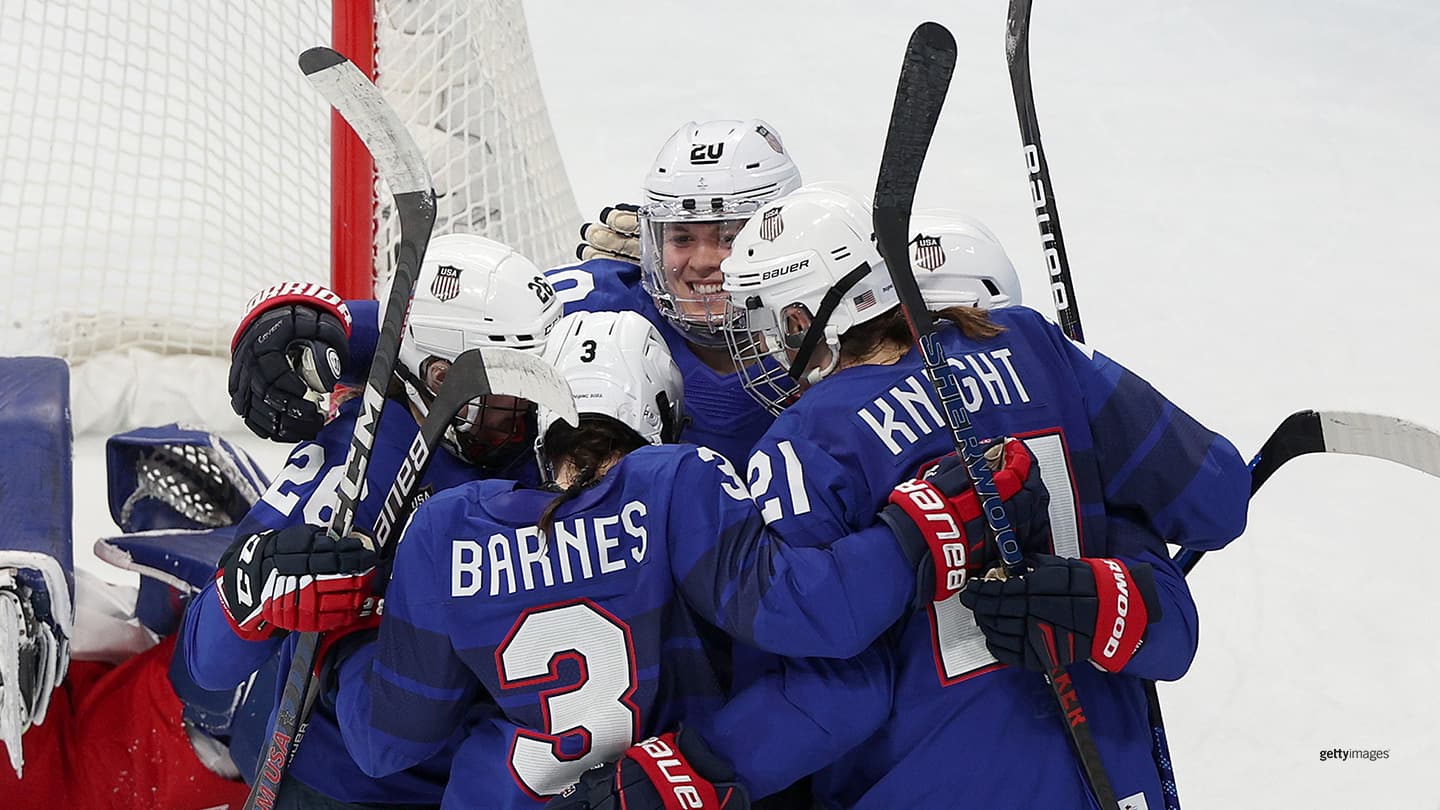 Savannah Harmon celebrates her third period goal against Team Czech Republic with Kendall Coyne Schofield, Cayla Barnes, Hannah Brandt and Hilary Knight during the Women's Ice Hockey Quarterfinal match at the Olympic Winter Games Beijing 2022 on Feb. 11, 2022 in Beijing, China.
Three third-period goals helped the United States women's hockey team avoid a major upset as they defeated the Czech Republic 4-1 Friday in a quarterfinal matchup of the Olympic Winter Games Beijing 2022.

Hilary Knight, Lee Stecklein, Savannah Harmon and Kendall Coyne Schofield scored for the U.S., and Alex Cavallini made five saves as the U.S. advances to the semifinal for the seventh straight time since the introduction of the sport in the 1998 Olympics.
THERE IT IS. 👏@usahockey is moving on. #WinterOlympicspic.twitter.com/u0RqwHNJEG


— Team USA (@TeamUSA) February 11, 2022
The penalty-killing unit, which has surrendered three goals in the tournament already, killed four separate penalties including Dani Cameranesi's five-minute major late in the second period.

Team USA came out with a vengeance to start the third period and their hard work was rewarded when Stecklein's shot redirected off a Czech defender past Klara Peslarova at 6:49. Kelly Pannek and Megan Keller assisted on the go-ahead goal.

"We all knew we had to turn it up and keep going," Stecklein said of the team's mentality at the end of the second period. "No matter how many shots we are getting we have to find a way to put the puck in the net. It's for our lives here, not much really needed to be said because everyone feels it."
.@LeeSteck2 saw her shot and took it.#TeamUSA | #WinterOlympics pic.twitter.com/6NgOyxDkL4


— USA Hockey (@usahockey) February 11, 2022
Michaela Pejzlova opened the scoring and gave the Czech Republic a stunning one-goal lead on their second shot of the game, 4:59 into the second period.

However, Knight responded 48 seconds later with an equalizer. Schofield made a nifty move in the slot and fired a shot that caromed off the Czech goalie. Knight crashed the net and chipped the puck over the head of Peslarova at 5:47.

The game-tying goal was Knight's 10th career Olympic goal, tying her with Cammi Granato for fourth on the United States all-time goal scoring list. The alternate captain also picked up her 24th point on an assist in the third period to slide into third on the all-time scoring list, one ahead of Katie King.
Playing with grit! 😤@HilaryKnight responded quickly for #TeamUSA with a goal to tie it up. #WinterOlympics
pic.twitter.com/i9kp8leXSu


— Team USA (@TeamUSA) February 11, 2022
Harmon gave the U.S. a two-goal edge with a power-play goal at 16:51 of the final frame. Harmon read the rebound from Hannah Brandt's shot perfectly as she continues to produce on the offensive end in Beijing.


"We are getting a lot of shots but not a lot of goals," Coach Joel Johnson said. "I wouldn't call it struggling to score, we are just not generating the highest quality scoring chances compared to settling for some shots that are fairly easy to save. We are going to continue to talk about that whether on the power play or five on five."


Schofield added an empty-net goal in the final seconds.


"We want to play a full 60 minutes," Stecklein said. "That starts with each of our lines, each of our d pairs rolling right off each other and gaining momentum that way. That happens best when we are skating and moving our feet. We got some awesome forwards that are really fast."


The PK unit turned the tide late in the second period with an important five-minute kill without allowing a shot. Alex Carpenter had the best opportunity of the segment with a shorthanded breakaway but her five-hole attempt was denied.


The United States reached the 50+ shot mark for the fifth consecutive game and had an 18-0 shot advantage at the end of 20 minutes.


"I thought our team did a great job of sticking together and trying to get shots," Cavallini said. "On the defensive side, I thought the team did a great job blocking shots and shutting everything down."


The U.S. will meet the winner of Finland-Japan in the Olympic semifinals on Monday, February 14.
Want to follow Team USA athletes during the Olympic Games Beijing 2022? Visit TeamUSA.org/Beijing-2022-Olympic-Games to view the competition schedule, medal table and results.
Scott Charles is a sportswriter whose work has been featured in the Associated Press, various NBC platforms and Yahoo! Sports among other places. He is a freelance contributor to TeamUSA.org and you can follow him on Twitter @ScottMCharles.