U.S. Women's Hockey Team Claims Silver Medal After 3-2 Loss Vs. Canada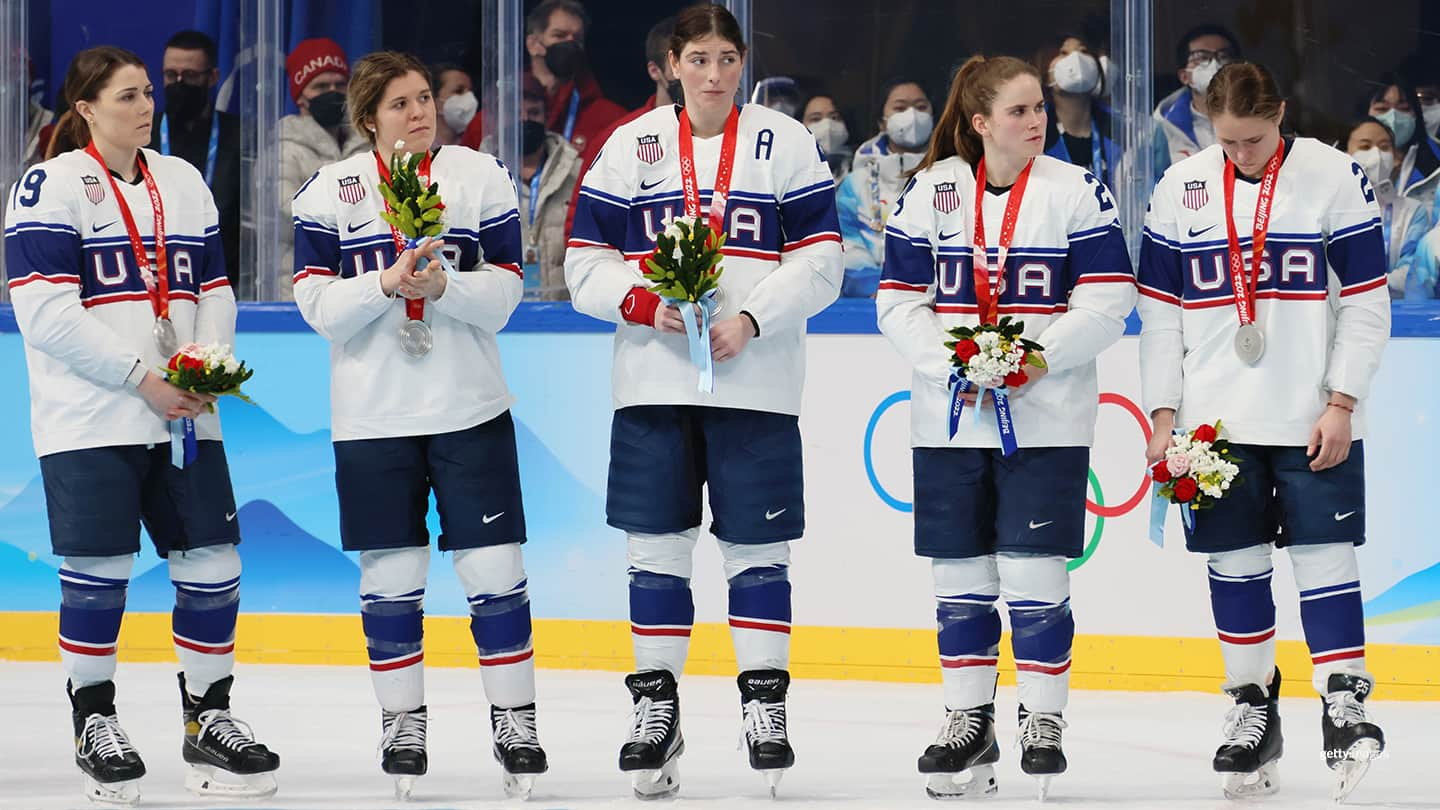 Jincy Dunne, Hannah Brandt, Hilary Knight, Dani Cameranesi and Alex Carpenter react with their silver medals after the Women's Ice Hockey Gold Medal match between Team Canada and Team United States at the Olympic Winter Games Beijing 2022 on Feb. 17, 2022 in Beijing, China.
Team USA Women's hockey ended its Olympic tournament on Thursday with a silver medal after a hard-fought game with longtime rivals Canada.

Hannah Brandt's missed opportunity in the opening minutes was a sign of things to come for Team USA in the Olympic Winter Games Beijing 2022 gold medal game against Canada.

Marie-Philip Poulin scored twice, and Ann-Renee Desbiens made 38 saves, including 15 in the third period, and Canada won the gold with a 3-2 victory over the U.S.

Hilary Knight and Amanda Kessel scored for the U.S. and Alex Cavallini stopped 18 of 21 shots. Team USA put up a fight until the end, scoring a powerplay goal in the third period, but it wasn't enough to top the Canadians.
"The way that (both teams) play with purpose, passion and pride is something that I certainly have a great amount of respect for, and I think that is what separates this rivalry," U.S. coach Joel Johnson said. "Because it has happened so often and you see those two things, the excellence on the ice and the pride in their country."

Kessel scored a power-play goal with 13.5 seconds remaining in the third period to pull the U.S. to within one but it was too little, too late for the Americans.
"It stings for a while, and [we] won't forget this probably forever," Kessel said. "Really proud of our team, to keep fighting all game long, I don't think that anyone ever gave up. … I'm proud of our team for sticking together through it all."

Poulin added to her legendary resume with her third game-winning goal in an Olympic gold-medal game. Canada's captain became the first player, male or female, to score in four gold-medal games.

Sarah Nurse also had a record-setting night with a goal and an assist, surpassing Hayley Wickenheiser for most points in a single Olympics with 18. Canada claimed its fifth gold medal in the seven Olympics that women's ice hockey has been contested.

Knight attempted to will the U.S. back into the game with an impressive shorthanded goal at 16:39 of the second period to cut Canada's lead to 3-1. Brandt pressured a Canadian defender in the defensive zone and forced a turnover that led to an odd-man rush opportunity. Knight's initial shot was blocked but her determination shined as she calmly collected and finished her own rebound.
Following her shot! @HilaryKnight #TeamUSA | #WinterOlympics pic.twitter.com/zpe32C1RgU


— USA Hockey (@usahockey) February 17, 2022
Brandt had an opportunity to give Team USA a one-goal lead in the first few minutes of the opening period. The two-time Olympian was staring at an open cage after the puck slid across to her off a faceoff, but Brandt shot the puck off the side of the net.

Alex Carpenter also had a scoring chance early in the third period but wired a wrist shot off the iron while Desbiens was unable to track the puck after a scramble in front.
"Obviously disappointed with the outcome but very proud of our group," alternate captain Lee Stecklein said. "We are a family in that locker room, very proud of everyone."

Nurse gave Canada a one-goal lead after converting on a set faceoff play at 7:50 of the first period. Claire Thompson and Poulin assisted on the play.

The Canadian captain stretched the U.S. deficit to two when her shot squeaked under the right arm of Cavallini. She would later add her seventh career goal in gold-medal games to extend Canada's lead to three. Poulin fired a shot from a sharp angle that banked off Cavallini's right pad and in. Brianne Jenner and Nurse assisted on the eventual game-deciding goal.

The United States pushed the pace following Canada's third goal and outshot their opponent 22-5 in the final 30:52 of the game.
"From an athletic experience, this has been one of the toughest journeys that a player or coaching staff has endured," Johnson said. "When I look back over the last few months, from the isolation to the loneliness, to the difficult training, to the restrictions that the pandemic placed on us. The inability to have meetings to establish and foster relationships. So many different details that have been unbelievable. I think that adversity, and seeing our team continue to fight and battle for it was really impressive to me."

Defender Megan Keller led the U.S. in ice time playing a whopping 29:17.

Knight played in her 22nd career Olympic game, surpassing Jenny Potter and Angela Ruggiero for most Olympic games played in U.S. women's hockey history.
"I don't think we played up to our potential, that's the bittersweet part of it," Knight said. "We are a great team but at the end of the day the score didn't show this. Hopefully you take this, and you stay hungry. For some of the younger kids in that room, come back with a vengeance and a chip on their shoulder to do better and to do more. It's always a special moment when you can represent your country on a world stage."

Want to follow Team USA athletes during the Olympic Games Beijing 2022? Visit TeamUSA.org/Beijing-2022-Olympic-Games to view the competition schedule, medal table and results.
Scott Charles is a sportswriter whose work has been featured in the Associated Press, various NBC platforms and Yahoo! Sports among other places. He is a freelance contributor to TeamUSA.org and you can follow him on Twitter @ScottMCharles.