Olympic Newcomers Shine In United States 5-0 Win Against Russian Olympic Committee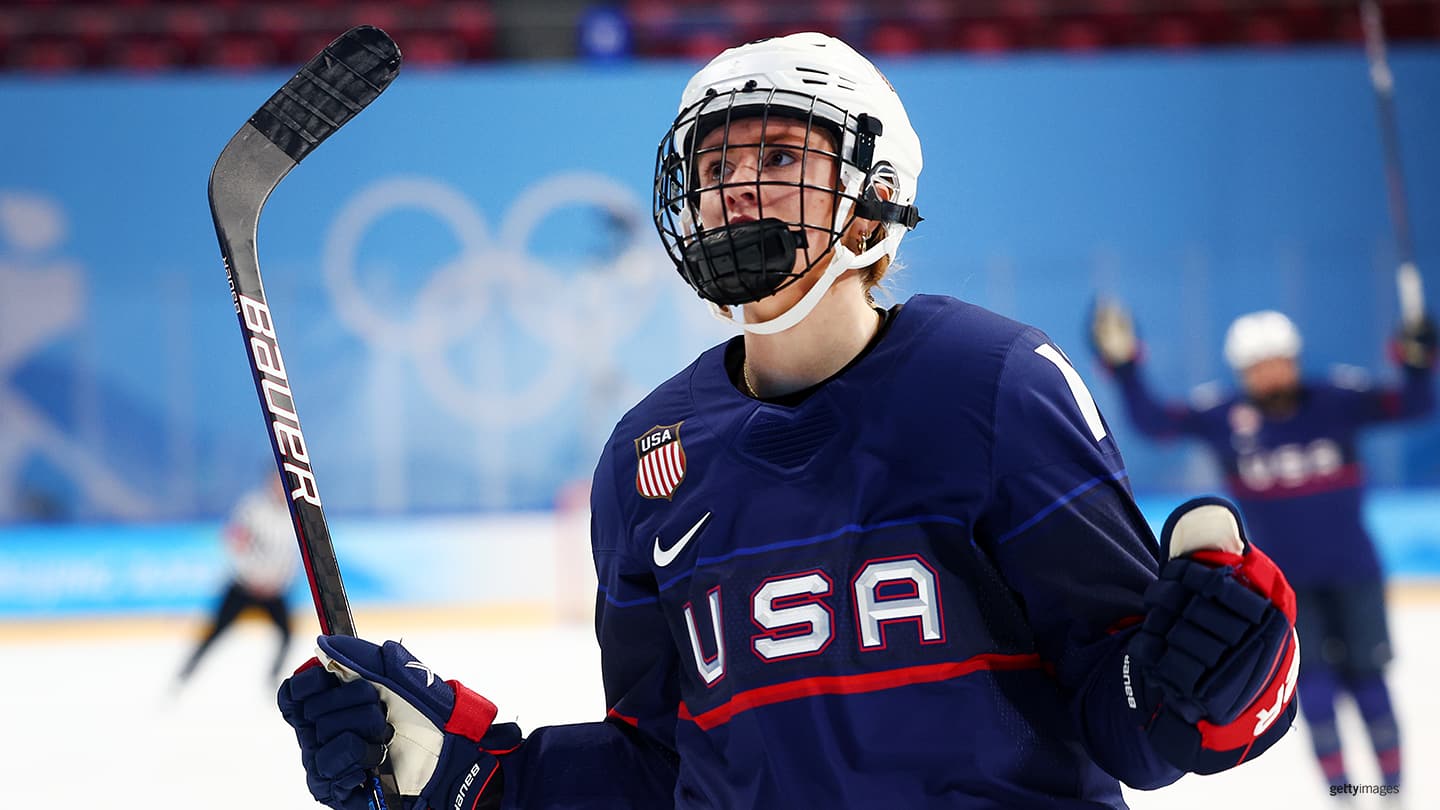 Forward Jesse Compher celebrates her goal against Team ROC during the third period during a women's preliminary round match on Feb. 5, 2022 in Beijing.
A trio of first-time Olympians helped the United States women's hockey team capture their second win of the Olympic Winter Games Beijing 2022.

Savannah Harmon scored a goal and registered two assists and Grace Zumwinkle and Jesse Compher each scored their first goal of the tournament as the U.S. skated to a 5-0 win against the Russian Olympic Committee.

Hilary Knight also scored and recorded an assist as she surpassed Cammi Granato for fourth place on the U.S. Olympic all-time scoring list, trailing Jenny Potter, Natalie Darwitz and Katie King.

Nicole Hensley made 12 saves and the United States collected its eighth straight shutout victory against the Russian team who last scored against the Americans at the 2015 World Championships.

"Our goaltenders are very comfortable playing in types of games when they don't see a lot of shots," Johnson said. "That's a huge credit to not only the individual goaltenders themselves but the way that our coaches prepare them. Also, the way that we play defense, of trying to limit those opportunities where a bad turnover leads to a scoring chance against. … You have to have great goaltending that doesn't fall asleep, and we got that tonight."
Forward Alex Carpenter picked up her third goal of the tournament and has seven career goals in seven Olympic games.

Harmon opened the scoring with her first career Olympic goal when Knight found the defenseman darting toward the back post. Harmon returned the favor when she assisted on Knight's second-period goal to give the U.S. a 2-0 advantage.

"(Harmon) is a really talented player," Knight said. "It's great to see grow as a player on the ice, she is a wonderful person. I am so happy she is representing our country and executing on the world stage like she did tonight. … Savannah is a great skater. a great offensive mind, she is also an awesome defensive player as well. To have a defenseman that can be two way is unreal for us."
Want to follow Team USA athletes during the Olympic Games Beijing 2022? Visit TeamUSA.org/Beijing-2022-Olympic-Games to view the competition schedule, medal table and results.

Knight also moved into second place on the U.S. women's all-time assist list with her 13th, sliding past Julie Chu.

Hensley only saw two shots in the first period but was tested in the middle frame. She denied Polina Luchnikova and Viktoria Kulishova to preserve a one-goal edge at the time. Hensley continues to complicate the goalie discussion in a good way for coach Joel Johnson, who has elected not to name a starting goaltender given the depth the U.S. has at the position.

The United States blew the game open with three goals in a 4:47 span early in the third period.

Dani Cameranesi found Zumwinkle at the top of the crease for a tap in to kick off the scoring in the final frame. Shortly after, Compher wired a wrist shot from the slot to extend the United States' lead to four.

"We were definitely working well as a team," Compher told USA Network following the game. "We were working hard and doing what we needed to do."

Carpenter capped off the scoring when she collected a rebound from an Amanda Kessel shot which led to a Russian goalie change. The U.S. had goal scorers on all four offensive lines and outshot the opponent 62-12.

The United States' demanding schedule continues when they square off with Switzerland in the third preliminary round game on Sunday, February 6 at 8:10 a.m. ET.
Scott Charles is a sportswriter whose work has been featured in the Associated Press, various NBC platforms and Yahoo! Sports among other places. He is a freelance contributor to TeamUSA.org and you can follow him on Twitter
@ScottMCharles.