News
Kendall Coyne-Schofield
History Makers Shine As U.S. Women's Hockey Team Opens Olympics With Win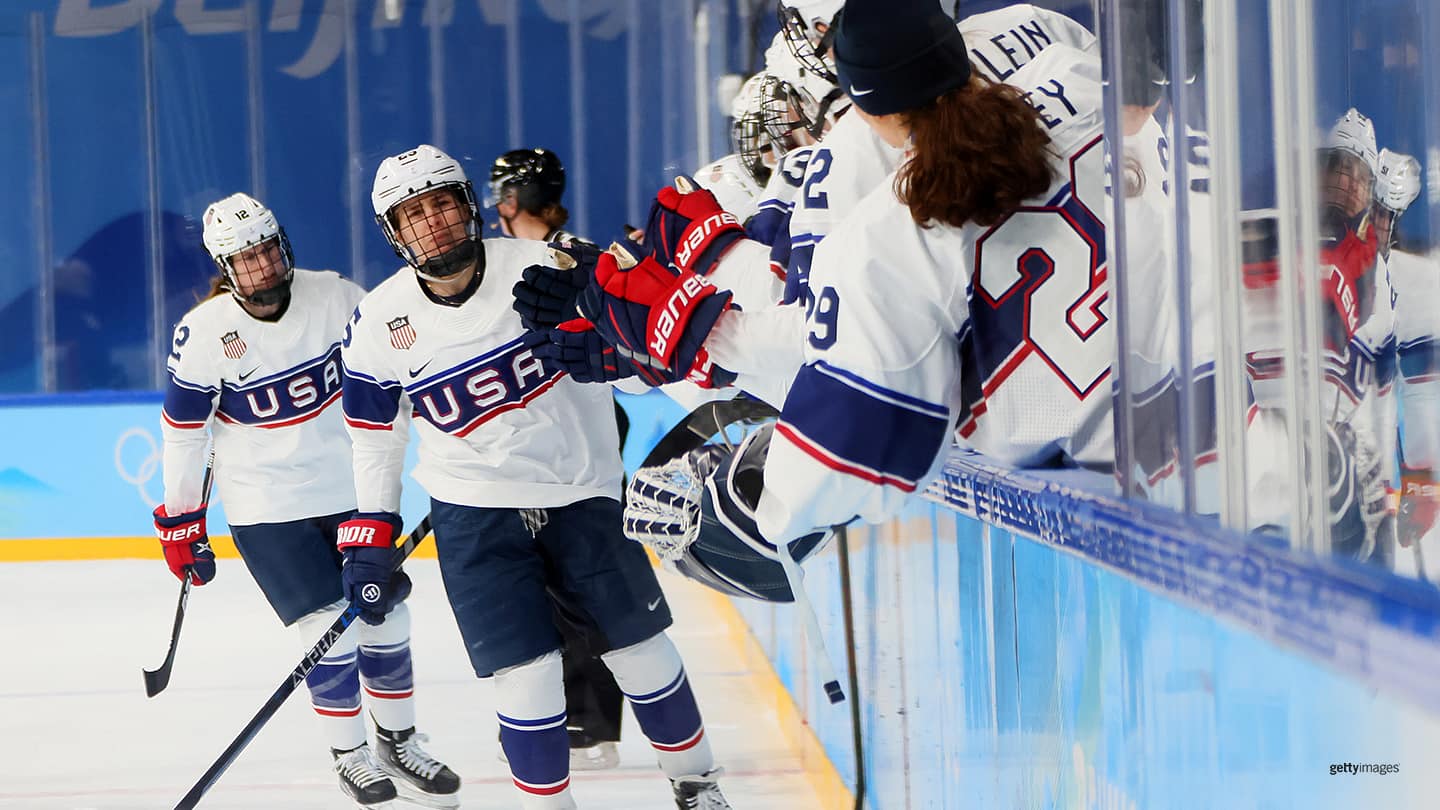 Team USA Women's Hockey celebrates a goal during the first period of the women's ice hockey preliminary round match between Team USA and Team Finland on Feb. 3, 2022 in Beijing.
BEIJING — It was a historic night at the Wukesong Sports Centre for American hockey as the U.S. women began the defense of their Olympic gold medal with a 5-2 win over Finland.

There was little historic about the result — the U.S. women are now 9-0-0-0-0 all time against Finland at the Olympic Games — but history takes many forms. There were achievements made on and off the ice, in and out of a Team USA sweater. Take for instance No. 11 in red, white and blue, the first Indigenous woman to play Olympic hockey for the United States.

Abby Roque had an assist, was +2 and was among the U.S. shift leaders, but the significance of her Olympic debut is likely to have a greater and longer lasting impact beyond gameplay. The native of Sault Ste. Marie, Michigan, who is a member of the Wahnapitae First Nation, said earlier in the week that she is proud to be the first but wishes that she wasn't — in that it should've happened far sooner. But Roque has taken up the role of inspiration, proudly.

"The biggest piece for me is making sure I'm being a good role model and putting my best foot forward," Roque said earlier this week. "Especially for us women in sport, if you can see it, you can be it. When you look at hockey, you want to see female hockey players, and if you're an indigenous kid you want to be able to see other Indigenous players playing on the biggest stage."
A perfect pass from @abby_roque to @carpy05 for the goal!#WinterOlympics | #TeamUSA pic.twitter.com/87E7Ut2w8Z


— USA Hockey (@usahockey) February 3, 2022
It was also a big night for some of Team USA's biggest stars, this golden generation of players who have been together for three Olympic cycles now. Hilary Knight took the ice for her fourth Olympic Games, joining an exclusive club of just four U.S. women to play so many. She also, at 32, became the oldest U.S. woman to suit up in Olympic hockey. With an assist, Knight moved into a tie for fourth place on the all-time U.S. point scorers at the Games list, and has a chance to climb even higher.
All U.S. goals came courtesy of some legends, with Amanda Kessel opening the scoring, Alex Carpenter doubling the lead before later adding one more and Kendall Coyne Schofield putting the game out of reach. Kessel and Coyne Schofield, along with Brianna Decker and Lee Stecklein, are each playing in their third Olympic Games.
"The first time that I went to an Olympics and lost, I thought I wanted to go back more because I hadn't won," Kessel said. "And now that I've won, it made me want to come back and win again."
The goal scorers are also three of four Team USA's Patty Kazmaier Award winners. In one of few negatives from the game, Decker didn't get the chance to add to the scoresheet after she was stretchered off midway through the first period with an apparent lower body injury. Seen on crutches after the game, Decker's loss will be felt by the team on and off the ice.
"I think the response that you saw from our group shows what she means to this team," said Coyne Schofield of the team's two-goal outburst shortly after Decker's injury. "We don't know her status, hope she's OK, but it was definitely difficult to see."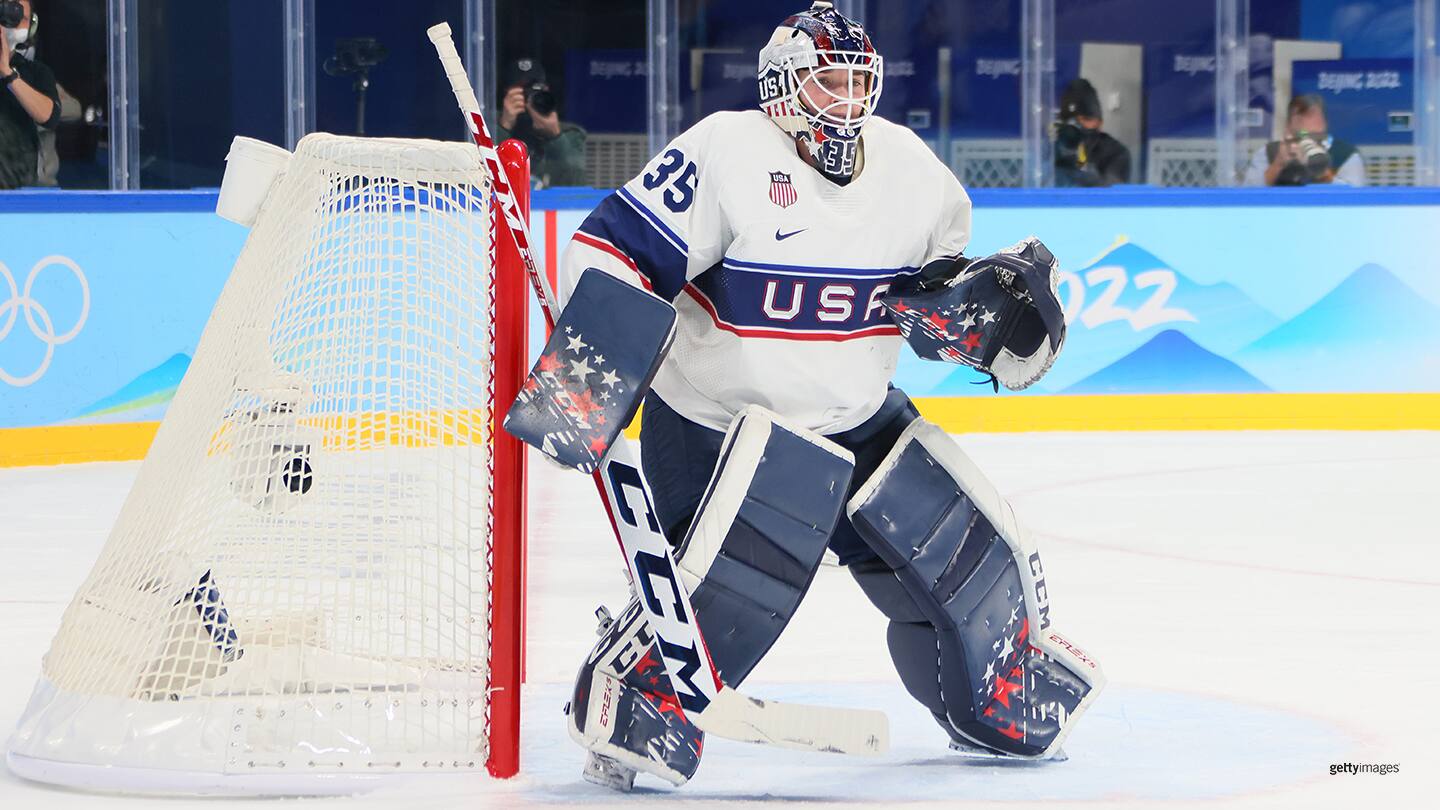 Maddie Rooney #35 of Team USA looks on during the women's ice hockey preliminary round match between Team USA and Team Finland on Feb. 3, 2022 in Beijing.
The game also featured the "Secretary of Defense" back in her office. Goalie Maddie Rooney, who earned that nickname with her standout play four years ago in PyeongChang, allowed two goals. That'll raise her 1.16 goals against average from the 2018 Games, the second-best mark in U.S. history among goalies who have played three or more games, but Rooney should see more opportunities to bring that back down.
And it was a special night for an American skater wearing black and white vertical stripes. Official Kelly Cooke had dreamed of making the Olympic Games as a player, having been a former pro player and teammate of Knight and Decker. But Cooke has instead made history a different way, in October becoming the first female referee in the American Hockey League and now making her Olympic debut.
"Playing since I was a young girl, I always dreamed of being in the U.S. Olympic team," Cooke said earlier in the week. "I never in a million years thought that I'd be going to the Olympics as a referee but it's something that I'm very proud of and excited to do."
Of course, the ultimate history being chased by Team USA is winning back-to-back gold medals for the first time. Already assured of the quarterfinals by virtue of being in Group A, the U.S. will look to use the preliminary round to get into top form. Their biggest test will come against their biggest rivals, a Feb. 8 meeting with Canada to close out the first round. Pass those tests and more history awaits.
"It's a big stage and it's a good opponent," said U.S. head coach Joel Johnson, who made some personal history coaching in his first Olympic game and getting his first win. "And I thought all of our players, whether they were old but in particular, the people that this was their first Olympic game, I thought they played great."
Todd Kortemeier is a sportswriter, editor, and children's book author from Minneapolis. He is a freelance contributor to TeamUSA.org on behalf of
Red Line Editorial, Inc.