Analyst: U.S. Women's Ice Hockey Has The Depth To Overcome Decker Injury At Winter Olympics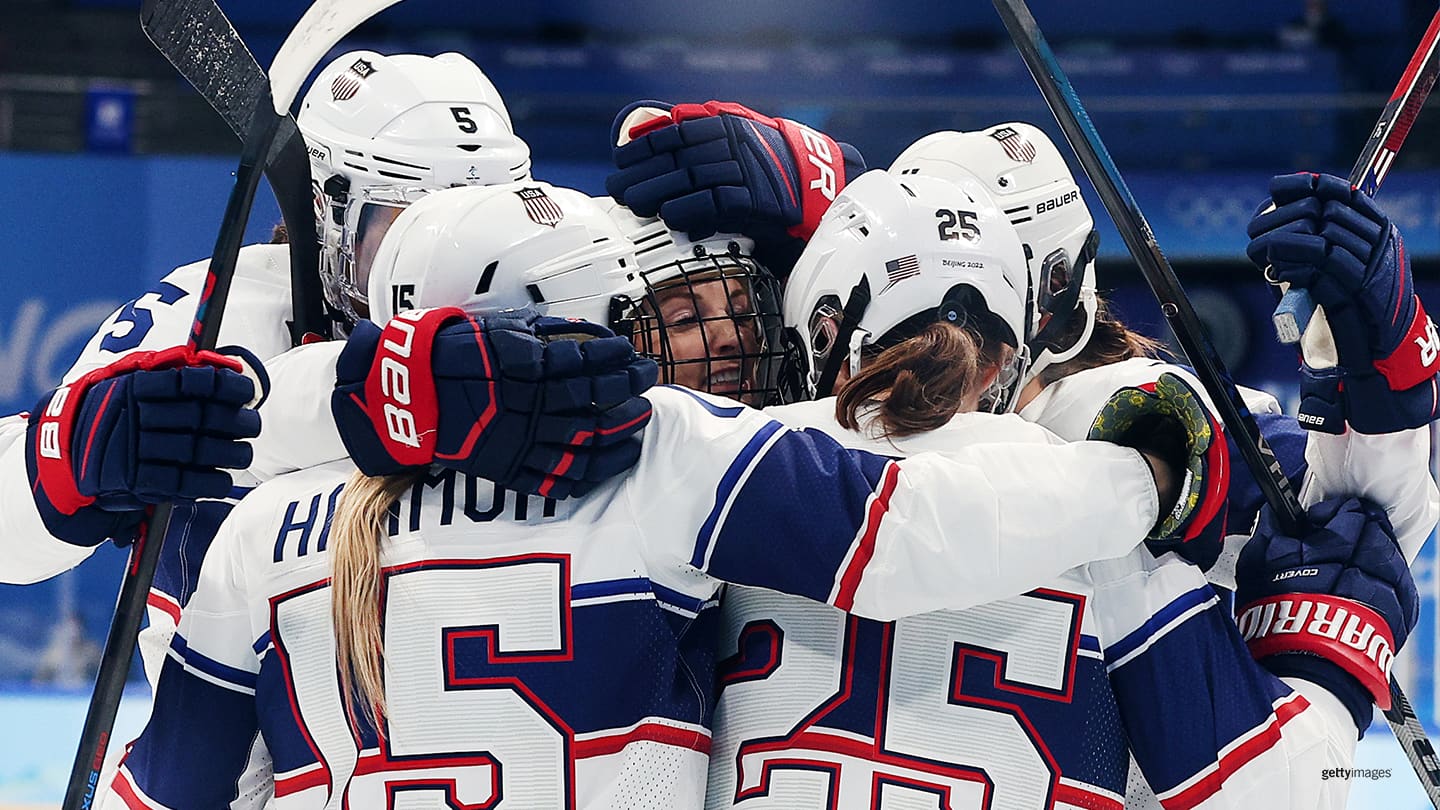 Team USA celebrates a goal during the first period during the women's ice hockey preliminary round match between Team USA and Team Finland on February 3, 2022 in Beijing.
Challenges are expected when competing in the Olympic Games, but a key injury within the first 10 minutes of the opening game was not something the United States women's ice hockey team anticipated.

Alternate captain Brianna Decker was taken off the ice on a stretcher less than 10 minutes into a 5-2 win against Finland on Thursday. A USA Hockey spokesperson confirmed that Decker will miss the remainder of the tournament.

Monique Lamoureux-Morando, three-time Olympian in ice hockey, is a familiar face to Team USA fans as part of the gold-medal-winning team in 2018. She has since retired from competition and stepped into the role of NBC analyst for the Olympic Winter Games Beijing 2022. She spoke to teamusa.org about the challenges ahead for Team USA in the preliminary round.

"Losing Decker 10 minutes into her third Olympics is heartbreaking on so many levels," Lamoureux-Morando said. "She is one of the best players in the world."

First-time Olympian Abby Roque immediately moved up the lineup and in the second line's first shift following the injury, Amanda Kessel scored the opening goal, giving the U.S. roster a sigh of relief.

"She stepped right into that role and seemed to fit in seamlessly with that line," Lamoureux-Morando said. "Clearly, they have chemistry together and that's a positive thing to take away from the win against Finland."

With her her performance in the opening game, Roque became the first Indigenous woman to play Olympic Hockey for the United States.

The trio of Roque, Kessel and Alex Carpenter scored again late in the third period when Roque deftly set up Carpenter for the team's fifth goal. Carpenter also notched a power-play goal in the opening period.

"Carpenter has something that she wants to prove this Olympics after being cut in 2018," Lamoureux-Morando said of her 2014 teammate. "For her to come in this first game and score two goals I think will give her a lot of confidence going into the rest of the tournament. Anybody that knows women's hockey, knows that she is one of the best players in the world."
Want to follow Team USA athletes during the Olympic Games Beijing 2022? Visit TeamUSA.org/Beijing-2022-Olympic-Games to view the competition schedule, medal table and results.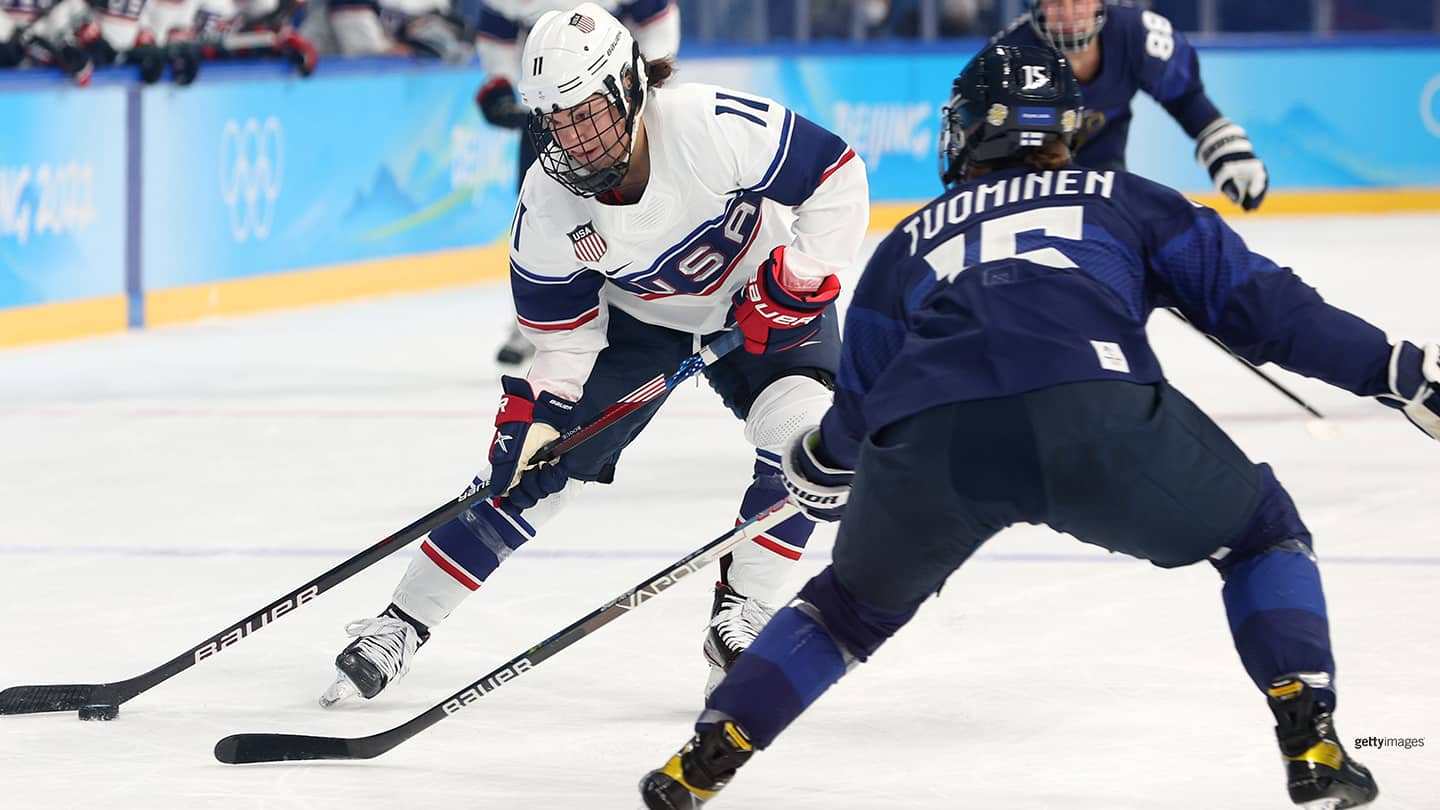 Abby Roque #11 of Team USA takes on Minnamari Tuominen #15 of Team Finland during the women's ice hockey preliminary round match between Team USA and Team Finland on Feb. 3, 2022 in Beijing.
The scoring touch from Carpenter and playmaking ability from Roque will be two key elements to help the U.S. move forward without Decker.

This tournament's format will be different than years past with the hope of playing seven total games as opposed to five. One of the biggest advantages the United States women's program has compared to most countries competing is depth, which can help carry a deep tournament run.

A key storyline for the U.S. is a surplus of talent in net with three goalies that have all won a World Championship or an Olympic Gold Medal. Maddie Rooney made 10 saves in her tournament debut, but Lamoureux-Morando expects Alex Cavallini and Nicole Hensley to see action in the games against the Russian Olympic Committee and Switzerland over the weekend.

"They have all played in pressure-packed situations," Lamoureux-Morando said. "The tell-tale sign will be who plays in that Canada game on Tuesday."

In addition to the busy schedule on the ice that consists of four games in six days, athletes also must manage their time commitments away from the rink. The Opening Ceremony takes place during a demanding stretch of the preliminary round, and there are other expectations that come with being an Olympian.

"Certainly, everyone has to make their own decisions on how to best prepare to help us win hockey games but let's not forget what an unbelievable experience it is to be an Olympic athlete," U.S. coach Joel Johnson said. "For some people they do get to return but for most it's a once in a lifetime opportunity and I hope they enjoy it."
Scott Charles is a sportswriter whose work has been featured in the Associated Press, various NBC platforms and Yahoo! Sports among other places. He is a freelance contributor to TeamUSA.org and you can follow him on Twitter
@ScottMCharles.