Canada Edges USA In Second Exhibition Of My Why Tour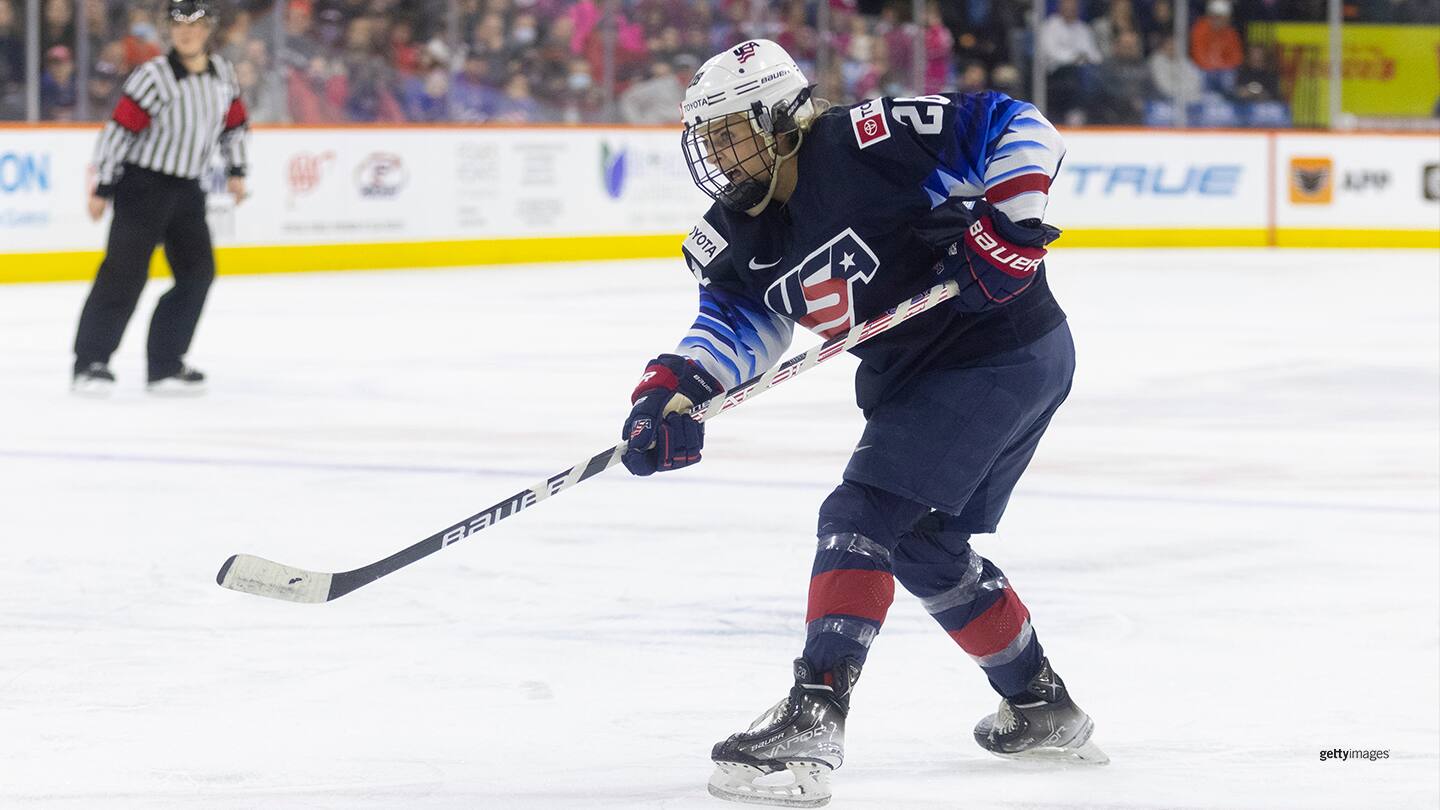 Amanda Kessel shoots against Canada in the My Why Tour on Oct. 22, 2021 in Allentown, Pennsylvania.
HARTFORD, Conn. – It was another exhibition game for the U.S. women's hockey team that featured several positive moments but failed to produce a victory.

Sarah Fillier scored twice, and Ann-Renee Desbiens made 18 saves as Canada edged the U.S., 3-2, in their second consecutive victory on the My Why Tour.

Amanda Kessel and Cayla Barnes each scored for the U.S., and Nicole Hensley stopped 17 shots as the Americans fell to their northern neighbors for the fourth straight time dating back to the world championships in August.

"These are the kind of games you are going to get between us and Canada," Kessel said. "It's a fast-paced game, you've got young kids coming up that continually push the pace and make us better."

Fillier broke a 2-2 tie at 16:02 of the final frame with her second of the game. Brianne Jenner and Poulin assisted on the game-deciding goal.

"She is a talented, fast forward that you have to be aware of," Barnes said after Fillier scored her third goal in the previous two games against the Americans. "But we don't play her any differently than we play anyone else. We play defense a certain way against everyone, if we stick to how we play against their entire offensive attack it is not an issue with her."

Team USA responded with urgency after a slow start led to a Canadian two-goal advantage 5:03 into the first period.

Barnes cut the deficit in half with a blast from the right point on the power play. Lacey Eden kept the sequence alive with an aggressive forecheck behind the net prior to screening the Canadian goaltender.

Early in the middle frame, Hensley denied Fillier's shot from the slot and Natalie Spooner's chance from in tight to keep the Americans within a goal.

"I really think that things are coming together inside of our locker room, and it is going to show," Kessel said. "It's a good thing going here."

Kessel evened the score with a wicked wrist shot from the slot after receiving a perfect pass from Brianna Decker. Barnes made a nifty play at the point to keep possession in favor of the U.S. and also earned an assist on the equalizer.

"Brianna has great vision, I don't think I even called for the puck, but she is able to see a lot out there," Kessel said. "Just got it in the slot and the red seas parted and put one home."

Abby Roque did not play after sustaining a right ankle injury in the previous game on Friday in Allentown, Pennsylvania.

Victoria Bach opened the scoring for Canada with a top-shelf wrist shot from the slot 36 seconds into the first period. Marie-Philip Poulin assisted on the play.

Canada doubled its first-period advantage when Fillier scored her second in as many games. Spooner made a pretty cross-ice pass to find an open Fillier after Mélodie Daoust forced a turnover behind the net.

"Obviously, we don't want a slow start like that but the way we responded is important and we have to find that in the beginning of every game," Barnes said.

Five of the previous eight matchups between these two rivals have been decided by one goal.

Prior to the game, three-time Olympian Kacey Bellamy participated in a ceremonial puck drop after U.S. officials presented her with a No. 22 jersey as a celebration of her career.

The next game is scheduled for Nov. 21, in Kingston, Ontario after Russia backed out of a three-game series in Belfast, Northern Ireland which leaves a sizeable gap in the American schedule prior to the Olympic Winter Games Beijing 2022.
Scott Charles is a sportswriter whose work has been featured in the Associated Press, various NBC platforms and Yahoo! sports among other places. He is a freelance contributor to TeamUSA.org.