U.S. Women's Hockey Team Earns Second Rivalry Series Win In Two Tries Over Canada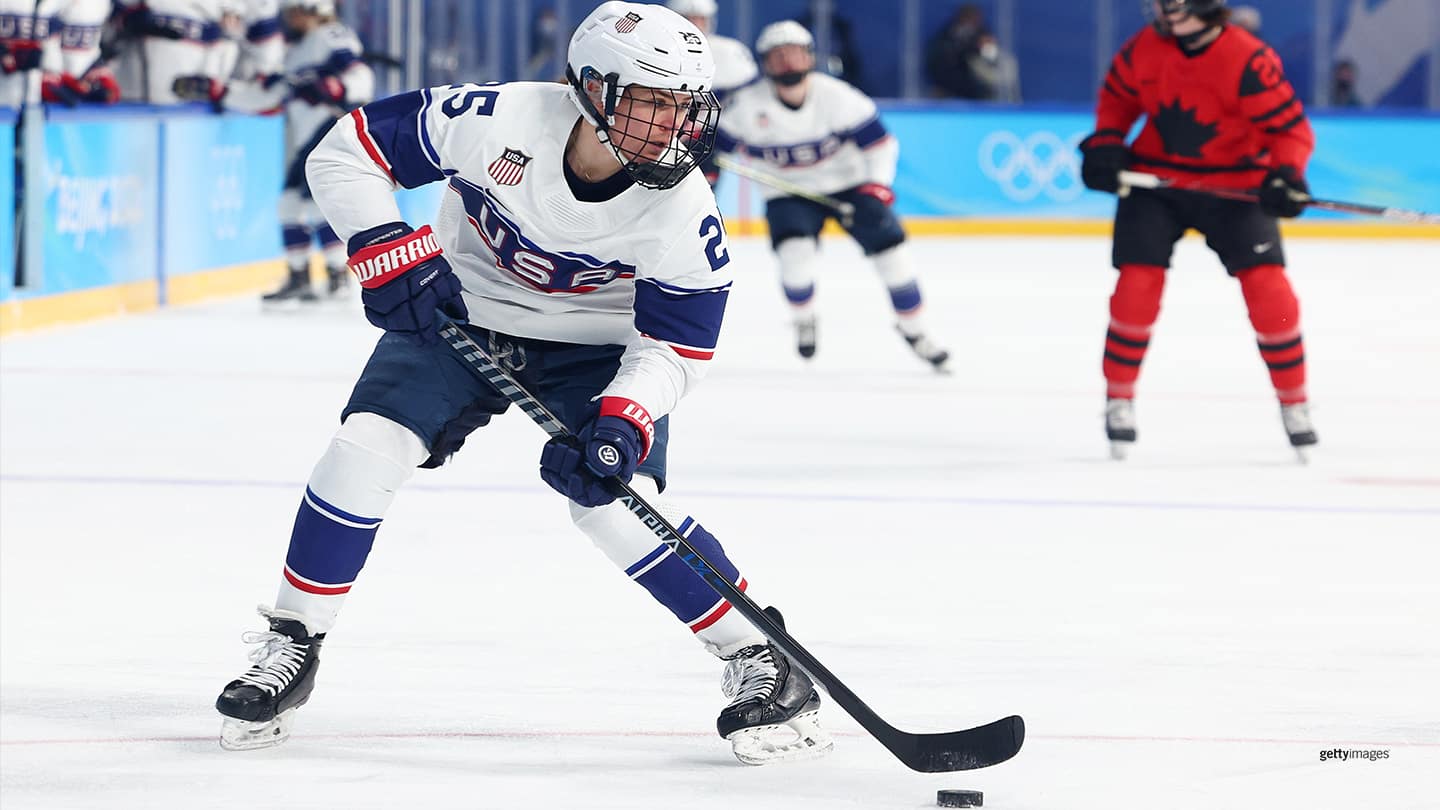 Alex Carpenter handles the puck in the women's ice hockey gold medal match during the Olympic Winter Games Beijing 2022 on Feb. 17, 2022 in Beijing.
The U.S. women's hockey team extended its winning streak on Canadian soil to four games on Thursday night with a 2-1 win over Canada in Kamloops, British Columbia, in the second game of the 2022-23 Rivalry Series.
Two days after winning the series opener 4-3 in Kelowna, British Columbia, the Americans outshot their neighbors to the north 34-20 on Thursday, holding the Canadians to single-digit shots on goal in each period.
The U.S. seemed to have control early on in this game but could not convert that momentum into a goal. After 38 minutes of scoreless hockey, the game looked to be heading into the second intermission a 0-0 draw. However, a breakaway for Canada drew a penalty shot for Marie-Philip Poulin. It was the second straight game the Canadian captain had a penalty shot opportunity. This time she didn't miss. Her goal put Canada up 1-0 with under two minutes to play.
The lead did not last long as the Americans responded just over a minute later. Kendall Coyne Schofield deflected Rory Guilday's long-distance shot to beat the Canadian goalie through the five hole to tie the game.
Both teams had opportunities in the third period to take the lead, but goalie Maddie Rooney stood strong for the U.S. on two penalty kills to keep her team in it. With 6:30 left in regulation, Hilary Knight's shot from the right faceoff circle rebounded out to the side of the net. Alex Carpenter nabbed the puck and snuck it back in at the post to give the U.S. a 2-1 lead.
Lighting the lamp from that location was second nature to Carpenter, who scored the overtime winner from nearly the same spot in this exact arena to win the 2016 IIHF Women's World Championship for the U.S.
Thursday's goal wasn't quite so high stakes, but it did also prove to be the game winner. Canada tried to find an equalizer by pulling the goalie for an extra skater as time wound down. But they could not find the back of the net before time expired.
The five-game series will continue in Seattle on Saturday.