Brody Malone's High Bar World Title Is His First, And The First For An American In The Event Since 1979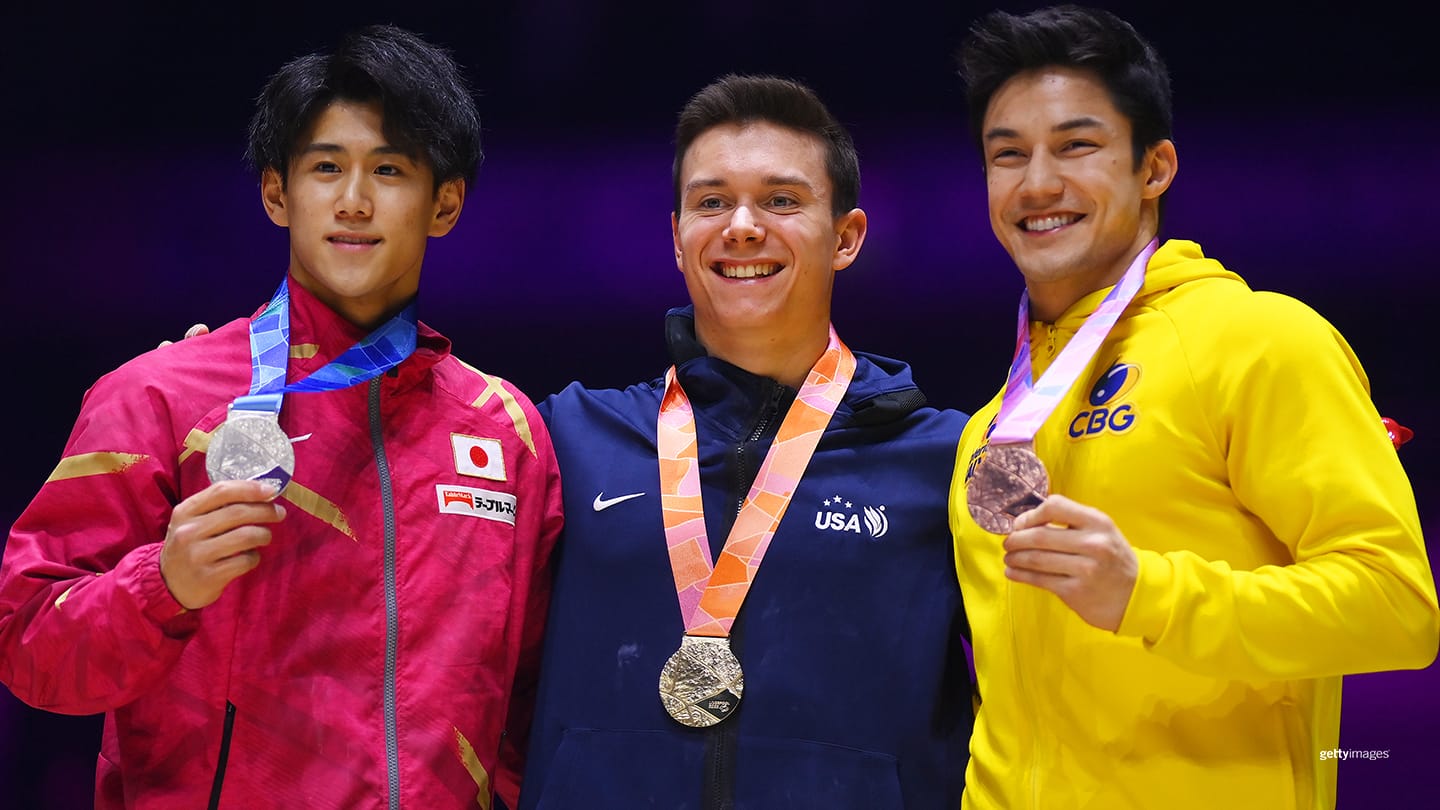 (L-R) Daiki Hashimoto (Japan), Brody Malone and Arthur Mariano (Brazil) pose during the medal ceremony of the men's high bar final at the 2022 Gymnastics World Championships on Nov. 6, 2022 in Liverpool, England.
No one can accuse Brody Malone of taking it easy.

Since winning his first U.S. title and making his Olympic debut last summer, the American gymnast hardly stopped, going straight to his junior season at Stanford, then defending his national title, all while picking up five international assignments between the Olympic Games Tokyo 2020 and this week's Gymnastics World Championships in Liverpool, England.

On Sunday, competing in his 19th and final routine of the world championships, he delivered what might have been his best. The 22-year-old native of Summerville, Georgia, cruised through his power-packed high bar routine to score 14.800 and claim his first world title. In the process he held off the defending Olympic champion Daiki Hashimoto of Japan, who scored 13.700 for second.

Malone's world title was the second in two years for the U.S. men, after Stephen Nedoroscik won the pommel horse in 2021.

Though the high bar has often been a strength for the U.S. men, with guys like Paul Hamm, Jonathan Horton, Danell Leyva and Sam Mikulak having all medaled on the Olympic or world championships stage since the turn of the century, Malone becomes just the second American to actually win a world title the event. The other was Kurt Thomas, who won the world title in 1979 as part of his historic six-medal haul there. (U.S. men have won four Olympic gold medals in high bar, with the most recent being Trent Dimas in 1992.)

Malone was already on that list of world medalists in the event. Competing a little more than two months after making his Olympic debut, he won the high bar bronze medal at last year's world championships.

This year's world championships got off to a rockier start for Malone, as he opened the week with some uncharacteristic mistakes. However, he came back to place fourth in the men's all-around final on Friday, then was as sharp and strong as ever in Sunday's high bar final.

Swinging with such power that it looked like he was trying to break the high bar, Malone connected his series of difficult release moves and complex swing combinations before landing with just a small hop. Hashimoto, who has emerged as the next great men's gymnast and won the all-around title in Liverpool, competed immediately after Malone but was unable to match him. Neither was anybody else.

Malone was able to take a rare break from the sport after this year's national championships, when he planned to head home to northwest Georgia for a week of TV, potato chips and frog gigging.

He'll head back to the Bay Area now, though he still won't have much of a break as his senior NCAA gymnastics season is set to begin on Jan. 14, 2023.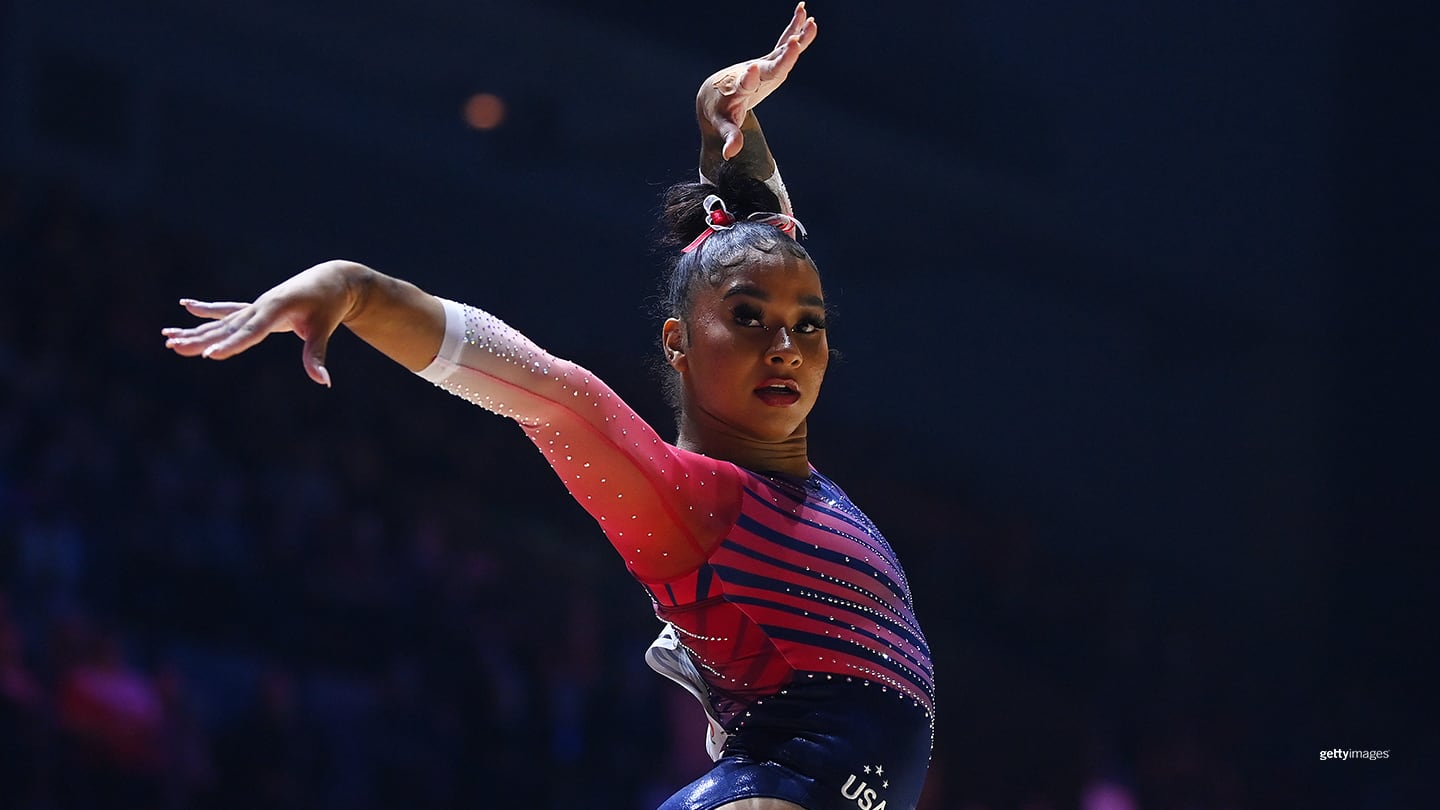 Jordan Chiles competes during the women's floor finals at the 2022 Gymnastics World Championships on Nov. 6, 2022 in Liverpool, England.
Chiles And Carey Medal Again In Women's Floor
A late charge during the last Olympic quad saw Jordan Chiles quickly rise from longshot to Olympian. Now she's making up for lost time.

Competing in her first World Gymnastics Championships at age 21, the Vancouver, Washington, native wrapped up this week's competition with a silver medal in the floor exercise final. It goes with a gold won earlier in the week in the team final and another silver won Saturday in the vault final.

A day after Jade Carey and Chiles went 1-2 in the vault final, both found the podium again Sunday as Carey, the defending Olympic champ in the event, tied for bronze. That gave the U.S. women seven medals for these world championships, including two golds. They earned a medal in all but one of the six women's competitions in Liverpool.

Chiles had broken into the senior elite gymnastics scene back in 2017, when she finished second at the national championships. However, she was passed over for that year's world championships team, and as the quad went on she battled with inconsistency and found herself on the outside looking in when it came to selection for major competitions.

A move to Texas to train with Simone Biles before the Tokyo Olympics sparked a resurgence, and by the time the Olympic team was named Chiles had become so consistent that her spot was never really in doubt.

After helping the U.S. team claim a silver medal in Tokyo, Chiles right to UCLA to begin her freshman season in college. That has typically meant the end of one's elite gymnastics career, but Chiles was one of three NCAA gymnasts to make this year's U.S. team — joining Carey of Oregon State and Leanne Wong of Florida.

Bringing some of that trademark showmanship from NCAA gymnastics to the elite level, Chiles has remained one of the strongest and most consistent performers all summer. That continued in Liverpool, where she would have qualified for the all-around final if not for the rule that only two gymnasts per country can make each final (she was third among the Americans).

As a consolation, Chiles was the only American to compete across all four events in the team final, where the U.S. women won a record sixth-consecutive world title. Then she earned her first individual world championships medal in vault.

On Sunday, Chiles closed things out with a characteristically strong floor exercise routine to score 13.833. Only Jessica Gadirova of Great Britain, the final performer, scored higher with a mark of 14.200.

Carey, who competed after Chiles, was initially given a matching 13.833 score — though Chiles would have won the tiebreaker due to her higher execution score. However, Carey's score was later lowered to 13.733, putting her even with Brazil's Rebeca Andrade. Since they had equal difficulty and execution scores they officially tie and share the bronze medal.

Carey, a 22-year-old from Phoenix, now has seven career medals from the world championships, to go with the Olympic gold medal she won in Tokyo.

Earlier in the day, Skye Blakely took fifth place in the balance beam, her lone individual event final. The 17-year-old from Frisco, Texas, had been putting together a strong routine, but toward the end the bow in her hair began coming undone and then she fell off the beam. She ended with a score of 13.300.
Chrös McDougall has covered the Olympic and Paralympic Movement for TeamUSA.org since 2009 on behalf of
Red Line Editorial, Inc.
He is based in Minneapolis-St. Paul.