Brody Malone Embraces Role As The New Face Of U.S. Men's Gymnastics, Even If He'd Rather Be Fishing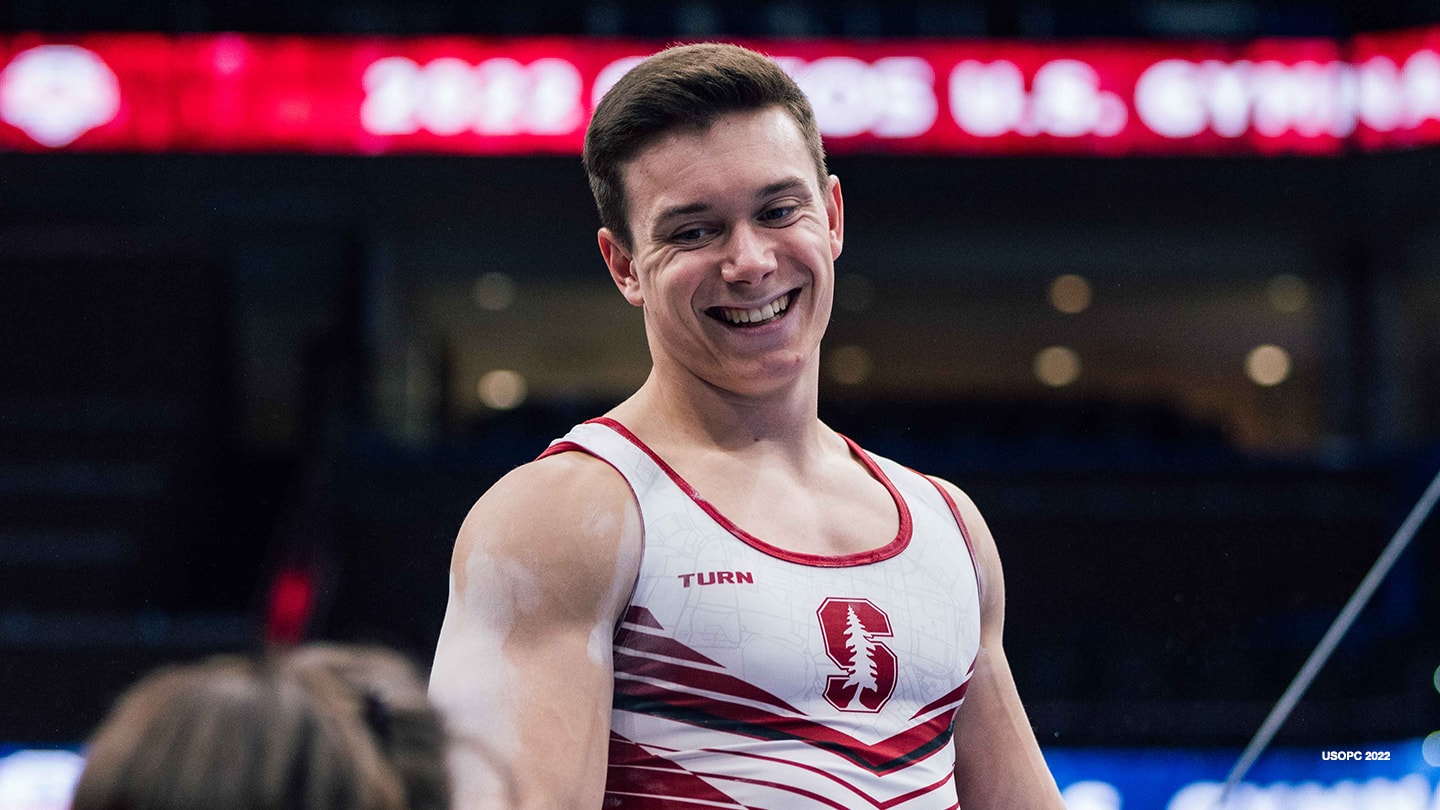 Brody Malone celebrates during the men's high bar at the 2022 U.S. Gymnastics Championships on Aug. 20, 2022 in Tampa, Fla.
TAMPA, Fla. – Brody Malone has learned to enjoy the Bay Area. He's gotten used to the attention that comes with being the country's top male gymnast, too. But if you want to find the 22-year-old really in his element, you'd have to follow him home to northwest Georgia.

That's where Malone is this week, after defending his crown at the OOFOS U.S. Gymnastics Championships in Tampa, Florida, having run away with the all-around title to also earn an automatic berth into this fall's world championships.

If you're looking for him early in the week, he'll most likely be lounging on the couch back home in Summerville, Georgia, a crinkled bag of sour cream and onion chips displayed by his side as he takes a rare break from the sport that never seems to stop.

Go looking for Malone at night, though, and you'll have to go outside.

When the sun goes down, Malone and his two younger brothers plan to grab their flashlights and spears to go out frog gigging.

Don't know what that is?

"Frog legs are really good, if you've never tried them," Malone says.

Read between the lines.

Malone has been straddling opposing worlds for a few years now.

He left the comfortable confines of Summerville — a city of 5,000 that's 10 miles from the Alabama border — in the summer of 2018, trading a life of hunting, fishing and rodeos for the bastion of tech and academia at Stanford University, where he's a member of the gymnastics team and studying management science and engineering.

Low key and unassuming by nature, Malone enjoyed a relatively discreet existence over his first three years in California, even as he won NCAA titles as a freshman and sophomore (in 2019 and '21, due to the COVID-19 pandemic). After all, Malone points out that being really good at a smaller sport doesn't really stand out among a student population where "everyone is great at everything they do."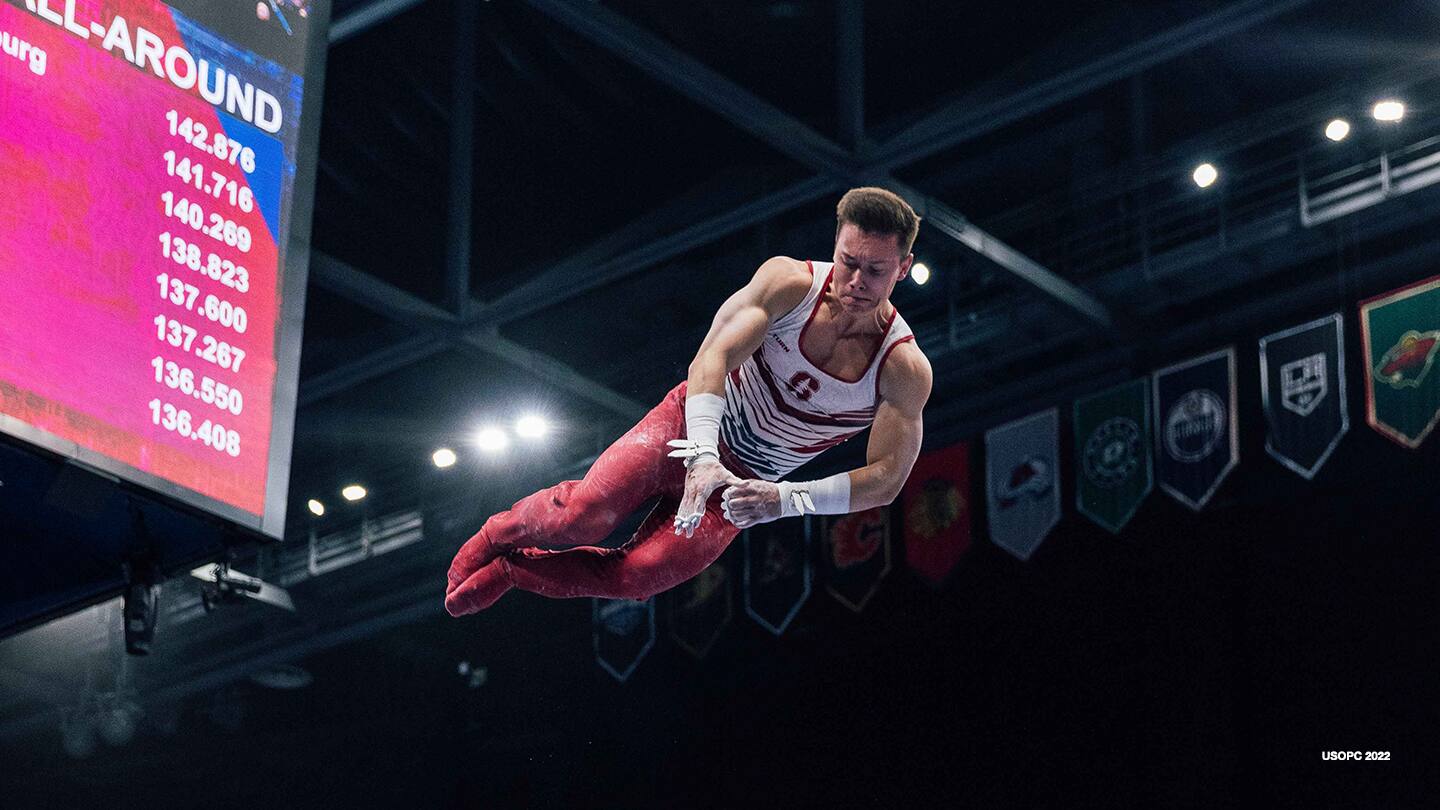 Brody Malone competes during the men's high bar at the 2022 U.S. Gymnastics Championships on Aug. 20, 2022 in Tampa, Fla.
That obscurity didn't last, though. At least not fully.

Coming out of the pandemic in 2021, with no one quite sure what to expect, the little-known Malone showed up at the U.S. championships and knocked off Sam Mikulak, the six-time national champion. Another win at the Olympic trials a few weeks later sent Malone to the Olympic Games Tokyo 2020, where he was Team USA's top all-arounder, finishing 10th. That was followed a few months later by a trip back to Japan for the world championships, where Malone won a bronze medal on high bar. His junior season at Stanford began shortly after that.

After spending his first 20 years mostly out of the spotlight, Malone arrived at Amalie Arena this week to find his face plastered on banners, and hordes of interviewers waiting to hear what he had to say.

Being the center of attention still doesn't quite feel right.

"I'm not a big fan of that," he said with a smile. "But I'm getting more used to it."

The attention came on fast last year. Barely known outside of college men's gymnastics circles, Malone thrust himself into first place on night one, over the presumed favorite Mikulak. Suddenly an NBC producer was pulling the quiet kid from Georgia in front of a TV camera.

"I just completely choked," he says now, with a chuckle.

A few minutes later, a screen full of journalists he'd never seen before were staring back at him, ready to pepper him with personal questions about his life and gymnastics.

Back at nationals this year as "the guy" for the U.S. men's program, Malone admits he's still not fully comfortable with the attention, though he certainly appeared at ease over the two days of competition. After some struggles in his opening routine on the still rings Thursday, Malone found his flow and cruised through his remaining 11 performances.

By the midway point, a second all-around title was his for the taking, and on Saturday night he took it, winning by more than five points and a score of 176.590. He also added national titles on floor and high bar, while finishing as runner-up on pommel horse.

With their results in Tampa, Malone and all-around runner-up Donnell Whittenburg earned automatic berths into the world championships that begin in late October in Liverpool, England. They were also selected to compete at a FIG World Challenge Cup next month in Paris, home to the Olympic Games Paris 2024.

Afterward, Malone was relaxed and personable in his dealings with the media — which were in-person again. It might have helped that, in his mind, he was already on his way back to Summerville.

"That is my vacation," he said.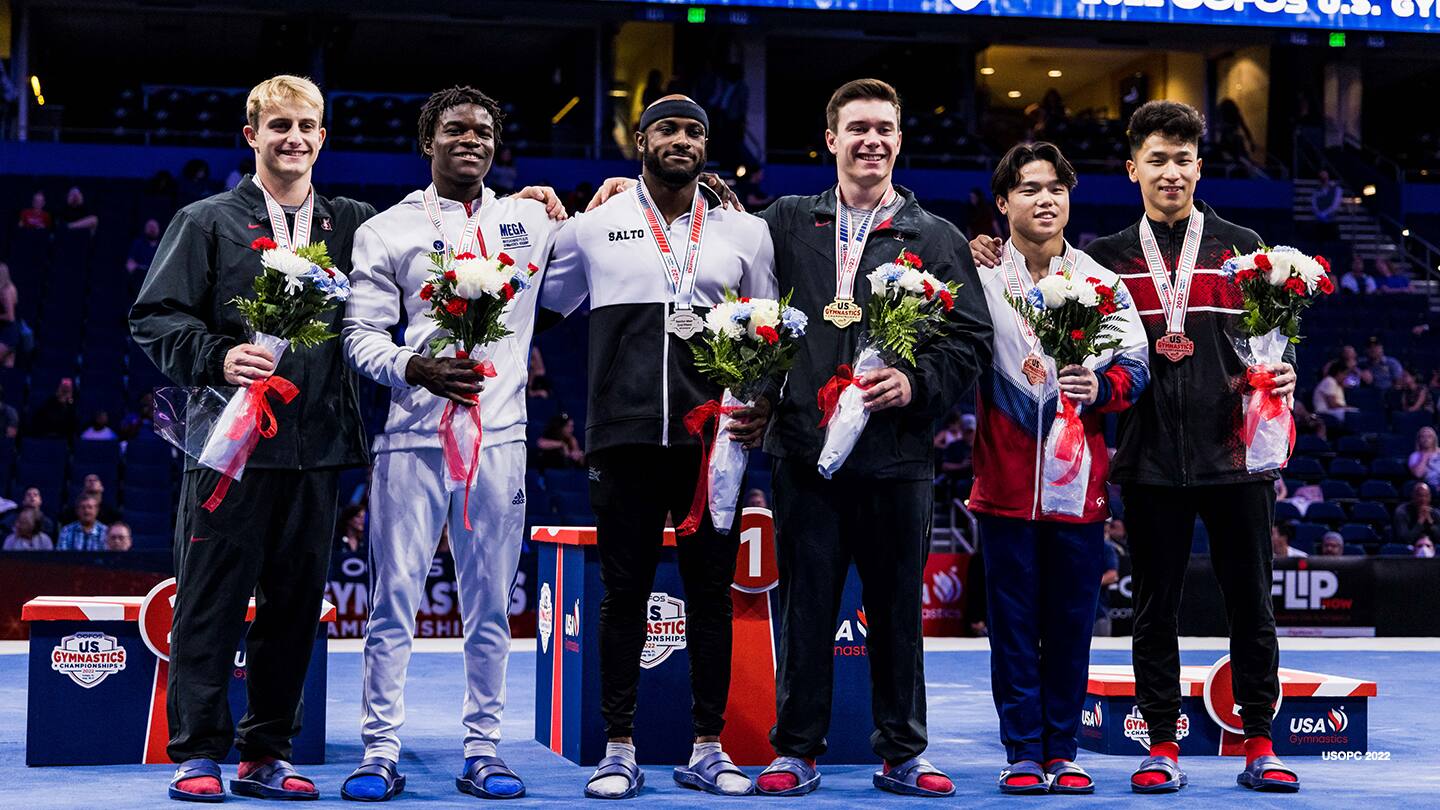 (L-R) Colt Walker, Fred Richard, Donnell Whittenburg, Brody Malone, Asher Hong and Yul Moldauer pose for a photo together after the men's competition at the 2022 U.S. Gymnastics Championships on Aug. 20, 2022 in Tampa, Fla.
Just as Malone has gotten used to being in the spotlight at domestic gymnastics meets, he's learned to embrace life in the Bay Area. The summer before freshman year, when he went out to take two classes and acclimate himself to the college lifestyle, he was "super homesick the whole time."

Things got better when more of his teammates arrived. After living in the dorms the past three years, he's moving with teammates to an off-campus house this year. He even found a buddy to go duck hunting with this fall. It also doesn't hurt, he added, that he's still able to lay low on the Stanford campus, where fellow Olympians are about as common as poli sci majors.

"It's like my second family now," he says of Stanford. "Now I'm loving it."

If there's one thing that really makes Stanford feel like home, though, it's that the school allows him to focus on what he wants to do most: become a better gymnast.

Malone doesn't take many breaks. Two months after the Olympics he was back in Japan for the world championships. He's already competed internationally three times for the U.S. in 2022, in addition to the U.S. Classic and U.S. championships this summer, which followed shortly after another college season for Stanford during which he battled nagging injuries.

Malone admitted this weekend that he was tired.

"My body hurts," he said. "But that's gymnastics."

Surely, he could have turned down one of the international assignments. That's not something he considered, though, no matter how much his body aches.

"I haven't had a whole lot of international experience until like this year, so I want to take every int competition I can get," Malone said. "The Olympics last year was my first major international competition where I'm traveling across the ocean, dealing with a huge time change. So whenever those opportunities are presented I want to take advantage of it."

This week, though, he's taking advantage of another opportunity: to go home. Malone plans to do nothing but relax and maybe go frog gigging until Wednesday, when he'll make a few appearances at his old gym for "more stretching and therapy, and swinging around."

Mostly, though, he's just going to take it easy.

Until it's time to start training again.

"I guess I've got to compete in Paris now in a month," he said, "so I can't get too out of shape."
Chrös McDougall has covered the Olympic and Paralympic Movement for TeamUSA.org since 2009 on behalf of
Red Line Editorial, Inc.
He is based in Minneapolis-St. Paul.