Lee Kiefer Still Has The Drive To Be The Best; A Focus On Mental Health Is Helping Her Be Just That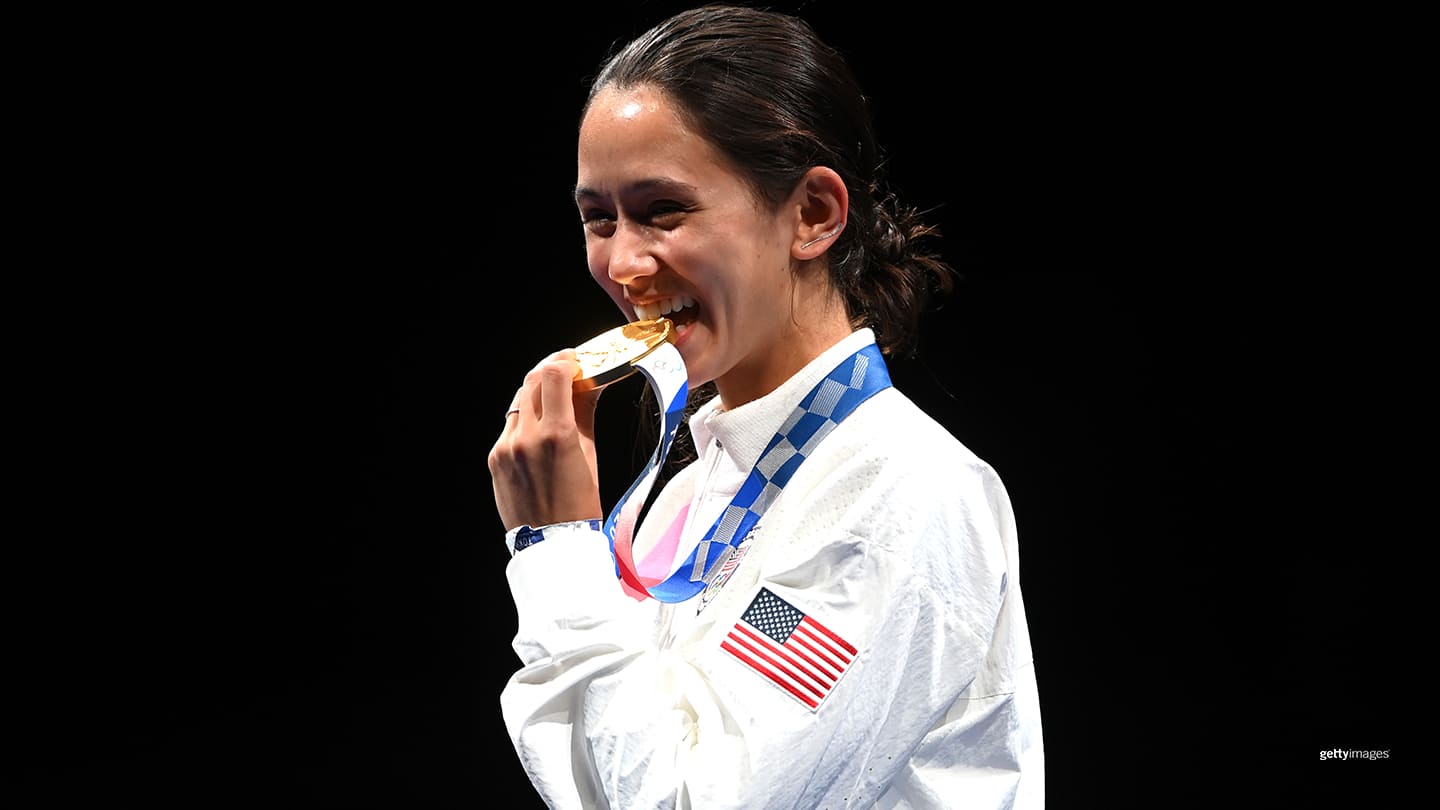 Lee Kiefer poses on the podium during the medal ceremony for the women's foil individual at the Olympic Games Tokyo 2020 on July 25, 2021 in Chiba, Japan.
Over the past three weeks, Lee Kiefer has traveled to Europe and Asia with a brief stop in Washington, D.C. to visit the White House.

It's been a whirlwind tour that has left her more excited than exhausted.

Kiefer, 27, said she initially planned to use this season to ease her way back "into the swing of things" after winning her first Olympic gold medal in women's foil fencing at the Olympic Games Tokyo 2020.

Then the Lexington, Kentucky, native had a moment of clarity.

Why, she wondered, should she take it easy when she has the passion, the talent and, frankly, the free time right now to be the world's top-ranked female fencer?

"So I would love to go for the world cup title and end the season No. 1," Kiefer said last week from Seoul, where she was preparing for the weekend's grand prix event in nearby Incheon, South Korea. "It's going to be challenging just the way everything works, but I have my heart set on it. I'm not afraid."

May is both Mental Health Awareness Month and Asian American and Pacific Islander Heritage Month, two causes that Kiefer has helped bring more attention to lately.

She's a Filipina American who started seeing a sports psychologist a few years ago to deal with the pressures of being both a three-time Olympian and a third-year medical student at the University of Kentucky.

Along the way, she has gotten support from the Filipino community and her husband, fellow American fencer and two-time Olympic bronze medalist Gerek Meinhardt, whose mother is from Taiwan.

Kiefer, who'll turn age 28 on June 15, also checks in regularly with her sports psychologist.

"Right now, I really feel like I'm in a really calming spot in my life. At the end of our calls, I just laugh. I'm like, 'Hey, guess what? I didn't cry today.'" Kiefer said, laughing.

"And we both laugh because it's such an up-and-down. I don't expect myself to stay at this point, but I'm enjoying it and I'm also better equipped to handle the lows or get out of them now."

There have been more highs than lows lately, especially on the fencing piste.

On April 30, Kiefer earned her first world cup victory of the season when she defeated France's Anita Blaze in the finals of the competition in Tauberbischofsheim, Germany. That marked her fourth career world cup win after finishing second at events in France and Mexico earlier this season.

Four days later, Kiefer wore the gold medal she won in Tokyo to the White House when President Joe Biden recognized a large group of Olympians and Paralympians.

Then, over the weekend, Kiefer was back in competition in Incheon — and once again she ended on top. It marked her third career win on the grand prix level, and her first since 2017.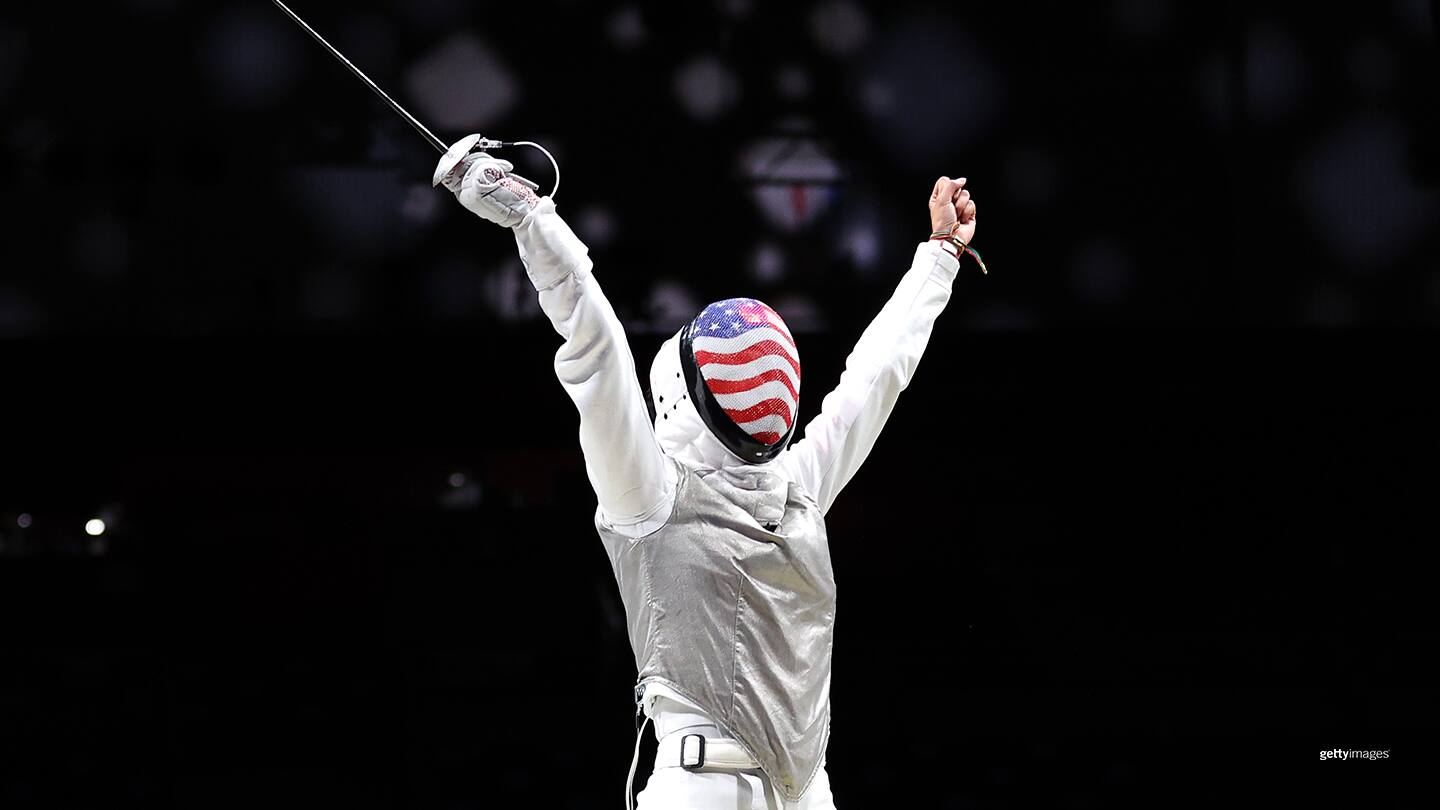 Lee Kiefer celebrates a point during her bout in the women's foil team semifinals at the Olympic Games Tokyo 2020 on July 29, 2021 in Chiba, Japan.
After becoming the first American woman to reach the world No. 1 ranking in women's foil fencing in 2017, she's now firmly in that position again. If she can keep it up, she'll end the season ranked No. 1 for the first time at the senior level.

"Oh man, time is flying so fast," Kiefer said ahead of Incheon. "You know, going from having no tournaments in a pandemic to being busy every weekend, you feel tired until you feel grateful and then you're like, 'Yep, this is amazing.'"

Kiefer admitted she was concerned with how she'd adjust to again traveling and competing after going an entire year without taking part in a fencing tournament because of the COVID-19 pandemic.

She said she started meeting regularly with a sports psychologist after she realized she was struggling to juggle being a full-time athlete and a full-time medical student at the same time.

"I started med school and I decided to keep fencing, and I was an absolute mess. Trying to balance both I felt like I was doing a crap job at both, and I was beating myself up a lot," Kiefer said. "The biggest way it manifested for me is my temper. I would be so angry all the time, and then I'd go to practice and I would just like pick fights with Gerek.

"I couldn't control it. It was like, this is not who I am, but I know a lot of is I'm worn too thin. I'm not in a healthy spot, and so that was one of the biggest reasons I started working with a sport psychologist."

Kiefer spoke with her sports psychologist during the pandemic and in the leadup to the Tokyo Olympics. She admitted the sessions improved her mental health, and she still talks with her sports psychologist every month or so.

It has also helped that she has put medical school on hold for now.

Kiefer continued to compete in fencing during her first two years in medical school. However, when the pandemic forced sporting events across the globe to get cancelled, she was able to focus solely on school.

"Then the Olympics came, and I thought that was going to be probably like my last cycle. But I still love fencing. I wasn't ready to give it up," Kiefer said. "I talked to the school about it, and we came up with a plan that I'm going to take some more time off of school to be able to do fencing to my heart's desire and then be able to come back with more focus and less plates to juggle."

Kiefer already has her eye on defending her gold in women's foil at the Olympic Games Paris 2024 and then returning to Kentucky soon afterward to finish medical school.

Along with being an Olympian and an aspiring doctor, Kiefer identifies as half-Filipino.

Her mother, Teresa, was born in the Philippines and immigrated to the U.S. as a child. She introduced her daughter to such traditional Filipino dishes as lumpia and bilo bilo.

Kiefer said she takes pride in being the first Asian American woman to win a gold medal in fencing. She hopes to learn more about her Filipino heritage now that she's an adult.

"After I won that last touch and had that medal on (in Tokyo), I received so much outpouring from the Philippines, from the Filipino community, the whole Asian American community," Kiefer said. "Yeah, I was so proud to be able to do that for all of these people. …

"I'm half-Filipino, and growing up I saw these Asian women in my sport who looked like me. And so to be able to be like, whoa, to be that for other people was really special."
Alex Abrams has written about Olympic sports for more than 15 years, including as a reporter for major newspapers in Florida, Arkansas and Oklahoma. He is a freelance contributor to TeamUSA.org on behalf of
Red Line Editorial, Inc.