News
Makenzie Fischer
Aria Fischer
Sisters Aria And Makenzie Fischer Lead Top-Ranked Stanford Into NCAA Water Polo Championships
Makenzie Fischer competes during the women's preliminary Group B match against Team ROC at the Olympic Games Tokyo 2020 on July 30, 2021 in Tokyo.
If Stanford lives up to its No. 1 seed and secures the eighth NCAA women's water polo championship in program history this weekend in Ann Arbor, Michigan, the win would have a Team USA flavor to it.

Two current Stanford players contributed to the U.S. women's unprecedented third-straight gold medal at last year's Olympic Games Tokyo 2020. Sisters Aria Fischer and Makenzie Fischer of Laguna Beach, California, will be in the pool at the University of Michigan's Canham Natatorium Friday as Mountain Pacific Sports Federation champion Stanford (22-2) takes on Wagner (35-3) in the NCAA quarterfinals.

Two of their U.S. teammates, meanwhile, will be suiting up for other teams later in the day.

Water polo has long been a sport with strong collegiate ties in the U.S., and every member of the American team in Tokyo was either an active or former collegiate athlete. The national team's success — it's also the reigning champ at each of the sport's other major tournaments — has also led to growth at other levels, including this week's college tournament, where Sunday's championship game (4 p.m. ET) will be broadcast on ESPNU and streamed on the ESPN app. This marks the first time in more than a decade that the game will be shown on national TV.

"America deserves to see the best NCAA women's teams play for the championship," USA Water Polo CEO Christopher Ramsey said in a press release.

The Fischer's both play leading roles for Stanford, which last won the national title in 2019 and comes into Ann Arbor riding an eight-match winning streak.

Two-time Olympic gold medalist and three-time world champion Makenzie Fischer leads the Cardinal with 72 goals, 42 assists, 114 points and 145 shots on goal this season. The senior driver is Stanford's all-time leading goal scorer with 277. Having devoted so much time to the national team, she will retire from the sport at age 25 after this tournament.

After deferring her start at Stanford to train for the Olympic Games Rio 2016, then sitting out the 2020 and 2021 seasons for the same reason, she leaves as the oldest player the Cardinal's John Tanner has coached in his 25 years there.

Nicknamed "grandma" by her teammates, Makenzie said at times her collegiate career felt like it might never end.

"Most of the time, I don't really notice the age difference," she said in a story on the Stanford athletics website. "I really love everyone on the team, and we get along. But other times I'm very acutely aware of it, just being at different points in our lives."

Aria Fischer, a 23-year-old junior center who also owns a pair of Olympic gold medals and two world championships, enters the tournament as Stanford's third-leading scorer with 76 points on 56 goals and 20 assists.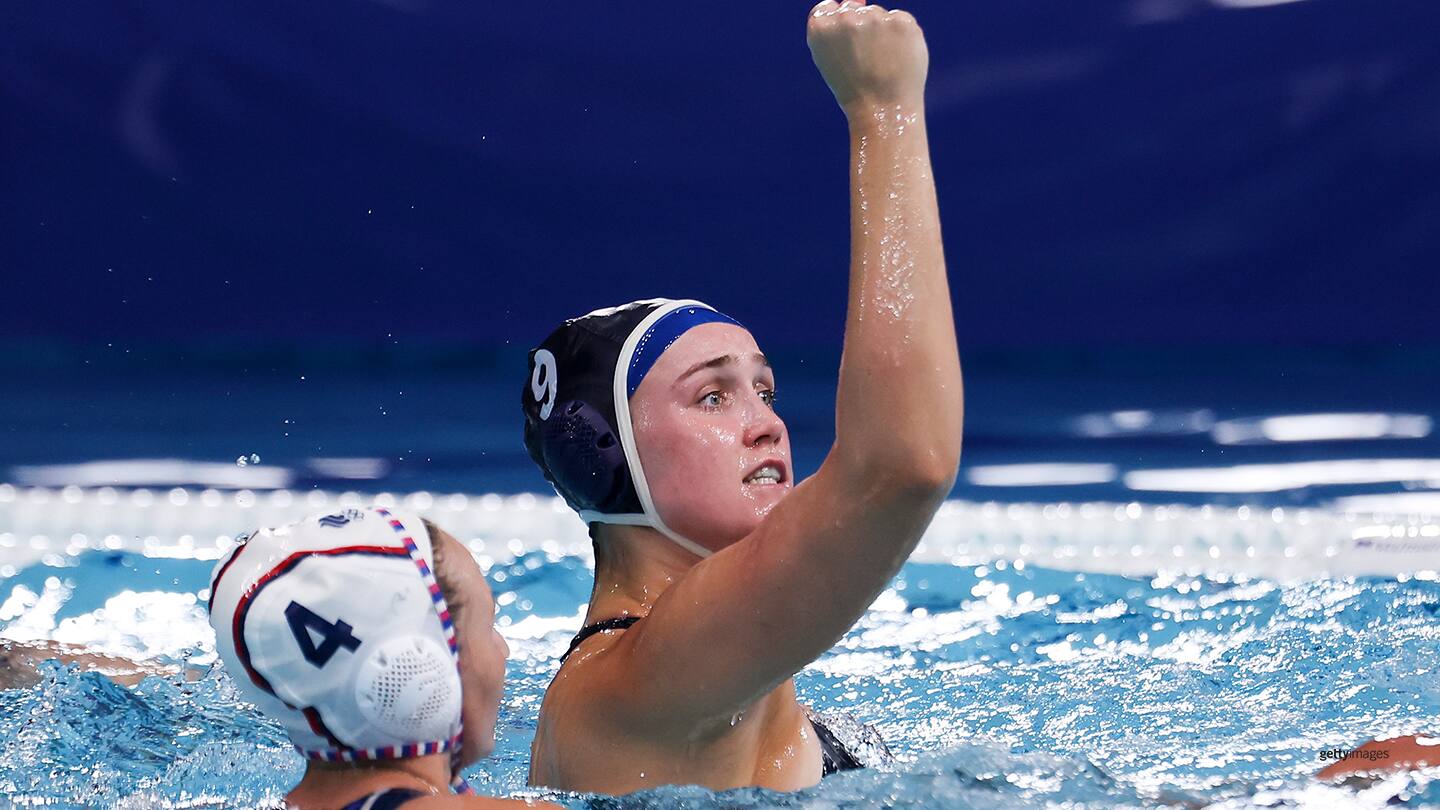 Aria Fischer celebrates after scoring a goal during the women's semifinal against Team ROC at the Olympic Games Tokyo 2020 on Aug. 5, 2021 in Tokyo.
Makenzie is a mechanical engineering major, while Aria majors in English.

"One of the cool things about Stanford is that I feel like I was exposed to so many other things outside of sport," Makenzie said in the same story. "I love water polo and playing on the national team and the experiences I've had there, but I'm really excited about getting to explore some of the other interests I've become aware of at Stanford, like design and mechanical engineering."

The two sisters, both All-Americas who have been roommates for the past three years, continue a strong family tradition in the sport at Stanford. Their father, Erich Fischer, was a two-time All-America for the Cardinal and a 1992 U.S. Olympian. Mother Leslie Fischer played water polo when it was a club sport at the school.

The fit couldn't have been better for the sisters, Tanner said.

"They're both complete, all-around amazing players," he said. "They have the technical skills to play anywhere in the pool, play any position, and have the confidence to do that."

Team USA coach Adam Krikorian called the Fischers "irreplaceable."

"They're two of the all-time greats," he told the school. "And they will go down as just that, as two of the best to ever play their positions, and two people who had a tremendous impact on our program. They'll forever be a part of a team that many would say is the best to ever play the game."

Two other Olympic gold medalists join the Fischers in Friday's quarterfinal round.

Defending national champion Southern California (18-3), the No. 2 seed, will call upon junior driver Paige Hauschild of Santa Barbara, California, a two-time All-America who has 43 goals this year. Hauschild was also part of two U.S. teams that won world titles. Her Trojans lost an 11-9 decision to Stanford in the Mountain Pacific Sports Federation championship game but are seeking consecutive national titles for the first time in program history. USC will face Fresno State (19-7) in the quarterfinals.

Senior attacker Maddie Musselman of Newport Beach, California, leads the way for fourth-seeded UCLA (22-5), which has a quarterfinal matchup with UC Irvine (22-6). Musselman has a pair of Olympic gold medals and was the tournament MVP in Tokyo.

The other quarterfinal game will feature California (16-5) and host Michigan (26-8). The tournament semifinals will take place Saturday. Those two rounds will be streamed on NCAA.com.
Bob Reinert spent 17 years writing sports for The Boston Globe. He also served as a sports information director at Saint Anselm College and Phillips Exeter Academy. He is a contributor to TeamUSA.org on behalf of
Red Line Editorial, Inc.