U.S. Women's Water Polo To Go For Gold Again After Semifinal Win Over ROC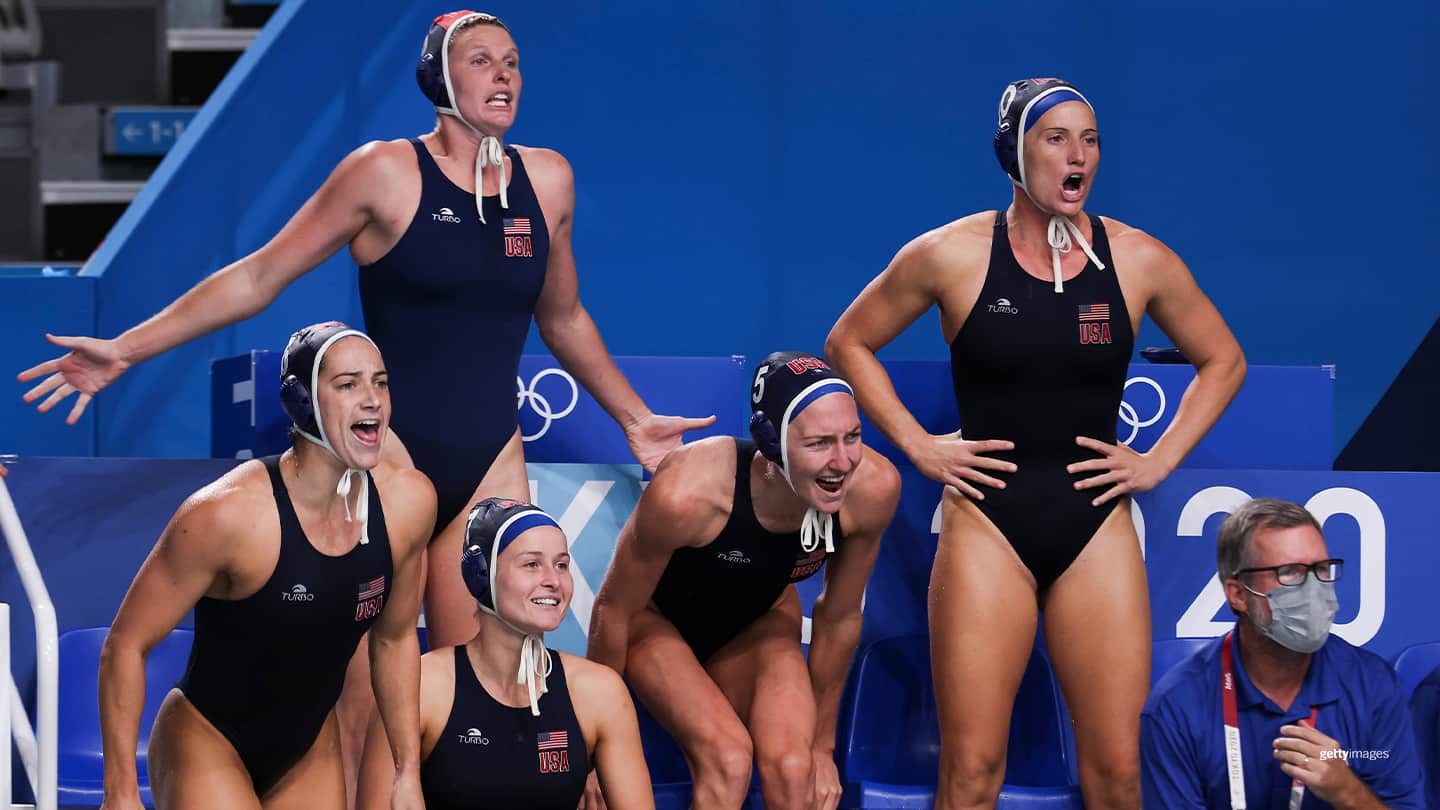 The U.S. women's water polo team celebrate the win during the Women's Semifinal match at the Olympic Games Tokyo 2020 on August 05, 2021 in Tokyo, Japan.
The U.S. women's water polo team is going for a three-peat.

Already the only team to win two Olympic gold medals and to medal at every Olympic Games since women's water polo was introduced in 2000, Team USA lodged a come-from-behind victory over the Russian Olympic Committee in their semifinal on Thursday. They will now face Spain, which defeated Hungary in the other semifinal, for the gold medal on Saturday at 3:30 a.m. EDT.

The fact that the U.S. was in the position to need to come back was a bit unexpected considering that the two teams met less than a week ago to round out the preliminary stage with the U.S. winning, 18-5. They also defeated ROC three times in exhibition matches in July, all by double figures.

But the U.S. was ready for all possibilities.

"I think we just settled down," head coach Adam Krikorian said. "You got to give them (ROC) credit, I feel like they sandbagged us a little bit in the prelims. We spoke about that, so we were prepared for them to come out strong. They did an awesome job and we were struggling with our blocks and just out of sorts."

After scoring the opening goal, ROC led 3-2 after the first quarter. Two quick goals to start the second gave them a 5-2 advantage and the U.S. had its work cut out. With only 48 seconds left in the half ROC led, 7-4, but a pair of goals by Maddie Musselman and Melissa Seidemann, hitting a long distance shot with one second left, cut the lead to one going into the break.
So clutch. 🔒 @melseidemann gets #TeamUSA right back in the match. @USAWP x #TokyoOlympics pic.twitter.com/JIaX5xxs68


— Team USA (@TeamUSA) August 5, 2021
"Great lift," Krikorian said of Seidemann's goal. "She gave us a huge lift today in general, just with her presence defending the center position. That shot was huge. It helped us kind of settle down going into halftime."
Not long into the third quarter, the U.S. took advantage of a power-play opportunity with a goal by Steffens to even the score. The comeback was on. Makenzie Fischer, Musselman and Maggie Steffens scored again to take a 10-8 lead and made it 10-9 going into the fourth quarter.
ROC tied it, 11-11, with a pair of power-play goals but that would be the last the would-be spoilers would see of the back of the net.
Aria Fischer, Alys Williams and Musselman added three goals, the defense locked it down and the U.S. went on to the victory. Musselman finished with a total of five goals, including four in the second half, and Ashleigh Johnson made eight saves.
💪 MADDIE MUSSELMAN 💪@USAWP x #TokyoOlympics pic.twitter.com/qeSeuHN0ok


— Team USA (@TeamUSA) August 5, 2021
"When you're a shooter, you got to shoot," Krikorian said of Musselman's performance. "That's your job. When the opportunity exists, you can't hesitate, she didn't hesitate tonight. No matter how many shots you missed before, you got to go with the same courage, the same aggressiveness and she did that. She was huge for us, especially in the second half."
The U.S. will now get its shot at an unprecedented third consecutive gold. The Americans also won silver in 2008 and 2000 as well as bronze in 2004. Since winning its first Olympic gold medal in London in 2012, the U.S. team has also won three world championships, three World Cup and six World League tournament titles.
Want to follow Team USA athletes during the Olympic Games Tokyo 2020? Visit
TeamUSA.org/Tokyo2020
to view the medal table, results and competition schedule.
Karen Price is a reporter from Pittsburgh who has covered Olympic and Paralympic sports for various publications. She is a freelance contributor to TeamUSA.org on behalf of Red Line Editorial, Inc.