FINA Worlds Is An Opportunity For U.S. Women's Water Polo To Build On Its Legacy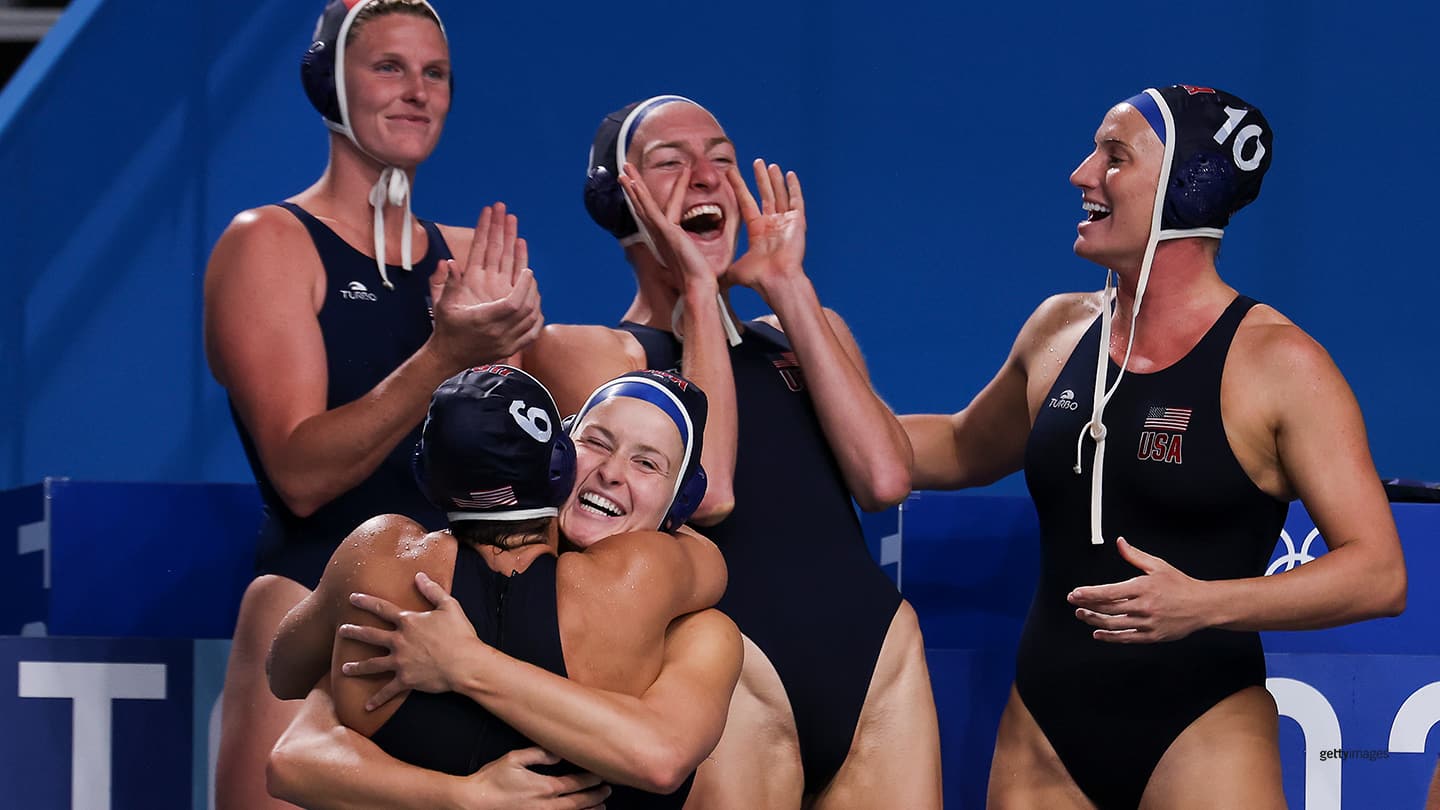 (L-R) Amanda Longan, Marggie Steffens, Stephanie Haralabidis, Paige Hauschild and Kaleigh Gilchrist celebrate their win during the women's semifinal at the Olympic Games Tokyo 2020 on Aug. 5, 2021 in Tokyo.
The U.S. water polo teams take to the water this week in Budapest, Hungary, for the 19th FINA World Championships — one seeking to continue its dominance in the event, the other searching for its first medal.

Arguably no team in international sports has been as successful as the U.S. women over the past decade. The holders of every major championship in their sport, multiples times over, the Americans are seeking their fourth-straight world title and seventh overall.

They are coming off another dominant performance last year at the Olympic Games Tokyo 2020, where they won a third consecutive gold medal.

Although a bronze medal behind Australia and Canada at the FINA Intercontinental Cup in March might look like a return to earth for this high-flying dynasty, that result was deceiving because the U.S. roster was without most of its top players.

That's not the case in Budapest.

Coach Adam Krikorian has a roster of 13 athletes and two alternates, with seven Tokyo Olympians and eight returning world champions on the team. Leading the charge is captain Maggie Steffens, who already has three Olympic gold medals and three world titles to her name.

The all-time leading scorer in Olympic women's history, Steffens at 29 remains one of the most lethal offensive players in the world.

And she's joined in Budapest by Ashleigh Johnson, Maddie Musselman, Rachel Fattal, Stephania Haralabidis, Kaleigh Gilchrist, Amanda Longan and Jordan Raney, who were all part of the 2019 team that won a world title in Gwangju, South Korea.

For all of their success, the U.S. players have maintained their high level in part by not dwelling on it. That's the case again this week.

"This is our first tournament together as a team, this team," Steffens told TeamUSA.org via email. "So, although it is easy to compare since we have some returners and the Olympics were just last year, this journey is still very fresh. With that, we have fresh energy, fresh talent, and a fresh perspective to add to the experience we carry from our past.

"We are excited to build this new team together and take advantage of every opportunity we have to improve, learn and grow. But as always, we are hungry to be our very best and hungry to be the last team in the pool."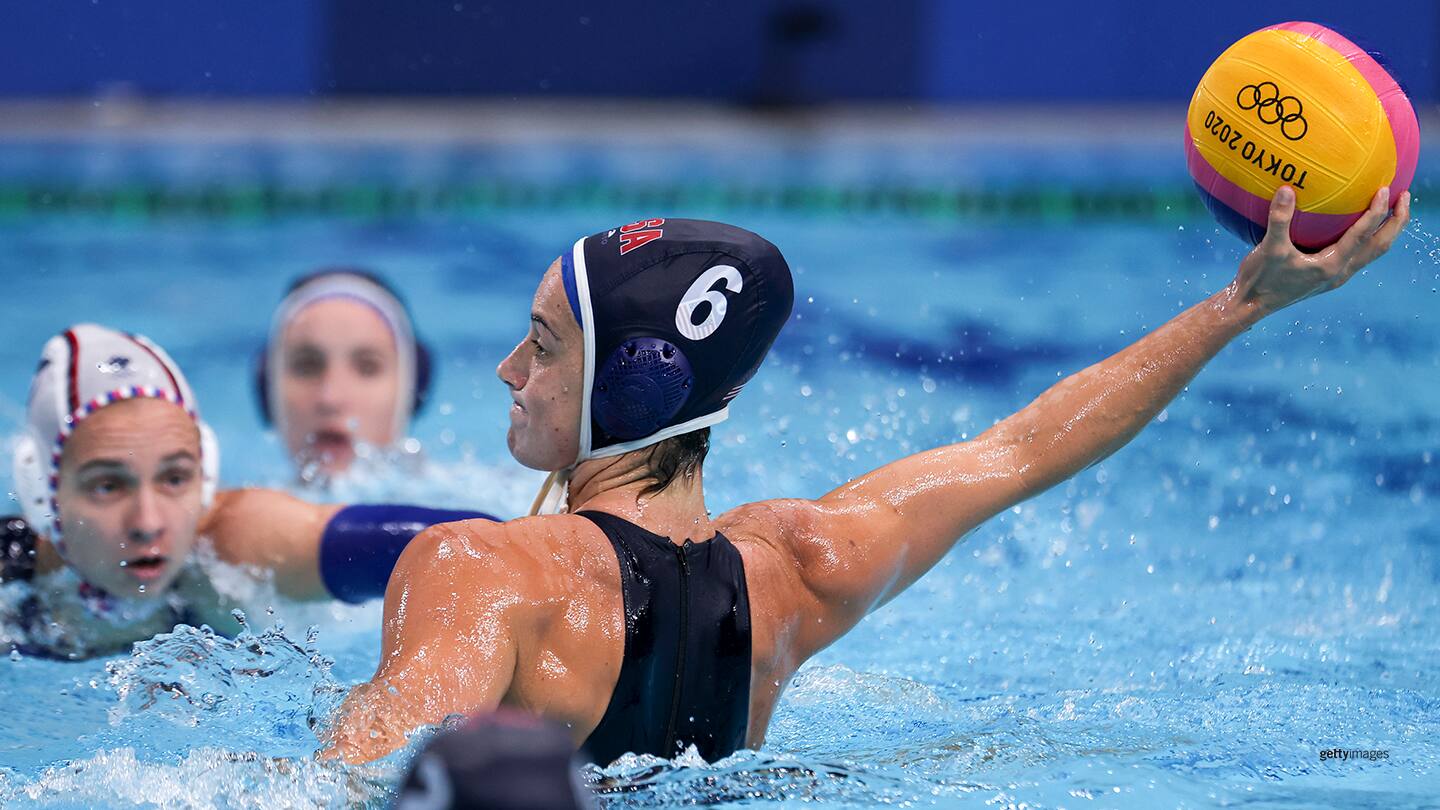 Maggie Steffens competes during the women's semifinal at the Olympic Games Tokyo 2020 on Aug. 5, 2021 in Tokyo.
Steffens knows that this is a big first step on the road to Olympic Games Paris 2024.

"Building a team is truly the magic sauce within the journey," Steffens said. "The only difference is we now only have a few years instead of an entire quad to discover, develop and execute as individuals and as that collective team. So, it is that much more important to truly dive into this process, commit full-heartedly, and realize Paris is just around the corner."

The Americans open the tournament Monday at noon ET with Group B action against South Africa, followed by the Netherlands on Wednesday at 1:30 p.m. ET, and a Friday meeting with Argentina at noon ET.

Should they advance, they would go for a fourth consecutive world title on July 2.

"In order to achieve our goals, we will learn from each game and continue to get better each day, no matter what happened the game or day before," said Steffens, of Danville, California. "We will be selfless in our play and be committed to what our team needs at that moment. We will never give up, have fun in the process, and make the most of our opportunity."

For the first time, the tournament will take place in four Hungarian cities — Budapest, Debrecen, Sopron and Szeged. The American women will play their Group B games in Debrecen.

"We're excited to compete in a format that has a new look, being in different cities for the group stage," Krikorian told FINA.org. "And we are especially thrilled to be back in Budapest for the final few games, in a place that embraces the sport of water polo at the highest level."

Team USA has faced Spain in the title game at each of the last two world championships and again in Tokyo. The home team, Hungary, could be one to watch as well. Two-time world championships in their history, the Hungarians are coming off a bronze medal in Tokyo.


Continued Growth For The Men's
Team
Expectations aren't as high for the U.S. men, who have never found their way onto a podium at the world championships. They placed ninth at the event in 2019 and more recently finished sixth at the Olympics. The Americans hope to change that in Budapest.

Coached by Dejan Udovicic, the U.S. has a roster featuring eight Tokyo Olympians and nine players with world championship experience. The U.S. will look to two-time Olympians Alex Bowen and Ben Hallock as well as fellow world championships veterans Hannes Daube, Matt Farmer, Drew Holland, Max Irving, Marko Vavic and Dylan Woodhead.

The Americans are coming off a championship at their Intercontinental Cup in March, where Holland was named the tournament's top goalie. Chase Dodd, who is making his world championships debut in Budapest, was finals MVP.

The U.S. plays its first Group D game in Szeged on Tuesday at 1:30 p.m. ET against Serbia, which won the Olympic gold medal in Tokyo, followed by Kazakhstan and Australia on Thursday and Saturday, both at 1:30 p.m. ET.

Both the women and men will play crossover round, quarterfinal, semifinal and final games next week. Live streaming of all the games will be available on the FINA Facebook page at facebook.com/fina1908.
Bob Reinert spent 17 years writing sports for The Boston Globe. He also served as a sports information director at Saint Anselm College and Phillips Exeter Academy. He is a contributor to TeamUSA.org on behalf of
Red Line Editorial, Inc.