Meet The U.S. Women's Water Polo Team Aiming For A Third Straight Gold Medal
Forty-four seconds.


Back in Rio, when the U.S. women's water polo team dominated the 2016 Olympic Games, winning their second-consecutive gold medal and outscoring their opponents 73-27, that's all the time they found themselves trailing an opponent. Forty-four seconds. In six games. On the sport's biggest stage. Against the best competition in the world.


That 2016 Olympic team is considered perhaps the greatest team in women's water polo history. That distinction might be short-lived.


The squad assembled for this summer's Games in Tokyo might be even better. The roster revealed on Wednesday morning in Los Angeles boasts eight returning Olympians — twice as many as the 2016 team had at its disposal.


That core of experienced, established players was involved in the 69-match winning streak — believed to be the longest ever in women's water polo — that stretched from April 2018 until January 2020. And if their recent play at the 2021 FINA World League Super Final is any indication, Team USA is ready to rock again.


Playing its first international event since the pre-pandemic days of 2019, the U.S. women won the tournament for the seventh consecutive time (and 14th overall). The U.S. has won all seven competitions it has participated in since Rio, and the top-ranked team in the world appears poised for an unprecedented third straight gold medal in Tokyo.


Here's a look at Team USA.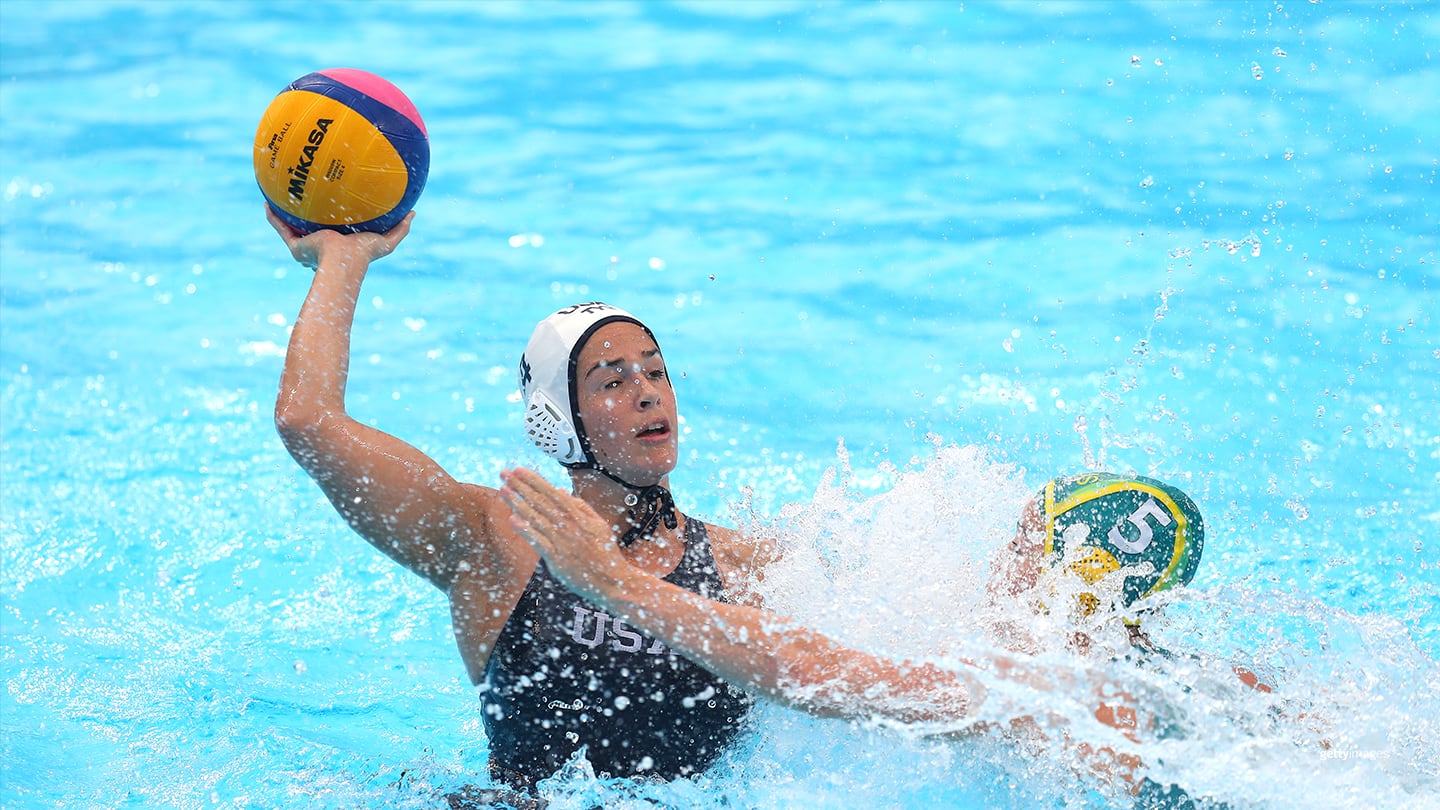 Rachel Fattal looks to shoot during the women's water polo semifinal match at the FINA World Championships Gwangju 2019 on July 24, 2019 in Gwangju, South Korea.
In the three preliminary round games at the World League Super Final, no one on Team USA outscored Fattal, who had 10 goals on 15 shots. Fattal finished the tournament with 15 goals, tied for fifth-most among all players in the eight-team field.

Fattal netted four goals in her first Olympics back in 2016, where her biggest impact came not as a scorer but as a sprinter. The speedy attacker won 17 sprints, more than any other player at the Rio Games.

A four-time first-team All-American at UCLA, Fattal was named Most Valuable Player at the 2013 FINA World Junior Championships and the 2015 FINA World Championships, where she led her team with 18 goals.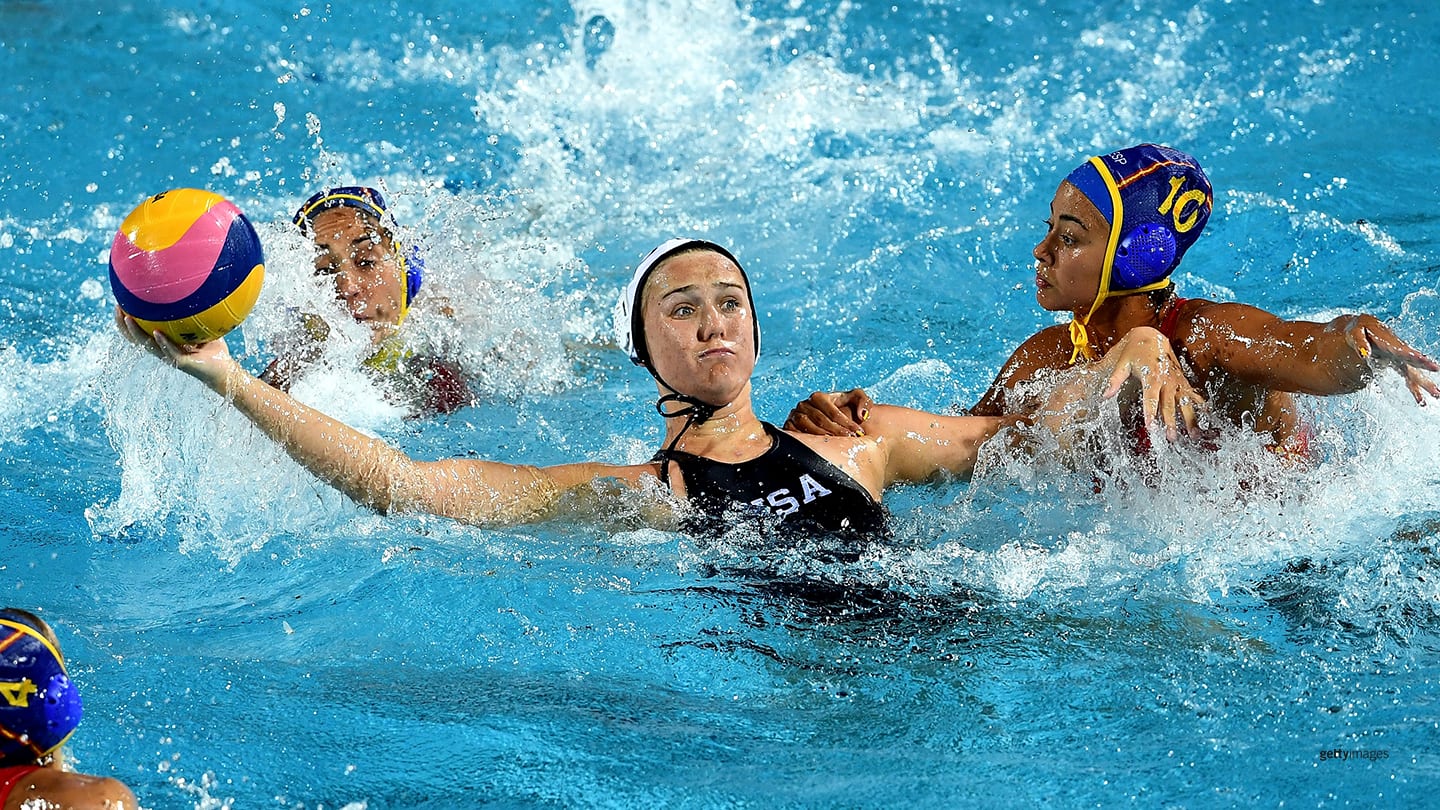 Aria Fischer in action vs. South Africa at the FINA World Championships Gwangju 2019 on July 18, 2019 in Gwangju, South Korea.
Twenty-two years old is a little young to be considered an Olympic old-timer. That's what happens when you make your first Olympic team at 17. And when Team USA won in Rio, she became the youngest American woman to win an Olympic gold medal in a team sport.

Now, she's a veritable veteran presence on the gold-medal favorite, a center who tallied double-digit goals at three major international tournaments in 2019: the Pan American Games (14), the FINA World Championships (10) and the FINA World League Super Final (10).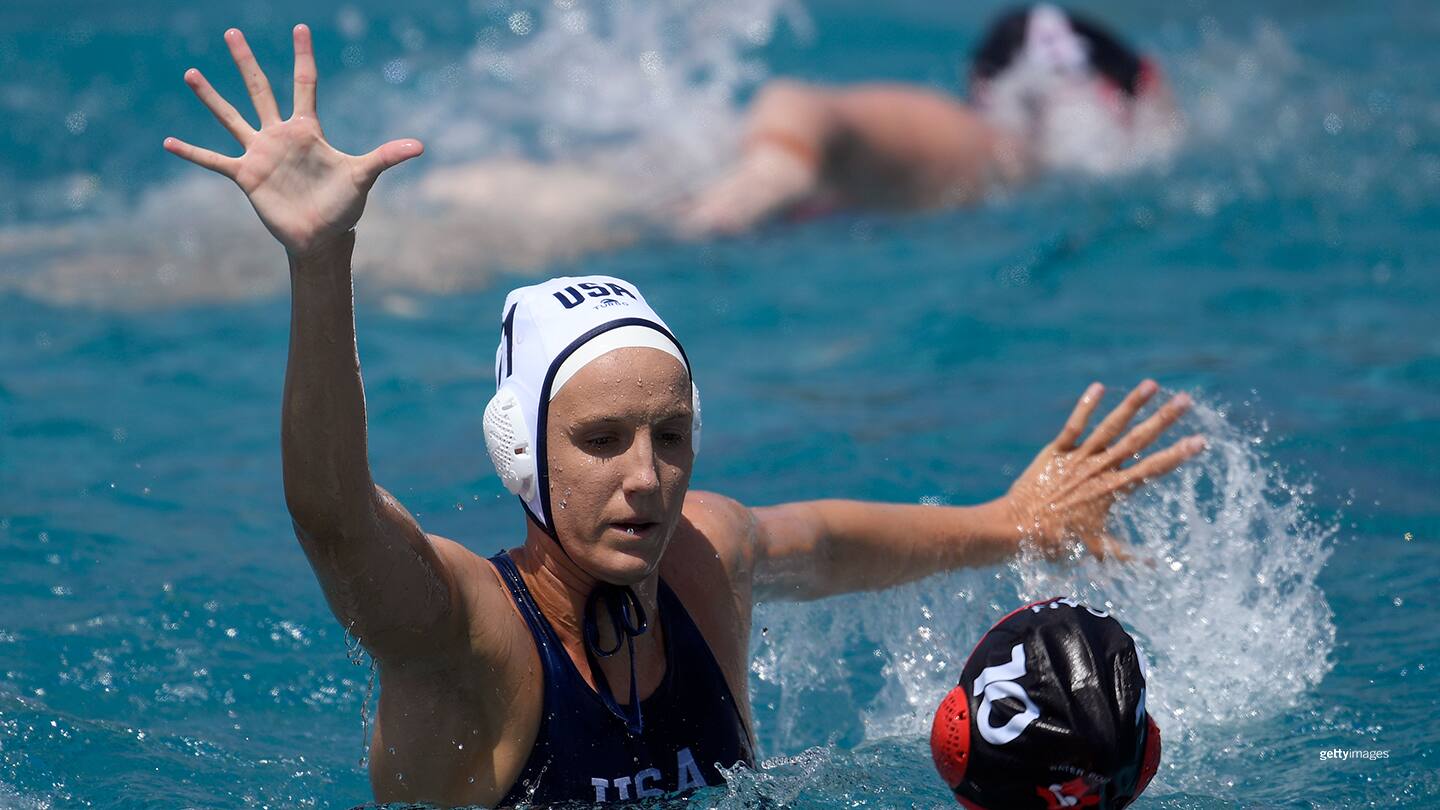 Makenzie Fischer defending in an exhibition match against Canada on May 19, 2021 in Los Alamitos, California.
In 2016, Fischer and her younger sister, Aria, became the second sister-teammates in water polo history to win Olympic gold together. Jessica and Maggie Steffens were the first to accomplish that familial feat in the 2012 London Games.

Fischer was a defender on that 2016 Olympic team, but she has since taken on a greater role in the offense. She was second on the national team with 21 goals at the 2019 Pan American Games and contributed 12 goals at the recent World League Super Final.

That kind of output was predictable. Fischer scored 54 goals as a freshman for Stanford, then scored 67 the following year and 84 as a junior, when she won the Cutino Award and was named MVP of the NCAA Tournament after leading the Cardinal to its second national championship in three years. Her sister, Aria, was Stanford's second-leading scorer that season (58).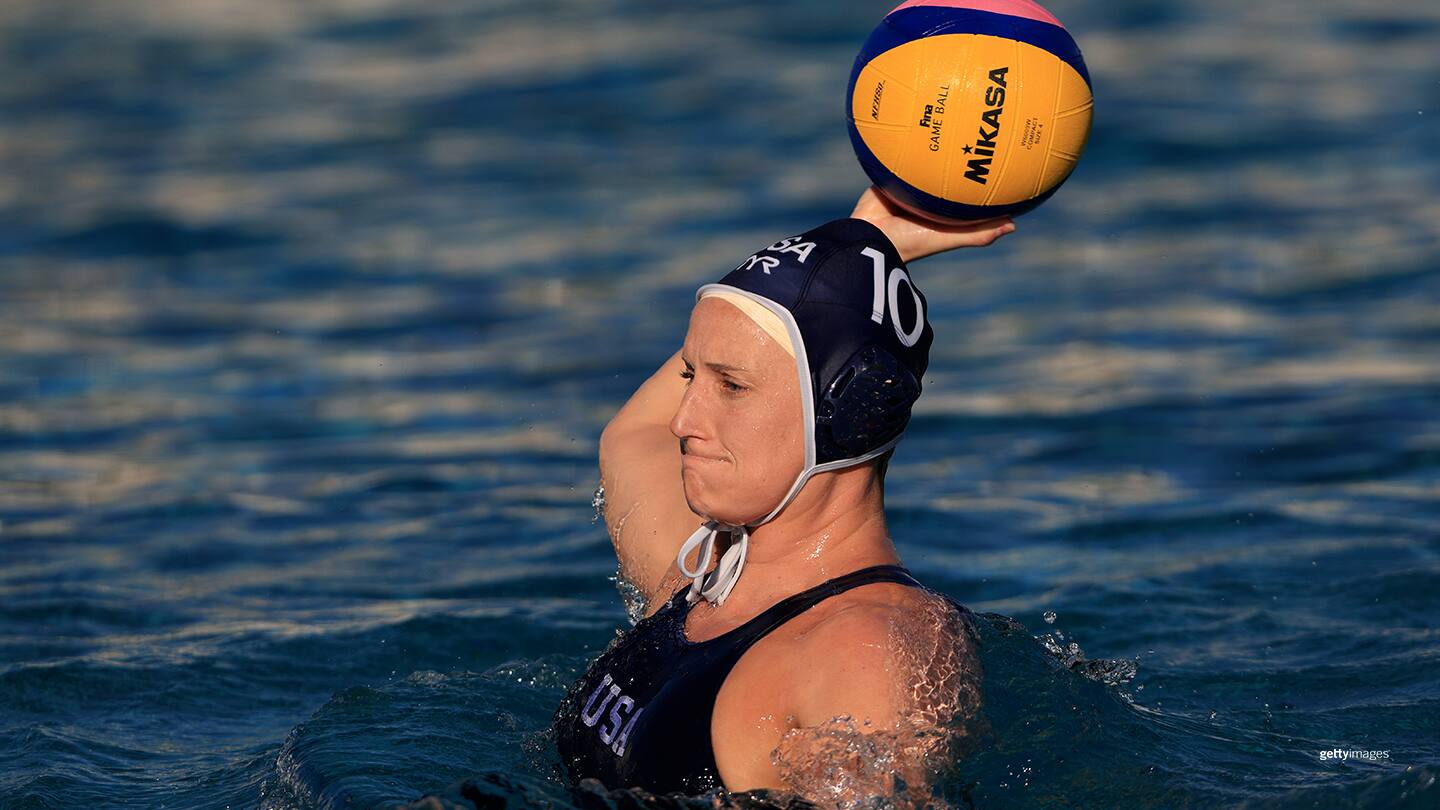 Kaleigh Gilchrist looking to pass during practice on Feb. 23, 2021 in Los Alamitos, California.
Winning the gold medal at the 2016 Olympics constitutes a pretty significant entry on Gilchrist's athletic resume. But even her time in Rio might be hard-pressed to top the month Gilchrist spent on top of the college sports world back in 2013.

In mid-May, she helped lead USC to the NCAA championship, scoring three goals in the national semifinals and earning all-tournament accolades to go with the third-team All-American honors from that historic junior season. In mid-June, she added another national championship — this time the collegiate women's division of the National Scholastic Surfing Association.

Gilchrist, an attacker who scored five goals in her first Olympic Games, is continuing along her dual-sport path. After taking care of business in Tokyo, she is expected to resume competing the World Surf League Qualifying Series with an eye toward making the Championship Tour.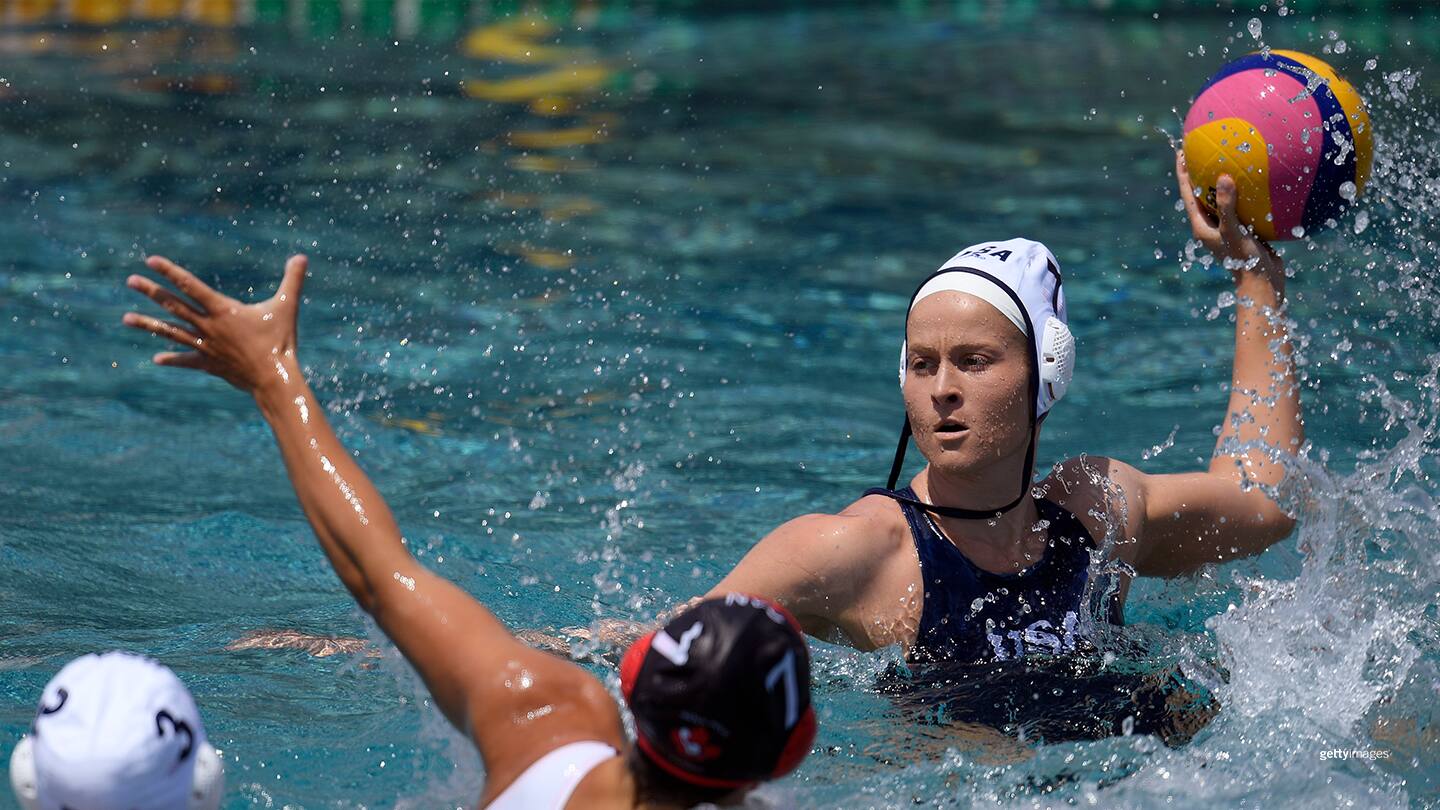 Stephania Haralabidis shooting an exhibition match against Canada on May 19, 2021 in Los Alamitos, California.
Since being named MVP at the 2011 Junior European Championships, Haralabidis seemed to be on an inevitable trajectory toward an Olympic roster. The only question was which country she would represent at the Tokyo Games.

She won that MVP award as a member of the gold medal Greek team, and from there, the Athens native continued to progress along the national team pipeline, playing for both the junior and senior national teams. Everything changed, however, when Haralabidis and her twin sister, Ioanna, moved to California for their senior year of high school.

Haralabidis then wound up at USC, where she won a national championship and the Cutino Award in 2016. She graduated as the second-leading scorer in the program's history (269 goals). By that point, Haralabidis had played her way onto the U.S. national team. The left-handed attacker quickly established herself as an offensive force, scoring 15 goals at the 2018 FINA Intercontinental Tournament and a team-leading 22 goals at the 2019 Pan American Games.

At the recent FINA World League Super Final, she was one of five U.S. players ranked among the tournament's top 10 scorers, finishing with 13 goals.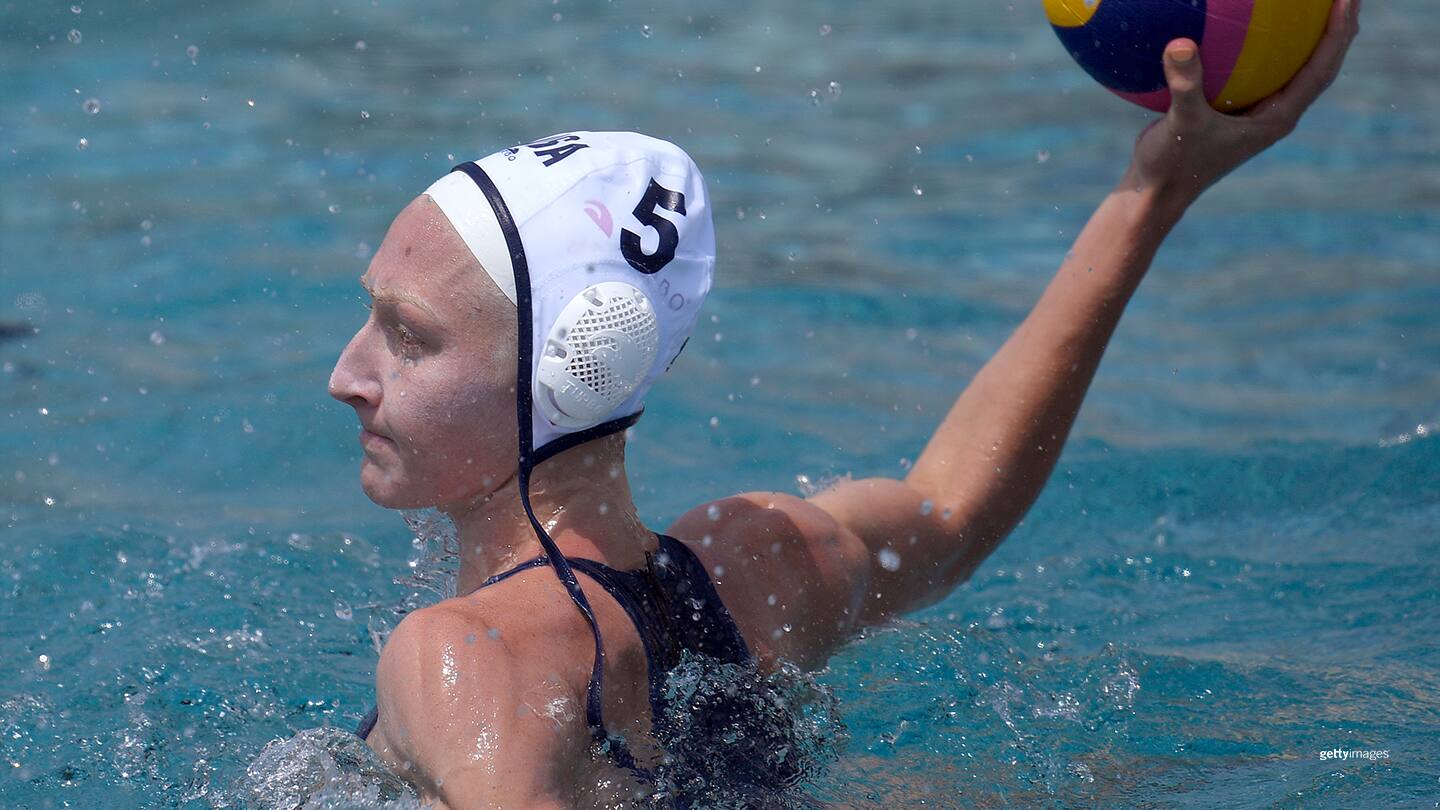 Paige Hauschild preparing to throw during an exhibition match against Canada on May 19, 2021 in Los Alamitos, California.
Don't be too surprised if Hauschild turns out to be the breakout star of this Olympic rookie class. She has a track record of making strong first impressions.

She made varsity at San Marcos High School in Santa Barbara, California, as a ninth grader. At USC, she set the school scoring record for a true freshman (67 goals), leading her team to the NCAA title. She was a first-team All-American in her first two collegiate seasons, as well as a two-time finalist for the Cutino Award.

Hauschild was 15 when U.S. national team coach Adam Krikorian invited her to play for the senior team in the 2015 FINA Intercontinental Tournament in New Zealand. Along the way, the 21-year-old attacker — the youngest player on the Olympic roster — has established herself as a reliable scorer on a team loaded with offensive options.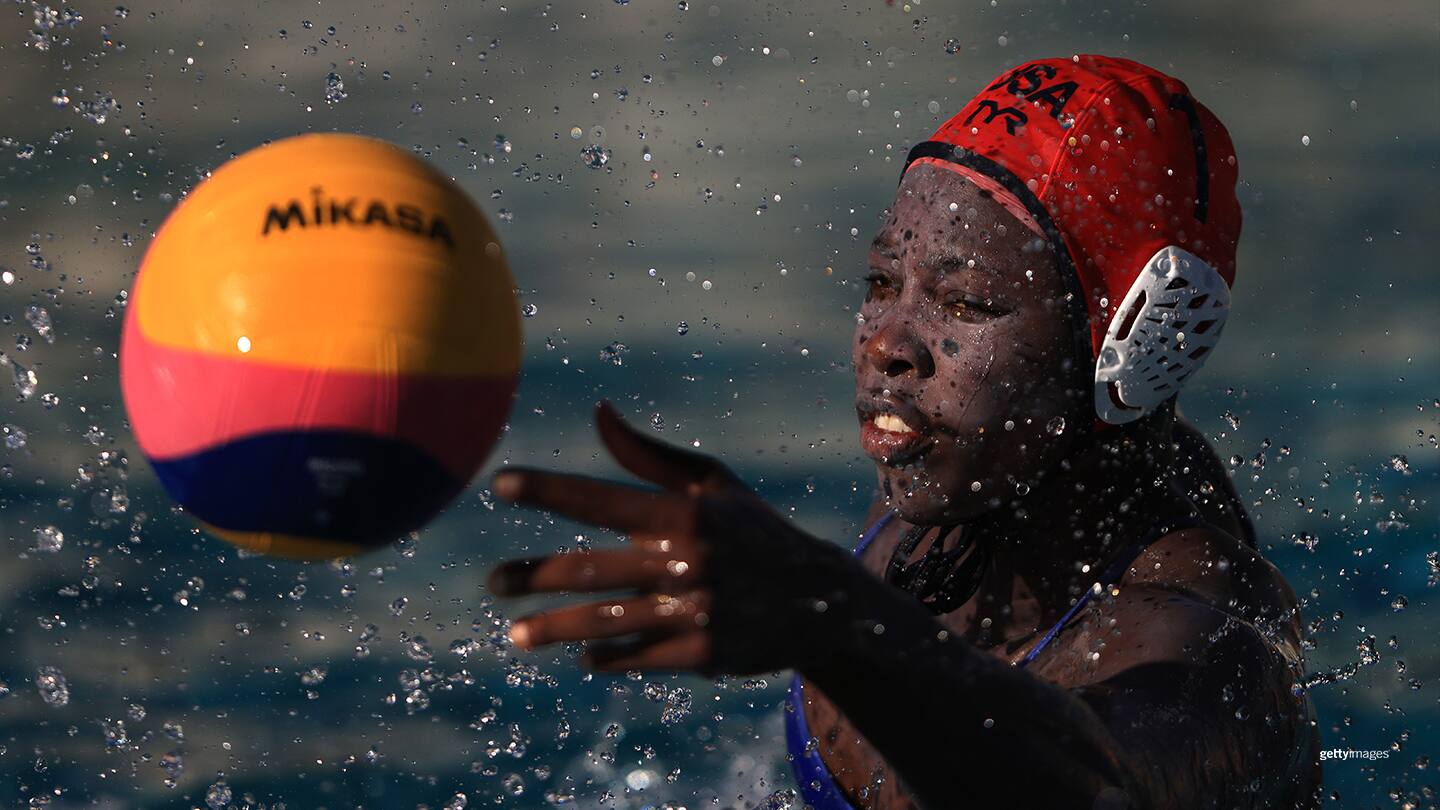 Ashleigh Johnson receives a pass during practice on Feb. 23, 2021 in Los Alamitos, California.
When she backstopped the U.S. to a gold medal in Rio, Johnson was widely seen as a pioneer — the only member of the team not from California (she's from Miami), the only one not to attend college in California (she went to Princeton) and, significantly, the first Black woman to represent Team USA in Olympic water polo.

Now, as she returns to help extend Team USA's gold-medal streak to three straight, Johnson is regarded more for the player she has become — perhaps the greatest goalkeeper in the world.

In Rio, she stopped 64.6 percent of the shots she faced. After the Olympics, she finished out her college career, leaving Princeton as the program's all-time leader in saves (1,362) and wins (100) and the only player from an eastern college to win the Cutino Award (2017). She had 42 saves at the 2018 FINA World Cup, 43 at the 2019 FINA World Championships (where she was named MVP), 42 at the 2019 Pan American Games (where she also scored three goals). She made 37 stops at the FINA World League Super Final, Team USA's final tune-up before Tokyo.

Johnson was named Women's Water Polo Player of the Year by Swimming World Magazine four times in a six-year span (2014, 2015, 2016, 2019), strongly suggesting she might not be just the best goalie in the world — Johnson might be the best women's water polo player on the planet.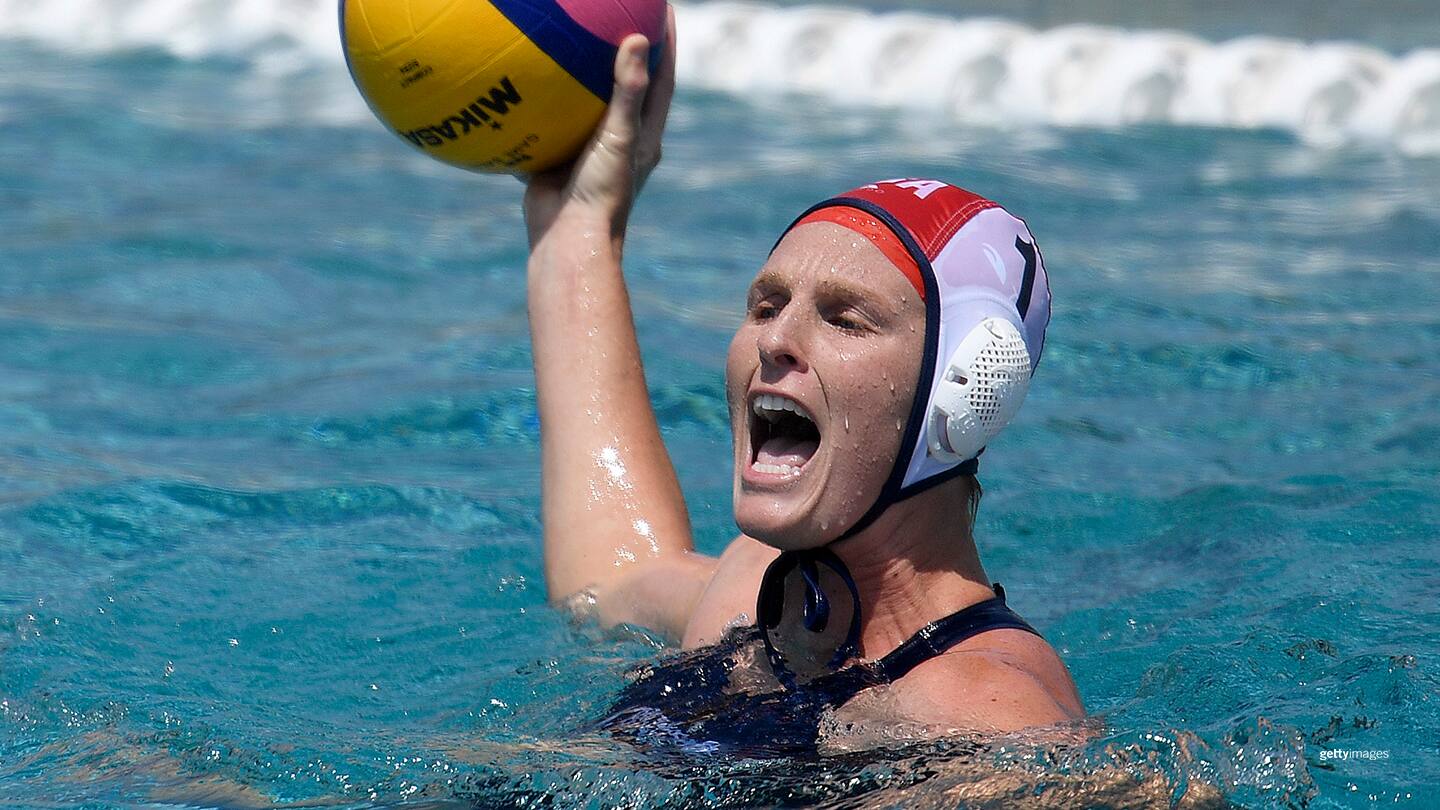 Amanda Longan calls out during an exhibition match against Canada at the Los Alamitos Joint Forces Training Base pool on May 19, 2021 in Los Alamitos, California.
When Team USA first captured gold in London back in 2012, it inspired Olympic dreams in a young goalkeeper who had only started playing the previous summer.

She quickly developed into one of the sport's brightest goalie prospects, being named top goalie at the 2015 Junior World Championships — a tournament she joined as a replacement for a keeper who had a conflict. Longan went to USC, where she won NCAA championships in 2016 and 2018 (stopping current Olympic teammate Makenzie Fischer in the final minute of the 2018 title game to preserve a one-goal win). Longan won the Cutino Award following her dominant 2018 season.

Longan will make her Olympic debut as the backup to Ashleigh Johnson in Tokyo, but she's made the most of her opportunities to play recently. At the World League Super Finals, she saw just under 45 minutes of playing time, during which she stopped 18 of the 25 shots she faced, a tournament-best save percentage of 72 percent.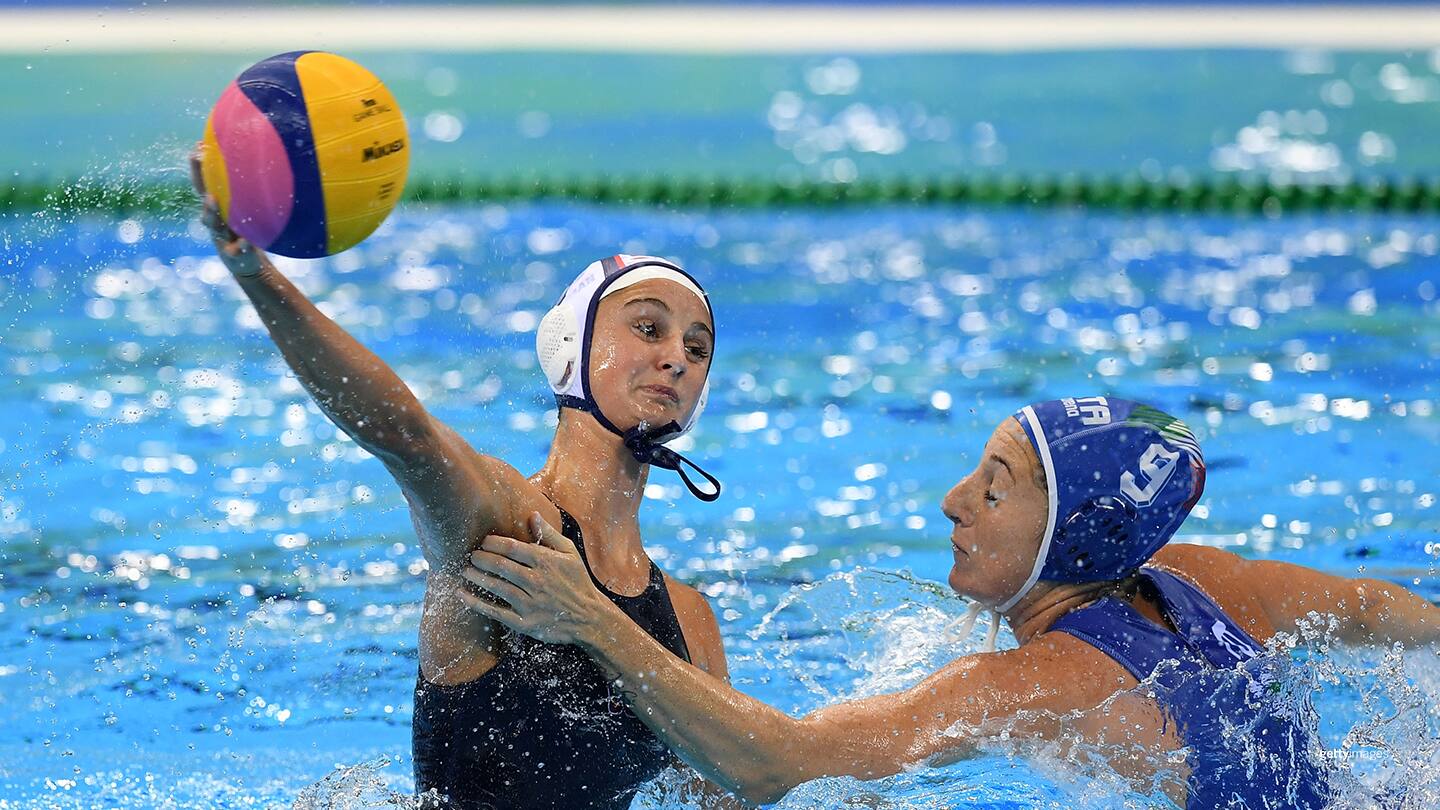 Maddie Musselman competes during the women's water polo gold-medal match against Italy at the Olympic Games Rio 2016 on Aug. 19, 2016 in Rio de Janeiro, Brazil.
Musselman was in high school when coach Adam Krikorian first met with her family to discuss the possibility training with the national team. The idea, at that point back in 2015, was to get her ready for the 2020 Olympic Games.

The plan progressed a little faster than anyone would have guessed.

Musselman was the second-youngest player to earn a spot on the U.S. roster for the 2016 Olympics and finished the Games as her team's second-leading scorer in Rio. Since then, the three-time All-American attacker from UCLA has blossomed into one of Team USA's most versatile and consistent scorers.

She scored 18 goals at the World League Super Finals earlier this month and was named MVP of that event for the second time (she scored 14 goals when the U.S. won in 2019). This latest gold-medal run in Athens marked the fourth time Musselman has led the U.S. in goals in an international tournament.
Jamie Neushul passing the ball during practice on Feb. 23, 2021 in Los Alamitos, California.
It can't be easy being the middle sister in one of USA Water Polo's most accomplished families. Neushul's parents both were collegiate All-Americans at UC Santa Barbara. Her older sister, Kiley, scored 10 goals for Team USA at the 2016 Olympics and won the Cutino Award twice. And her younger sister, Ryann, is a rising prospect in the national team ranks and scored game-winning goals for Stanford in the semifinal and final rounds of the 2019 NCAA championships.

Still, Neushul is carving out her own reputation quite nicely. She was a two-time first-team All-American and a three-time national championship at Stanford. She was the captain of the U.S. team that won the gold medal at the FINA Junior World Championships in 2015.

Now, the promising attacker is a first-time Olympian, looking to add a gold medal to her unique individual resume.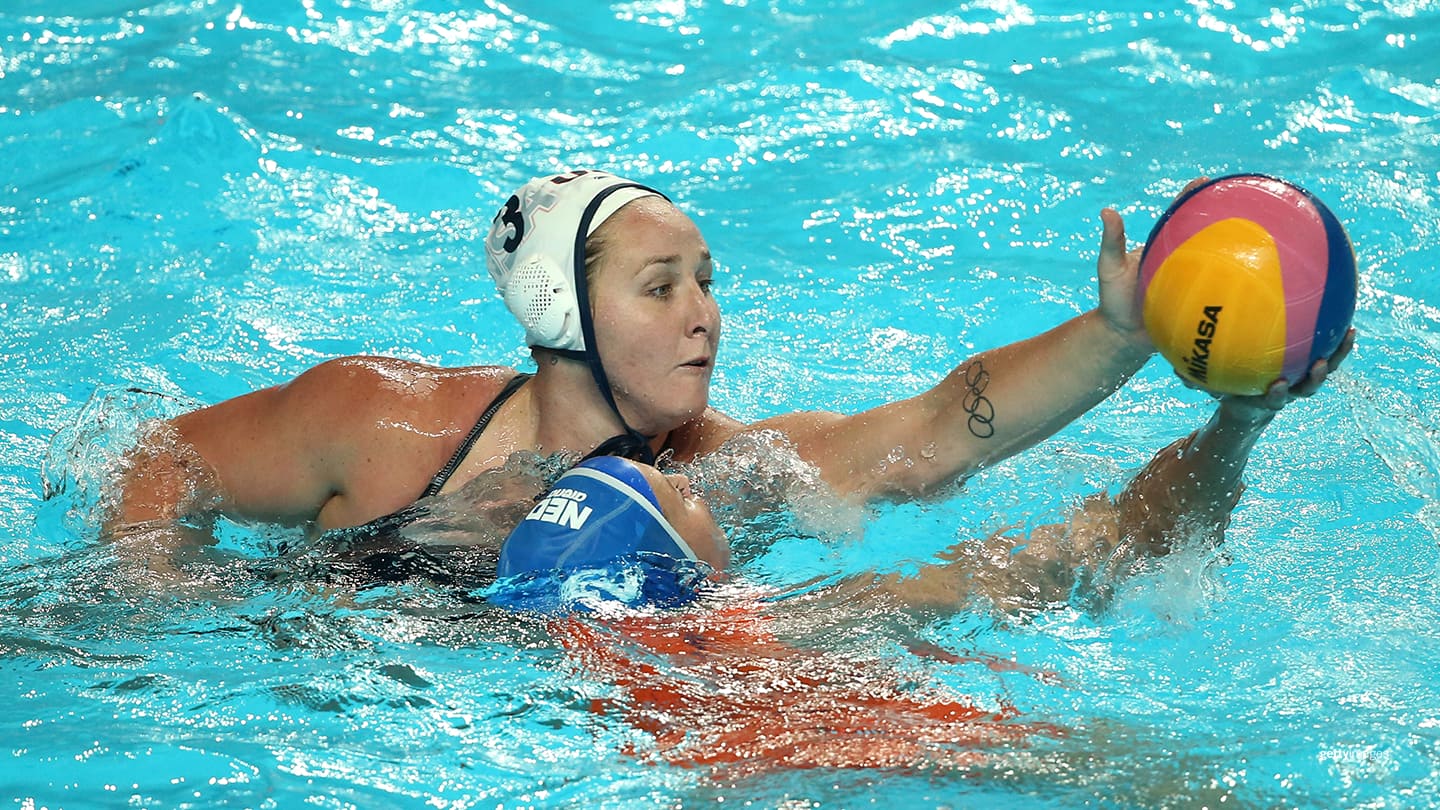 Melissa Seidemann competing during the women's gold-medal match against the Netherlands at the FINA World Championships Kazan 2015 on Aug. 7, 2015 in Kazan, Russia.
And then there were two.


Seidemann and Maggie Steffens are the only players remaining on the Team USA roster from the team that won gold in London 2012. This summer in Tokyo, Seidemann, a versatile defender, is looking to add a third Olympic gold medal to a trophy case that already includes an NCAA title (Stanford, 2011), a Cutino Award as college water polo's top player (2013) and a share of Stanford's record for career goals (239).


Back in September, Seidemann was named head coach of the girls varsity team at Corona del Mar High School in California. Her previous coaching experience includes stints as a volunteer assistant and assistant coach at UC Irvine and three years at the SOCAL Water Polo Club.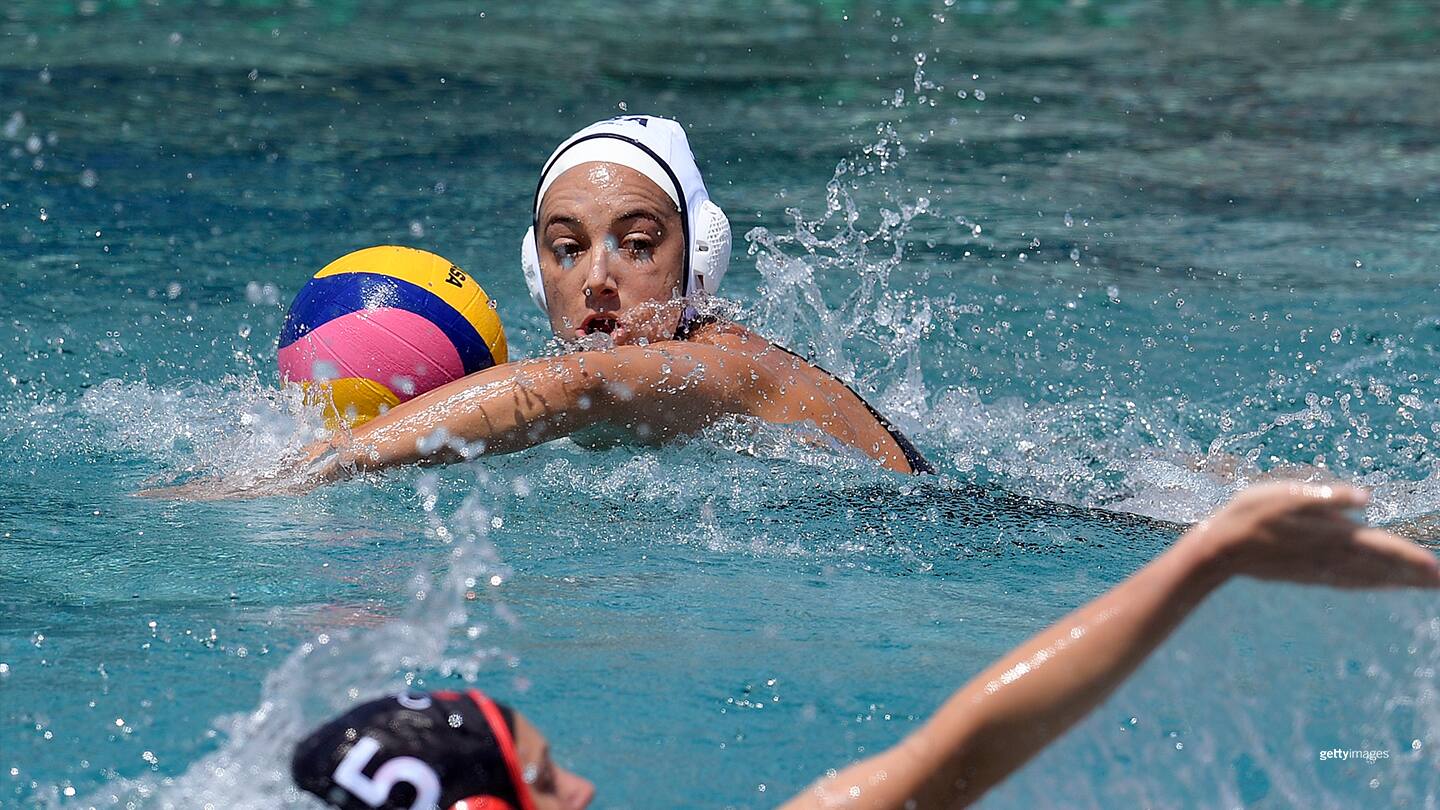 Maggie Steffens competing in an exhibition match against Canada on May 19, 2021 in Los Alamitos, California.
Steffens heads to Tokyo with the chance for a couple of historic hat tricks. Not only could she and Melissa Seidemann become the first three-time Olympic gold medalists in women's water polo, Steffens could become the only three-time Olympic MVP. She earned the top individual honor for the first time in 2012, when as a 19-year-old at the London Games she tied an Olympic tournament record with 21 goals. Then, in Rio, she led all scorers again, this time with 17 goals. A third MVP would match the number of times she won the award at the NCAA Tournament; Steffens led Stanford to national championships in 2014, 2015 and 2017.

The Team USA captain is already the second-leading scorer in Olympics history with 38 career goals. If she continues scoring at her unprecedented pace (3.17 goals per match), she'd surpass Italy's Tania Di Mario (47 goals) by the fourth game of group play.

There isn't any indication that Steffens is slowing down. The veteran attacker scored four goals in the World League Super Finals championship and was named player of the match. Fittingly, when Team USA played Canada in an exhibition series back in mid-May, ending a stretch of 453 days between games, it was Steffens who scored her team's first goal.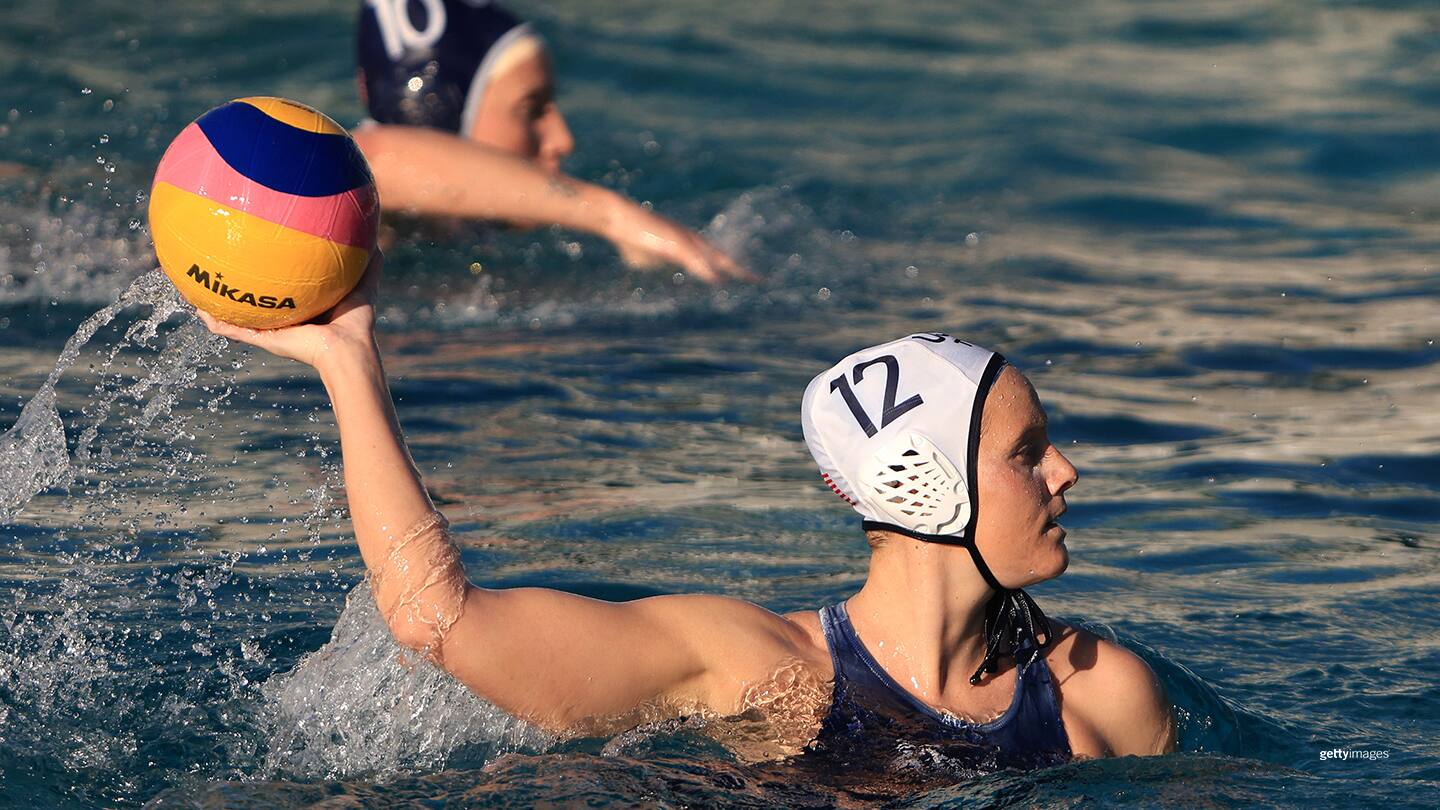 Alys Williams passing during practice on Feb. 23, 2021 in Los Alamitos, California.
One of the five Olympic rookies on the U.S. roster, Williams actually attended the 2016 Rio Games — on her own dime. The last player cut from that Olympic powerhouse, Williams continued to practice with the national team, then attended the Games as a fan.

When she was at UCLA, Williams earned All-America honors four times and advanced to the NCAA championship game three times. Since joining the national team, the veteran defender has been a part of a slew of international tournament wins, including the FINA World Championships in 2015, 2017 and 2019.
David Seigerman is a veteran sportswriter, producer, author and the producer/writer/host of the new sports podcast, Out Of Left Field. He is a freelance contributor to TeamUSA.org on behalf of
Red Line Editorial, Inc.