After Stressful Games, Team USA's Figure Skaters Ready To Compete Again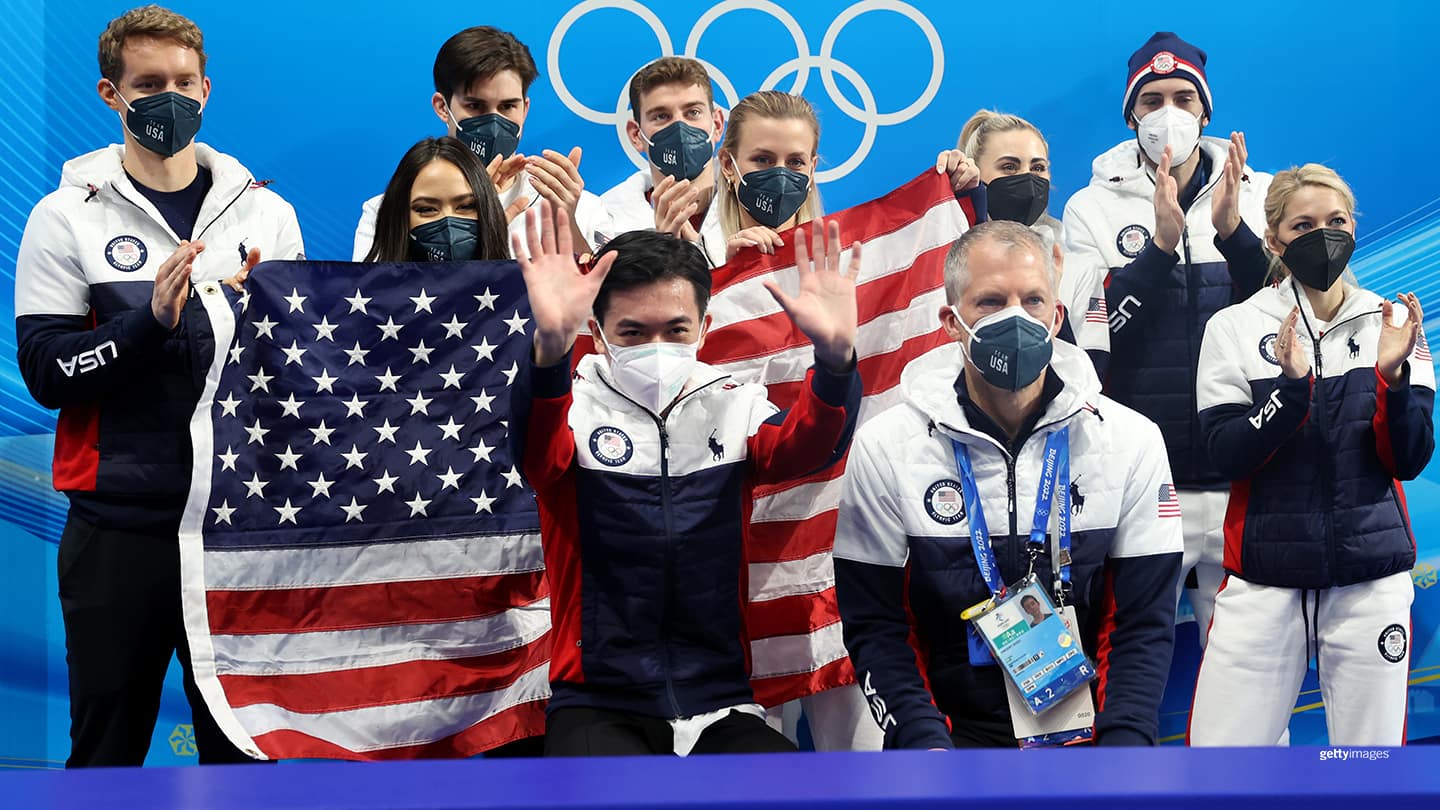 Vincent Zhou reacts with teammates following the men's individual free skate team event at the Olympic Winter Games Beijing 2022 on Feb. 6, 2022 in Beijing.
Competing at the Olympic Winter Games takes a toll on mind and body. Emotions run the gamut: Satisfaction, for achieving a hard-fought goal. Elation or, if performances did not meet expectations, disappointment. And almost certainly, fatigue.

Now imagine, less than a month later, heading out to compete again. And on the world stage.

That's the task confronting members of the U.S. Olympic figure skating squad at the 2022 World Figure Skating Championships, starting Wednesday in Montpellier, France. Of the 16 skaters who represented Team USA at the Olympic Winter Games Beijing 2022, 14 are set to compete in Montpellier.

"There is a huge letdown (after Olympics) mentally, physically, emotionally, and I think that's regardless of how the athletes actually performed there," Tom Zakrajsek, who has coached figure skaters at four Games, said.

A short break — maybe just a long weekend without the worry of training and recovery — can help athletes recharge for one last push.

"Anyone preparing for the Games uses every ounce of energy from their body and mind," he said. "As a coach, you have to be sensitive to the need for time off, and that's counterintuitive, especially when there's a major championships coming up."

Zakrajsek coaches Vincent Zhou, the reigning U.S. bronze medalist who contributed to Team USA's second-place finish in the team event in Beijing before two positive COVID-19 tests took him out of the individual men's competition. The 2019 world bronze medalist had been considered a medal threat.

"I've been taking a lot of time to process things, just trying to take it one day at a time, one step at a time," Zhou, 21, told reporters last week. "Life really wants to get me down right now, but I'm not ready to go down without a fight. I'm training, trying to punch right back, doing my thing but giving myself space, allowing myself to process things appropriately."

Zhou said he didn't take much time off; a day after arriving back to his training home in Colorado Springs, Colorado, he was back on the ice. Talking with Sean McCann, a United States Olympic & Paralympic Committee senior sport psychologist, as well as his parents and coaches, including Zakrajsek and Drew Meekins, helped him cope.

"A lot of people have reached out to offer support," Zhou said. "I consider myself lucky."

Zhou defeated teammate and soon-to-be Olympic champion Nathan Chen at Skate America early this season and qualified for the Grand Prix Final, which was cancelled due to COVID. But this world championships may be his final chance to earn a second world medal. He plans to return to Brown University this fall and is uncertain whether he will continue to compete.

"It's been all about listening to what his needs are," Zakrajsek said. "He knows he has to prepare a certain way to have a shot at a world medal or personal best at the world championships. Everybody on Team Vincent knows that (he can medal), and we've talked about how that can be a distraction to the actual process of skating well. So he's very aware of that, and we're keeping that pressure in check."

"I'm hoping I can break out a spark of something at the world championships," Zhou said. "I know I have it deep within me. I'm a very motivated person, and I don't give up easily."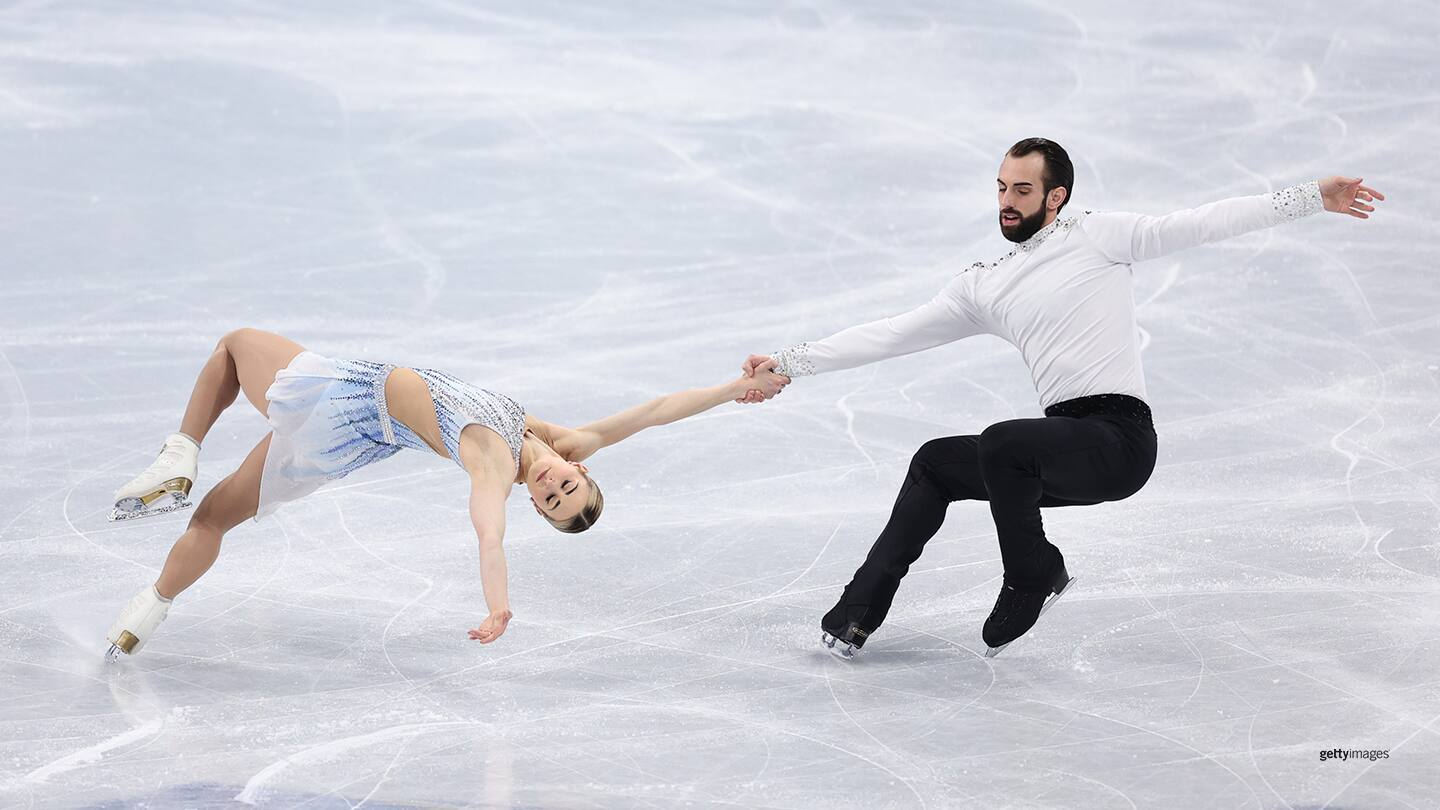 (L-R) Ashley Cain-Gribble and Timothy Leduc compete during the pair skating short program at the Olympic Winter Games Beijing 2022 on Feb. 18, 2022 in Beijing.
Ashley-Cain Gribble and Timothy LeDuc, the two-time and reigning U.S. pair champions who placed eighth at last month's Games, also had a training challenge: Cain-Gribble sprained her right ankle on the landing of a triple twist in a practice session prior to the Olympic free skate. Arriving home to Euless, Texas, Cain-Gribble took a week off for rehab and physical therapy.

"They were in really good physical shape going into Olympics and that didn't fall off," Peter Cain, Ashley's father and the pair's primary coach, said. "All that training, all that conditioning they had done, it stayed with them, so taking that week off just to recover and replenish the brain, so to speak, it ended up being beneficial. We haven't seen any downturn; they've been running really good programs."

The absence of Russian and Chinese pairs have put Cain-Gribble and LeDuc — as well as 2021 U.S. champions Alexa Knierim and Brandon Frazier, who placed sixth at the Games — in medal position in Montpellier. None of the top five finishers at the Olympics, including champions Sui Wenjing and Han Cong, will compete.

"The plan in the back of our minds was the possibility of (placing high enough) to get three pair spots for worlds, that was a carrot they were dangling at themselves," Cain said. "When we found out the Russians weren't going, and both Chinese teams were out, there was a moment of excitement. They said, 'Well, this is an opportunity,' and then they clicked right back into training. They're training as if everyone is there."

This is Cain-Gribble and LeDuc's third trip to the world championships, which provides a level of comfort and familiarity. Still, it hasn't been easy.

"The turnaround from Olympics to worlds is rough," LeDuc, 31, said. "Call it Olympic hangover. Getting the mind and body back into it is really difficult, but it doesn't make us any less excited for the worlds."

"You don't want to go in overconfident or think something is going to be given to you," added Peter Cain. "This season has been a great season for them, they have gone upwards every competition except the long program at the Olympics. They want to show everyone that steady climb up. They have goals to get their personal best (at worlds). It's the old story — if you go out and skate clean, things happen."

Team USA's top ice dance couples — Olympic bronze medalists Madison Hubbell and Zachary Donohue, and Madison Chock and Evan Bates, who placed fourth at the Games — are medal favorites in Montpellier.

Last week, the skaters told reporters that training together at the Ice Academy of Montreal, where they share the ice with many other top couples, has helped ease the transition from Olympics to worlds.

"There was an emotional release and letdown before we built back up into training for worlds," Chock, 29, said. "What's great is we are in the same training boat with all of our teammates and competitors, so we get to share the experiences together, the emotions. We all know that we're feeling a similar way. It makes training easier, and we are able to get back into a rhythm."

There's also been what the skaters called a "detox" process.

"It's well documented there is an emotional and physical letdown after the Games, we certainly felt it," Bates, 33, said. "We just took some time off ice, away from social media."

Despite contributing to Team USA's second-place finish in the team event, Karen Chen left the Games a bit disappointed with her performances in the women's competition, particularly trouble on her triple loop, usually one of her stronger elements.

The U.S. silver medalist's longtime coach, Tammy Gambill, used the weeks between Olympics and worlds to address the problem jump.

"Every day in practice (at Olympics) it was a nice little warm-up jump for her, no big deal, but in competition for whatever reason it just went sideways every time," Gambill said. "It got to be a little bit of a mental thing, every time she went into it. So we reworked and moved the loop to different places with a little bit different technique going in, to make it not feel the same as it did at the Olympics."

Chen, who placed a career-high fourth at the world championships last season, spent a week after the Olympics visiting family in Michigan. When she returned to her training rink in Colorado Springs, she kicked back into full-out training.

"We built back up again," Gambill said. "Finetuning, running the programs, keeping the stamina up. You have to have a little bit of a letdown after every competition, a little bit of a down and then you and pull back up again. Karen's stamina is good, she never lost the stamina part of it. So it's been a lot of run-throughs."
Lynn Rutherford is a sportswriter based out of New York. She is a freelance contributor to TeamUSA.org on behalf of
Red Line Editorial, Inc.