Top Team USA Moments From The 2022 Paralympic Winter Games Thus Far
Five days down, five to go. We've arrived at the halfway point of the Paralympic Winter Games Beijing 2022. Team USA showed up in force with a 67-member delegation and is among the few countries to already have medals in the double digits.

From podium performances to impressive feats, here are eight of our top moments from the first half of the Paralympic Winter Games.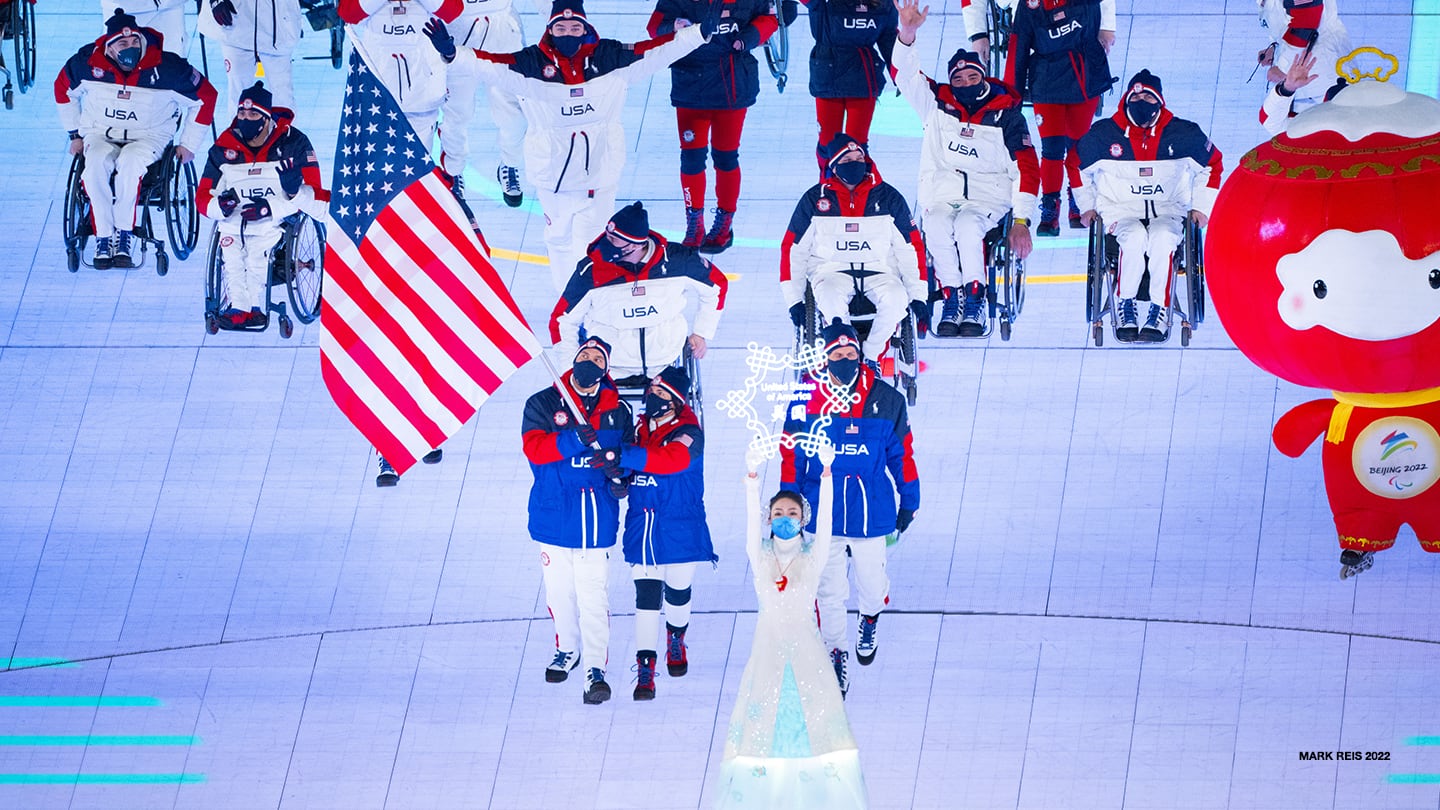 Team USA athletes taking part in the Opening Ceremony for the Paralympic Winter Games Beijing 2022 on March 4, 2022 in Beijing.
Paralympic Winter Games Begin
Exactly one month after the Opening Ceremony of the Olympic Winter Games Beijing 2022, the Birds Nest Stadium welcomed a new set of athletes as the Paralympic Games got underway. Team USA had the second-largest delegation after the host nation with 67 athletes — 39 returning Paralympians. The honor of flagbearers for the U.S. was given to alpine skiers Danelle Umstead, a four-time Paralympian, and Tyler Carter, who was competing in his third Games. This is the 13th edition of the Paralympic Winter Games, which will conclude on March 13.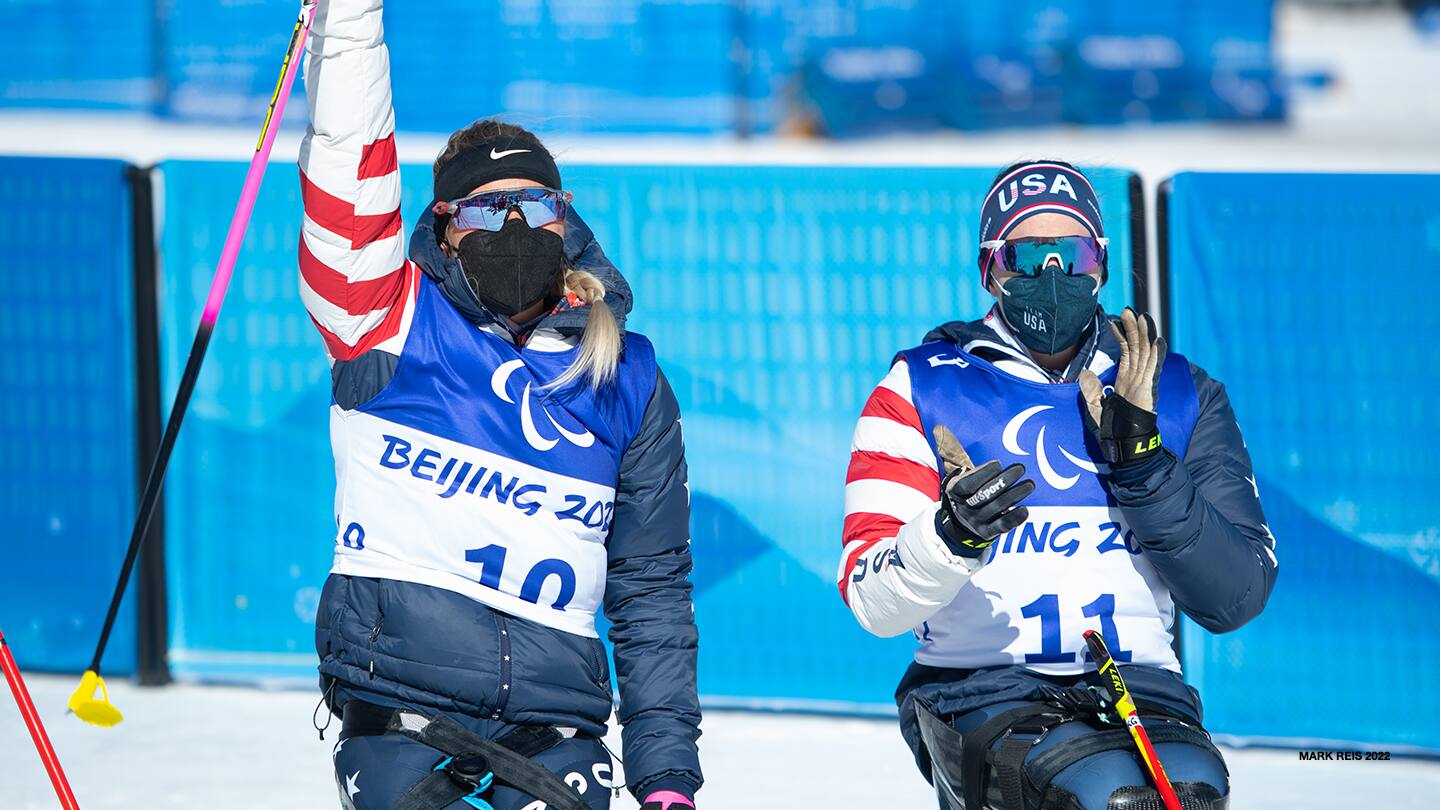 (L-R) Oksana Masters and Kendall Gretsch celebrate taking home gold and bronze, respectively, in the sitting sprint biathlon finals at the Paralympic Winter Games Beijing 2022 on March 5, 2022 in Zhangjiakou, China.
Team USA's First Medals Of The 2022 Winter Paralympics
Winning the first medal of the Paralympic Winter Games — and the first gold — was six-time Paralympian Oksana Masters in the women's sitting biathlon sprint. This was Masters' fifth career gold, adding to her first-place finishes in biathlon and Para-cycling. Her teammate at both Paralympic Games, Kendall Gretsch, won bronze in the biathlon sprint. The two women went on to win an additional three medals between them in Beijing — contributing to half of Team USA's medal haul thus far. A fitting achievement for the history books considering that March is Women's History Month!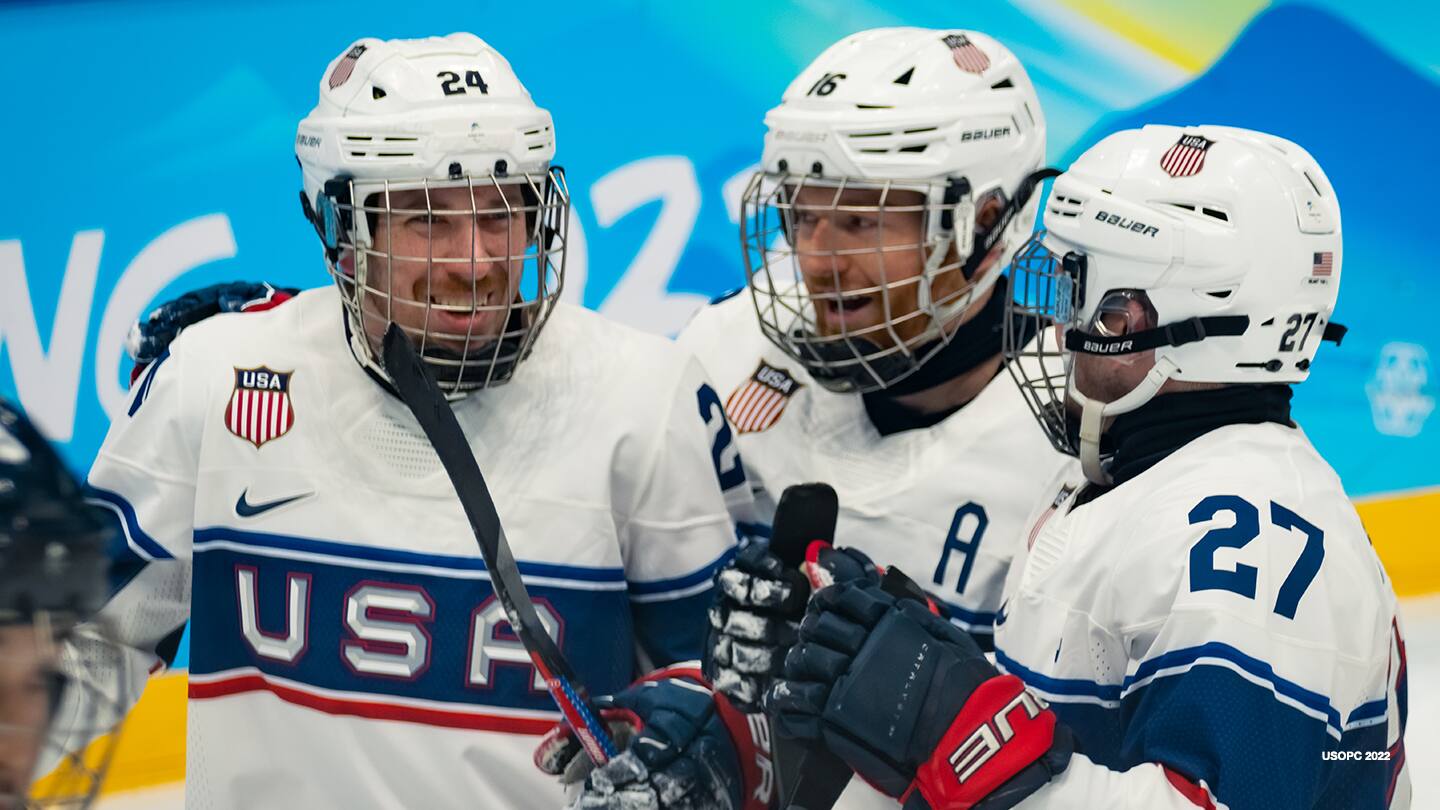 USA Sled Hockey celebrates after scoring during the preliminary Group A match against South Korea at the Paralympic Winter Games Beijing 2022 on March 5, 2022 in Beijing.
U.S. Sled Hockey Starts Strong In Gold Medal Defense
Defending their gold medal is nothing new for the reigning sled hockey champions. Coming into Beijing, the men have won the last three of four Games and were looking to even that number up at the 2022 Paralympics. After beating the second-seeded Canadians in the opening game, Team USA rode a five-goal first period over South Korea to win 9-1, continuing their undefeated streak. They are now enjoying a four-day break before the semifinals begin on Friday.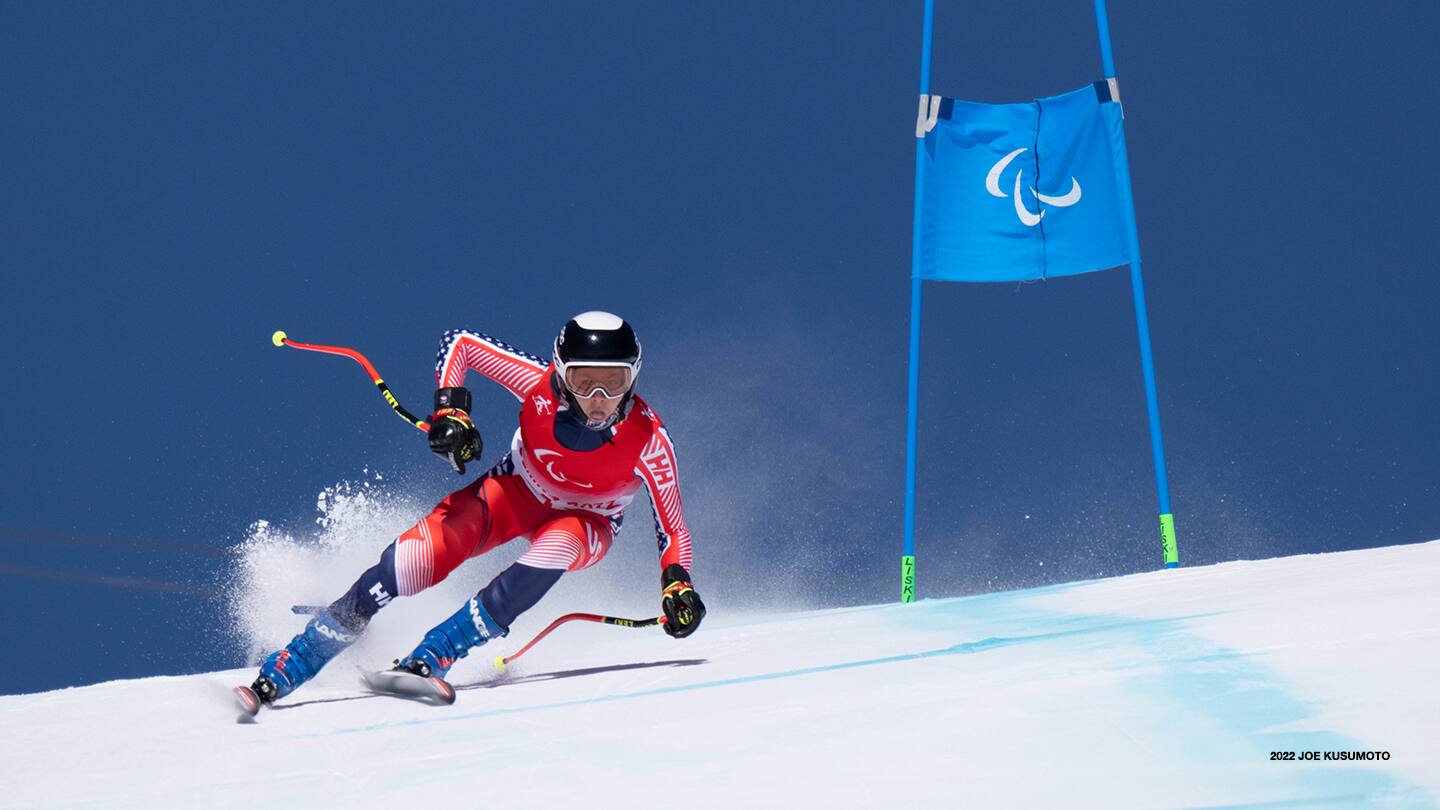 Jesse Keefe during training at the Paralympic Winter Games Beijing 2022 on March 2, 2022 in Yanqing, China.
Team USA's Youngest Athlete Shines In Debut Games
Jesse Keefe, a high school senior from Bellevue, Idaho, was the youngest Para athlete on Team USA and one of three U.S. alpine ski racers to finish in the top 15 in the men's standing super combined. Finishing just behind his teammate, Spencer Wood — who closed out the day in 14th — Keefe bumped up five spots after placing 20th in the super-G to be among the top 15. The 17-year-old was born without an ankle bone in his right leg and had his leg amputated at one. A year later, he was on skis and racing by six.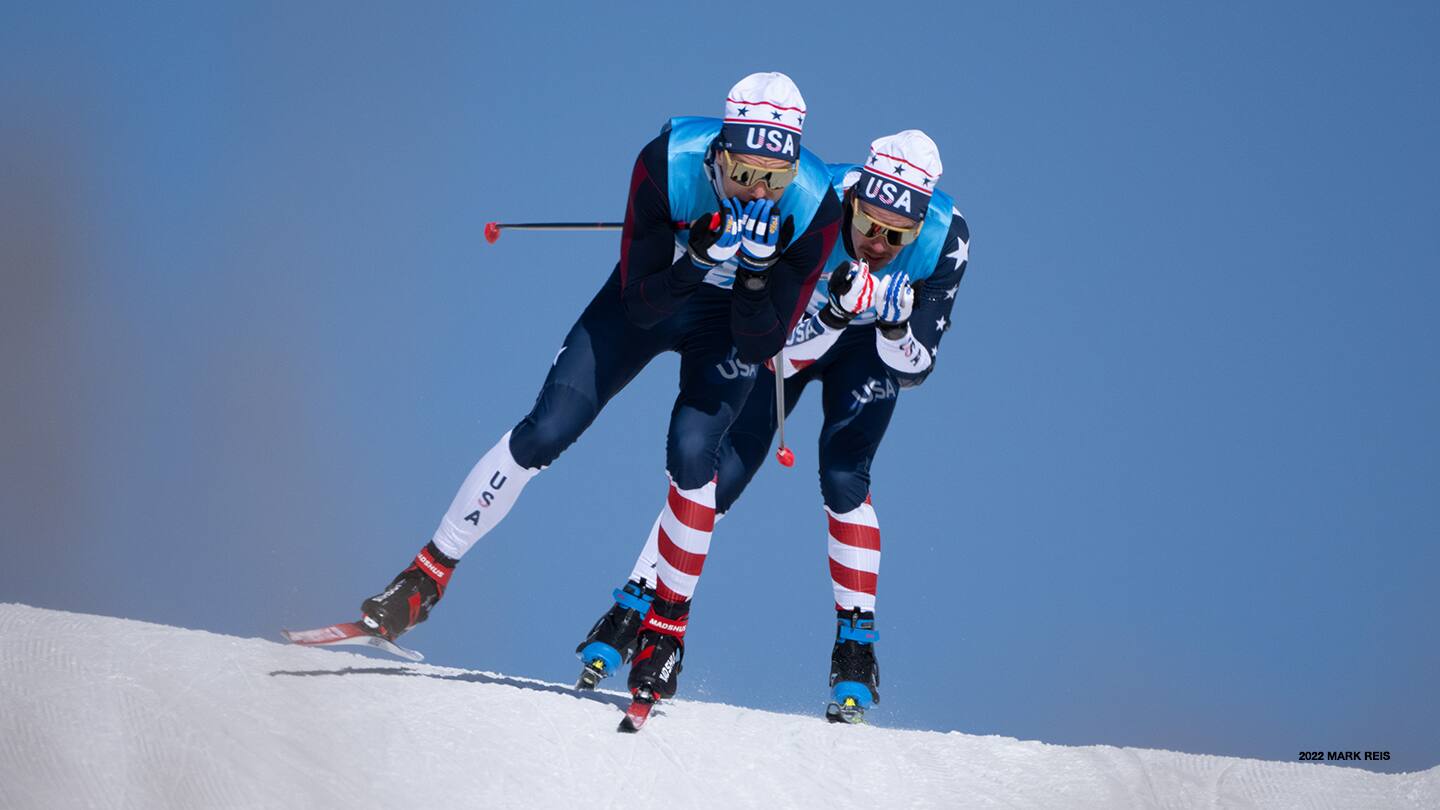 (L-R) Guide Sam Wood and Jake Adicoff during training at the Paralympic Winter Games Beijing 2022 on March 3, 2022 in Zhangjiakou, China.
Jake Adicoff And Sydney Peterson Win Silver
Four years after retiring from competitive Nordic skiing, Jake Adicoff took the silver in the men's visually impaired 20-kilometer classic, along with his guide, Sam Wood. The medal was the second for Team USA in cross-country skiing in Beijing and the second silver for the 26-year-old. His teammate, first-time Paralympian Sydney Peterson followed with another silver in the women's 15-kilometer classic standing race. Adicoff and Peterson added to their medal collections on Wednesday in the sprint race, with silver and bronze respectively.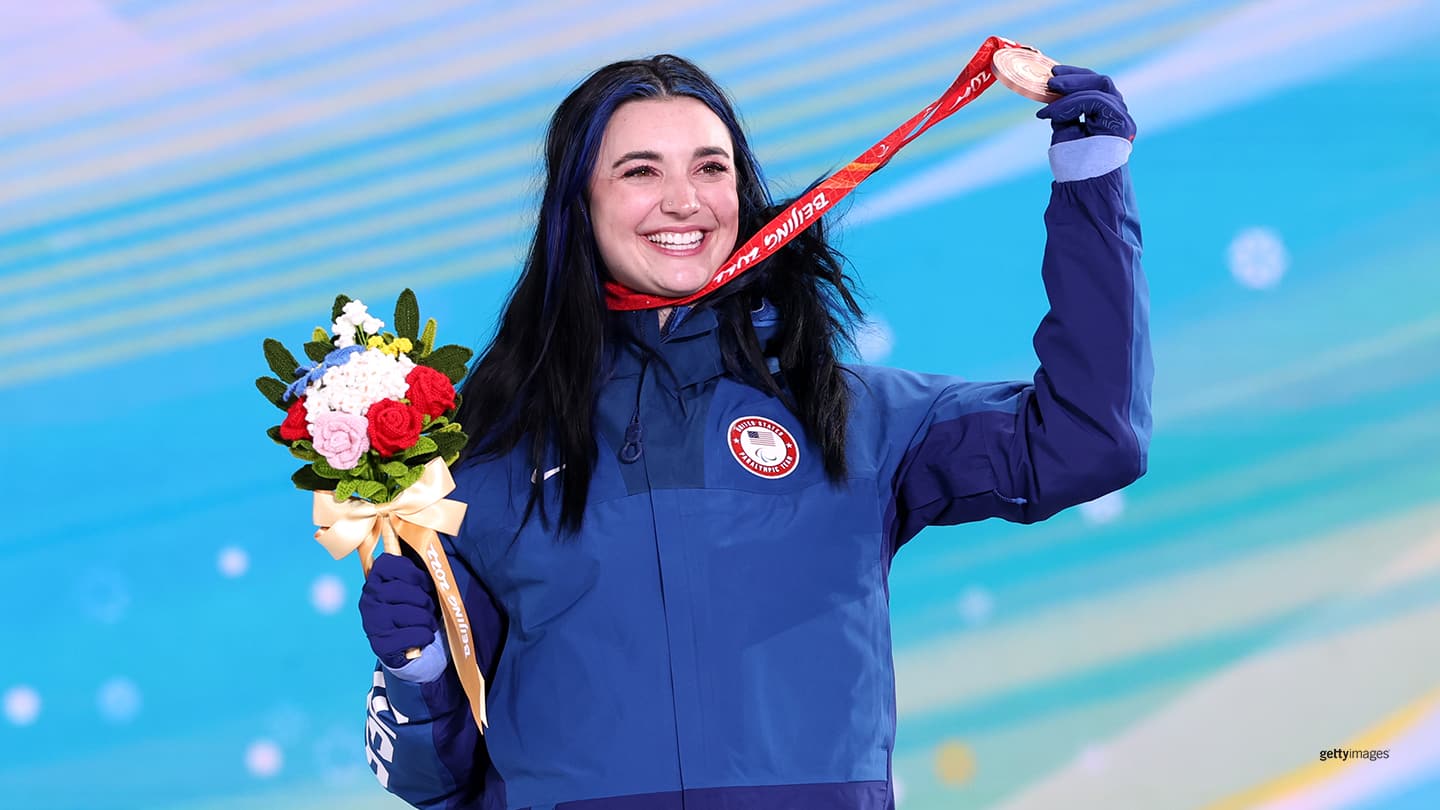 Brenna Huckaby (L) competes during the women's standing snowboardcross SB-LL2 finals at the Paralympic Winter Games Beijing 2022 on March 7, 2022 in Zhangjiakou, China.
U.S. Snowboarders Win Two Silvers, One Bronze In One Day
A solid start to the Games saw three podiums on the first day of snowboarding competition. Mike Schultz and Brenna Huckaby earned their third Paralympic medals, claiming silver and bronze in snowboardcross. Making his Paralympic debut, Garrett Geros was all smiles as he took silver in his classification. Huckaby came to the event as the defending gold medalist across the SB-LL1 classification, which was dropped for Beijing and left her without a path to the Games. However, only six weeks out, the 26-year-old was deemed eligible for the higher SB-LL2 classification that opened her way back to the competition.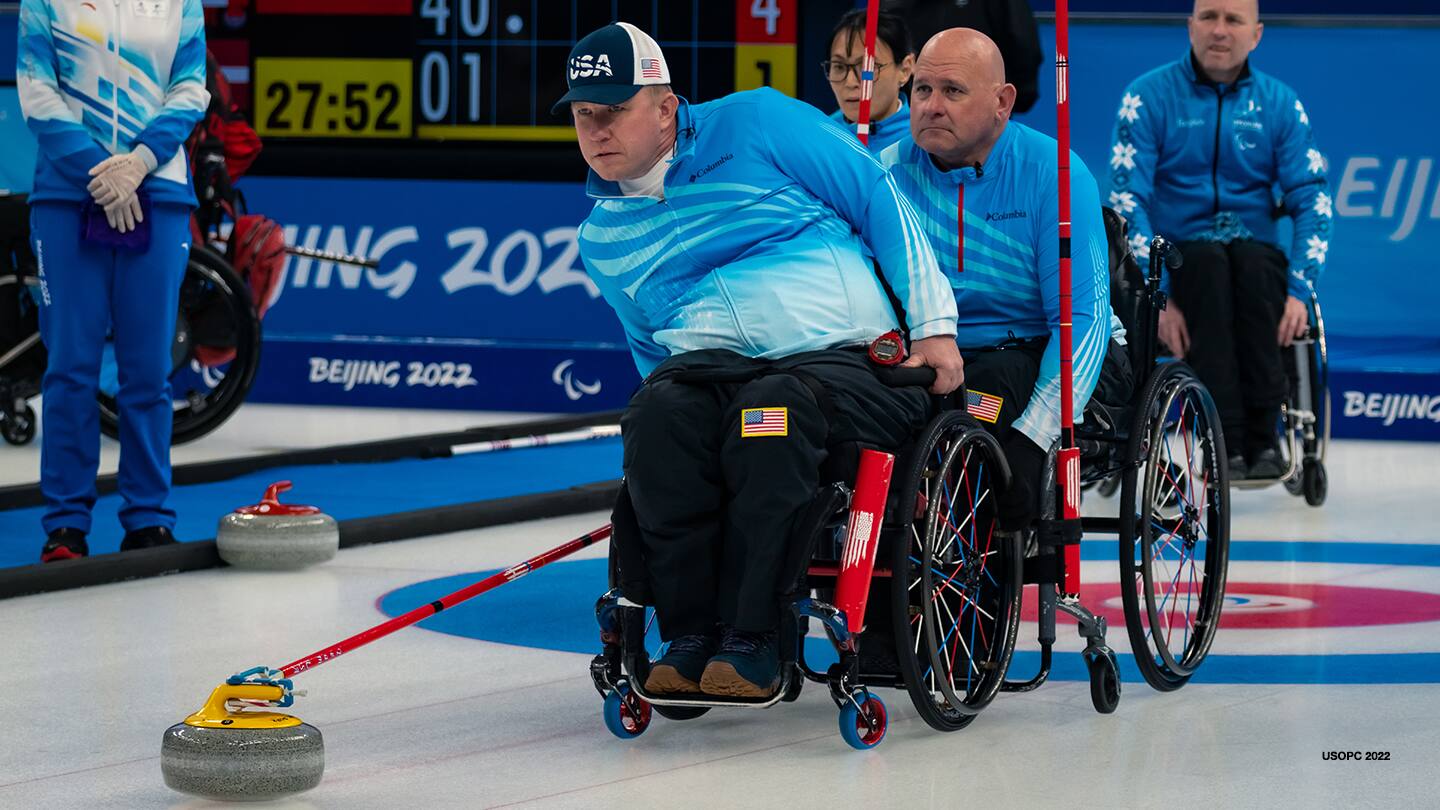 (L-R) Matthew Thums and Dave Samsa compete in a wheelchair curling round robin match against Team Estonia at the Paralympic Winter Games Beijing 2022 on March 7, 2022 in Beijing.
Wheelchair Curling Makes A Comeback
Team USA's wheelchair curling team showed up at the Beijing Games looking for a spot on the podium after placing fourth at last year's world championships — their best placement after finishing third in 2008. Coming into a make-it or break-it matchup with Norway — and sitting 1-3 in the tournament — they were able to keep their medal dreams alive after a 6-5 come from behind win. Their victory over the silver medalists from PyeongChang came down to the last stone. The U.S. team, which has one returning Paralympian, is looking to improve their last-place finish from the previous Games.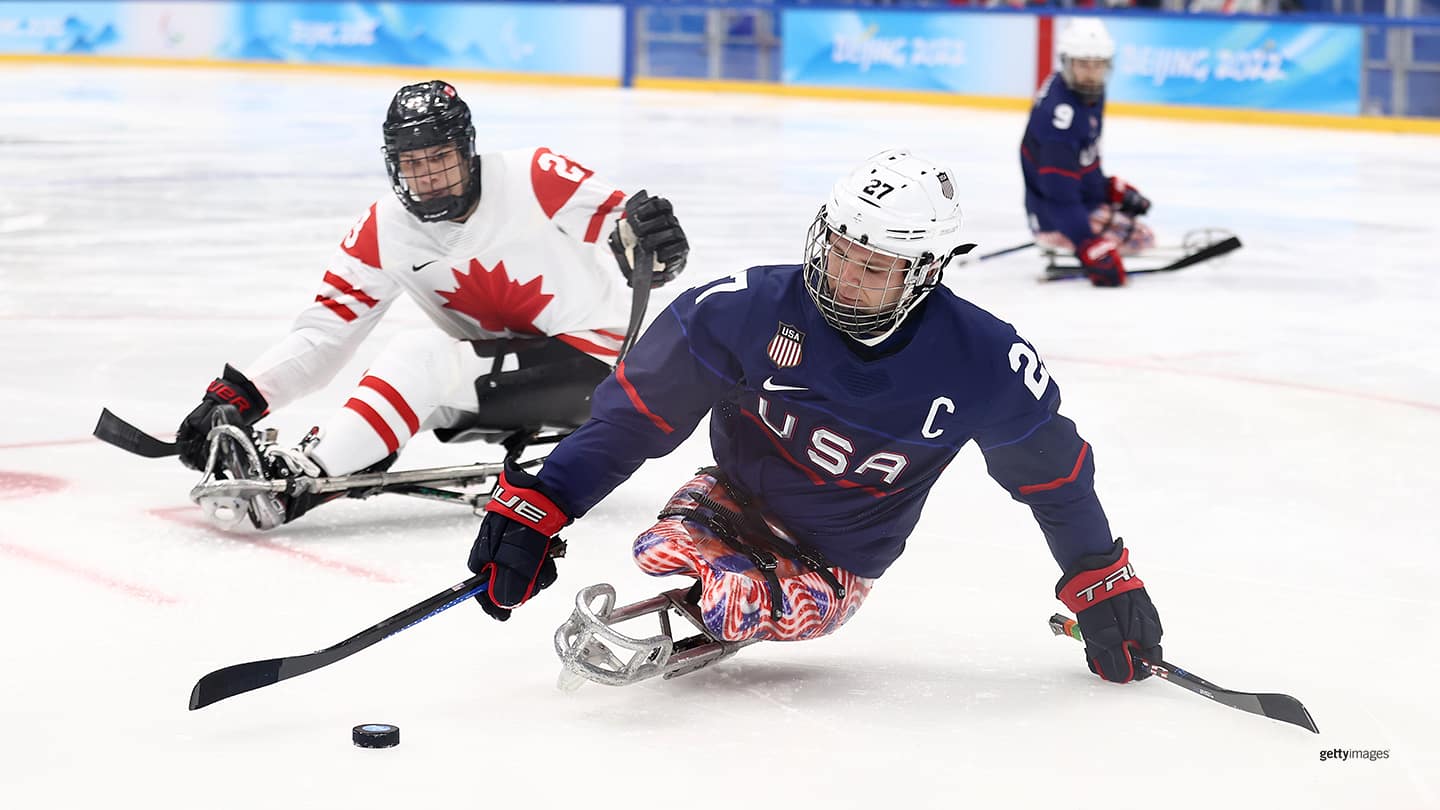 (L-R) Josh Pauls competes with James Dunn (Canada) during the preliminary round match against Team Canada at the Paralympic Winter Games Beijing 2022 on March 5, 2022 in Beijing.
Josh Pauls Becomes USA Sled Hockey's All-Time Paralympic Appearance Leader
In Team USA's preliminary round win over South Korea, Josh Pauls' time on the ice cemented his title as the sled hockey player with the most Paralympic appearances. The Sunday matchup in Beijing marked the 17th career game for the 29-year-old New Jersey native, surpassing Joe Howard. Pauls has won gold at all three Winter Games he's competed in and is looking to go four for four in Beijing. The U.S. will play its next game — in the semifinals — on Friday, March 11.

Want to follow Team USA athletes during the Paralympic Winter Games Beijing 2022? Visit www.teamusa.org/beijing-2022-paralympic-games to view the competition schedule, medal table and results.
Lisa Costantini is a freelance writer based in Orlando. She has covered Olympic and Paralympic sports for various publications, and has contributed to TeamUSA.org since 2011.