News
Jake Adicoff
Sydney Peterson
Out Of Retirement, Jake Adicoff Wins XC Skiing Silver; So Does Newcomer Sydney Peterson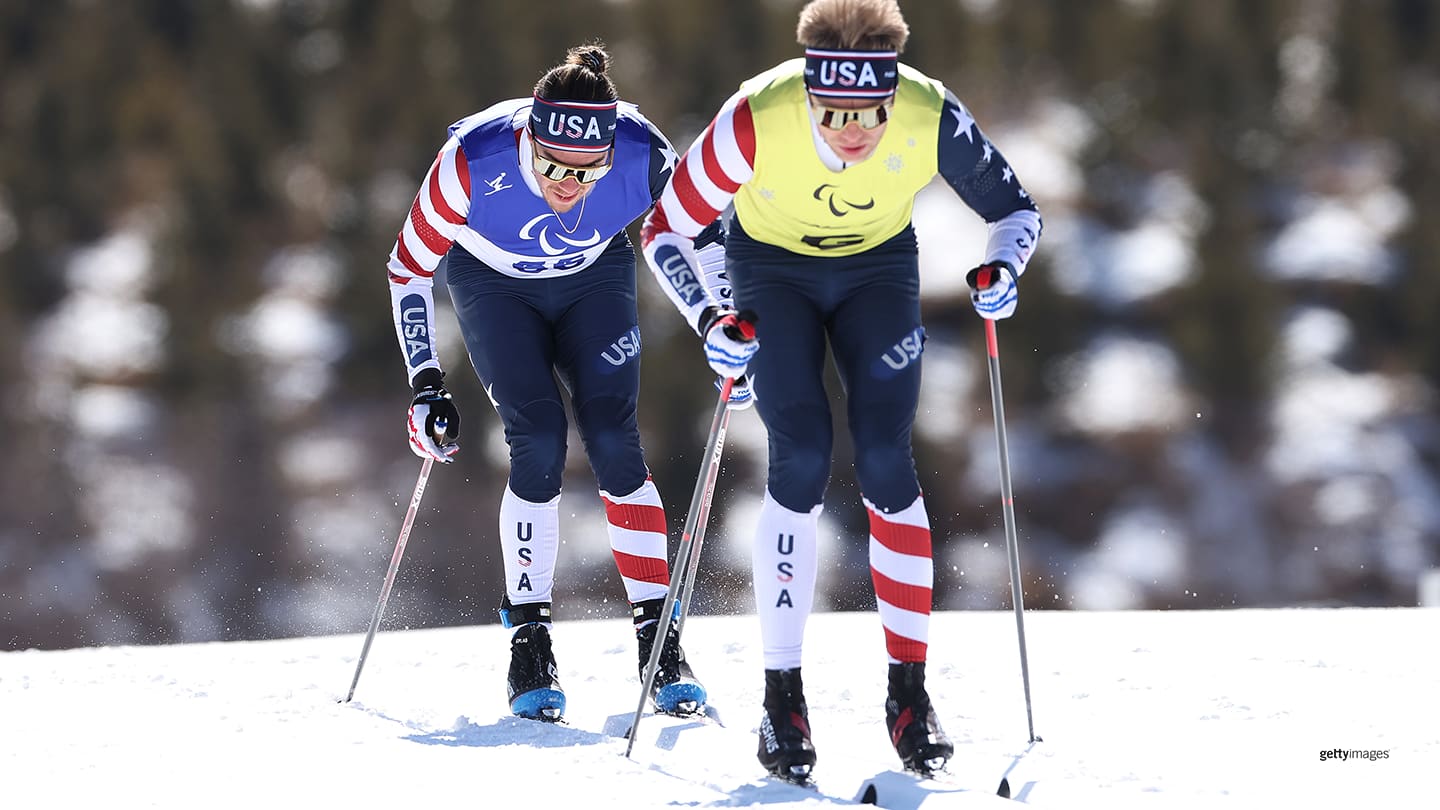 Jake Adicoff competes in the men's Para long-distance cross-country skiing classic technique vision impaired at the Paralympic Winter Games Beijing 2022 on March 7, 2022 in Zhangjiakou, China.
Jake Adicoff retired from competitive Nordic skiing four years ago, satisfied with what he'd accomplished in the sport that he had taken up as a second grader.

After racing in his second Paralympic Winter Games in PyeongChang, Adicoff was the owner of a somewhat surprising silver medal. He'd soon be the owner of a degree in math and computer science from Bowdoin College. It was time.

"I left PyeongChang thinking I'd just skied my last really competitive ski race," said Adicoff, who competes in the visually impaired classification. "I thought I was done."

Retirement didn't last.

Around this time last year, Adicoff began training again at his Sun Valley, Idaho, home, and on Monday, he and guide Sam Wood raced to another Paralympic silver medal, this time in the 20-kilometer classic at the Zhangjiakou National Biathlon Centre in the mountains northwest of Beijing.

With family and friends watching along from Ketchum, Idaho, Adicoff finished 3 minutes 17.7 seconds shy of Canada's Brian McKeever, who claimed his 14th Paralympic gold medal and 18th overall in a time of 55:36.7. Sweden's Zebastian Modin was third, a little over a minute behind Adicoff.

"We're really happy to be on the podium today," Adicoff, 26, said. "It was a really hard race and we had to work pretty hard for this one."

Adicoff's medal was the second for Team USA in cross-country skiing at the Paralympic Winter Games Beijing 2022. Not long after, Sydney Peterson added another. The Minnesotan, who only began racing internationally in December, earned a silver medal of her own in the women's 15-kilometer classic standing race.

Peterson, 20, from Lake Elmo, Minnesota, was strong throughout her Paralympic debut to finish in 44:38.6, which was 52.4 seconds behind winner Natalie Wilkie of Canada. Fellow Canadian Brittany Hudak claimed the bronze, crossing the line 19 seconds behind Peterson. Team USA's Grace Miller, competing in her second Paralympics, finished ninth.

"I didn't really expect to ever be here and this all happened really fast," Peterson said, "so it kind of feels surreal to be here."
As recently as last year, the idea of even competing in Beijing was far from Adicoff's mind. However, after finding himself back on his skis throughout the pandemic, he earned an invite to a national team camp in February 2021.

Even then, he wasn't sure if he'd make an official comeback.

"I didn't want to go to Beijing for the ride," he said.

He'd only commit if he was confident he could be good enough to win a medal. On Monday he did just that, and in arguably his weakest event.

After making his Paralympic debut in 2014, Adicoff came back in 2018, winning a silver medal in the 10-kilometer classic race.

That middle-distance race again proved to be his best event at the world championships two months ago in Lillehammer, Norway, with Adicoff winning to claim his first world title. He also won a silver medal in the sprint and a bronze in the distance race.
Sydney Peterson competes in the women's 15-kilometer standing cross-country race at the 2021 World Para Snow Sports Championships on Jan. 18, 2022 in Lillehammer, Norway.
He'll have opportunities for more Paralympic medals this week, with the sprint on Wednesday and the middle-distance race on Saturday.

"I'm happy to be on the medal stand today," he said, "and we'll do everything we can to get the gold medal next."

Several athletes have noted the difficulty of the Zhangjiakou course, with Adicoff noting "this is the weirdest snow I've ever skied on." That didn't slow him too much in Monday's long-distance race. Adicoff was nothing if not consistent, clocking in at second place in all 15 checkpoints.

"It was kind of tough out there," he said. "We worked pretty hard to ski not as fast as we wanted to, but it was still fun."

Peterson also wasn't thinking about the Paralympics this time last year. She didn't even know she was eligible.

A member of the St. Lawrence University Nordic ski team, Peterson was born with dystonia, which is a disorder in which a person's muscles contract involuntarily. The condition affects her movement on the left side of the body, especially her arm, and has gradually worsened. She now skis with one pole and with a brace in her boot.

Officials from U.S. Paralympics Nordic Skiing took notice. In December, Peterson took them up on an opportunity to compete at a world cup event in Canada, where she could get classified as a Para Nordic skier.

"I just went to get classified and thought it would be a cool experience," she said.

One month later she was at the world championships in Lillehammer, where she won two silver medals and a bronze.

Peterson proved to be so good, so fast that she wasn't initially eligible for the U.S. Paralympic Team, but she was added via a special invitation from World Para Nordic Skiing and the International Paralympic Committee soon after.

She showed she deserved the invite on Monday. In her first race at the Winter Games, Peterson led through the first 5 kilometers before Wilkie, a three-time medalist in PyeongChang, pulled away. With her silver medal, Peterson moved up one position from her finish in Lillehammer.

"I'm pretty excited," she said. "I really didn't have much expectations and there were so many strong skiers in this field I didn't know how things would stack up today, so I'm super excited with the result."

Peterson could have more opportunities to reach the podium with the sprint on Wednesday and middle-distance race Friday. She won silver medals in both races at the world championships.
Want to follow Team USA athletes during the Paralympic Winter Games Beijing 2022? Visit www.teamusa.org/beijing-2022-paralympic-games to view the competition schedule, medal table and results.
Chrös McDougall has covered the Olympic and Paralympic Movement for TeamUSA.org since 2009 on behalf of
Red Line Editorial, Inc.
He is based in Minneapolis-St. Paul.