Team USA Snowboarders Win Two Silvers, One Bronze On Day Three of Winter Paralympics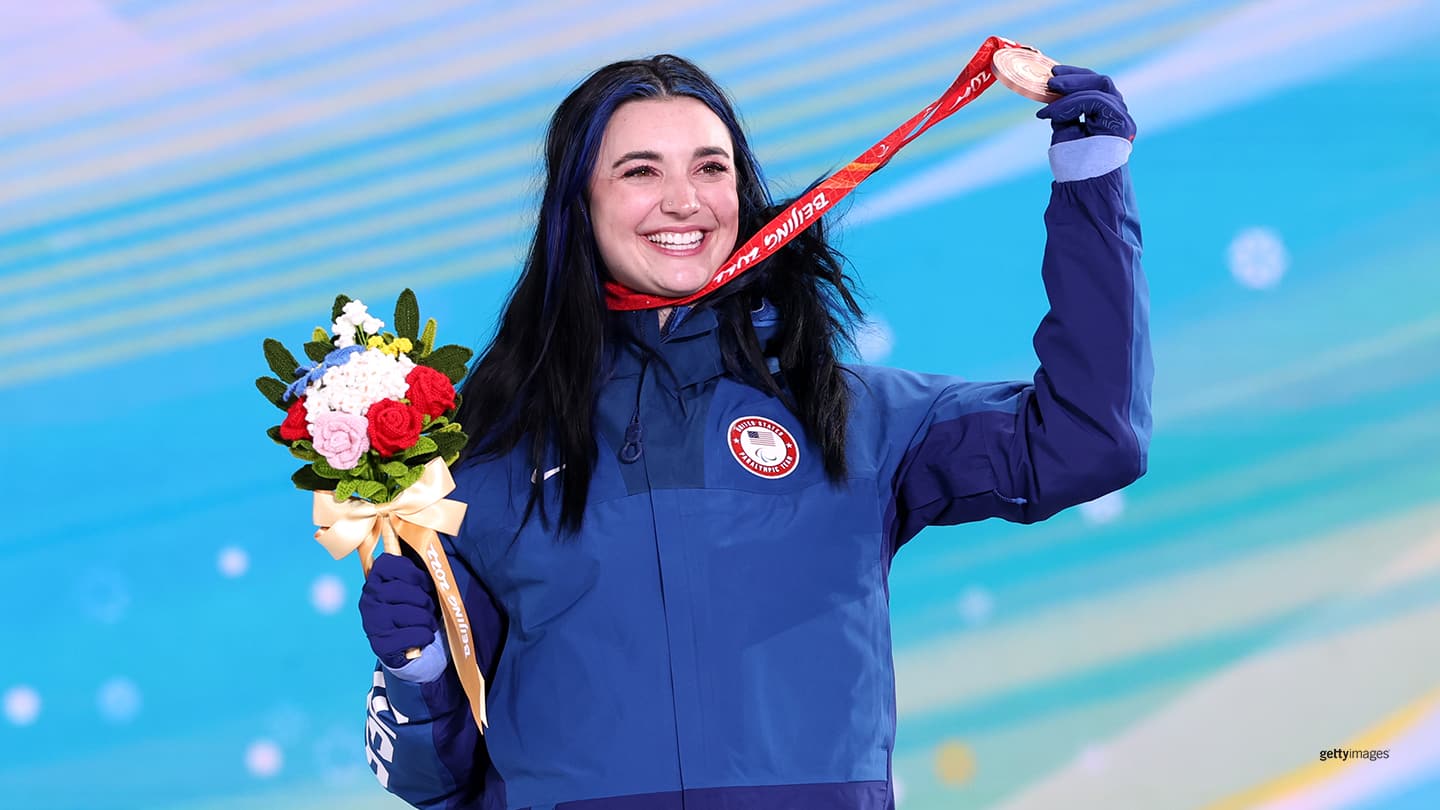 Brenna Huckaby celebrates on the podium during the women's snowboardcross SB-LL2 medal ceremony during the Paralympic Winter Games Beijing 2022 on March 7, 2022 in Zhangjiakou, China.
ZHANGJIAKOU, China – Team USA athletes scored three podium finishes Monday to kick off the para snowboard competition at the Paralympic Winter Games Beijing 2022.

Brenna Huckaby scored the first podium finish of the day for Team USA, winning a bronze in the women's snowboardcross SB-LL2. France's Ceclie Hernandez won gold, and Canadian Lisa DeJong finished in second for silver. Americans Brittani Coury won the small final to place fifth, and Katyln Maddry finished 12th.

"I'm super stoked to walk away with bronze," Huckaby said. "Two months ago, I didn't even think I was going to be at the games. And to walk away with the podium, I am so proud of myself."

Huckaby, 26, came into the event as the defending gold medalist across the SB-LL1, but the classification was cut from the 2022 Winter Paralympic program leaving her without a path to the Games. Six weeks ago, a German court's interim injunction ruled her eligible to represent Team USA at the Winter Paralympics in the women's SB-LL2 classification, a higher classification.

"Brittani and I have been saying if I wasn't here how awful it would be [for me not to be here] because we both are each other's biggest supporters," Huckaby said. "When she wins I win, and when I win she wins. Also it was awesome to see Katlyn out her ripping it and doing well. I'm just so proud of Team USA, and I cannot wait to see what the future brings for us."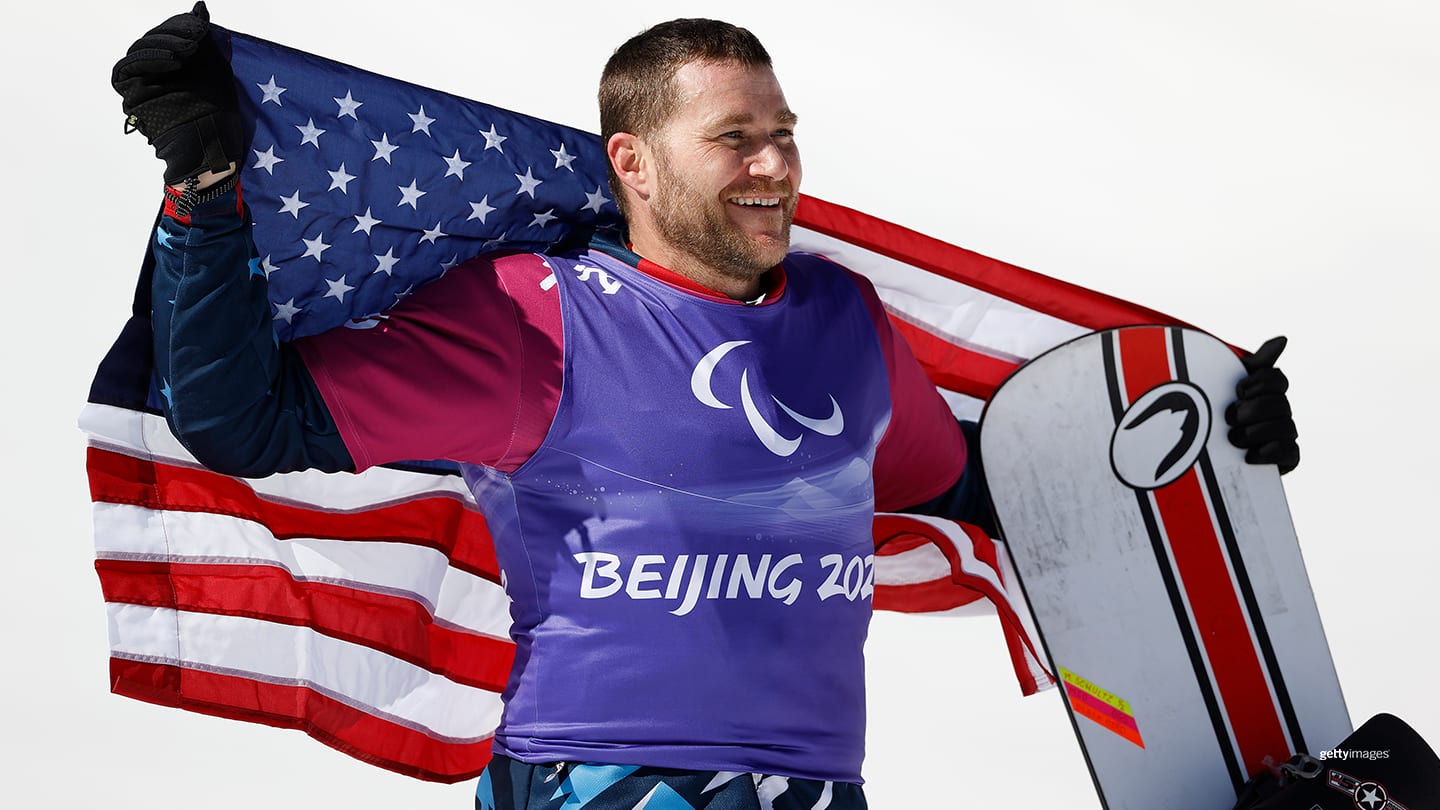 Mike Schultz competes in the men's snowboardcross SB-LL1 quarterfinals during the Paralympic Winter Games Beijing 2022 on March 7, 2022 in Zhangjiakou, China.
The success continued on the men's side, where Team USA's Mike Schultz and Garret Geros earned silver medals.

Schultz, the defending gold medalist in the snowboardcross SB-LL2 event, put down a strong race to finish second. Team Canada's Tyler Turner won gold, and China's Wu Zhongwei was edged out by Shultz to take the bronze. American Noah Elliott qualified for the small final and placed sixth.

"To cross the line with a with a silver feels amazing," Schultz said. "Obviously my goal was gold and I was capable, but today silver feels pretty dang good too."

The 40-year-old from Minnesota was quick to thank his family for the support they've provided him on his journey back to the Paralympic Winter Games.

"There's been so many sacrifices of my close family, my wife Sarah and daughter," Schultz said. "They've done so much to allow me to travel the world and race and chase this dream...It's going to feel really dang good bringing a silver medal home, and it's going to make it all worth it."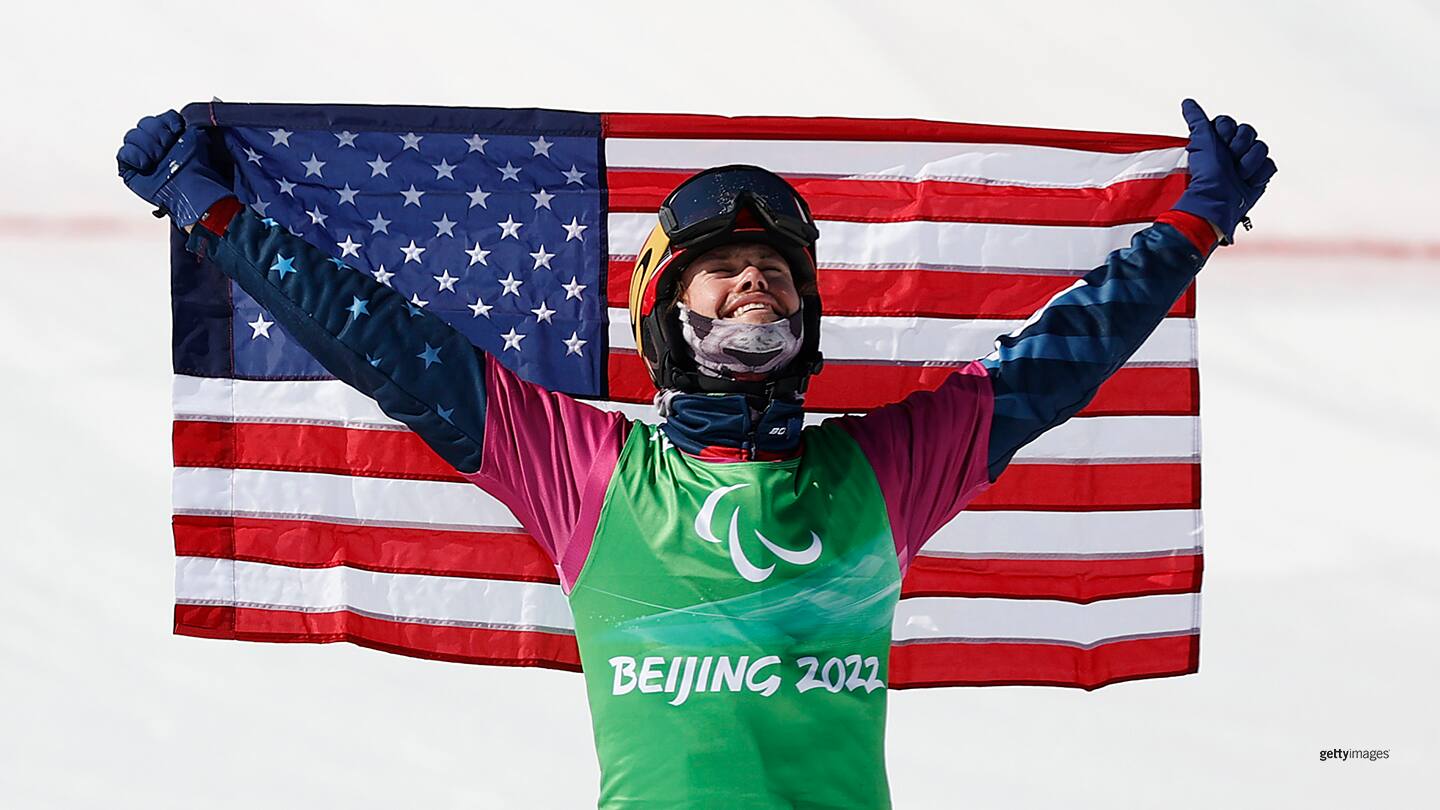 Garrett Geros celebrates after finishing second in the men's snowboardcross SB-LL2 big final during the Paralympic Winter Games Beijing 2022 on March 7, 2022 in Zhangjiakou, China.
While Schultz was back on the podium for his second consecutive Games, newcomer Garrett Geros stole the show in the men's snowboardcross SB-LL2.

The first-time Paralympian fought for the silver medal, falling to Finland's Matti Sur-Hamari for gold. Australia's Ben Tudhope followed behind Geros to capture bronze.

"I don't even know it's indescribable," Geros said. "The feelings I get right now are unbelievable. It's a dream come true. I mean, I was just hoping to make the Paralympic team and now to medal is unbelievable. I'm so thankful for this."

The surprise medal for Geros was a highlight of the day for compatriot Keith Gabel, who raced in the SB-LL2 small final to finish seventh.

"Garrett - that kid's like my little brother," Gabel said. "I'm extremely proud of him. He's come a long way both on the snow and off the snow, and I see nothing but greatness for him. I told him this. Two or three years ago, I said you're the future of the sport. I see nothing but greatness for him."

Geros credited Gabel for his start in para snowboard and helping him rise to the Paralympic podium.

"Keith Gabel is my role model," Geros said. "He invested in me my second year, and he knew I was going to be something. Just being here with him is amazing. I love him like a father. He's awesome."

Geros, who is from Cartersville, Ga., thanked his family and friends for the support stateside. He had big plans to celebrate with them when he arrives back in the U.S.

"Oh, I'm going to have a party," Geros said. "I can't wait. Dad. David, Jordan, I'm coming home. We're going to celebrate!"

Para snowboard action continues on March 12 with the banked slalom finals.

Want to follow Team USA athletes during the Paralympic Winter Games Beijing 2022? Visit TeamUSA.org/Beijing-2022-Paralympic-Games to view the competition schedule, medal table and results.
Katie Grunik is a digital content creator for TeamUSA.org. She is covering her second Olympic & Paralympic Games for teamusa.org and currently serves as the digital content coordinator for the U.S. Olympic & Paralympic Committee.