With Four-Day Break, The U.S. Sled Hockey Team Keeps It Light While Staying Focused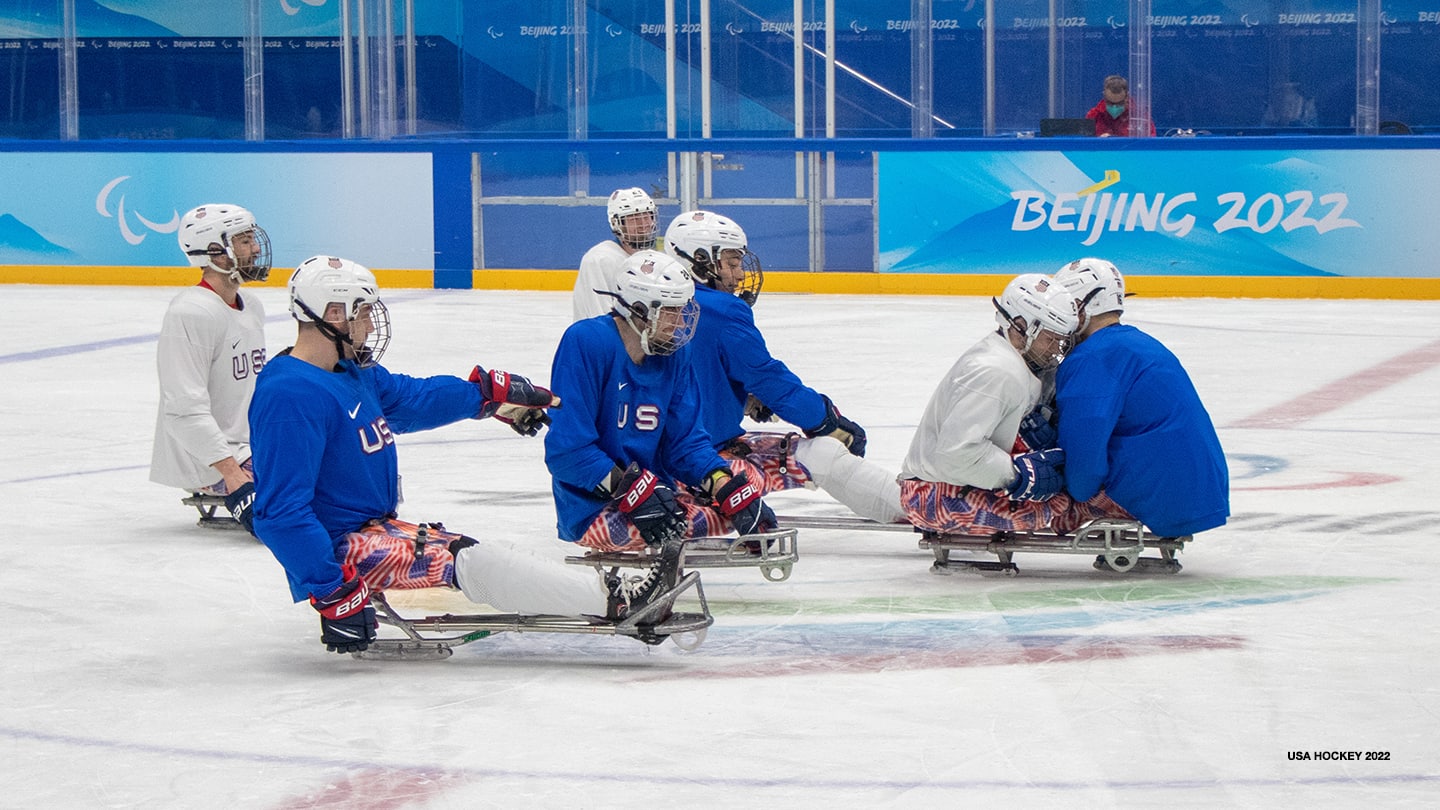 The 2022 U.S. Paralympic sled hockey team plays a game of "sled hockey curling" during their practice at the Paralympic Winter Games Beijing 2022 on March 8, 2022 in Beijing.
BEIJING – With four consecutive days off, the players on the undefeated U.S. sled hockey team are finding unique and clever ways to keep themselves occupied and mentally fresh at the Paralympic Winter Games Beijing 2022.

Sometimes, that has meant embracing another sport. In this case, wheelchair curling.

After winning its preliminary round games against Canada and South Korea over the weekend, and having its match against the Russian Paralympic Committee cancelled, Team USA automatically advanced to Friday's semifinal round.

During their first off day on Monday, the American skaters took it upon themselves to hop on a bus to the National Aquatics Centre to cheer on the U.S. wheelchair curling team in its match against Canada. Sporting a sleeveless Ralph Lauren and Nike winter ensemble, the likes of Jack Wallace, Declan Farmer, Jen Lee and others could be seen shouting on their fellow countrymen and women from the top deck of spectator stands.

"We had an off day and took it upon ourselves to really try to embrace the fun of the Paralympics and get behind the Paralympic spirit," said the 23-year-old Wallace, who had a hat trick in the first period against South Korea. "Even though Josh Pauls has been to four Paralympic Games, he's never been to another event in person, so it was really important for us to get him to one."

The squad then took the final 15 minutes of its practice on Tuesday to play a friendly game of what it calls "sled hockey curling."

With half the athletes in blue jerseys and half in white, they acted as human curling stones, pushing themselves with their sticks to the center circle of the ice.

"We like to keep it fun and light-hearted in the times we have a big break," Wallace said. "We were trying to think of ways to incorporate different games on the ice. For us, it's a fun little team-building thing on the ice, and it's also a great way to enhance our sled control, a skill a lot of us have worked really hard at.

"Obviously we have some fun, but in between the fun at practice we compete super hard. The competitive level is really almost as hard in practice as it is in a game, and we put in the same energy and work."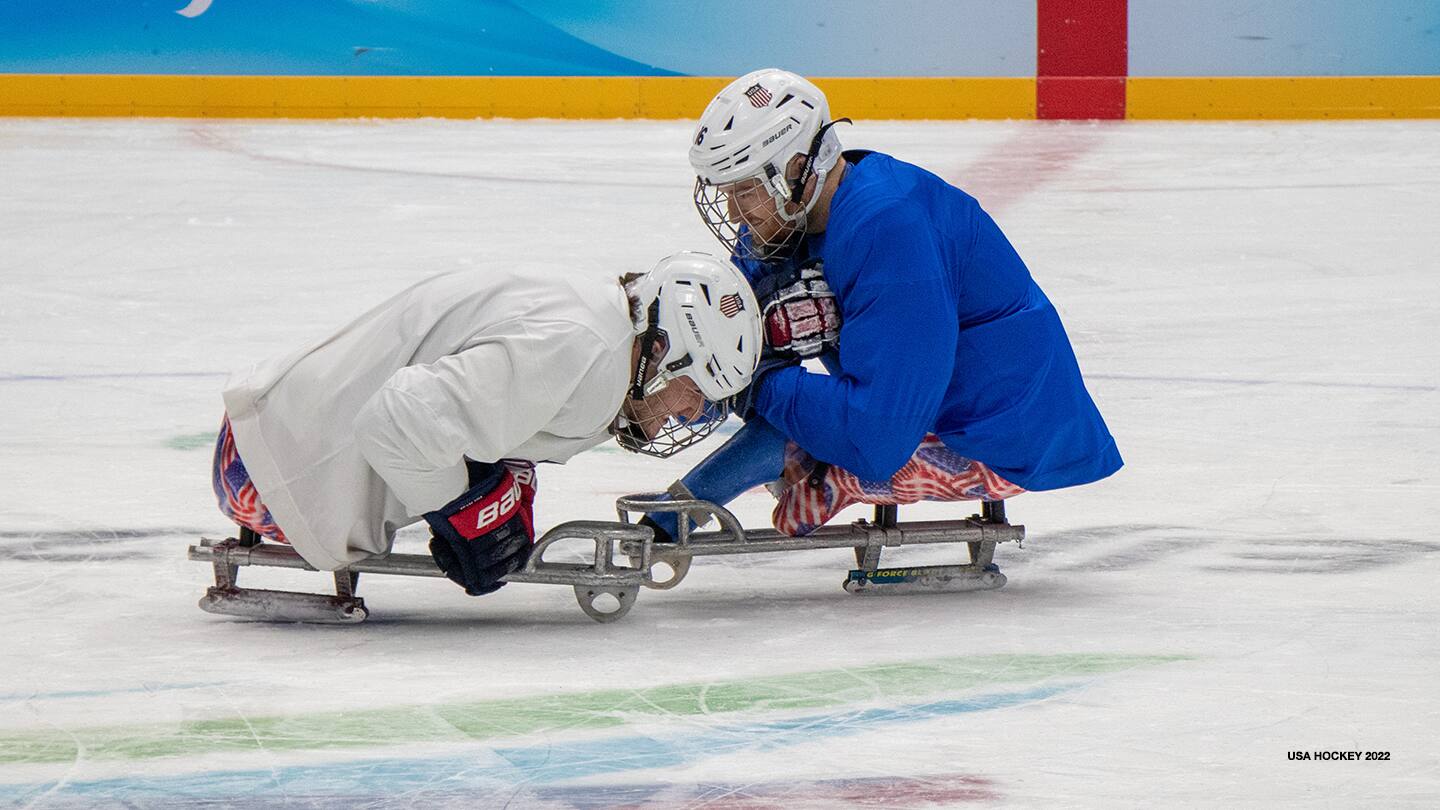 Team USA sled hockey members play a game of "sled hockey curling" during their practice at the Paralympic Winter Games Beijing 2022 on March 8, 2022 in Beijing.
The U.S. has outscored its opponents 14-1 so far in Beijing. Farmer broke the record for career points by a U.S. player in the Paralympics during the first game and Pauls set a new mark for most Paralympic games played during the second.

Twelve of the 17 U.S. players have registered points, with Farmer tallying nine and Wallace and former U.S. Marine Josh Misiewicz recording six apiece.

"Right now, we're just working on ourselves. We're trying to correct stuff that we can control," said two-time Paralympian Misiewicz.

"The work ethic on this team I've never seen before. We definitely trained hard in 2018, but this team is on a whole other level. Our leadership — Josh Pauls, Declan Farmer, Rico Roman — they really figured out how to get every player on this team and in the development program to push themselves to a new level."

Malik Jones, who has three goals in two games thus far in his Paralympic debut, can certainly attest to that as a 19-year-old double amputee who has recently graduated from the development program.

"To get to this level has been my dream since I was 7 years old," he said. "Just to play at this level and with all these guys means a lot. The brotherhood, I love the brotherhood. During residency we would do team-building games. … Just being around each other is how we build that chemistry."

The U.S. team will have to wait until Wednesday's quarterfinals are decided to see who it will play in the semifinal round. No matter who the Americans face, their eyes remain on the prize: a record-extending its fourth consecutive and fifth overall Paralympic gold medal.
When they're back at the Athletes' Village, they're spending every waking minute studying and mentally preparing themselves.

"We're watching as much sled hockey as possible. It's the Paralympics and our sport, so we love to watch it," Wallace said. "We're keeping our eyes on every opponent, not knowing who we are going to play in the semifinals."
Want to follow Team USA athletes during the Paralympic Winter Games Beijing 2022? Visit TeamUSA.org/Beijing-2022-Paralympic-Games to view the competition schedule, medal table and results.
Stuart Lieberman has covered Paralympic sports for more than 10 years, including for the International Paralympic Committee at the London 2012, Sochi 2014 and PyeongChang 2018 Games. He is a freelance contributor to TeamUSA.org on behalf of
Red Line Editorial, Inc.