Archers Casey Kaufhold, Brady Ellison Win Mixed Recurve Gold at Paris World Cup Stop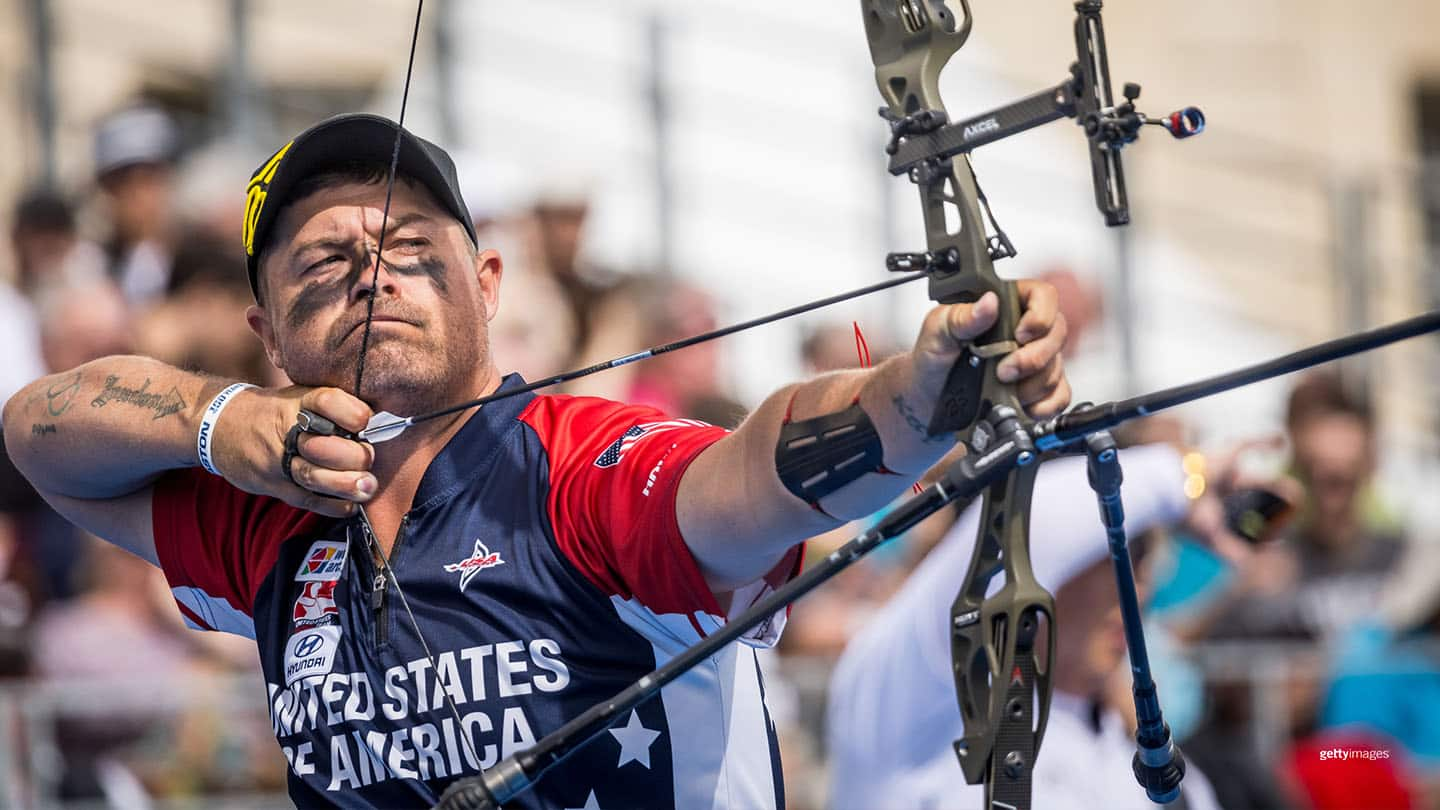 Brady Ellison competes during the recurve mixed team finals at the Archery World Cup 2022 Stage 3 on June 26, 2022 in Paris.

Casey Kaufhold turned to Brady Ellison as soon as their match ended Sunday and the American archers began celebrating.

The U.S. mixed recurve team of Kaufhold and Ellison cruised to a 5-1 win over Spain to win the gold medal and cap a strong final day for the Americans at an archery world cup in Paris.

Kaufhold and Ellison advanced to Sunday's final with a 5-3 win over the Netherlands in a semifinal match. They then found their rhythm and were never threatened as they easily defeated Spain's Miguel Alvarino Garcia and Leyre Fernandez Infante. The Netherlands coasted to a 6-0 win over Slovenia for the bronze medal.

It was a particularly busy day for Ellison, who competed in a pair of gold-medal matches — one with Kaufhold and another with Matthew Requa and Jack Williams as a member of the U.S. men's recurve team.

Ellison, a three-time Olympic medalist, missed out on earning a second gold medal in Paris on Sunday.

The U.S. men's recurve team of Ellison, Requa and Williams took the silver medal after suffering a 6-0 loss to South Korea in the gold-medal match.

The Americans edged Ukraine 5-4 in a shoot off in the semifinal round to set up a highly anticipated showdown with South Korea, which returned the same team that captured the gold medal last summer at the Olympic Games Tokyo 2020.

South Korea's Kim Je-deok, Kim Woo-jin and Oh Jin-hyek made quick work of the Americans to win another gold. Turkey earned the bronze with a 5-1 win over Ukraine.
Alex Abrams has written about Olympic and Paralympic sports for more than 15 years, including as a reporter for major newspapers in Florida, Arkansas and Oklahoma. He is a freelance contributor to TeamUSA.org on behalf of
Red Line Editorial, Inc.