Brady Ellison Claims Two Bronzes At Archery World Cup Opener In Antalya, Turkey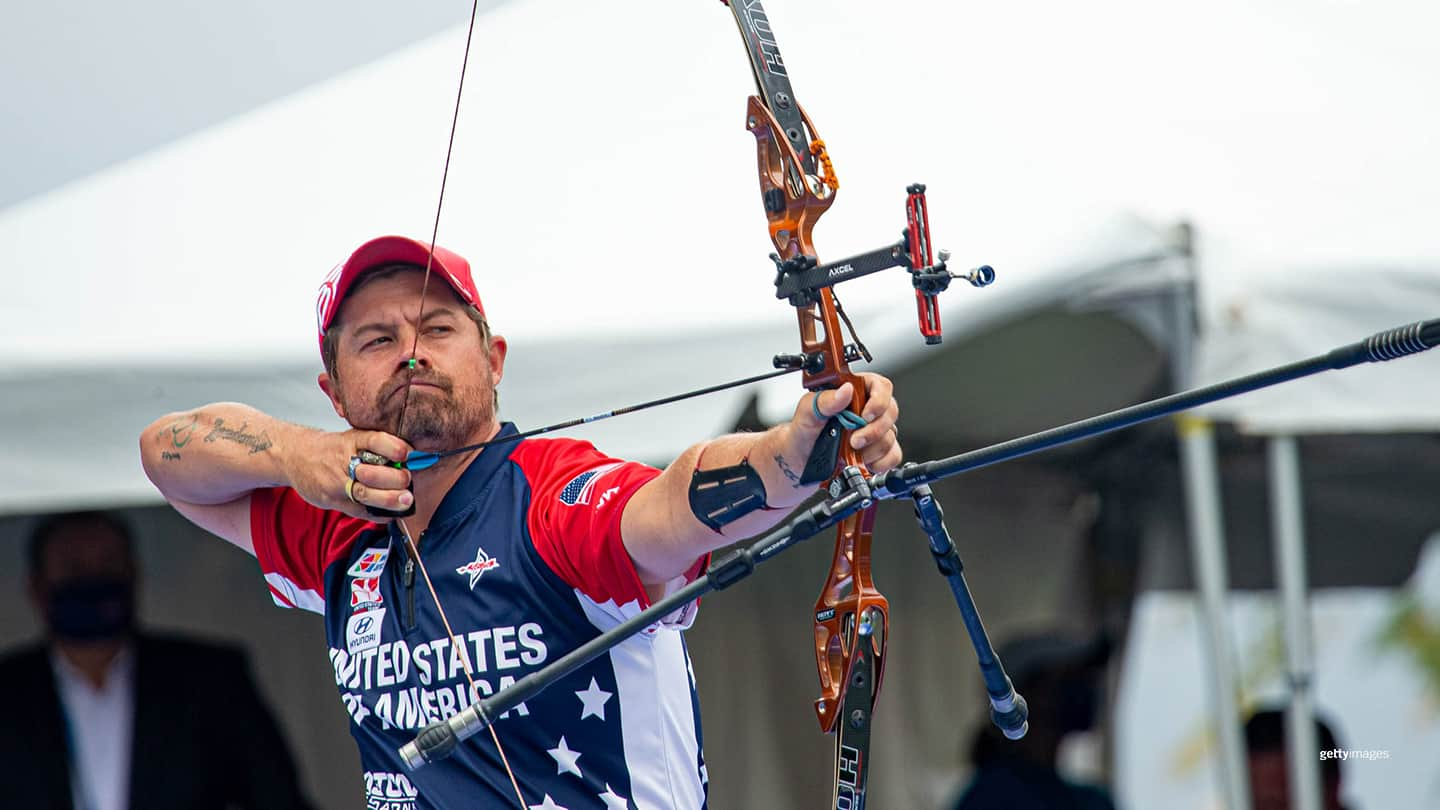 Brady Ellison competes during the men's recurve final at the 2021 Archery World Cup on Sept. 30, 2021 in Yankton, South Dakota.
Seasons change, people get older and Brady Ellison keeps finding his way to archery podiums.

The four-time Olympian was at it again Sunday in Antalya, Turkey, at the season's first world cup, placing third in both the men's individual recurve event as well as with 16-year-old Gabrielle Sasai in the mixed team recurve competition.

The world's top ranked men's recurve archer, Ellison, now has 51 world cup podiums to his name.

Scroll through the 33-year-old's bio and you'll see quite the list of accomplishments — world champion, world record holder, five-time world cup final champ, three-time Olympic medalist.

The native of Globe, Arizona, continued rolling this weekend.

In the mixed team event, he partnered with Sasai, who was making her world cup debut. After qualifying seventh, they won three consecutive knockout round matches — upsetting second-seeded Italy in the quarterfinals — before falling by one to Great Britain in the semis. The Americans then came back to defeat Spain, 5-3, to win the bronze medal.

"It's awesome for a couple of reasons," Ellison told World Archery's website. "One, it's been a while since the USA has been around the mixed team medals, and (second) because it's (Sasai's) first world cup. She got us to the bronze-medal match really; she way outshot me earlier in the week and we both shot great out there (today)."

Later Sunday, Ellison was back in the semifinals for the individual event. Ellison, qualifying third, had won five knockout matches prior but fell to Spain's Miguel Alvarino Garcia in the semis.

The bronze-medal final was a rematch of last year's Olympic quarterfinal, when Turkey's Mete Gazoz defeated Ellison on his way to the gold medal. This time Ellison won 7-3 to claim his second bronze of the day.

Ellison, Matthew Requa and Jack Williams advanced to the men's team quarterfinals.

Sasai was the top U.S. woman in the individual event, reaching the quarterfinals. She also joined Catalina GNoriega and Eunice Haeri Choi to reach the second round in the women's team competition. Documenting her experience on Instagram, Sasai described Friday's elimination rounds as "a huge blur of excitement and waves of emotions."

"My head is spinning with so much emotion!" Sasai wrote at the end of the competition. "I definitely need to process a ton of stuff before I write my reflection!"

The archery world cup resumes May 16-22 in Gwangju, South Korea.
Chrös McDougall has covered the Olympic and Paralympic Movement for TeamUSA.org since 2009 on behalf of
Red Line Editorial, Inc.
He is based in Minneapolis-St. Paul.