Women's College World Series Kicks Off With A Visit From Team USA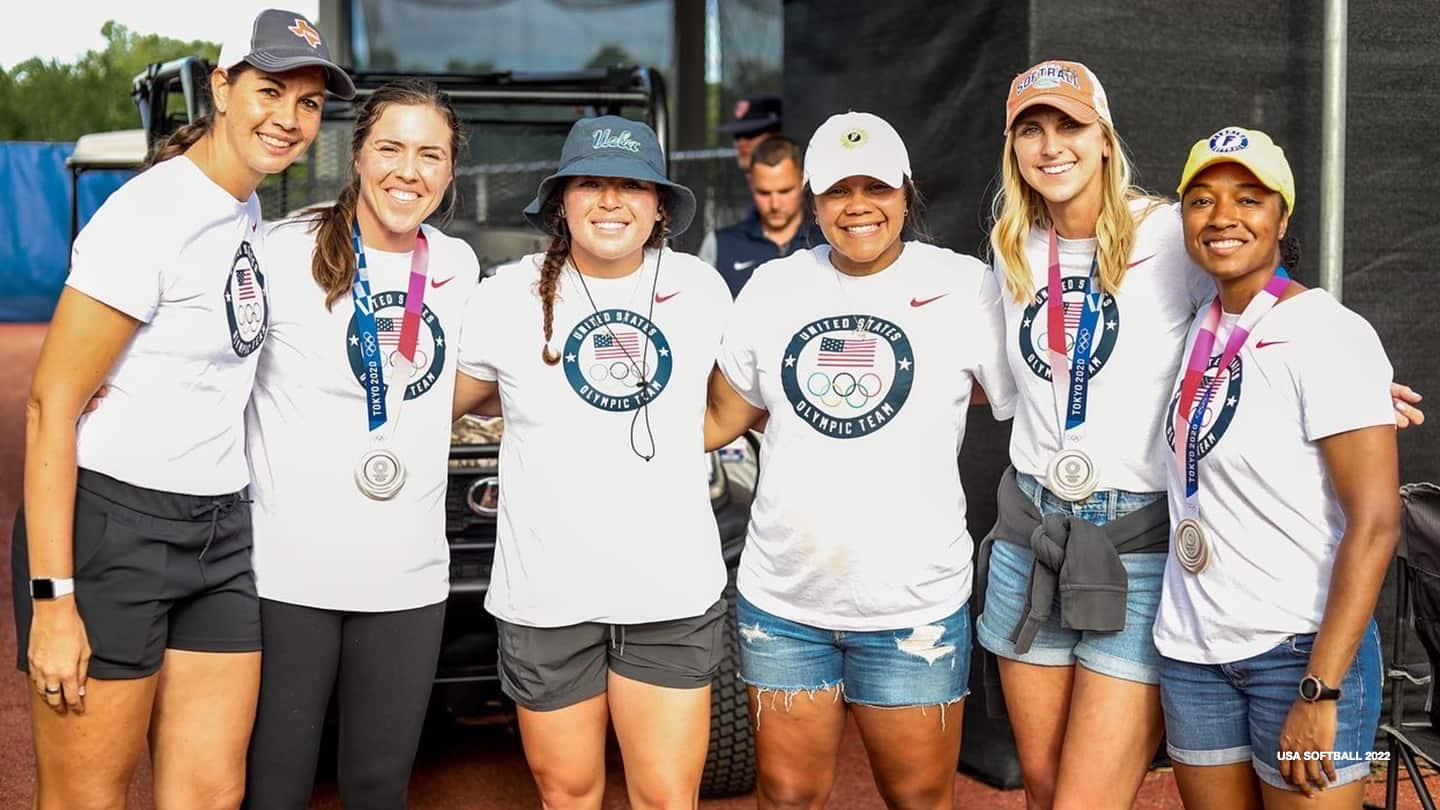 Team USA athletes pose for a photo at the Oregon State-Florida game at the 2022 Women's College World Series on June 2, 2022 in Oklahoma City.
This year's Women's College World Series kicked off Thursday with some special guests.

Three-time Olympic medalist Cat Osterman was among six members of the 2020 U.S. Olympic softball team who were recognized before a cheering crowd at USA Softball Hall of Fame Stadium in Oklahoma City as No. 14 Florida faced off against Oregon State in the early evening game.


📍Women's College World Series #OlympiansMadeHere | @NCAASoftball pic.twitter.com/D8iOekVlkS


— USA Softball (@USASoftball) June 3, 2022
She was joined by Olympic teammates Amanda Chidester, Rachel Garcia, Michelle Moultrie, Aubree Munro and Kelsey Stewart, as well as two Olympians who competed for other countries. The Americans showed off the silver medals they won in Tokyo, signed autographs for an endless line of fans and cheered on their former college teams, most of which are all playing for the NCAA championship this week.
With softball being included in the Olympics again last year, having been left out of the 2012 and 2016 Games, Osterman came out of retirement to take one more go at Olympic glory. At 38, the ace pitcher came home with a silver medal to add to the silver she won in 2008 and the gold medal from 2004.
That first one came when she was still in college, where she was a three-time USA Softball Collegiate Player of the Year with Texas.
The Longhorns opened the Women's College World Series earlier Thursday with a 7-5 win over fifth-ranked UCLA, where Garcia played. Moultrie, Munro and Stewart all played at Florida, this year's No. 14 team, which beat Oregon State 7-1 in the opener. Top-ranked Oklahoma also won in a blowout Thursday, beating Northwestern 13-2, while No. 7 Oklahoma State defeated Arizona 4-2.
Chidester played her college softball at Michigan, which made the NCAA Tournament but lost in the regional round.
The eight-team final weekend, aka the Women's College World Series, is held in a double-elimination format leading up to a best-of-three final series set for June 8-10.
That these six Olympians have strong college connections is no surprise, with NCAA softball having a long tradition of sending players on to Team USA. In fact, all 15 members of the most recent U.S. Olympic team had played collegiately, with UCLA leading the way with four representatives, followed by Florida with three.
This year's Women's College World Series is notable as it marks the first time since the super regionals debuted in 2005 that three unseeded teams advanced to Oklahoma City — those being Arizona, Oregon State and Texas.
However, Oklahoma comes in as the favorite, led by Jocelyn Alo, a Hawaii native who won her second consecutive USA Softball Collegiate Player of the Year award on Tuesday. The redshirt senior became the NCAA's all-time home run leader earlier this season and is already considered one of the best college softball has ever seen.
Whether Alo will join Osterman and Co. as U.S. Olympians remains to be seen. While softball was included in the Tokyo Games, it will not be part of the 2024 Olympics in Paris. There is hope among boosters that it will be part of the 2028 Olympics in Los Angeles, however.
Olympics or not, the U.S. softball team plays on. USA Softball has already named rosters for the squads that will compete in the Canada Cup June 20-26 in British Columbia, at the World Games July 9-13 in Birmingham, Alabama, and in the Japan All-Star Series Aug. 1-9 in Fukushima, Japan.
Several Olympians will be in the mix, including Monica Abbott, Ali Aguilar, Ally Carda, Haylie McCleney, Moultrie, Dejah Mulipola and Bubba Nickles for the World Games. Carda and Moultrie will play in the Canada Cup, while Aguilar and Carda are on the team headed to Japan.
Each roster includes plenty of new faces too, though, including Alo for the Canada Cup and Japan series. She's one of many 2022 Team USA players who is also competing this weekend in Oklahoma City.
Chrös McDougall has covered the Olympic and Paralympic Movement for TeamUSA.org since 2009 on behalf of
Red Line Editorial, Inc.
He is based in Minneapolis-St. Paul.