U.S. Women's Softball Team Falls To Rival Japan, Brings Home Silver Again After 13 Year Break From Olympic Program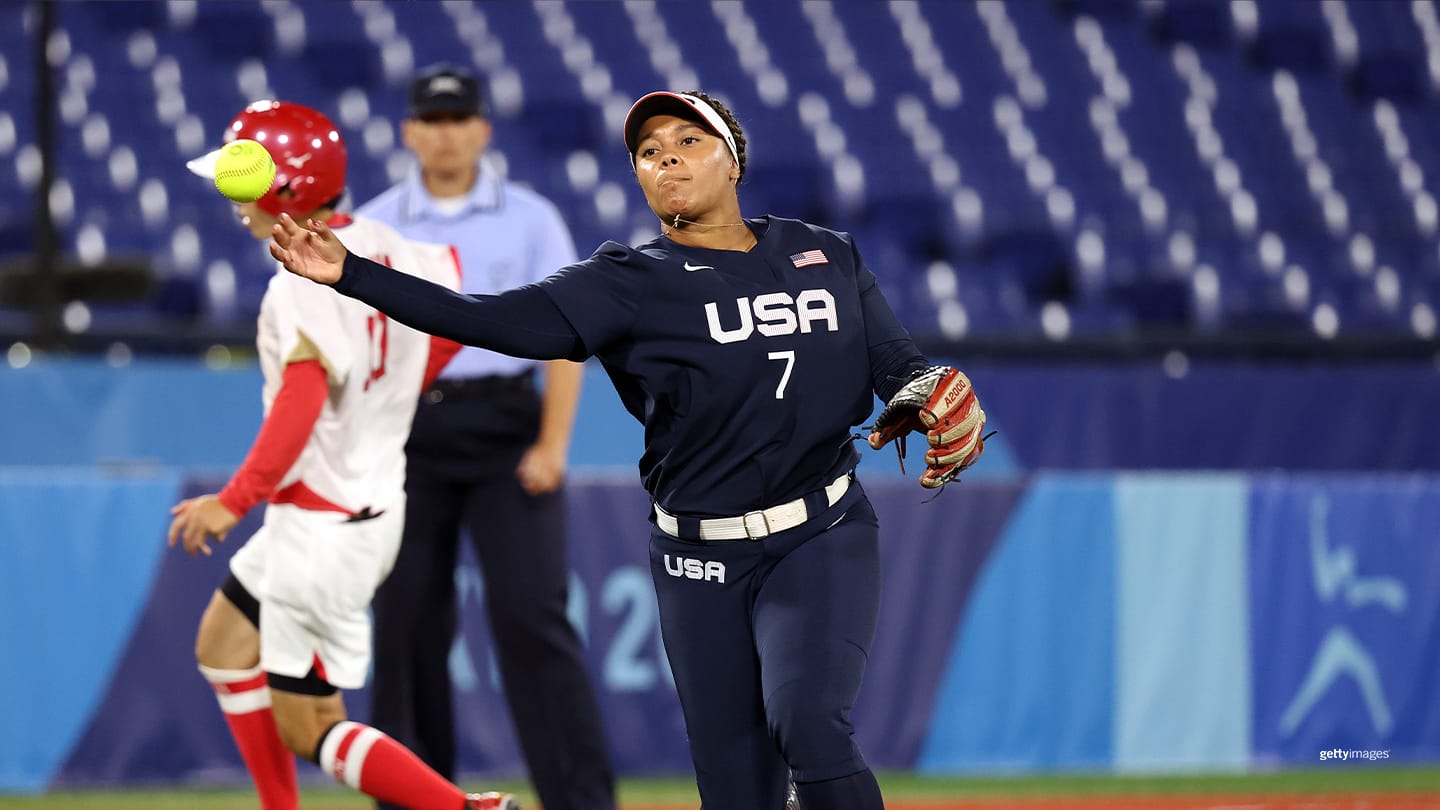 Alex Morgan looks competes at the Olympic Games Tokyo 2020 on July 27, 2021 in Kashima, Ibaraki, Japan.
TOKYO – Even inside the empty Yokohama Baseball Stadium, the tension in the air was ever present.

A rematch 13 years in the making. Two softball powerhouses fighting for gold.

"This is the biggest rivalry in the sport," said former U.S. outfielder Jessica Mendoza on the Tokyo Tonight show for NBC. "There is nothing bigger in the last decade than when these two countries have gone up against each other. They're both so good, so even [and] every game is so close."

A lot has changed the past 13 years, but a thing (or two) remains the same – starting pitchers, Cat Osterman and Yukiko Ueno. Just as in 2008, Japan's Ueno and Osterman went head-to-head once again. Monica Abbott, who was just 23 at the Beijing Games, was also on the 2008 Olympic team.

Ever since the U.S. was defeated 3-1 by Japan in the gold-medal game in 2008, they've been waiting for this moment. The last time softball was on the Olympic program was in Beijing, but tonight was their long-awaited chance at redemption.

Just over 48 hours after their last meeting, the No. 1 and No. 2 ranked softball teams in the world faced off again, this time with a gold medal on the line.

On Sunday, the U.S. ended Japan's unbeaten streak on Sunday – defeating them 2-1 with a walk-off home run from Kelsey Stewart.

Unfortunately, the women weren't so lucky on Tuesday night, losing 2-0 to host Japan.

"The disappointment is only from the end result, it's not from the whole tournament, it's not from the whole game," said Osterman.

Japan took the lead with runs in the fourth and fifth innings, leaving Team USA scrambling to get athletes on base to keep their dreams of Olympic gold alive.

A glimmer of hope for Team USA emerged in the sixth inning, but a freak play quickly dashed hopes of Olympic gold. Amanda Chidester lined a low shot to third that bounced off Yu Yamamoto of Japan's glove and into the air. Shortstop Mana Atsumi snagged the ball, then gunned it to second to catch Michelle Moultrie for an inning-ending double play.

"When that happens, you're just like, 'wow'. It hits you in the gut," said Abbott reflecting on the play. "If that goes through, we probably tie the game, maybe even go up with just the amount of momentum we could have on that alone."

Unfortunately, it was déjà vu for the U.S. women's team as they go home with the silver medal.

"Obviously, we're a little bit disappointed," said Osterman. "You get to the gold medal game and you have your eye that prize, and to not accomplish that – it stings."

Following the 2008 Games, Osterman continued her professional softball career before retiring in 2015, but came out of retirement in hopes to win Team USA a medal at the Olympic Games Tokyo 2020.

Although it's not gold, the team is not going home empty-handed.

"Our team had tremendous effort tonight," said head coach Ken Eriksen. "It wasn't our day. We had some bad luck, but at the same time I think you have to credit Team Japan for playing a really good game of softball."

While the emotions of the loss are still new and raw, the team has a lot to be proud of.

"This was a tremendous Olympic Games," said Osterman. "I think the goal in the long run is to not overlook everything we accomplished on our way to the gold medal game." "We've done a lot of things that we're proud of and the end result is not what we wanted, but the journey was incredible and we played some incredible softball here."

Want to follow Team USA athletes during the Olympic Games Tokyo 2020? Visit TeamUSA.org/Tokyo2020 to view the medal table, results and competition schedule.
Kara Tanner is a sports journalist and creative based in Colorado Springs, Colorado. She is the head digital content manager and editor for TeamUSA.org.