U.S. Defeats Japan In Gold-Medal Game Preview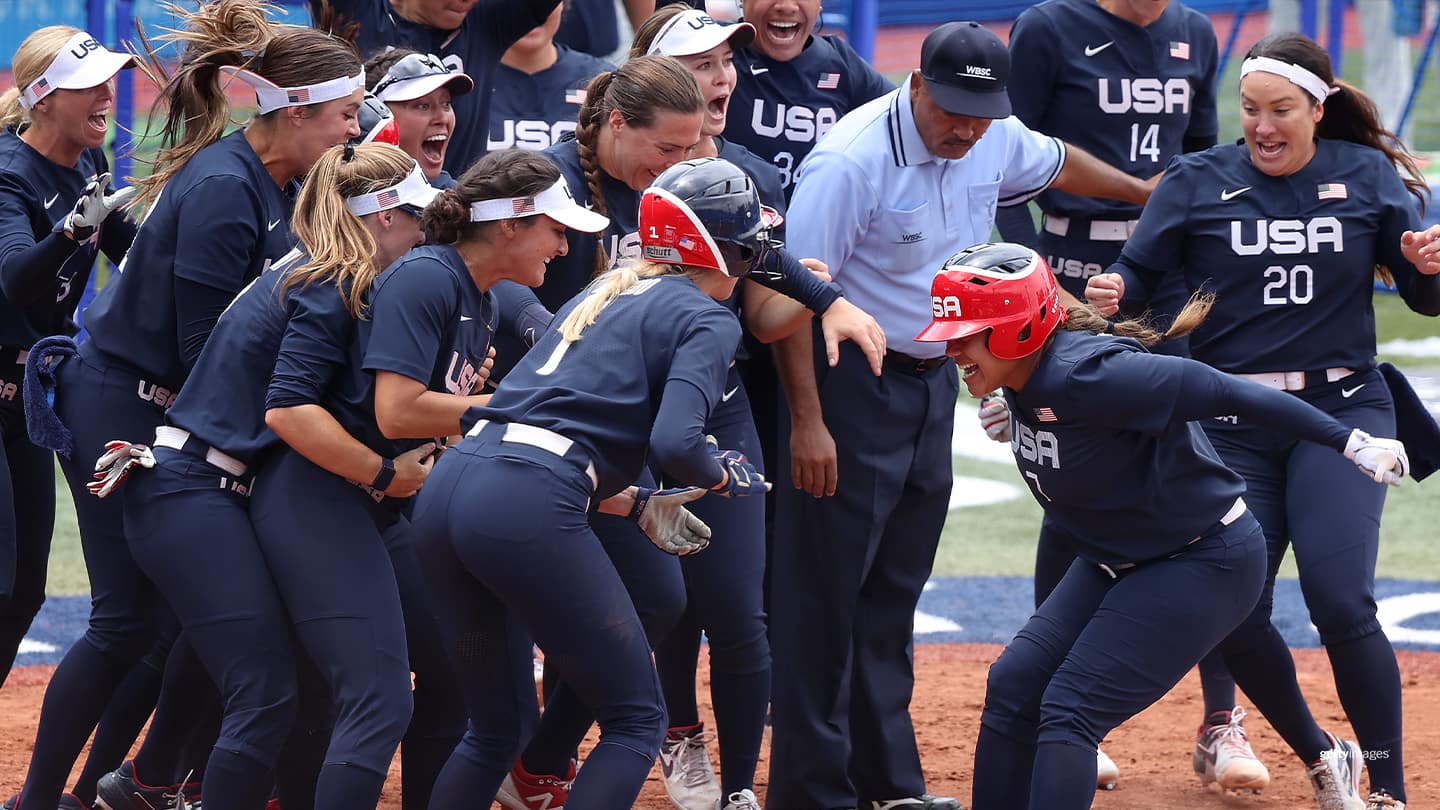 Kelsey Stewart jumps on home plate after hitting a walk-off home run during the Olympic Games Tokyo 2020 on July 26, 2021 in Tokyo.
The Nos. 1 and 2 softball teams in the world got together at the Olympic Games Tokyo 2020 on Monday, though it was basically just an exhibition game.

That's because the top-ranked U.S. and second-ranked Japan entered the last day of pool play with identical 4-0 records, both having already clinched a spot in Tuesday's gold-medal game. The only item at stake Monday was which team would be the "home" team.

And that will be the U.S., thanks to Kelsey Stewart's leadoff homer in the bottom of the seventh inning for a 2-1 victory at Yokohama Baseball Stadium at Yokohama, Japan. Being the home team could be a huge factor as four of the five games in which the U.S. or Japan has been the home team during these Olympics have ended with extra-innings walk-offs (two by each).

While Monday had a casual tension to it, everything will be ratcheted up significantly Tuesday with the gold medal on the line. First pitch is scheduled for 7 a.m. ET (8 p.m. in Tokyo).

This will be the third time these two countries have played for gold. The rivals split their previous gold-medal clashes, with Japan winning 3-1 in the 2008 Beijing Games — the last time softball was contested in the Olympics — and the U.S. coming out on top 2-1 in eight innings in the Olympic Games Sydney 2000. The U.S. has won three of the four Olympic gold medals in softball.

In addition to the rivalry, another aspect that ramps up the importance of this gold-medal game is the future of softball in the Olympics. Softball, in conjunction with baseball, was added by Japan for the Tokyo Games, but the sports will not be on the program for the 2024 Paris Olympics. However, there's a possibility both could return for the Olympic Games Los Angeles 2028.
"It's so tough, this question, because in my opinion softball should be in the Olympic Games," left-handed pitcher Monica Abbott, who at age 35 could be in her last Olympics, said before Monday's game. "It's the highest level in the sport of softball and for women, for this sport, it's the highest level that can be played for us and that's huge being in the Olympic Games.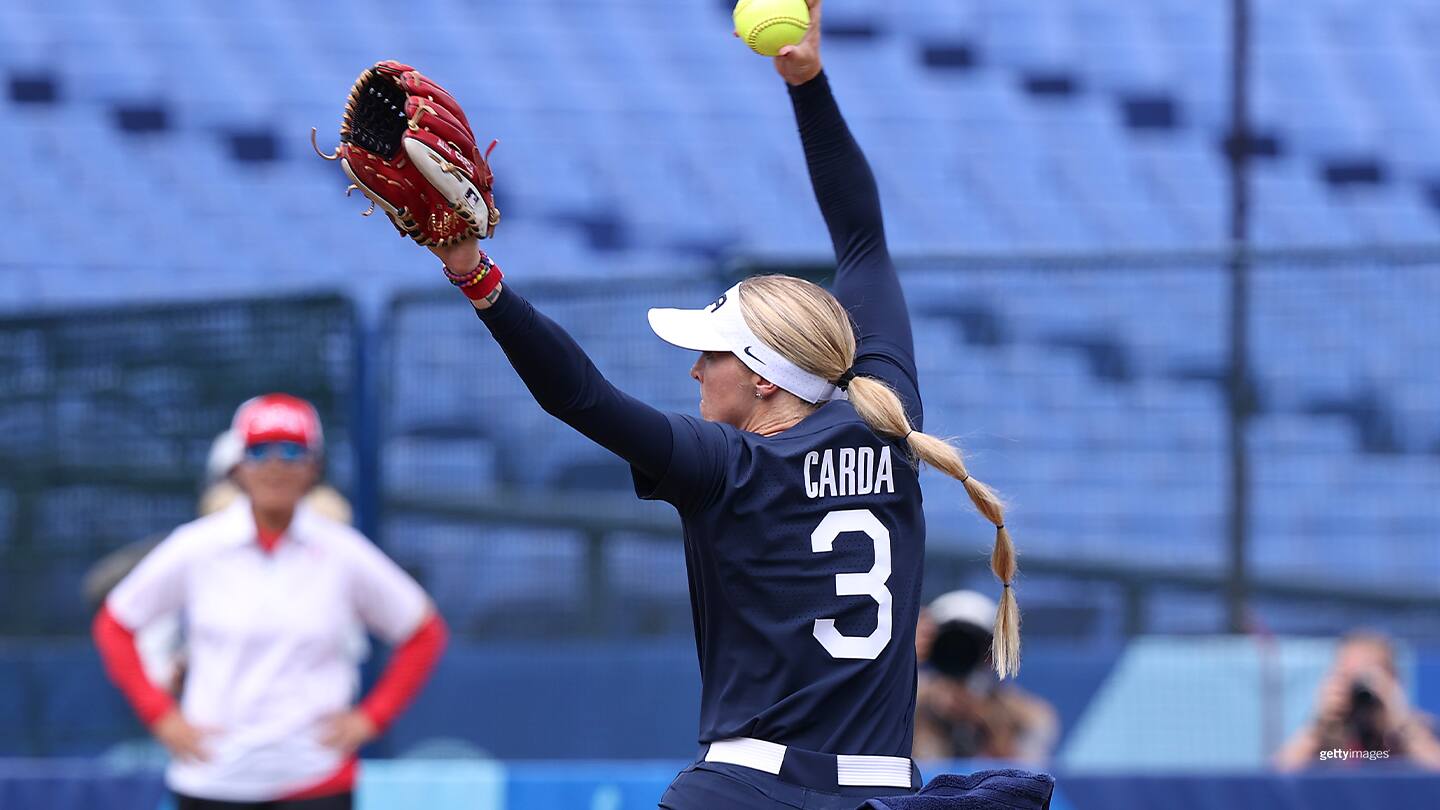 Allyson Carda pitches during the Olympic Games Tokyo 2020 on July 26, 2021 in Tokyo.
"But it is up and down for softball being in the Olympic Games and you never know. So I think it does add an element of just what you want to do, give it your all a little bit more just because you don't know what your future may or may not hold on the Olympic stage."

With not much on the line Monday, neither team started with its best pitchers. For the U.S., that meant starting Ally Carda over legends Cat Osterman and Abbott, the only two returning Olympians on the roster.

Osterman did come on in relief of Carda in the sixth inning after not pitching since Saturday just to face two left-handed hitters before Carda re-entered. Carda, who scored the tying run against Australia on Sunday as a pinch-hitter in her first Olympic game, allowed four hits and struck out nine in 5.1 innings in her Olympic pitching debut. Abbott then came on in the seventh.

Osterman and Abbott have been dominant, combining to allow just one unearned run on six hits while striking out 44. Japan's Yukiko Ueno, meanwhile, has allowed three runs on 11 hits while striking out 21 in 16.1 innings.

Runs were at a premium Monday.

Japan's Saki Yamazaki, the first batter of the game, reached on an error by third baseman Stewart, went to second on a sacrifice bunt and to third on a passed ball before scoring on Hitomi Kawabata's single to left.

Meanwhile, pitcher Yamato Fujita kept the U.S. bats silent. The Americans, who have never been no-hit in the Olympics, didn't get their first hit until leadoff hitter Haylie McCleney's opposite-field single to left with one out in the bottom of the sixth. Janie Reed followed with a high-chop single, and Valerie Arioto delivered a two-out, game-tying single to left.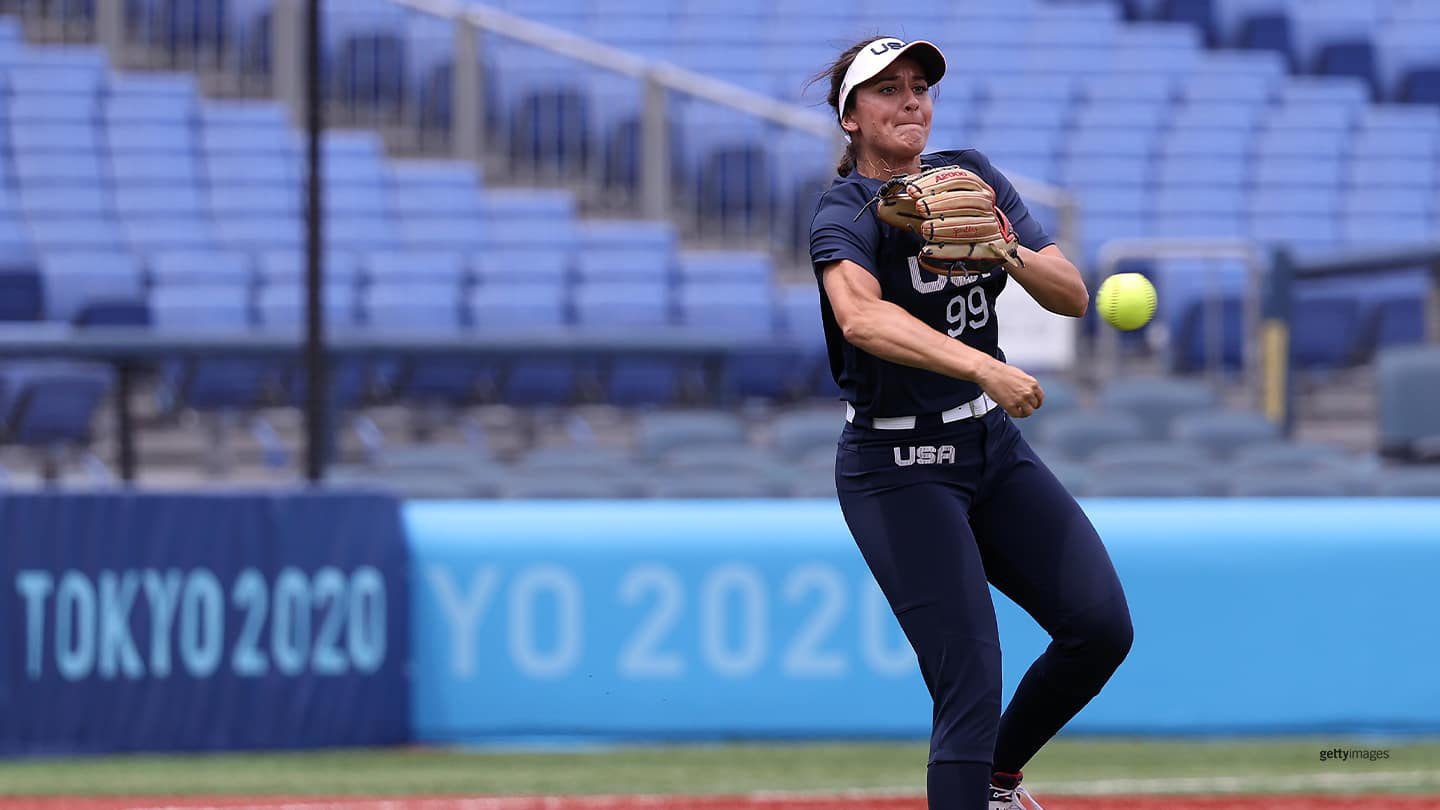 Delaney Spaulding throws the ball during the Olympic Games Tokyo 2020 on July 26, 2021 Tokyo.
While Delaney Spaulding just missed the first grand slam in Olympic history by flying to the wall in right to end the sixth, Stewart gave the U.S. its second walk-off win of the tournament leading off the seventh when she drilled an 0-1 pitch over the right-field wall. It was just Stewart's second hit in 13 at-bats of the Tokyo Olympics.

Japan had outscored its opponents 17-3 in its first four games, including one-run wins over Mexico and Canada. Meanwhile, the U.S. had a 7-1 advantage in runs scored with all four games decided by one or two runs.

While there are a lot of similarities between the two teams, the biggest difference has been power. Japan has six homers that have produced 12 runs, while the Americans had not homered until Stewart's game-winning blast Monday. Fujita has three of Japan's homers.

The U.S. roster is a mix of veterans and newcomers. Three Americans actually interrupted their college education during the 2019-20 school year to focus on the Olympics, only to see the COVID-19 change those plans. That mix has created a good vibe and drives the team for more success.

"It's never over with us, I think that's what's really exciting about us," U.S. catcher Aubree Munroe said. "There's been a lot of us who have been veterans for a long time. Everybody that kind of comes into this team, brings something. We live on energy, we celebrate everything, we just really love to be together. So we have a blast. I think softball being out of the Olympics for so long really fostered this priority of getting good people that are really good at softball ... and so we really enjoy being together."
Want to follow Team USA athletes during the Olympic Games Tokyo 2020? Visit TeamUSA.org/Tokyo2020 to view the medal table, results and competition schedule.
Steve Drumwright is a journalist based in Murrieta, California. He is a freelance contributor to TeamUSA.org on behalf of
Red Line Editorial, Inc.