U.S. Women's Foil Team Earns Silver At Fencing World Championships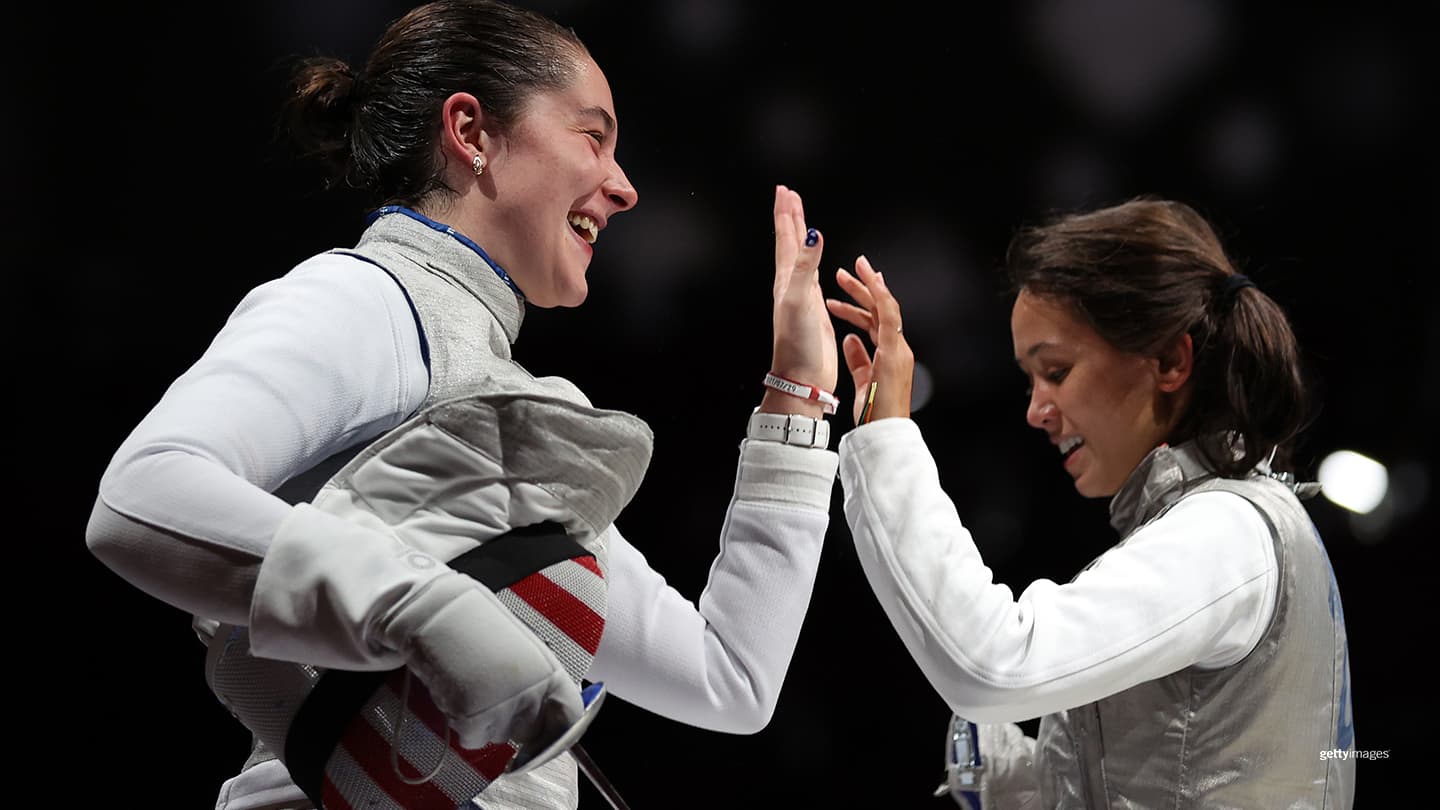 (L-R) Jacqueline Dubrovich and Lee Kiefer celebrate during their semifinals bout at the Olympic Games Tokyo 2020 on July 29, 2021 in Chiba, Japan.
At the 2019 Fencing World Championships — the last time the event was held — the U.S. women's foil team faced off against France in the bronze-medal bout.

The Americans came away with a narrow 45-43 victory and secured their third world championships medal in a row in women's team foil.

That medal streak was on the line on Friday at the 2022 world championships in Cairo, and once again it was a bout with France that played a key role in deciding the Americans finishing position.

The U.S. came into the team women's foil bracket ranked No. 3. That earned it a bye into the table of 16, where the U.S. beat Ukraine, 45-22. The Americans then beat Spain 45-27 to set up a semifinal bout against No. 2 France.

Ysaora Thibus, who won the world title in women's foil on Tuesday, won the opening match 5-1 against Jackie Dubrovich. But defending Olympic champion Lee Kiefer, who earned a bronze in the individual event in Cairo, won the next match 9-2 over Anita Blaze.

The U.S. never lost the lead from there, and Kiefer defeated Thibus 7-2 in the ninth match to get the Americans to 45 points and secure a 45-35 victory.

That's where the Americans faced No. 1 Italy, who defeated Team USA to win bronze in the same event as last summer's Olympic Games in Tokyo. Kiefer and Maia Weintraub each won individual matches, but it wasn't enough, as the Italians earned gold, winning 45-27.

This makes it four world championships in a row the U.S. has won a medal in team women's foil. It won silver in 2017, gold in 2018 (a first for any foil team in U.S. history) and bronze in 2019.

The world championships conclude on Saturday with the team women's saber and team men's foil events.
Luke Hanlon is a sportswriter and editor based in Minneapolis. He is a freelance contributor to TeamUSA.org courtesy of
Red Line Editorial, Inc.