Sydney McLaughlin Keeps Hurdling Into The History Books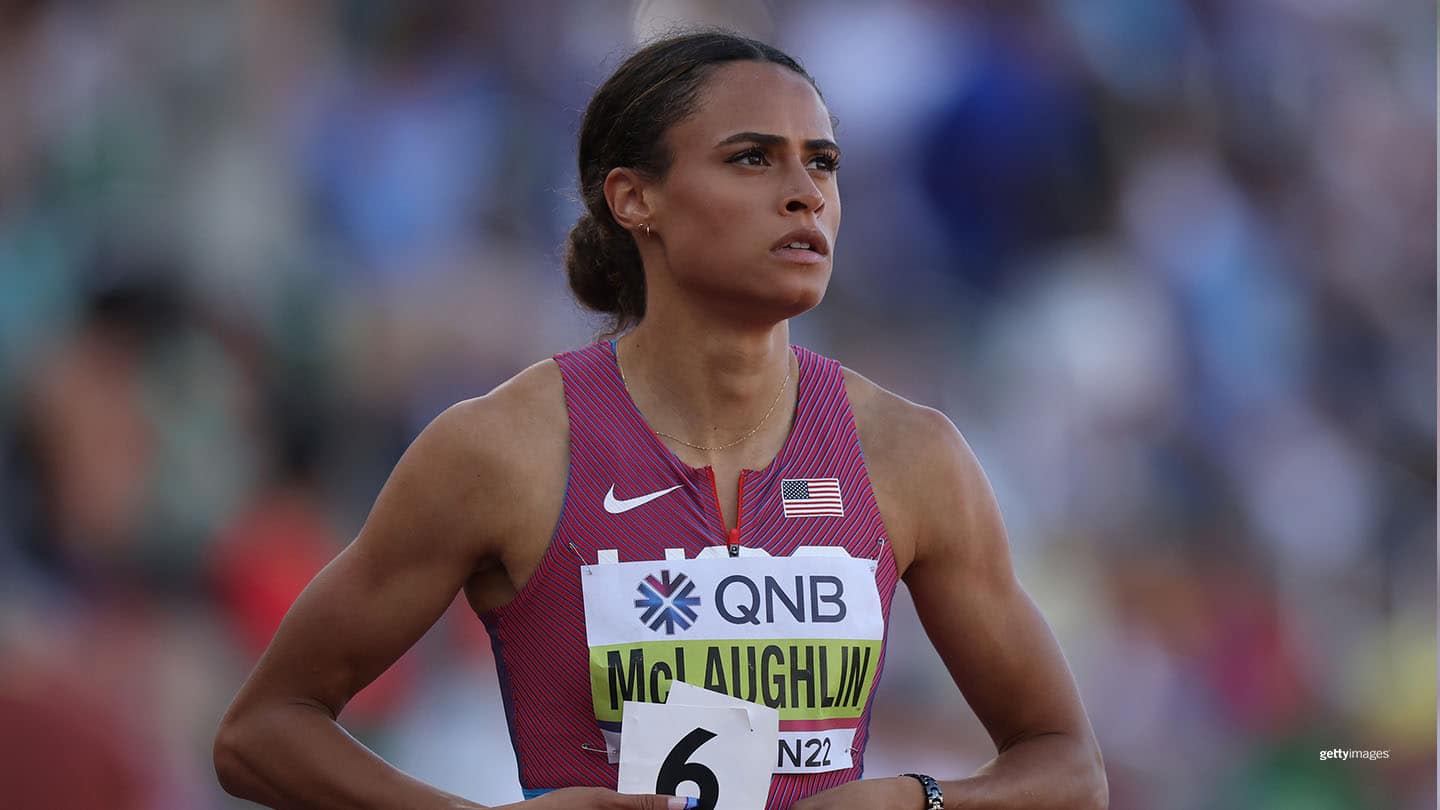 Sydney McLaughlin looks on prior to the women's 400-meter hurdles heats at the 2022 World Athletics Championships on July 20, 2022 in Eugene, Ore.

EUGENE, Ore. — Shericka Jackson nearly caught FloJo on Thursday night. Sydney McLaughlin can pass her Friday night.

World Athletics has figured out a way to compare apples and oranges. Or at least to compare relative performances in a sport as diverse as track and field.

At 22, McLaughlin is already a two-time Olympian and the reigning gold medalist in the 400-meter hurdles. In June, she lowered the world record for the third time in a year. And if she can do it again in Friday's final at the World Athletics Championships in Eugene, McLaughlin would inch ever closer to FloJo's hallowed records.

On World Athletics' scoring tables, FloJo's 34-year-old world records of 10.49 and 21.34 seconds in the 100 and 200 meters are worth 1,314 and 1,308 points, respectively.

Jackson, of Jamaica, won 200-meter gold Thursday night in 21.45 — a score of 1,296.

When McLaughlin lowered the 400 hurdles world record to 51.41 at last month's U.S. championships on the same Hayward Field track, that was worth 1,288.

Not quite FloJo territory. Not yet. But with seemingly each subsequent final she gets closer and closer. It would take a time of 50.80 in the 400 hurdles to match FloJo's enduring and iconic 200-meter record in the World Athletics scoring.

Coincidentally, they have the same coach, Bobby Kersee.

"I think there's still things I could work on," McLaughlin said after the U.S. championships. "I think there's a little bit more in the tank there. So hopefully when it comes time, we can just empty it completely."

McLaughlin, a native of Dunellen, New Jersey, who is now living in Los Angeles, broke into the mainstream when she qualified for the 2016 Olympics at age 16. She's one of the rare phenoms who exhibited enormous potential young, and then steadily went about living up to it.

Fans witnessed just how much McLaughlin seems to have left in the tank during Wednesday's semifinal, when she won her heat with a time of 52.17. Thirteen months ago, that would have been .01 off Dalilah Muhammad's world record.

"I felt it was a good day to get faster," McLaughlin said. "I just need to shake off some of the nerves and get ready for Friday. I can't wait to have my teammates join me in the final."

She will be joined in the final by three other Americans — Muhammad, Shamier Little and Britton Wilson — plus Femke Bol of the Netherlands. Bol, bronze medalist at the Tokyo Olympics, is the third-fastest in history behind McLaughlin and Muhammad.

McLaughlin is 3-0 in head-to-head races against Bol and 4-5 against Muhammad. At the 2019 world championships, Muhammad lowered her own world record from 52.20 to 52.16. McLaughlin took silver in 52.23.

She hasn't lost a 400 hurdles race since.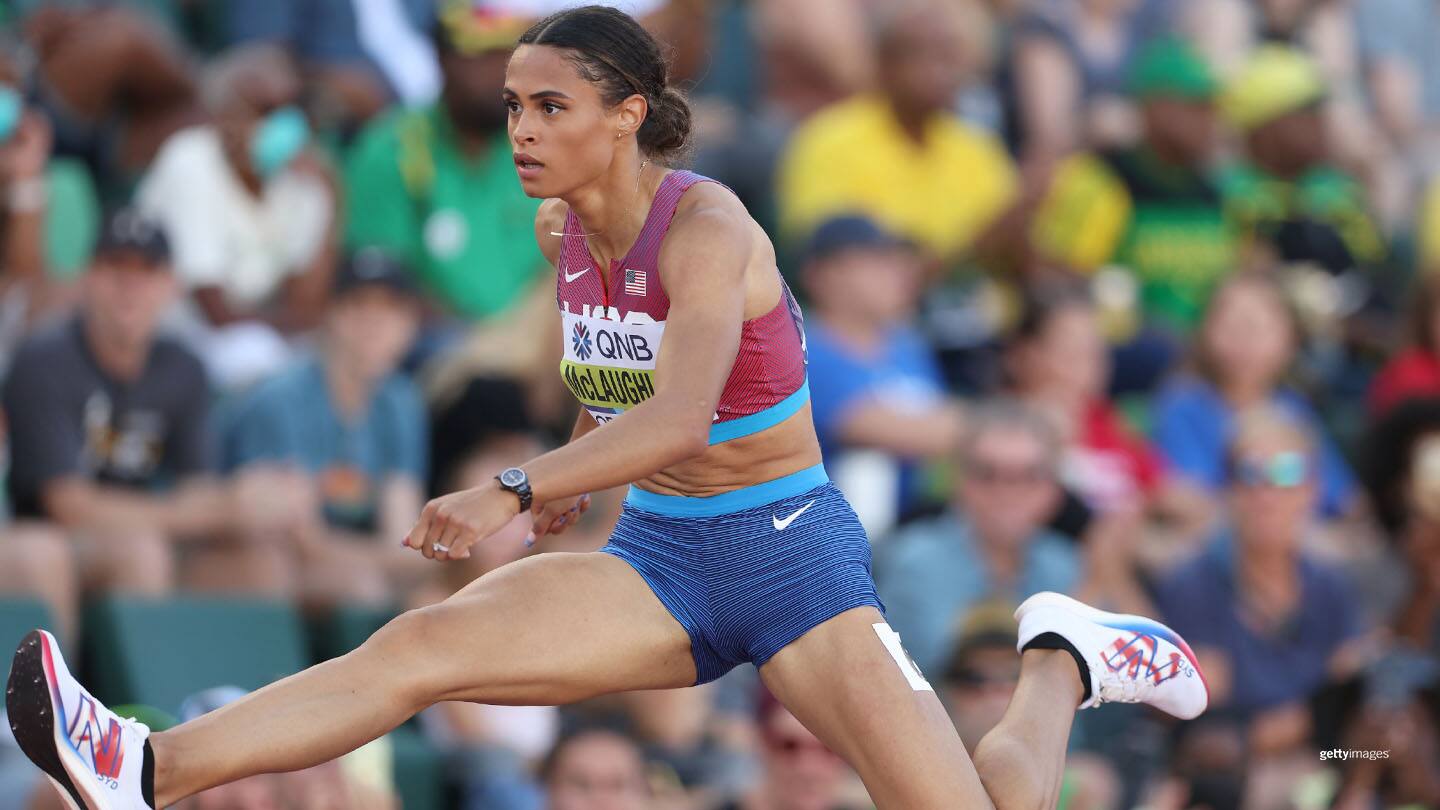 Sydney McLaughlin competes during the women's 400-meter hurdles heats at the 2022 World Athletics Championships on July 20, 2022 in Eugene, Ore.

"It's not that she's improved her flat speed, which she has," NBC analyst Ato Boldon said on a telecast. "She has become a better technical hurdler, and that's why it looks so easy."

All those World Athletics point totals might come off as an insider's analytics gibberish. However, they underscore the uncharted path McLaughlin is traveling.

From Kim Batten's time of 52.61 at the 1995 world championships through 2018, the world record dropped just 0.27 seconds in 23 years. Then four McLaughlin/Muhammad meetings produced four world records from July 2019 through August 2021, and now the world record has been lowered by nearly a second (0.93) in less than three years.

Whether or not it lowers again tonight, McLaughlin is positioned as a favorite to win two gold medals in Eugene — the 400 hurdles and 4x400 relay, the same two events she won at the Olympic Games Tokyo 2020. The 4x400 team will be named later this week.

You might have go back more than 60 years to find a comparable athlete: fellow American Glenn Davis.

Davis is the only man to have set one-lap world records with hurdles and without. In 1958, he set a world record of 45.7 for 440 yards, then later that year lowered his own world record in the 400-meter hurdles to 49.2.

The potential McLaughlin has in the 400 hurdles and flat 400 "is just limitless" said NBC analyst Sanya Richards-Ross, herself a former Olympic and world champion in the 400.

It has been a momentous year in McLaughlin's personal life — she wed Andre Levrone Jr. in May — but it has not inhibited her performance. She said having a world championships on U.S. soil "would bring more shine" to the sport.

"I am really happy to be back home. It is a place I know the best," she said. "Back here, it is just natural, no problems with time change or so. It is really an awesome track and stadium."
David Woods, a native of Urbana, Illinois, has been covering Olympic sports since 1972 and is the only four-time winner of the Jesse Abramson Award, presented by Track and Field Writers of America for journalism. He is a freelance contributor to TeamUSA.org on behalf of
Red Line Editorial, Inc.