Sydney McLaughlin Blows Away Her Own WR, Wins 400 Hurdles World Title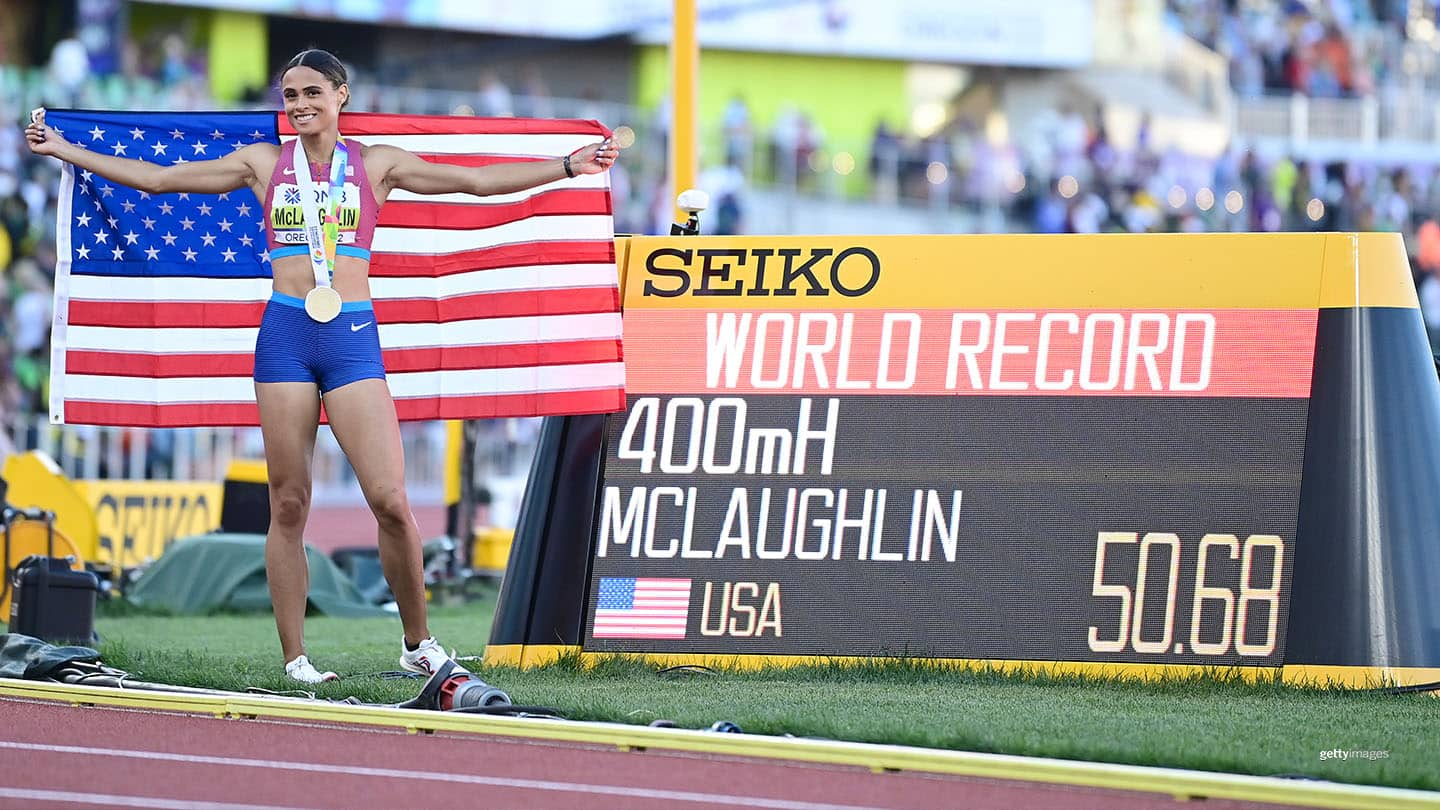 Sydney McLaughlin celebrates after winning gold and setting a new world record in the women's 400-meter hurdles finals at the 2022 World Athletics Championships on July 22, 2022 in Eugene, Ore.

The three fastest women in the history of the women's 400-meter hurdles started in lanes four, five and six in Friday night's final at the World Athletics Championships in Eugene, Oregon.

Sydney McLaughin, running in the middle, won by more than a second and a half.

The 22-year-old is now a two-time Olympian, the reigning Olympic gold medalist and the world champion. In the past 13 months, she's lowered the world record four times, dropping it from 52.16 in June 2021 to 50.68 on Friday.

That's 1.48 seconds in a little over a year. For comparison, the world record dropped just 1.42 seconds from 1984 until October 2019, when fellow American Dalilah Muhammad set the mark that McLaughlin has since obliterated over and over again.

Using the World Athletics scoring tables that attempt to assign value to performances across each of the track and field events, McLaughlin's race on Friday was even more impressive than Florence Griffith Joyner's enduring and iconic 200-meter world record set in 1988. FloJo's 100-meter world record from the same year still scores a hair better.

"The time is absolutely amazing, and the sport is getting faster and faster," said McLaughlin, who would have finished seventh in the open 400 final held earlier in the night.

Femke Bol of the Netherlands, the bronze medalist at the Olympic Games Tokyo 2020, was second in 52.27. Muhammad, the defending world champ and Tokyo silver medalist, took third in 53.13, ahead of fellow Americans Shamier Little (53.76) and Britton Wilson (54.02).

Overshadowed at times in recent years, Muhammad, 32, of Jamaica, New York, has now won three world championships medals in the event, to go with her Olympic gold medal from 2016 and silver from 2020. Only McLaughin has ever run faster in history.

"We have a full group of girls that are willing to push our bodies to the next level and we are seeing times drop," McLaughlin said. "It's really an exciting time to be in the event."

This night was all about McLaughlin, though.

She is now undefeated in the event since finishing second to Muhammad at the 2019 world championships, a streak that included the Olympic gold medal last year in Tokyo.

After racing Friday, the native of Dunellen, New Jersey, who is now living in Los Angeles, sat on the track for several minutes, her elbows resting on her knees, just staring into space.

"It all came together today, and another medal for the team USA," McLaughlin said. "It was absolutely unreal to have my family in the stands. I have never had them together in one place. So this was for me so big. After Tokyo, not having anybody, this was like a redemption."

McLaughlin was one of three U.S. medalists on the eighth of 10 days of competition in Eugene.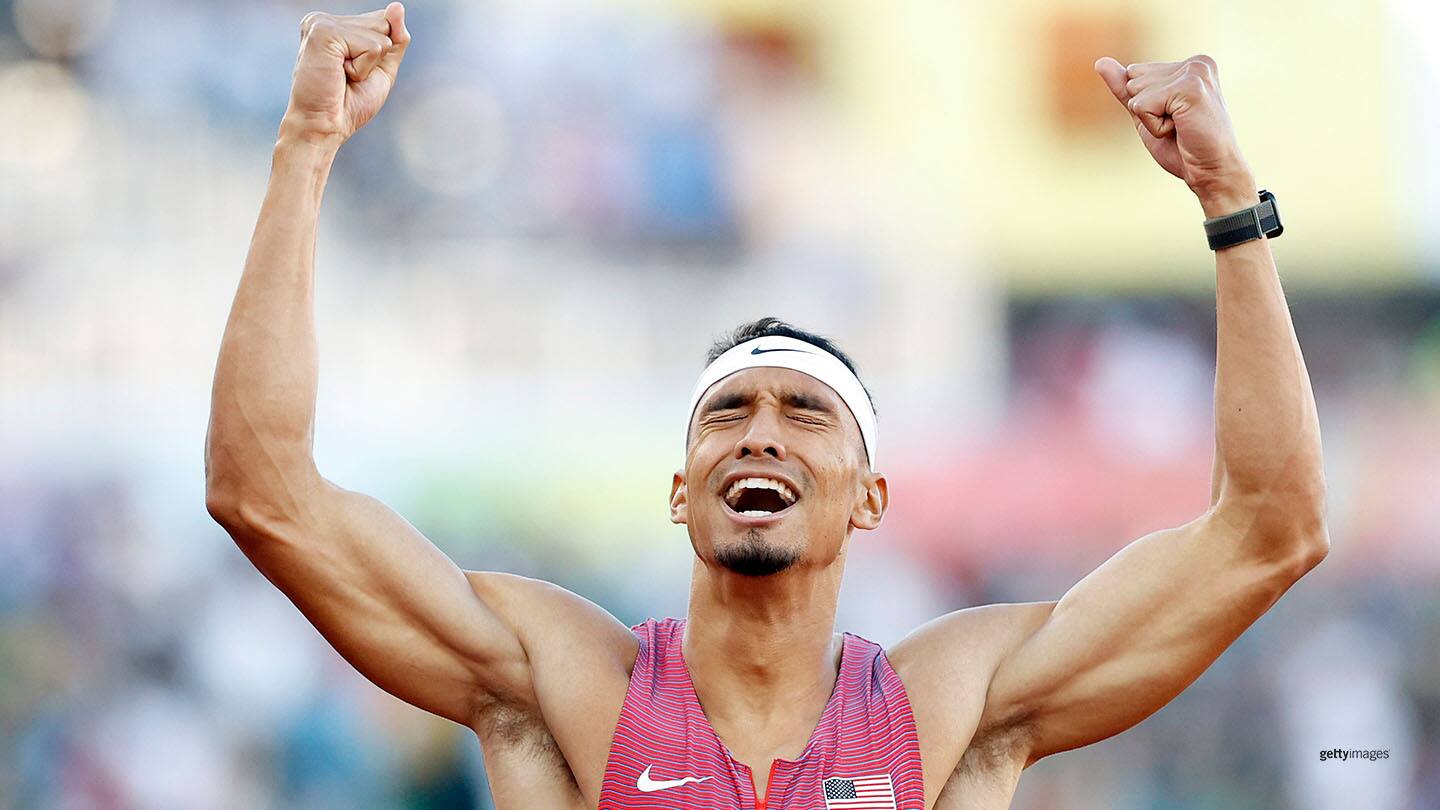 Michael Norman reacts after winning gold in the men's 400-meter final at the 2022 World Athletics Championships on July 22, 2022 in Eugene, Ore.

Michael Norman soaked in the Hayward Field atmosphere after crossing the line first to win his first major championship — and shed the proverbial monkey from his lean shoulders.

Undeniably fast, Norman just needed to break through on the global level. In 2019, he was the fastest man in the world in the 400 meters but fell short in the semifinals at the world championships. Again a favorite going into the Tokyo Games — and a media favorite, competing in the country where his mother was born — Norman finished fifth.

The 24-year-old from Murrieta, California, has been undefeated so far in 2022, and he came into worlds with the two fastest times in the world this year. Friday night wasn't close to his fastest, but it was fast enough. Norman held off one of the event's most decorated athletes of recent years, Grenada's Kirani James, to win in 44.29 seconds. James was second in 44.48, with Great Britain's Matthew Hudson-Smith third in 44.66 and Team USA's Champion Allison fourth in 44.77.

"Just to come out here, on let's say a home track, and pull out with a gold individual medal, it is going to be a memorable one," Norman said. "I want to remember what took me here and I am just thankful to everybody who supported me throughout the whole career. Without those people, I would not be where I am right now."

Rounding out the U.S. medals was Kara Winger, who broke through for her first global medal in the women's javelin in her 10th attempt. The 36-year-old from Vancouver, Washington, had competed in four Olympics and five world championships prior to this one, with her best finish being fifth at the 2019 world championships.

With a final throw of 64.05 meters Friday, she surged up the leaderboard to second, behind only Kelsey-Lee Barber of Australia, the defending champ, who won again, this time in 66.91. The medal was the first for a U.S. woman in the event at the world championships (since 1983), and the first in the Olympics since Kate Schmidt won back-to-back bronze medals in 1972 and 1976.

"I really just wanted to improve my performance in front of the home crowd. And here we are - 64.05," Winger said.

"I just had so many opportunities and so much support from the local crowd. To grab a medal here almost at home, at the Hayward field, it is what I dreamed about, but I am still it disbelief that it actually happened."

With the three medals, Team USA now has nine golds and 26 medals. The next best country in both categories, Ethiopia, has three golds and eight total medals.

Earlier in the night, both U.S. 4x100 teams won their heats, each in world-leading times, to easily advance to tomorrow's finals.

Christopher Nilsen was one of 12 men's pole vaulters to clear 5.75 meters and move on to Sunday's final. Nilsen is the reigning Olympic silver medalist.

Meanwhile, 2020 Olympic gold and bronze medalists Athing Mu and Raevyn Rogers, as well as two-time world championships medalist Ajeé Wilson, moved on to Sunday's final in the women's 800 meter.

In the morning final, three U.S. women were among the top 30 in the 35-kilometer race walk, led by Maria Michta-Coffey in 22nd.
Chrös McDougall has covered the Olympic and Paralympic Movement for TeamUSA.org since 2009 on behalf of
Red Line Editorial, Inc.
He is based in Minneapolis-St. Paul.