The New Olympic Mixed Team Aerials Event Provides Another Avenue For Skiers To Fly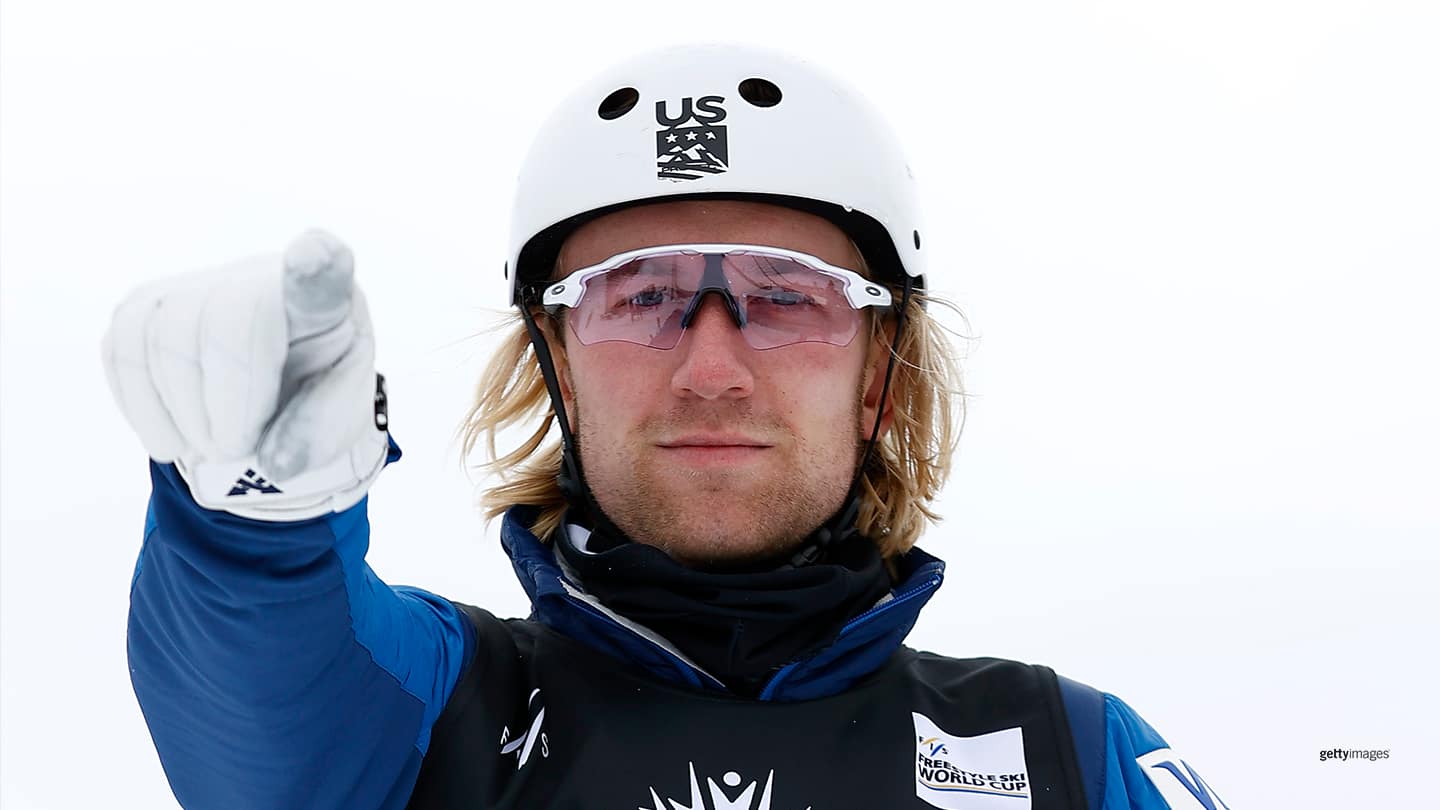 Justin Schoenefeld poses for a photo during training for the men's aerials during the 2021 Intermountain Healthcare Freestyle International Ski World Cup on Feb. 3, 2021 in Park City, Utah.
Whether he's operating high above the slopes on skis or at the controls of an aircraft, Justin Schoenefeld has always been comfortable in the air.

The ease with which he soars above it all has made Schoenefeld one of the top U.S. aerials skiers, and an ideal person to discuss the Olympic debut of the sport's mixed team event at next month's Winter Games in Beijing.

"I am pretty comfortable in the air," Schoenefeld, who will also be making his Olympic debut in Beijing, acknowledged. "I'm not really comfortable with cliffs, though, or bridges or high-rise buildings. I don't know why. I kind of have a weird fear of heights. But if I have my snow skis on, I'm totally cool with standing on the edge of a cliff."

He's also at home flying airplanes. Within the past two years, he has earned his private pilot's license and his instrument rating. He hopes to fly commercially one day.

"Flying an airplane, I'm totally comfortable being up 10,000 feet," Schoenefeld said. "I knew for a long time that I wanted to be a pilot."

For now, however, the 23-year-old Schoenefeld's only focus is Beijing, where he'll be competing in the individual event and possibly the historic first Olympic mixed team event.

Mixed teams feature three jumpers, at least one man and one woman. All three competitors do two jumps, and their scores are then combined.

Last month, Schoenefeld anchored the U.S. team — which also included Winter Vinecki and Chris Lillis — to a second-place finish at a world cup stop in Ruka, Finland.

The U.S. took the bronze medal in the mixed team discipline at the world championships in Kazakhstan last March, though Schoenefeld wasn't on that team. The Russian Ski Federation earned the gold medal and Switzerland took home the silver medal.
"I think it's super exciting to achieve something as a team," Schoenefeld said. "I grew up swimming, and I was always on relay teams, and celebrating with your team after a victory is always definitely more fun, I think, than winning by yourself. Being able to potentially win a gold medal (as) a team … would be awesome."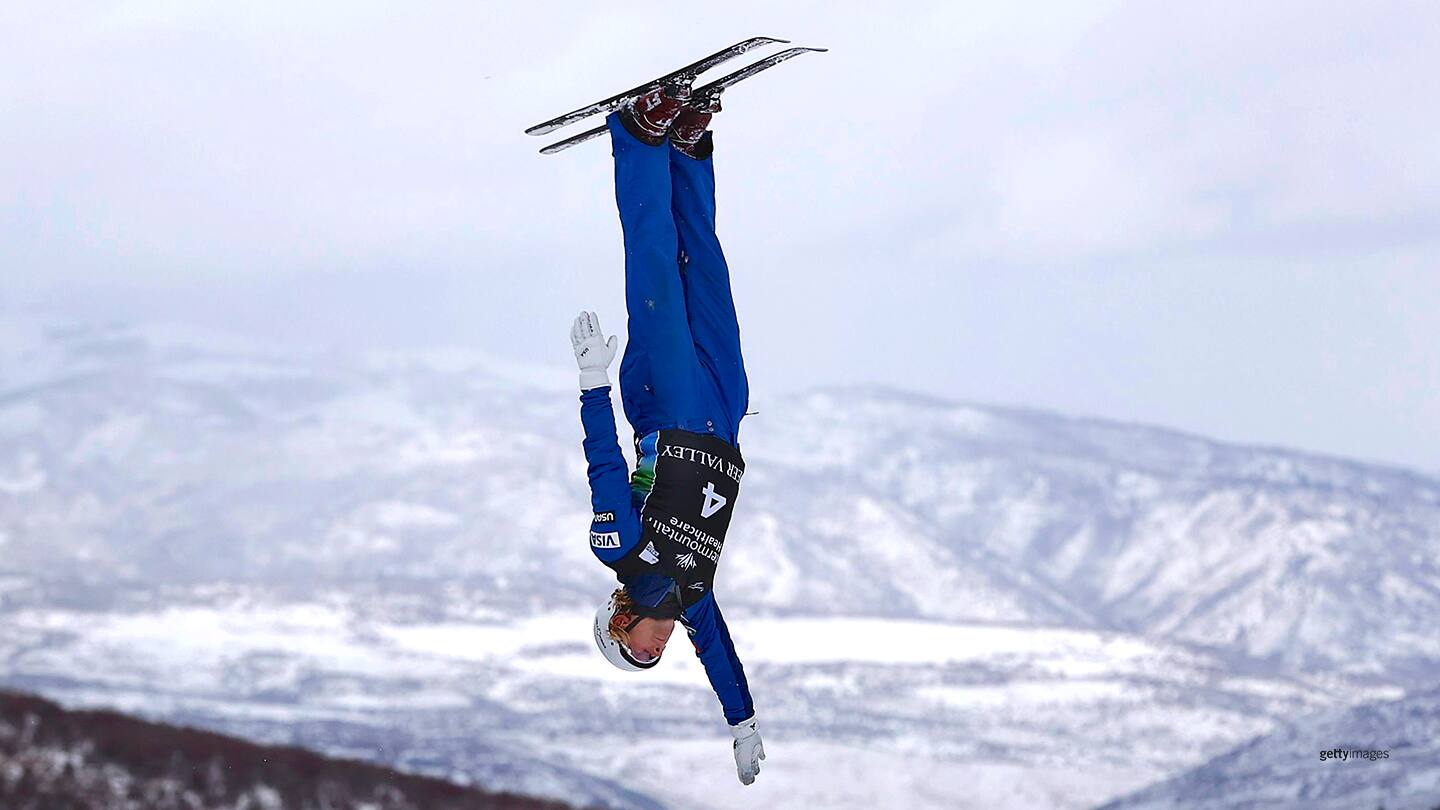 Justin Schoenefeld takes a training run for the men's aerials during the 2021 Intermountain Healthcare Freestyle International Ski World Cup on February 3, 2021 in Park City, Utah.
Schoenefeld said his approach is similar whether he's competing in the individual men's or the mixed team event.

"I don't know if the strategy really changes much because you still need to do your nice jumps, your good quality jumps and get high scores on your jumps," Schoenefeld said. "Either way, I'm still thinking of the same thing as I would in individual right before I turn into that jump."

"During your jump, nothing else should matter other than what's going on for you in the moment because if you're thinking about something else, then your jump's not going to go well."

Schoenefeld can foresee in-competition adjustments being key after his teammates' performances in mixed team.

"There could be some trick changes during that," he said. "If I go last out of the three jumpers, and our first two jumpers nail their jumps. … I could potentially lower my degree of difficulty and bank on just landing that jump to get on the podium. Or I could upgrade my jump to something harder if I needed to."

Schoenefeld is eager to be a part of mixed team's Olympic debut. The event has been on the world cup schedule since 2014 and became part of the world championships in 2019.

"It's definitely super cool, and I'm glad to be a part of the first event," he said. "It's also really cool because aerials don't get much publicity outside of the Olympics, compared to alpine skiing or such. So, it's nice to have two events in the Olympics and let people see it, actually what we do, and hopefully people can appreciate it."

The Lawrenceburg, Indiana, native had a little advice for those who might be seeing the sport for the first time and wondering how to best watch it on TV.

"The judges are looking for good landings, good form in the air, and a good takeoff is what our jumps are based off of," Schoenefeld pointed out. "In the air, they look for twist timings and showing separation in between the flips that you're doing. A lot of times, the judges will see people with ski scissors where their skis aren't parallel to each other. That is a big thing to look at for judges. That's an easy one to see, I think."

Though he's in his fourth year with the U.S. team and has reached four individual or mixed team world cup podiums, Schoenefeld continues to perfect his technique. Though he's progressed over his career, so has the competition.

"It's just become unreal in the past five years," he said. "The sport has just progressed so much, which is just incredible to see, and I'm glad to be one of those people that are pushing it."

Schoenefeld said he doesn't know how anyone watching aerials for the first time could come away anything but impressed with the sport, which features competitors launching themselves 50 feet in the air to perform elaborate tricks before landing.

"How could you not be impressed with it?" he said. "I think it's the scariest sport in the world."
Bob Reinert spent 17 years writing sports for The Boston Globe. He also served as a sports information director at Saint Anselm College and Phillips Exeter Academy. He is a contributor to TeamUSA.org on behalf of
Red Line Editorial, Inc.