Speedskater Brittany Bowe Carrying Confidence And Gratitude Into Quest For Olympic Gold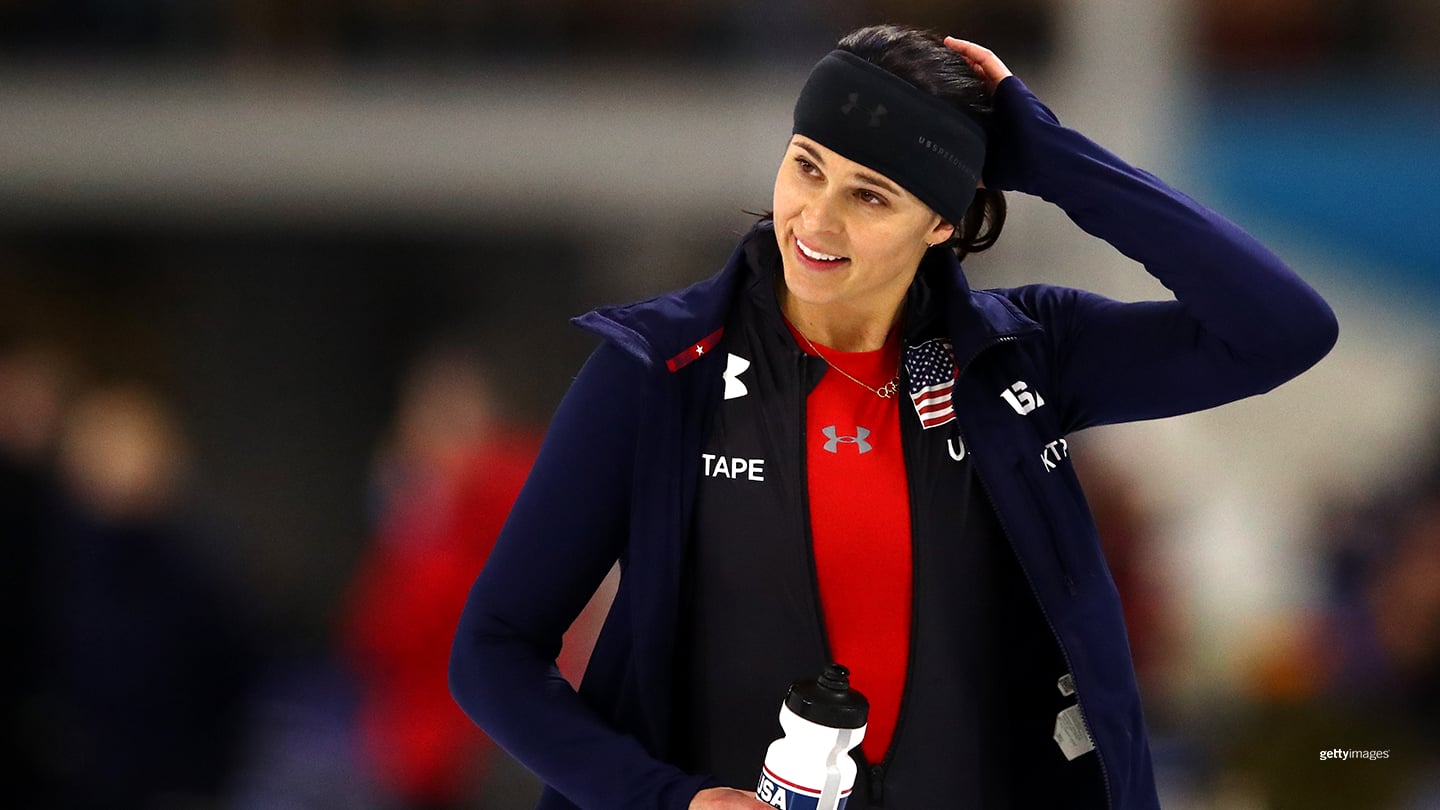 Brittany Bowe celebrates after competing in the women's 1000 meter during the ISU World Speed Skating Championships on Feb. 13, 2021 in Heerenveen, Netherlands.
Brittany Bowe wants an Olympic gold medal so badly she can already taste it.

The 33-year-old speedskater has been working with a hypnotherapist the past few years, taking visualization to the next level.

"To be able to narrow in and feel, see, smell, taste all of the things that I will experience on race day," she said, "has been a pretty cool shift in my preparation."

Bowe said the smell of competition is fresh and cold "since you're down really close to such pure ice."

And the taste? "It doesn't sound appealing," she said, "but at the end of these really difficult races, like the 1000 and the 1500 meter, I'm actually tasting blood in my mouth."

That comes from pushing her body "to the absolute max," said Bowe, who is favored to make her third straight Olympic team at the U.S. Olympic Team Trials – Long Track Speedskating in Milwaukee Jan. 5-9

The former inline skater and basketball player is the reigning world record holder in the 1000, which makes her a favorite in that event at the Olympic Winter Games Beijing 2022. She is also a medal threat in the 1500 and hopes to be in the mix in the 500 as well.
Although Bowe won her lone Olympic medal – a bronze in team pursuit in 2018 for the only Team USA long track speedskating medal at those Games – she is not involved in team pursuit this time as she concentrates on her individual races.
The native of Ocala, Florida, will draw from her previous Olympic experiences – which did not go as well as she had hoped.
With 32 inline world championships medals under her belt, Bowe broke her first world record on the ice in the 2013-14 season and went into Sochi as a medal contender. However, she placed eighth in the 1000, 13th in the 500, 14th in the 1500 and sixth in team pursuit as the entire U.S. speedskating team struggled.
"I felt really confident and I expected to come home with a medal, and I fell far short of that," said Bowe. "And that was one of the most disappointing moments of my athletic career."
Fast forward to the run-up to the 2018 PyeongChang Games, when Bowe suffered a concussion that had lingering ill effects.
"I wasn't sure if I was even going to be able to skate at all," Bowe said. "So I went into PyeongChang with a very different mindset -- a mindset of just gratitude and thankfulness to be able to have the opportunity to do what I love to do and to be able to compete again."
She was fourth in the 1000 and fifth in both the 500 and 1500, bringing her tantalizingly close to the podium. With the bronze in team pursuit, Bowe was finally able to add "Olympic bronze medalist" to her email signature.
So, what would it mean to be able to add Olympic gold medalist? "That's been my dream for as long as I can remember, and that's kind of the last piece of the puzzle that I'm trying to put together," said Bowe who is a seven-time world champion and has also captured eight silvers and five bronze medals in speedskating. "There are no words that can describe how that would make me feel, but every single day that's what I'm striving for."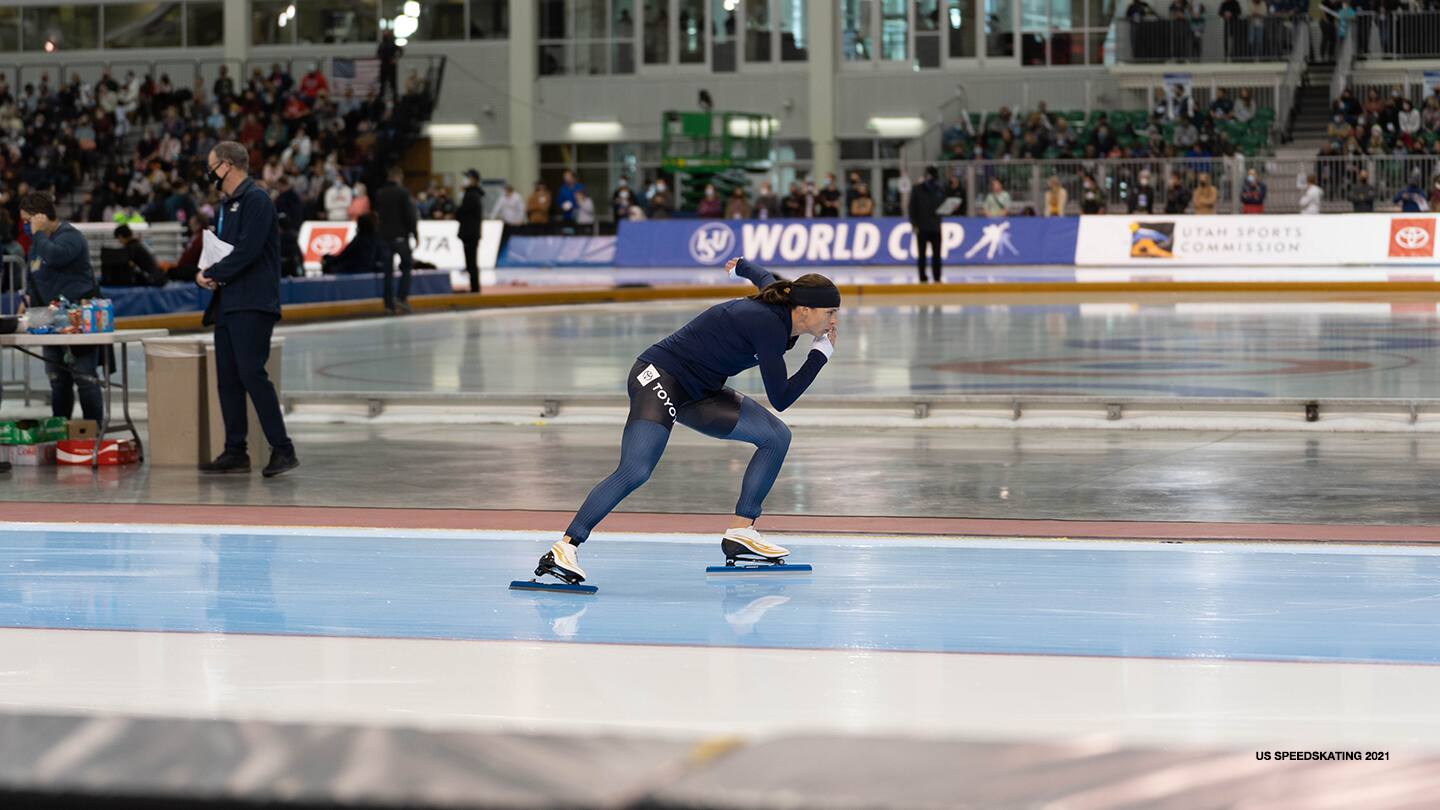 Brittany Bowe warms up before competing at the ISU Speed Skating World Cup on Dec. 5, 2021 in Salt Lake City, Utah. Photo courtesy of US Speedskating.
She certainly knows the peaks and valleys. Across the 2018-19 and 2019-20 seasons, Bowe won seven straight races, which was a record for a Team USA woman, and set the world record of 1 minute, 11.61 seconds in the 1000. A fifth place in a world cup in Calgary ended her streak.

Then at the 2020 world championships on home ice in Kearns, Utah, outside Salt Lake City, Bowe failed to make the podium for the first time in any event since 2012. She finished the year on a higher note by placing third in a 1000 at the world sprint championships and taking a silver medal in the 1000 at the final world cup.

Building on last year, in which the pandemic forced the entire competitive season to be held over a few weeks in a bubble in the Netherlands, Bowe said, "I would say this is as fit as I've ever been."

Skating minimal races last season allowed her to concentrate on her training. In the bubble, Bowe won the 1000 and 1500 in both world cups, then came in first in the 1000 and second in the 1500 in the world single distances championships.

Thanks to the television series "The Queen's Gambit," Bowe also started learning to play chess. "My godmother gifted me a really nice chess piece set for the summer," Bowe said. "I play for fun and just being able to use your mind and being able to critically think in other ways is nice."

Mindfulness has been a big part of her training and as she's gotten older, Bowe has also spent more time and dedicated more resources on recovery.

"That's equally, if not more important, than the training piece," said Bowe, who will turn 34 on Feb. 24, soon after the Beijing Games conclude.

Staying healthy is paramount and Bowe has already overcome one setback this season.

She opened the world cup season in Tomaszow Mazowiecki, Poland, by winning the 1000 and taking the silver in the 1500. But after winning the 1000 in the next world cup in Stavanger, Norway — for her 20th world cup victory at that distance — Bowe sustained a groin injury in the 500.
The next world cup was at home at the Utah Olympic Oval, where Bowe took the bronze in the 1000.
"Salt Lake obviously didn't go how I would have wished, but I couldn't have expected much better with coming off of the injury less than two weeks prior," she said.
Bowe capped the 2021 world cup season with silver in the 1000 and gold in the 1500.
"In Calgary, I was pain-free and that showed a little bit more in my skating," she said.
With Bowe, Joey Mantia and Erin Jackson making regular appearances on world cup podiums this season and the men's team pursuit squad setting a world record, Team USA has established itself as a formidable speedskating nation with momentum going into Beijing.
"It's exciting. It has made the atmosphere in the building a lot more fun, that's for sure," Bowe said. "Obviously, as the years have gone by it's always fun to cheer for your teammates -- you're invested in them, you see how hard they work. But it's different when you're cheering for them knowing they have a chance to win a race.
"The energy within the team is awesome right now and seeing so many people across the board having success is really fun."
Bowe expects her top competition at the Olympics to be Japanese skaters Miho Takagi in the 1500 and Nao Kodaira in the 1000. "They weren't in the bubble last year and I was well aware of that," Bowe said. " I'm just staying focused, I'm confident and we've got two months. It's now or never."
To be sure she is at her peak in Beijing, Bowe will train through the Olympic trials.
"Obviously I want to do well at trials," she said, "but that's just a stepping stone to the Olympics in my training program."
After the Games, Bowe will decide if she wants to continue. After all, Claudia Pechstein of Germany just made her eighth Olympic Winter Games at age 49.
"If things go the way I hope and dream and I'm able to win," Bowe said, "it will be really challenging to walk away because I'm obsessed with winning. I love winning. It's one of the best feelings I've ever felt. But who knows? It's up in the air."
She added that she takes nothing for granted.
"I know from my concussion," Bowe said, "that things can change in the blink of an eye, tomorrow is never promised and I'm just going to take each day day-by-day."
Karen Rosen has covered every Summer and Winter Olympic Games since 1992 for newspapers, magazines and websites. Based in Atlanta, she has contributed to TeamUSA.org since 2009.