Team Shuster Comes Up Short Against Canada In Bid For Bronze Medal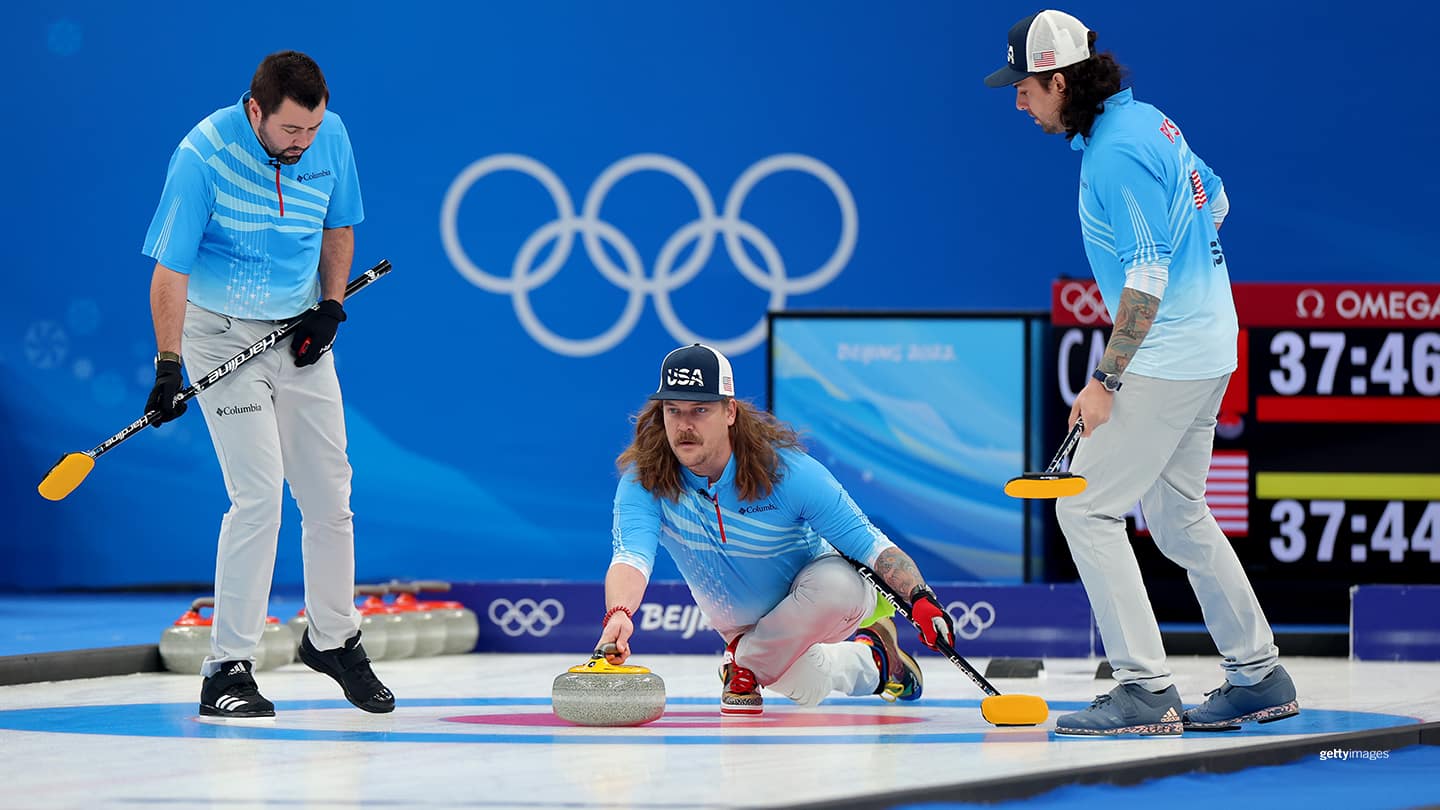 John Landsteiner, Matt Hamilton and Chris Plys compete against Team Canada during the Men's Curling Bronze Medal Game at the Olympic Winter Games Beijing 2022 on Feb. 18, 2022 in Beijing, China.
BEIJING — Nobody ever said repeating as Olympic gold medalists would be easy.

The longer a curling tournament goes on, the better the opponents get. While the U.S. men are one of those great teams, they came out on the short end Thursday in their semifinal match against Great Britain, ending their hopes of a repeat gold. They then had to turn around Friday and play another one of the world's best teams for bronze and would lose a hard-fought game 8-5 to Canada at Beijing's Ice Cube.

"(Great Britain skip) Bruce Mouat and (Canada skip) Brad Gushue are the No. 1 and 2 ranked teams in the world," said U.S. skip John Shuster, who was competing in his fifth Olympics and pursuing his third Olympic medal. "Play a game, and they're going to give you maybe five or six cracks to get 'em during the course of the game. And if you give them any more cracks than that, they're just great curling teams, and hats off to them.

"And honestly, we're a great curling team; it just is what it is. That's how our game works."

There were indeed chances Friday for Team Shuster, which led 5-4 after six ends. One of those chances came in the eighth end when Gushue missed his draw, only for Shuster to miss a hit-and-roll attempt and Canada scored a deuce.
Surging ahead in the 6th end.

🇺🇸 | 5
🇨🇦 | 4@TeamShuster x #WinterOlympics pic.twitter.com/dkxnxjfvMh


— Team USA (@TeamUSA) February 18, 2022
Then in the ninth, the U.S. had hammer but couldn't find a way to score two and instead allowed a steal of two. Needing an unlikely three in the final end, the U.S. would end up running out of rocks and conceding.

Given the team's gold-medal breakthrough four years ago, missing the medal stand is a disappointment. But that's also a testament to the heightened expectations the team has established, and Shuster himself has raised the bar by winning both of the medals won in U.S. curling history. Friday's game was just the fifth time that any U.S. curling team has played for a medal at the Games. Both Shuster and U.S. second Matt Hamilton found plenty they still have to be proud of.

"I'm an Olympian that got fourth place. I'm still riding high," said Hamilton. "It definitely is not as great as the last go around, but at the end of the day no one could ever take that medal away from me and I'm just stoked to be here with my friends. I'm honored to be a part of this team that played so well all week and just had a lot of grindy games where it got tough. We had our backs against the wall and always seemed to be able to pull out. Unfortunately, we just didn't get lucky today."

Hamilton mentioned that one major difference from 2018 to 2022 was the smaller crowds due to COVID-19 restrictions and feeling less pressure in-arena though millions were still watching back home. Among the fans that were there Friday was a significant section of U.S. support that included the U.S. women's curling team — including Hamilton's sister, Becca — and U.S. athletes from other sports. That helped bring the players a taste of home.

"That was incredible," Shuster said. "And they learned all about how the cheering goes the last couple times from sitting in the stands by our families, so it felt like our families were out there with us because we had the girls' curling team and all the whatever rest of Team USA athletes that have been to some of our games in the past up there cheering too was fun."
Let's go @TeamShuster #TeamUSA #CANvsUSA #OlympicGames #USAvCAN @usacurl pic.twitter.com/bJGtfeEEVP


— Tara Peterson (@taraissupercoo1) February 18, 2022
And speaking of home, that's what's next for Shuster as these Games wrap up and he goes back to being dad, and being a husband, he said. As for the longer-term future, Shuster said that trying to make a sixth consecutive Olympic Games in curling — to date only accomplished by Torger Nergård of Norway — is in his plans. Shuster will be 43 then, still in prime shape in the curling world.
One of the things the United States' most decorated Olympic curler has talked about throughout these Games is the attitude shift he had during the PyeongChang Games, to focus more on the present and being the best his team can be out there and letting the results take care of themselves. Shuster said that's made a world of difference in his outlook and is something he'll carry with him for the rest of his life. So, while as a competitor he feels the sting of defeat, he knows there's always another way to look at it.
"For me, yeah it's disappointing to get fourth," Shuster said. "But I told myself before we came here, if we came here and prepared well, played hard, played great, had great attitudes, [and] enjoyed being here with our teammates, whatever happens was going to be just fine. And I think we very, very much accomplished all those goals. That probably makes it a little bit more satisfying than I would have expected probably with a fourth-place finish."
Want to follow Team USA athletes during the Olympic Games Beijing 2022? Visit TeamUSA.org/Beijing-2022-Olympic-Games to view the competition schedule, medal table and results.
Todd Kortemeier is a sportswriter, editor, and children's book author from Minneapolis. He is a freelance contributor to TeamUSA.org on behalf of Red Line Editorial, Inc.