Back at the Olympics With A College Degree, Tricia Mangan Finished 11th in Alpine Combined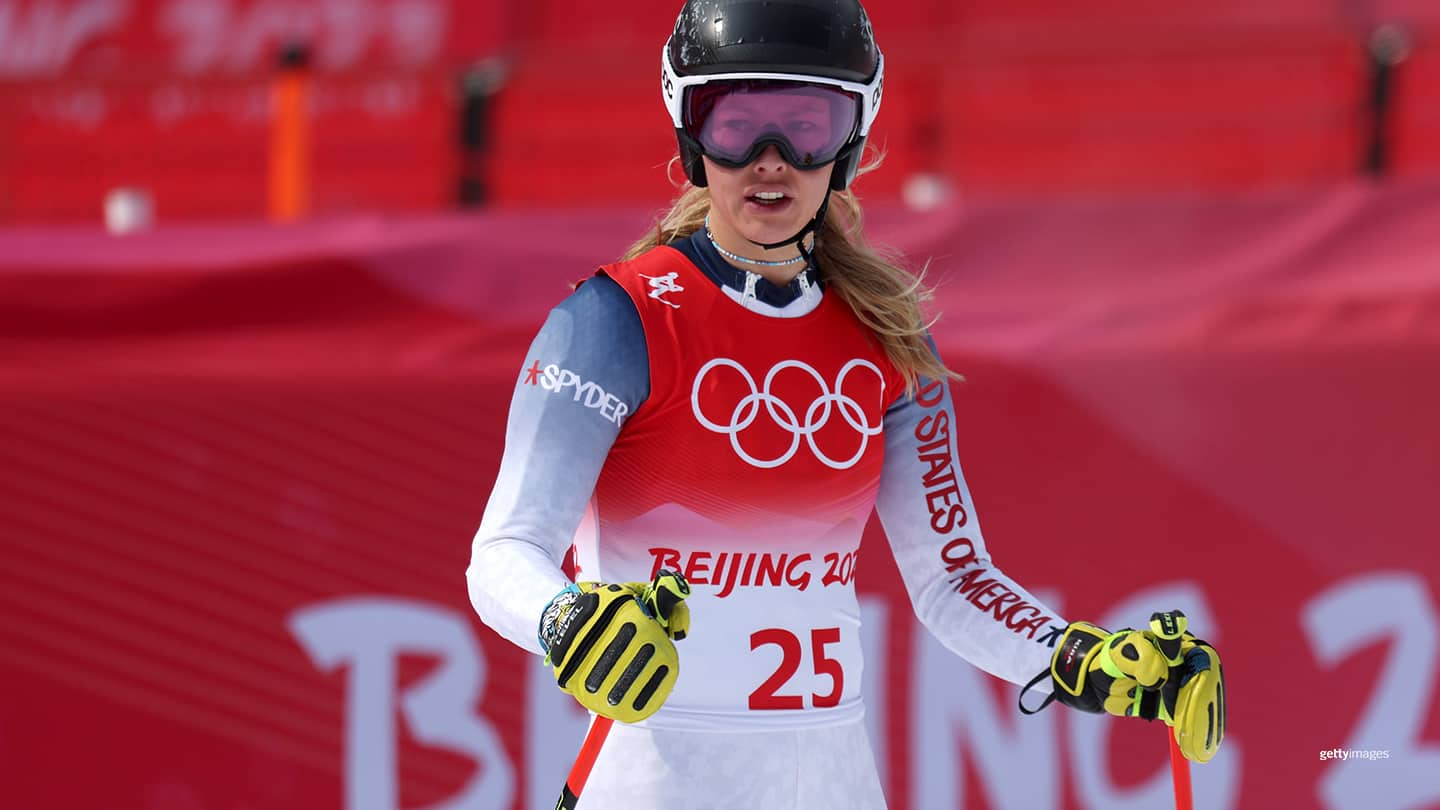 Tricia Mangan reacts following her run during the Women's Alpine Combined Downhill at the Olympic Winter Games Beijing 2022 on Feb. 17, 2022 in Yanqing, China.
BEIJING — Tricia Mangan did not come into this season with her eye on competing at the Olympic Winter Games Beijing 2022.

The 24-year-old from Buffalo, New York, had just decided to refocus on skiing after graduating from Dartmouth College in June 2021 with a degree in mechanical engineering. Racing independently with the International Ski Racing Academy team, Mangan's goal was just "to give it everything I have and to progress every race."

With a light snow falling at the Yanqing National Alpine Skiing Centre, Mangan gave her all in slalom after finishing 20th in the morning downhill run. Her slalom run tied for the eighth fastest and moved up her up to 11th overall in the combined — the top U.S. finisher. Mikaela Shiffrin, Keely Cashman, and Bella Wright all struggled with the slalom and DNFed (ski-racing jargon for did not finish).

"I definitely tried my best, wasn't the prettiest skiing," said Mangan, smiling at the end. "But I tried my best, so I'm proud of that."

After Shiffrin fell on her hip 12 gates into the combined slalom, the pressure to make the podium fell to Switzerland's Michelle Gisin and Wendy Holdener. Gisin was the reigning Olympic combined champion, and Holdener is the reigning combined world champion. The two women were separated by only 0.01 of a second after the combined downhill in the morning.

Gisin skied the slalom 0.06 of a second faster than Holdener and won her second Olympic gold medal. Holdener — the 2018 Olympic combined bronze medalist — stood one step higher on the podium this time with silver. And Italy's Federica Brignone won the bronze. All three women have now won two medals apiece at these Olympic Games, with one event left — the alpine team race on Saturday.

In what could be the final Olympic run of the historic combined (it was the first and only event when alpine skiing debuted at the 1936 Olympic Winter Games), many women struggled in the slalom course — including Shiffrin, who was unsure what happened and said she was not feeling too much pressure. Team USA's Keely Cashman and Bella Wright also DNFed in the slalom.

But not Mangan, who came into these Games as an underdog — a mentality that she actually liked. She had been on the Olympic stage before, back in 2018, but taken time off and is building back.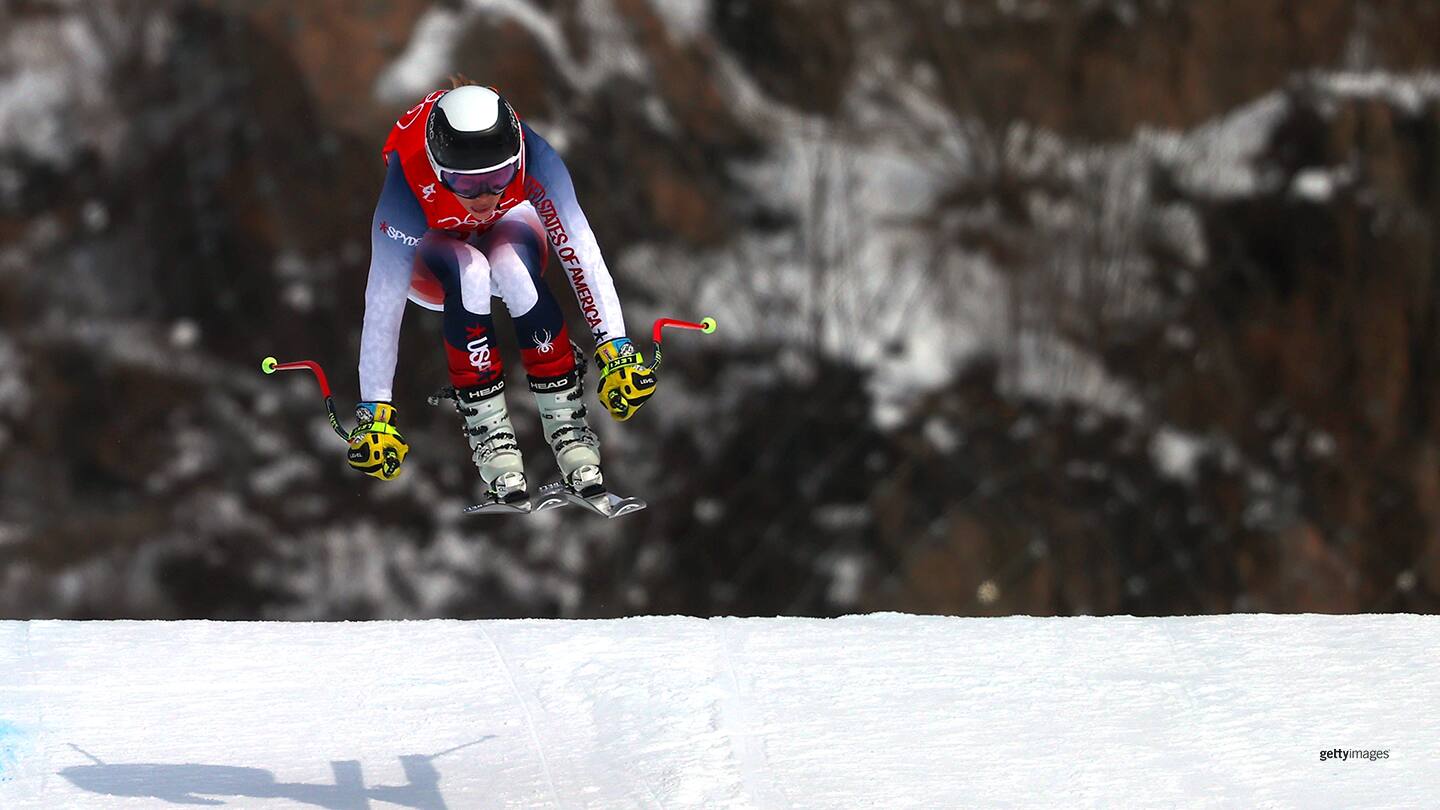 Tricia Mangan skis during the Women's Alpine Combined Downhill at the Olympic Winter Games Beijing 2022 on Feb. 17, 2022 in Yanqing, China.
In 2018, Mangan was a last-minute addition to the U.S. Olympic Team after Jacqueline Wiles was injured on the eve of those Games. Mangan had just finished fourth in super-G at the 2018 junior world championships and flew straight to South Korea. She competed in giant slalom and the team event in the Olympic Winter Games PyeongChang 2018.

But she was miserable back then. She took setbacks personally, and "the bad days felt like a lot more devastating," she said.

After those Games, Mangan decided to step back from world cup skiing and go to Dartmouth fulltime. Competing for the Big Green's NCAA Division 1 ski team, she was a regular on the collegiate ski-racing podium, especially in giant slalom. Her sophomore year, she finished third at the 2019 NCAA Ski Championships, one second behind Laurence St. Germain, a Canadian competing for the University of Vermont and also at two Olympic Games (2018 and 2022).

The Dartmouth Ski Team did not compete last season due to the COVID-19 pandemic. But Mangan still raced — in both North America and Europe. It was her senior year in college, and she was not ready for her ski-racing career to fizzle out.

With her college degree in hand last spring, Mangan had a choice. Find a job or pursue ski racing. Since she was not on the U.S. Ski Team, the latter would be difficult. But she had a different outlook than she had in 2018. This time, she knew she wanted to ski race. It wasn't just something she had done all her life.

"I am a totally different person than I was four years ago," she said. "For one, I'm absolutely loving skiing and having so much fun and am so motivated every day to get faster."

And she now knew what it would take to stay focused on her goals.

"The biggest thing that school taught me was how to work really hard and to really appreciate and take advantage of every opportunity and every time you are on the hill because in college, you don't get many of them," she said.

So last summer, she joined the International Ski Racing Academy, a group of high-level alpine racers from around the world.

"One of my teammates is from Bosnia, another from Slovenia, and we have a Canadian," said Mangan. "It is a really awesome group. I feel so fortunate that that existed because I wouldn't have been able to do it to this level without them."

One of her teammates, Alice Robinson from New Zealand, is also competing at the 2022 Winter Games.

Mangan also decided to focus on the speed events — a big leap for someone who grew up racing at Holimont, a small family ski area near Buffalo without much vertical drop.

Eventually, Mangan would like to get into biomedical engineering; she is interested in designing prosthetics. But until then, she will focus on the physics of ski racing.

"The Olympics feel like a very nice reward," she said about the work she has done so far. "But I'm still excited to keep working."
Want to follow Team USA athletes during the Olympic Games Beijing 2022? Visit TeamUSA.org/Beijing-2022-Olympic-Games to view the competition schedule, medal table and results.
An award-winning freelance writer based in Vermont, Peggy Shinn is in Beijing covering her seventh Olympic Games. She has contributed to TeamUSA.org since its inception in 2008.