Mikaela Shiffrin Skis Solidly To 9th in Olympic Super-G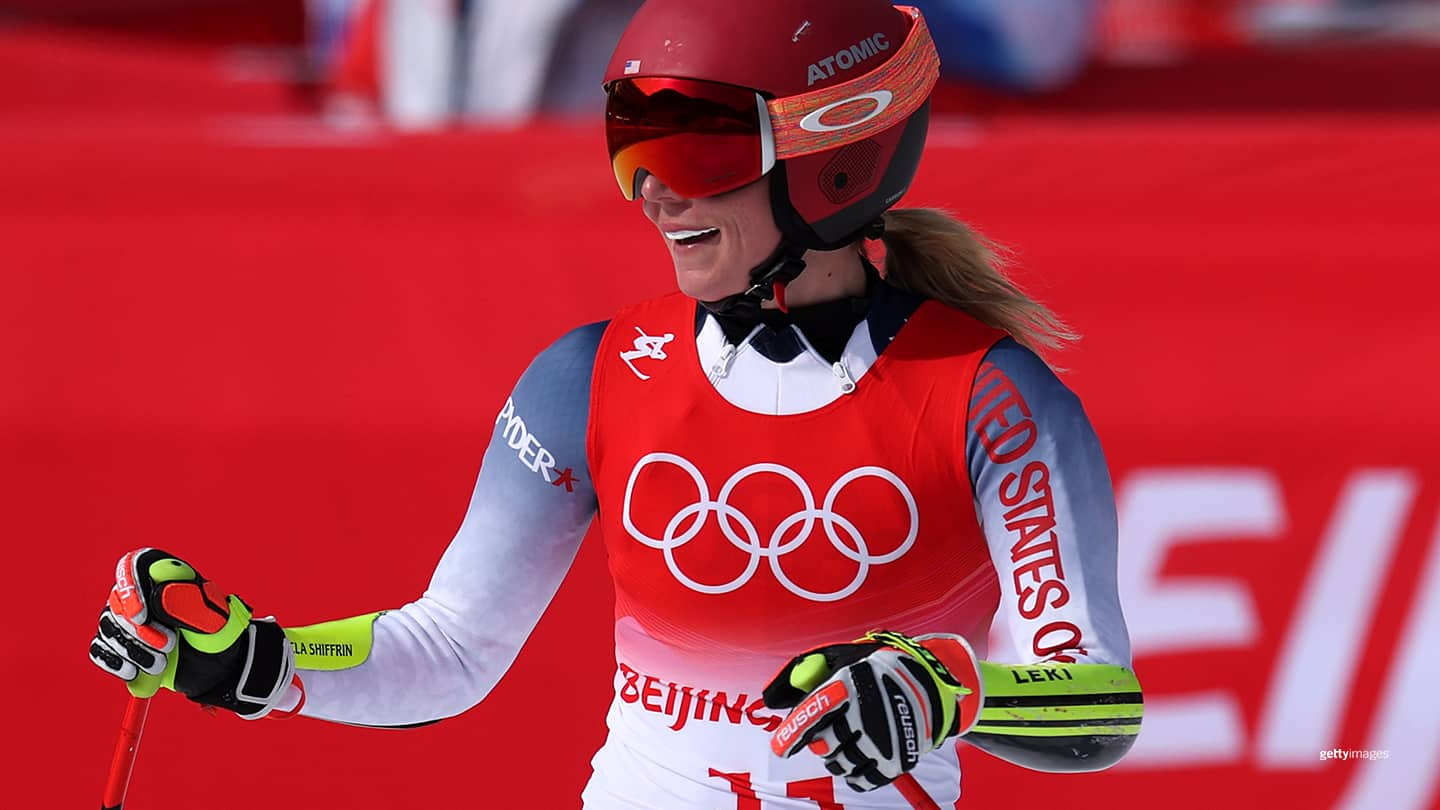 Mikaela Shiffrin reacts during the Women's Super-G of the Olympic Winter Games Beijing 2022 on Feb. 11, 2022 in Yanqing, China.
BEIJING — The nickname for the Yanqing National Alpine Ski Centre's speed course is The Rock, a call-out to the finish chute that weaves like a dragon through the pink Mesozoic granitoid cliffs.

It was here at this spectacular venue that Mikaela Shiffrin was set to be, well, a rock star. In her third Olympic Games, she was favored to win multiple medals, including in the women's super-G, an event in which she has so far won two world championship medals.

But in the cruel and fickle sport of alpine ski racing, Shiffrin did not finish her two best events (slalom and giant slalom) earlier this week. Would she compete in the super-G at the Olympic Winter Games Beijing 2022?

Yes, and this time, the 26-year-old three-time Olympic medalist was just happy to cross the finish line, relieved to have both finished and skied well.

"It's really nice for my heart to know that it's not totally abandoning everything I thought I knew," Shiffrin said after the race.
Mikaela Shiffrin with a solid run in the women's super-G.#WinterOlympics | #WatchWithUS pic.twitter.com/vSc3oNTnra


— NBC Olympics (@NBCOlympics) February 11, 2022
Her time was 0.79 of a second behind Lara Gut-Behremi, a Swiss star who won her first Olympic gold medal, flying down The Rock in 1:13.51. A three-time Olympian and reigning world super-G champion, Gut-Behremi had finished fourth in the previous two Olympic super-Gs and until the 2022 Winter Games, had only won one Olympic medal (bronze in the 2014 Olympic downhill). She now has three, including the giant slalom bronze medal that she won earlier this week.

Austria's Mirjam Puchner and Gut-Behremi's Swiss teammate Michelle Gisin rounded out the podium with silver and bronze, respectively. They were 0.22 and 0.30 of a second behind Gut-Behremi. Puchner is a first-time Olympian, while Gisin is at her third Games. Gisin won an Olympic gold medal in combined at the 2018 Games, nipping Shiffrin by just under 1 second in that event four years ago.

Until this morning, Shiffrin was unsure if she would compete in the 2022 Olympic women's super-G. She had felt good in training. But as she slept last night, she had a recurring bad dream. Every time she fell back asleep, she dreamed that she skied out of the women's super-G at the fifth gate — the same place where she had skied out of the slalom and giant slalom courses earlier this week.

Her whole experience at these Olympic Winter Games had left Shiffrin emotionally drained. And it is dangerous to ski race — especially in speed events like super-G — on an empty tank.

"It's not really easy to reset and to know if I was up for the challenge today," she confessed.

Her friends and family have tried to boost her morale this week, including boyfriend Aleksander Aamodt Kilde who has so far won two Olympic medals at these Games. And remarkably, Shiffrin has even received wide support from the often shark-infested waters of social media.
"I would never have expected to feel, in this moment...that humans could be so kind." ❤️

Mikaela Shiffrin shares her thoughts on the love & support she's received the past few days.#WinterOlympics | @NBCOlympics pic.twitter.com/6vCC3sApNz


— On Her Turf (@OnHerTurf) February 11, 2022
"It's just the most incredible feeling to have so many people reaching out and sending support and just showing so much kindness," she said. "I wouldn't have expected so much support and understanding in a situation where I failed twice to do the job that I am supposed to do."
Like many athletes, Shiffrin considers pressure a privilege, but at the same time, she is still reeling from the disappointment of not living up to expectations — her own, perhaps, as much as anyone's.

"It's amazing to be in the position where I come to the Olympics, and I'm a contender and am actually expected to medal in multiple events," she acknowledged. "That's spectacular. It says a lot about the work that my whole team, that we've all done to this point."

But she could not get over the feeling that she had let everyone down.

So this morning, even though she did not wake up with "a great feeling," she looked outdoors and saw the sun shining. She likes The Rock speed course and its snow surface, and she loves skiing super-G, a speed event that she has won five times — four world cups and the 2019 world championships.

Even beyond the results, the event is just plain old fun to ski. Fast swooping turns down The Rock might be the perfect antidote to her week.

And it was. Shiffrin felt more settled — "a little bit quieter" — and she skied solidly.

All along — even before she DNFed in this week's slalom and giant slalom — Shiffrin knew winning a medal in the 2022 Olympic super-G would be a tall order. Before today, she had not skied super-G since the Cortina World Cup in January, and before that, the Val d'Isere World Cup in December. And several of her competitors have excelled in the discipline this season, like Gut-Behrami and Gisin.

But crossing the finish line was as a victory in itself for Shiffrin.

"Coming back out and getting the chance to race again," she said, "was just the perfect thing to do actually."
Also Skiing Super-G For Team USA
Joining Shiffrin in the women's super-G from Team USA were first-time Olympians Isabella Wright, Keely Cashman, and Alix Wilkinson.

Wright crossed the finish line in 21st and Cashman — a student at the University of Utah — 27th. Wilkinson DNFed, skiing out after getting late on a gate as The Rock funneled into the rocks. She did not fall and skied safely to the finish line.
Want to follow Team USA athletes during the Olympic Games Beijing 2022? Visit TeamUSA.org/Beijing-2022-Olympic-Games to view the competition schedule, medal table and results.
An award-winning freelance writer based in Vermont, Peggy Shinn is in Beijing covering her seventh Olympic Games. She has contributed to TeamUSA.org since its inception in 2008.