U.S. Men's Hockey Team Eliminated by Slovakia in Olympic Shootout Loss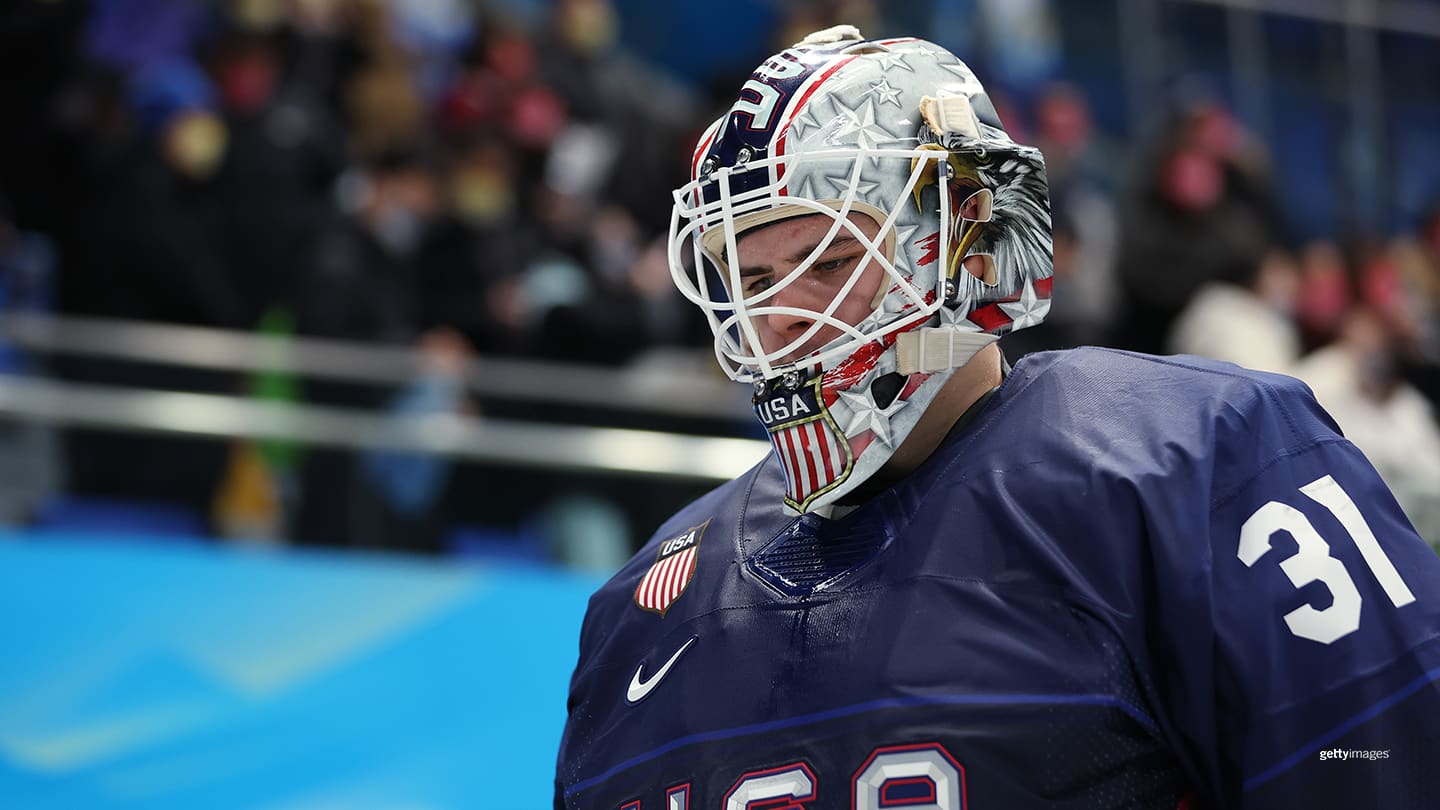 Strauss Mann reacts after being defeated by Team Slovakia in a shootout during the Men's Ice Hockey Quarterfinal match between Team United States and Team Slovakia at the Olympic Winter Games Beijing 2022 on Feb. 16, 2022 in Beijing, China.
The United States men's hockey team allowed a game-tying goal in the final minute of the third period and fell in a five-round shootout as their Olympic dream ended abruptly.

Peter Cehlarik made a strong move to his forehand in the fourth round of the shootout to propel Slovakia to a 3-2 win and a spot in the semifinals of the Olympic Winter Games Beijing 2022.

Marek Hrivik scored the game-tying goal at 19:16 of the third period. The captain of Slovakia was able to out-muscle U.S. defender Aaron Ness and bury a loose puck to force overtime.

"It's a tough pill to swallow, it really is just losing in any fashion.," coach David Quinn said. "No disrespect to Slovakia, or anybody, we just felt so good about the direction of our team and the way we were playing."

Strauss Mann made 34 saves, including four in the 10-minute three-on-three overtime, and stopped four of five shootout attempts. However, Brendan Brisson, Sean Farrell, Matt Knies, Nathan Smith and Andy Miele could not solve goaltender Patrik Rybar.

Team USA will miss the semifinals for the second straight Olympics without NHL players.

"It's a game of inches," Mann said. "I know everyone in our locker room gave it their all and props to them. They battled hard and stuck with it. We'll reflect on it a little bit later, but right now it's just really disappointing."

Matty Beniers, who had multiple scoring chances in the 10-minute, three-on-three overtime session, was surprisingly not selected for a shootout attempt.

The United States had numerous chances to extend its lead in the third period to two goals, including a two-man advantage that lasted 1:22 and a total of 4:38 of power-play time in the final frame but could not convert.

"We needed to do a better job at that," alternate captain Steven Kampfer said. "We could have definitely put our foot down on them. They killed it well, and we didn't capitalize when we needed to."

Knies had a breakaway attempt in the closing seconds of overtime, but Rybar was able to knock the puck off the 19-year-old's stick.

Nick Abruzzese and Sam Hentges scored while Beniers chipped in with an assist and the United States fell to 4-5-0 in the quarterfinal round.
TEAM USA ANSWERS!@HarvardMHockey's Nick Abruzzese goes five-hole late in the 1st period to tie this one up against Slovakia. #WinterOlympics

📺: @USA_Network and @peacockTV
💻: https://t.co/DaRR18atEa pic.twitter.com/enAmF4dT1m


— NBC Olympics (@NBCOlympics) February 16, 2022
Hentges gave the U.S. a 2-1 lead at 8:56 of the second period. Smith led a rush into the offensive zone and slid the puck over to Nick Perbix, who found Hentges all alone at the top of the crease. The 22-year-old forward corralled the pass and made it to his forehand before depositing the puck in the back of the net.

Hentges did not dress in the first two games but found himself on the top line for the second half of the quarterfinals after Brian O'Neill blocked a shot and did not return.L
ANOTHER BEAUTY! 🚨#WinterOlympics | #TeamUSA 🇺🇸pic.twitter.com/1I0LhdmKXZ


— USA Hockey (@usahockey) February 16, 2022
Team USA found themselves in a familiar spot after they allowed the first goal for a third straight game. Juraj Slafkovsky fired a shot from the slot and collected his fifth goal of the tournament. Defenseman Brock Faber lost Slafkovsky when he chose to pick up his stick behind the net instead of defending the impressive 17-year-old forward.

However, just like the previous two games, the U.S. responded in the same period. Abruzzese slid the puck between the goaltender's legs after a pretty passing sequence to even the score at 1-1. Beniers and alternate captain Steven Kampfer assisted on the first-period equalizer at 19:14. Kenny Agostino started the rush toward the tail end of his shift and chose to carry the puck into the offensive zone rather than dump the puck and head for a line change.

"I'm just sad it's over," Miele said. "I am so blessed to be in this position and lead this group, represent our country. I never thought I'd be in this position; it's been an amazing opportunity. … We had such a great group; the young guys have been awesome, and I wish them the best. Can't wait to follow their careers and cheer them on in the future."

Defenseman Jake Sanderson did not play after sustaining an injury against Canada in the preliminary round.

"It was a lot of fun watching them become a team in a short period of time," Quinn said. "It was a selfless group. I think we represented our country very well. It was a team that I think all of America will be proud of."
Want to follow Team USA athletes during the Olympic Games Beijing 2022? Visit TeamUSA.org/Beijing-2022-Olympic-Games to view the competition schedule, medal table and results.
Scott Charles is a sportswriter whose work has been featured in the Associated Press, various NBC platforms and Yahoo! Sports among other places. He is a freelance contributor to TeamUSA.org and you can follow him on Twitter @ScottMCharles.