U.S. Men's Hockey Team Brimming With Confidence Ahead Of Olympic Quarterfinals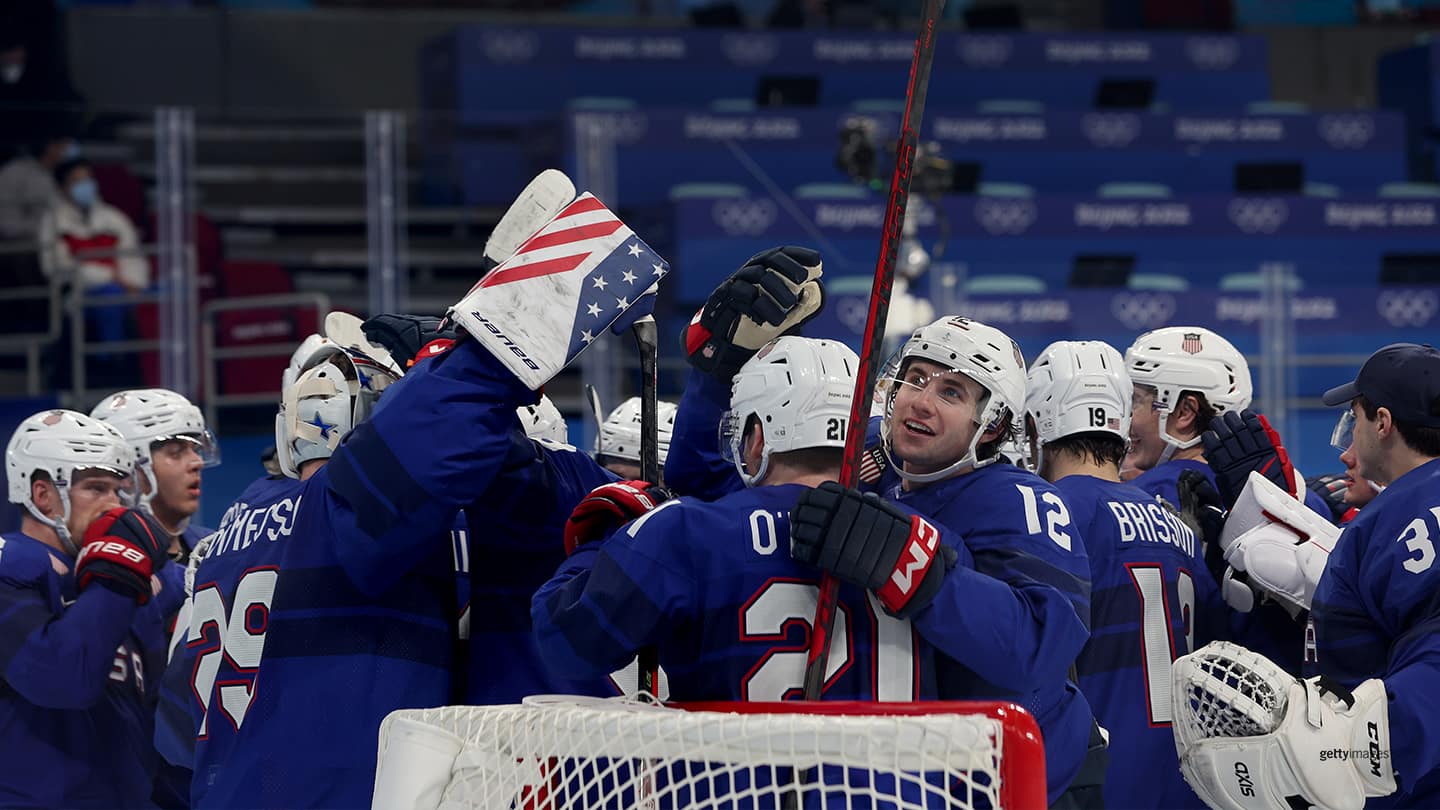 Team USA players celebrate their victory during the men's ice hockey preliminary round match against Team Germany during the Olympic Winter Games Beijing 2022 on Feb. 13, 2022 in Beijing.
The United States men's Olympic hockey team is entering the quarterfinals of the Olympic Winter Games Beijing 2022 as the top seed and the lone squad with three regulation victories in pool play.

A shutout win against China and two physical, tightly-contested games against Canada and Germany have the players on the U.S. roster believing they can achieve much more.

"We believe in ourselves," head coach David Quinn said. "There is an unwavering confidence in our group. People don't know what we know about ourselves. There is a swagger to us right now, not arrogance but a swagger to us. There is a believability that's gone on this last week and that has put us in this position. But we haven't really accomplished anything that we want to accomplish yet."

General manager John Vanbiesbrouck and Quinn stated early on that their intention was to compete for a gold medal and a 3-0-0-0 preliminary round has put them in position to contend.
Looking back at the path to the No. 1 seed 👏#WinterOlympics | #TeamUSA 🇺🇸 pic.twitter.com/NZUjnrstPK


— USA Hockey (@usahockey) February 14, 2022
The U.S. will play against Slovakia tonight at 11:10 p.m. ET in its quarterfinal matchup.
While the 15 NCAA hockey players have been the headline of the United States' youthful roster, 17-year-old Juraj Slafkovsky has been an integral member of Slovakia and is currently tied for first place on the goal-scoring list with four goals. The highly touted prospect is expected to be a top-10 selection in the NHL draft.
"We believe in the group we have," Nick Shore said. "That's really all that matters at the end of the day. We are not really paying too much attention to what other teams are thinking about us. We are going to go out and try to execute our game plan and we are confident in that."
Shore is one of eight players on the U.S. playing professionally in Europe and has the most NHL experience with 299 games under his belt. Players such as Matty Beniers and Sean Farrell have received a lot of attention, but it has been the veterans that have made an enormous difference behind the scenes.
It was Andy Miele who helped settle down the U.S. against Canada with a quick response after Strauss Mann surrendered an early goal. And it was 33-year-old defenseman Steven Kampfer who responded with a power-play goal after Germany took a 1-0 lead two minutes into the game.
"In a tournament like this that's very important to make sure you not only get good players but get the right people," Quinn said. "We have certainly done that."
#TeamUSA captain @Andy_Miele brought a special flag with him to the #WinterOlympics that now hangs in the lockerroom. ❤️

His grandfather enlisted in the Navy and served in both World War II and the Korean War. This note from his grandma accompanied the flag. pic.twitter.com/PHsf1Z9oYa


— USA Hockey (@usahockey) February 15, 2022
Slovakia had a rocky start to the tournament, losing 6-2 to Finland and 4-1 to Sweden. However, Slovakia found its stride as of late with a 5-2 win against Latvia and a 4-0 win against Germany, the same team the U.S. defeated 3-2 to close out the preliminary round.

"There are not going to be any easy games out here," Shore said. "No matter who you are going up against you have to be ready to go. It's a great start but a lot of work to be done."

Want to follow Team USA athletes during the Olympic Games Beijing 2022? Visit TeamUSA.org/Beijing-2022-Olympic-Games to view the competition schedule, medal table and results.
Scott Charles is a sportswriter whose work has been featured in the Associated Press, various NBC platforms and Yahoo! Sports among other places. He is a freelance contributor to TeamUSA.org and you can follow him on Twitter
@ScottMCharles.