Farrell's Hat Trick, Commesso's Shutout Lead U.S. Men's Hockey Team To 8-0 Win Against China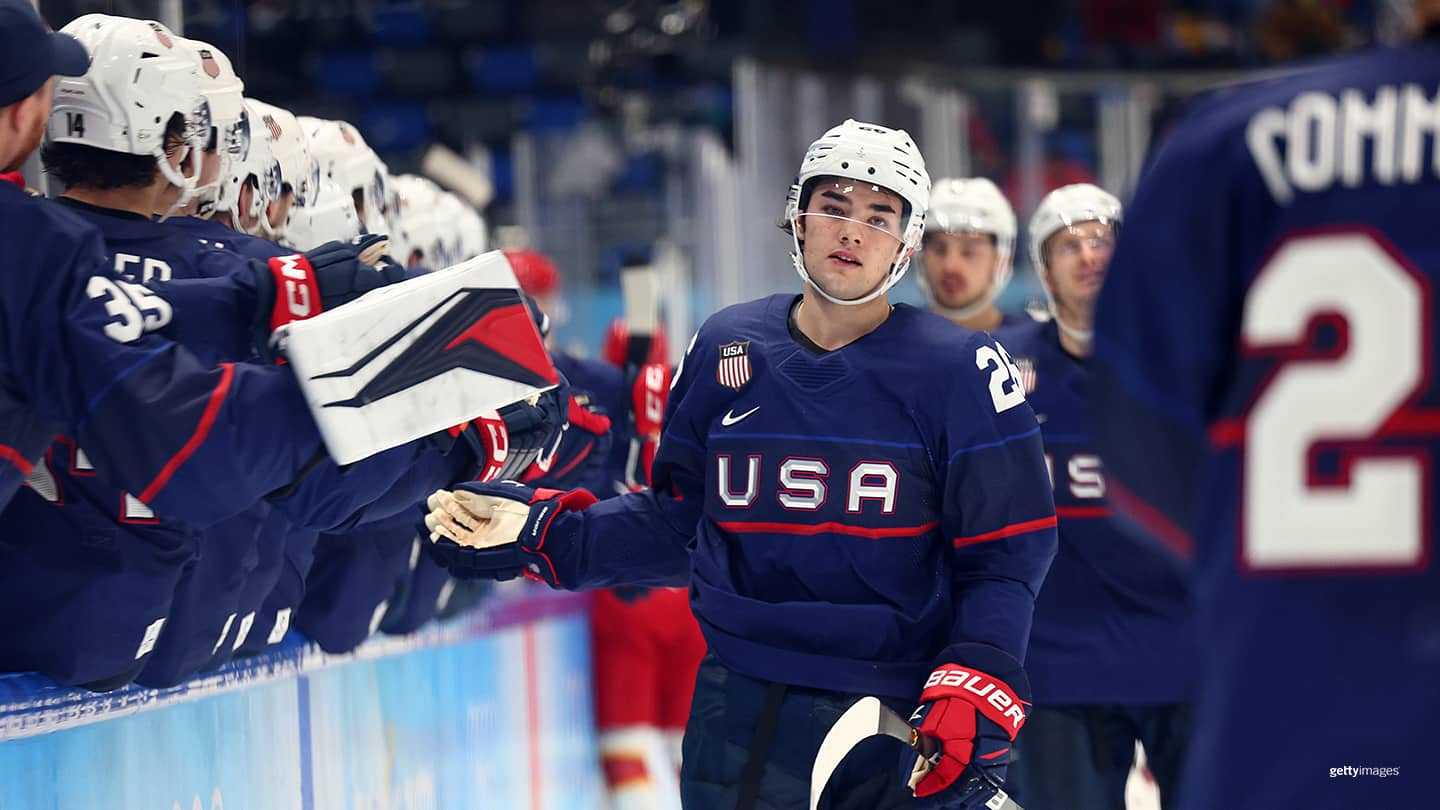 Sean Farrell celebrates scoring a goal with teammates in the third period of the game against Team China during the men's ice hockey preliminary match during the Olympic Winter Games Beijing 2022 on Feb. 10, 2022 in Beijing.
The speed and skill of the young United States men's ice hockey team was evident in its opening game of the Olympic Winter Games Beijing 2022.

Sean Farrell recorded three goals and two assists while goaltender Drew Commesso stopped all 29 shots from Team China and Team USA skated to an 8-0 victory Thursday. Brendan Brisson, Noah Cates, Brian O'Neill, Ben Meyers and Matty Beniers also scored for the United States. Nick Abrezzese added two assists.

"We are a young, fast team," Kenny Agostino said. "When we play the right way, we play hard, and our speed and skill are going to show. As the game went on, we were able to wear them down and create offensive opportunities. You get enough pucks to the net, they are going to start to go in. Good traffic in front, a lot of pucks to the net that is our game plan. If anything, I hope this game showed that everybody on this team can play. It doesn't matter your age or where you are coming from."

Commesso recorded his first shutout and became the youngest goaltender to ever be a part of a U.S. Olympic men's hockey team at 19-years-old.

China attempted to intimidate the Americans with physical play, but the relentless pressure from the U.S. eventually wore down the host nation.

"Teams are going to try and slow us down with the physicality," coach David Quinn said. "I give China a lot of credit, the score might not seem it, but it was a hard game for us today. It was physical, they made it hard for us to get on the inside today. We didn't back down and we kept coming. I'm really proud of the fact that I thought our third period was our best period.

Three second-period goals extended USA's lead to 4-0 after a tightly contested opening frame.

Cates doubled the United States' lead to two when Farrell delivered a no-look backhand pass from behind the net at 5:52 of the second.

O'Neill, the lone returning member from the 2018 team, pushed USA's lead to 3-0 when Andy Miele collected a loose puck in front and slid a backhand pass to his teammate. Miele was named captain of Team USA prior to puck drop with Steven Kampfer, Aaron Ness and Cates serving as alternates.
Want to follow Team USA athletes during the Olympic Games Beijing 2022? Visit TeamUSA.org/Beijing-2022-Olympic-Games to view the competition schedule, medal table and results.
Oh my, O'Neill!@Brian22ONeill x #WinterOlympics pic.twitter.com/yvptAcsK0N


— Team USA (@TeamUSA) February 10, 2022
Farrell capped off an explosive second period at 18:07 and would push the lead to 5-0 with his second goal of the game early in the final frame.
Meyers and Beniers would also find the net in the third to give the U.S. a seven-goal advantage.
"Things weren't connecting like they normally would," Beniers said of the first period. "Later in the game you start seeing passes connect, people making nice plays and line mates feeding off each other."
Brisson opened the scoring with a power-play goal midway through the first period. Matt Knies tried to overwhelm the China defense with a power move and the puck shot out to Brisson for a one-time blast.
Farrell completed the hat trick late in the third when Justin Abdelkader set him up in the slot below the goal line at 18:27. It was the first hat trick for Team USA in Olympic play since Phil Kessel scored three against Slovenia in 2014.
The 🎩 trick is complete for @seanfarrell_21. #WinterOlympics pic.twitter.com/UjZkQIn6gH


— Team USA (@TeamUSA) February 10, 2022
"Our line played really well tonight," Farrell told USA Network after the game. "I'm really fortunate to play with those two guys, Myers and Cates. I think we have been clicking ever since practice started, it was good to start out on the right front. … We have been working really hard in practice and coming together as a group."
The U.S. will play Canada in its second preliminary round game on Friday, Feb. 11 at 11:10 p.m. ET.
Scott Charles is a sportswriter whose work has been featured in the Associated Press, various NBC platforms and Yahoo! Sports among other places. He is a freelance contributor to TeamUSA.org and you can follow him on Twitter
@ScottMCharles.