It's Win And In For Team Shuster In Final Game Of Curling Round Robin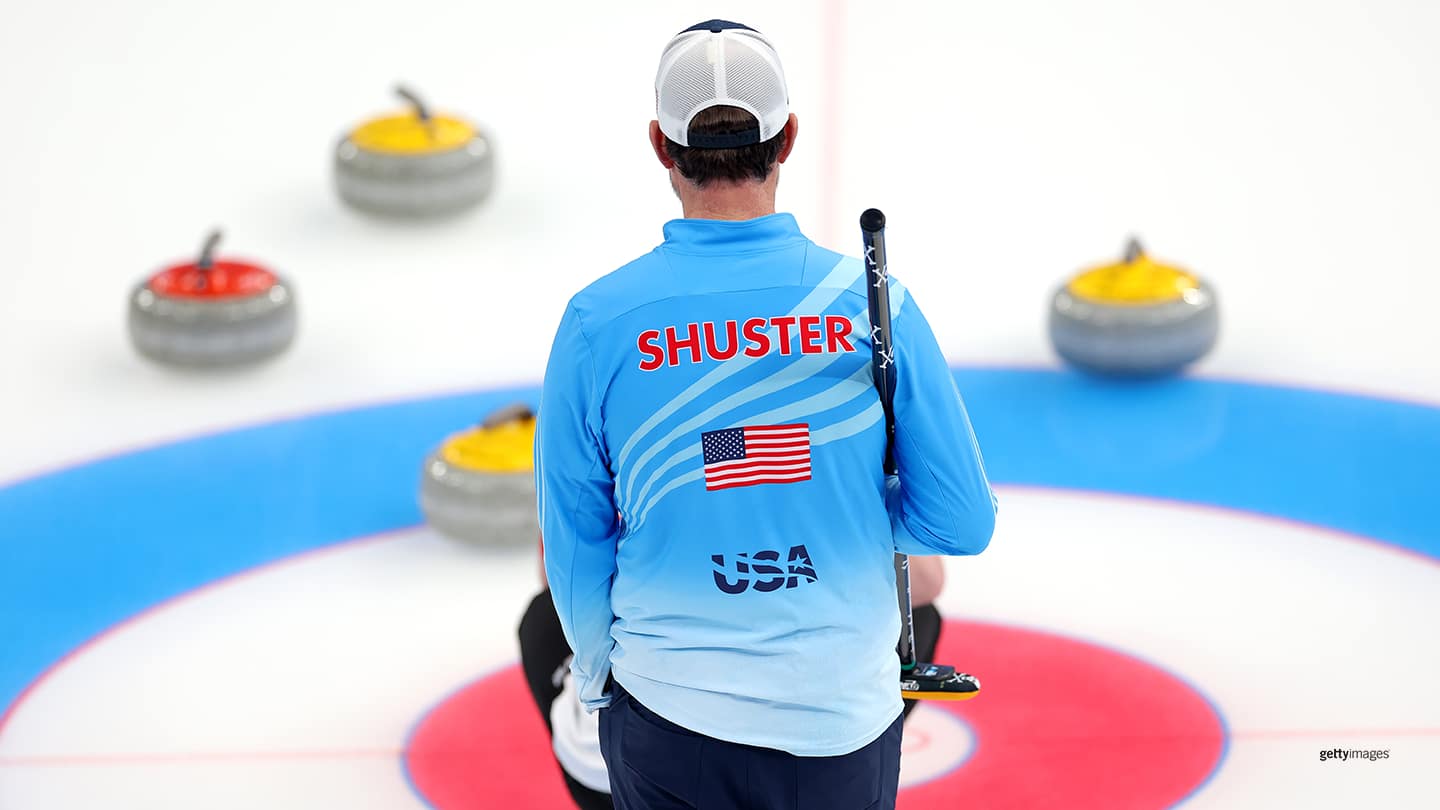 John Shuster looks on against Team Switzerland during the Men's Curling Round Robin Session 9 at the Olympic Winter Games Beijing 2022 on Feb. 15, 2022 in Beijing, China.
BEIJING — John Shuster would have preferred his last rock in the eighth end Tuesday night had finished a half an inch in the other direction, tying the U.S. men's curling team's game with Italy and giving the Americans new life in the Olympic Winter Games Beijing 2022.

Instead, a half inch the other way and it was four points heading in the opposite direction, and that was handshakes.

The knock-on effect of that loss meant the U.S. couldn't clinch a spot in the semifinals Tuesday, nor were they able to do so on an off-day Wednesday. But there remains one more chance for the U.S. that makes that missed shot not so devastating. Win the last round robin game against Denmark on Thursday and the defending Olympic champs are into the semifinals.

"I still think our destiny is in our own hands," Shuster, the team's skip, said following the 10-4 loss against Italy. "We've been there before. … I know if we win our last game, the worst we can be is tied for fourth, and hopefully if we're tied for fourth, the tiebreaker goes the right way and that puts us into the medal round."

After Wednesday's draw, the U.S. sits alone in the fourth and final playoff spot at 4-4. Should Team USA beat Denmark Thursday to finish 5-4, no team currently behind Shuster in the standings can match that record. The U.S. could in fact finish in a tie for third, but would lose the tiebreaker to Canada having already lost to them. Lose to Denmark and there are ways for the U.S. to still get into the playoffs at 4-5, depending on which teams and how many are tied.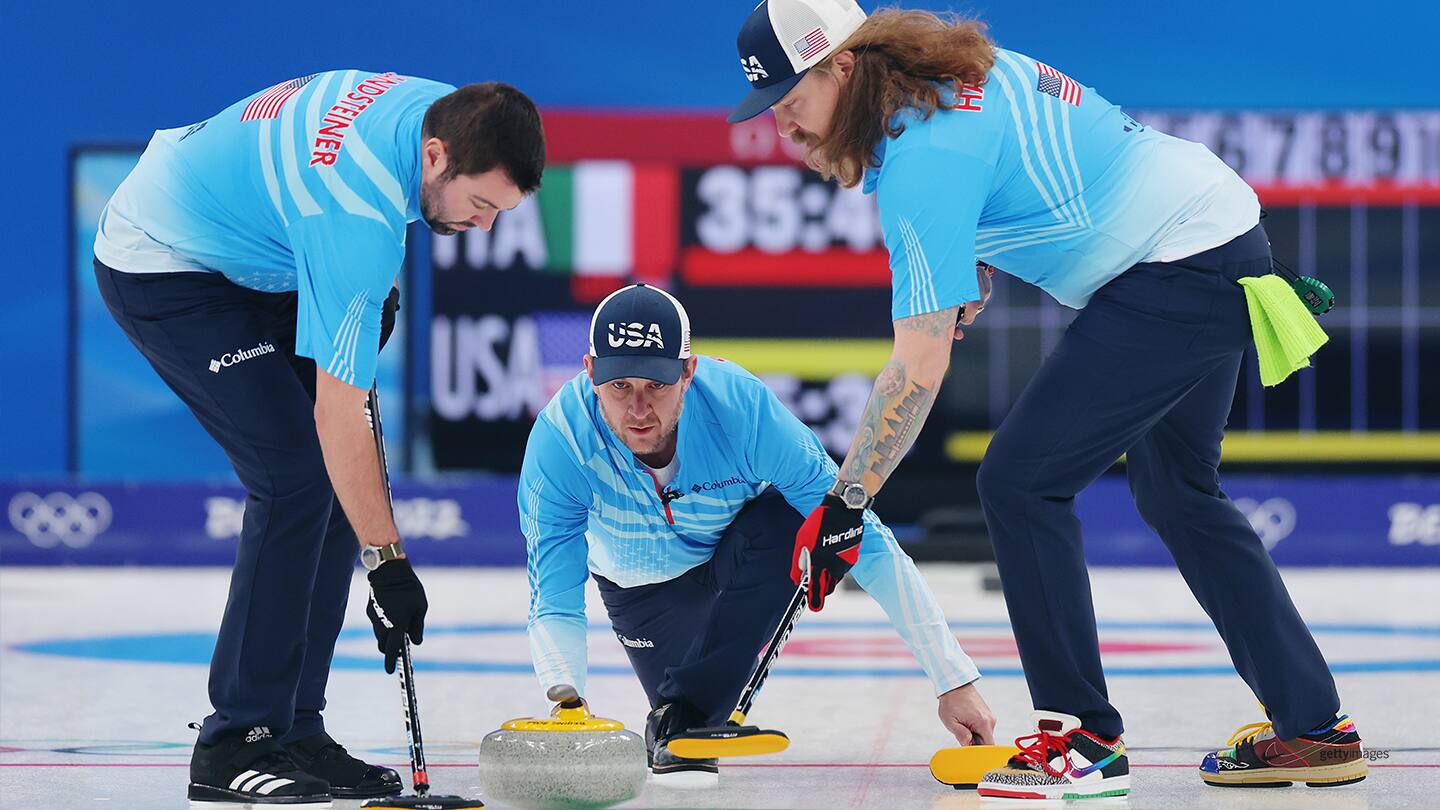 John Landsteiner, John Shuster and Matt Hamilton compete against Team Italy during the Men's Curling Round Robin Session on Day 11 at the Olympic Winter Games Beijing 2022 on Feb. 15, 2022 in Beijing, China.
But one thing is clear: the simplest way to secure a spot in the medal round is to beat Denmark.

The two teams met at the 2021 world championships, an 8-3 win for Shuster.

"I'm bummed because losing stinks, but the thing is we're not out of it," said Shuster, a five-time Olympian from Superior, Wisconsin. "If (the Italy) loss meant we were out of the tournament I think I'd probably feel a little different. But the fact that we still have life, I think I'm just trying to let it happen and try to get over it."

As Shuster had mentioned, the team has been here before. His team was one loss away from elimination at that last two U.S. Olympic Team Trials before rallying to secure a berth. Even in their gold-medal triumph four years ago in PyeongChang the team started off slowly with a 2-4 record to open round robin play. But the guys reeled off three straight wins against some of the world's top teams and kept rolling through the gold-medal game.

Should they beat Denmark Thursday and advance, they'll enter the semifinals with the same record as in 2018: 5-4.

"I wanted us to come to this Olympics and play great, and see what was going to happen. And for the most part we have played great," Shuster said. "And it's fun to be sitting here with one game left in the round robin knowing that we have a chance to get into the medal round. And honestly, whether you get to the medal round and you're 5-4 or 9-0, the records are wiped out and you win two games and you get a gold medal. So we're hoping to get that chance."

The Danes sit in last place in the round robin with a record of 1-7, and no team has scored fewer points. Denmark lost to Italy on Wednesday in one of three matches in an afternoon draw. The U.S. is not one of them. Shuster and teammates Matt Hamilton, John Landsteiner and Chris Plys planned to spend the day watching the other matches before having an afternoon practice.

"I'm sure we'll watch a little bit," Shuster said. "When we're at our apartment honestly we're legitimately mostly just watching the Olympics and enjoying being part of Team USA and watching our teammates and stuff. We'll see what else is on TV along with curling tomorrow and kind of do the same kind of thing on an off day because I thought we had a great off day (Monday) and came out great (Tuesday) morning."

That off day means plenty of rest for Team Shuster as they get ready to face Denmark Thursday morning at 9 a.m. Beijing time, Wednesday evening in the United States.
Want to follow Team USA athletes during the Olympic Games Beijing 2022? Visit TeamUSA.org/Beijing-2022-Olympic-Games to view the competition schedule, medal table and results.
Todd Kortemeier is a sportswriter, editor, and children's book author from Minneapolis. He is a freelance contributor to TeamUSA.org on behalf of Red Line Editorial, Inc.