USA Luge Finishes Seventh In Team Relay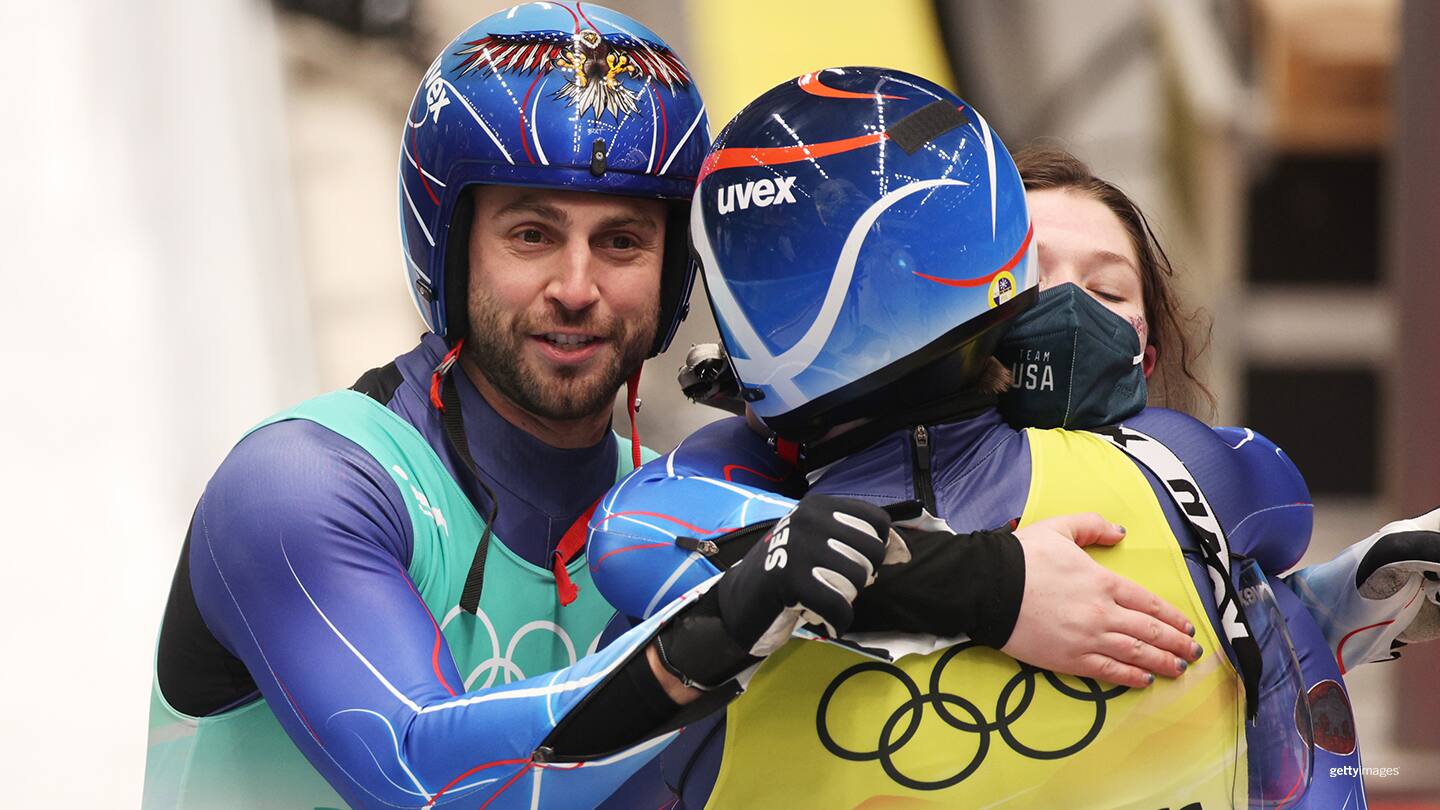 Chris Mazdzer (L) and Ashley Farquharson (R) react after sliding with Zachary DiGregorio (C) and Sean Hollander during the luge team during the Olympic Winter Games Beijing 2022 on Feb. 10, 2022 in Yanqing, China.

BEIJING — When USA Luge competed in the first FIL World Cup this season, the team finished second in the relay.

That world cup back in November was held at the Yanqing National Sliding Centre, home of the Olympic Winter Games Beijing 2022 luge competition. But the U.S. team had a different make-up back then. In that world cup, mostly veterans competed, including four-time Olympian Chris Mazdzer, three-time Olympian Tucker West, and two-time Olympian Jayson Terdiman paired with Mazdzer in doubles.

Ashley Farquharson, 22, was the only relative newcomer on that relay squad.

At the 2022 Olympic Winter Games, USA Luge fielded a relay team that was more new than old. Mazdzer and Farquharson were on it, but with Mazdzer competing as the men's singles slider. In doubles, first-time Olympians Zack DiGregorio and Sean Hollander slid in the red-white-and-blue.

With a valiant effort, the U.S. sliders finished seventh, 2.335 seconds behind the Germans, who again dominated Olympic competition — though barely held on for gold in the relay, beating Austria by only 0.08 of a second. Almost a second behind, Latvia won the bronze medal.

Even without a medal, the Americans were still smiling at the end.

"It's so many people's first Olympics, and it's such a unique experience," said Mazdzer, who finished eighth in men's singles on Sunday night. "As long as we were going for it, that's all that matters."

And that's what they did.

Farquharson laid down the fourth fastest women's run. She slapped the paddle, then Mazdzer took off, clocking the sixth fastest run.

Then, in their very first relay ever as a doubles team, DiGregorio and Hollander started down the track. In the doubles competition last night, they finished 11th but had improved each run. The clock was in the green until turn 13 — where just about everyone has struggled on this new track. DiGregorio was off steering out of the turn, and the two skidded badly up the climb to the finish paddle.

"A little problem turns into a big problem down there," DiGregorio explained. "It's a really challenging track error. Any little mistake really will kill your speed. So that's what happened down there.

"But yeah, the top section was great."
Mazdzer did not care that his teammates had dumped speed at the end. They had given their all.
"Back at Christmas time, no one would have picked any of us to be in the positions that we are currently in," he said. "That gave us the advantage to just go for it, have fun, enjoy the experience. And that's what we did. And I think that was a success."
USA Luge has done well in team relays since the discipline was introduced on the world cup about 15 years ago. The American sliders are a close-knit group and thrive when an individual sport becomes a team effort.
As DiGregorio said, "most of luge is just me and Sean, or for singles just them, so when you bring in the team, it's amazing."
Want to follow Team USA athletes during the Olympic Games Beijing 2022? Visit TeamUSA.org/Beijing-2022-Olympic-Games to view the competition schedule, medal table and results.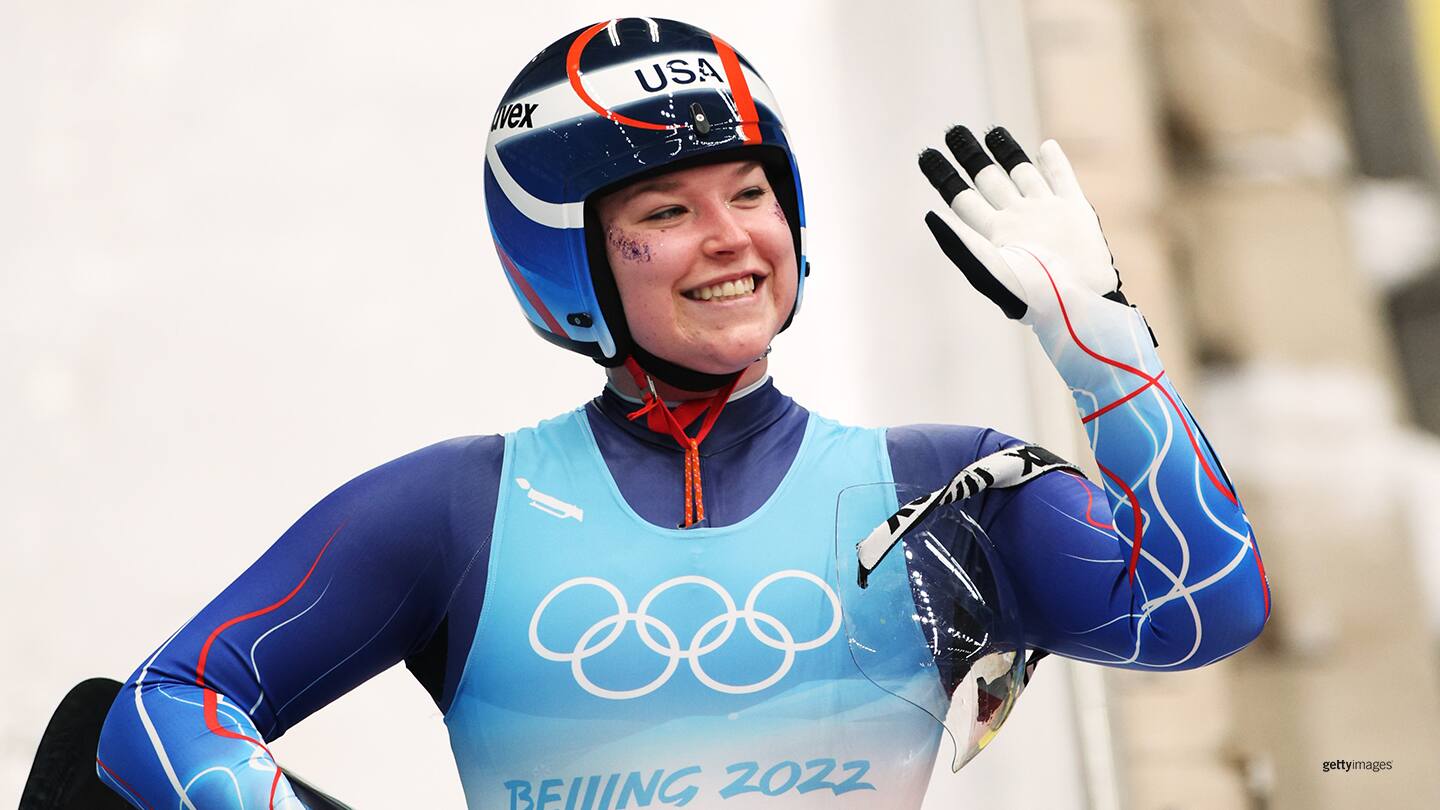 Ashley Farquharson reacts after sliding during the luge team relay during the Olympic Winter Games Beijing 2022 on Feb. 10, 2022 in Yanqing, China.
USA Luge's 2022 Olympic relay came together after the all the individual races were completed, with the fastest sliders from each country competing for their respective relay teams.
Farquharson earned the relay spot after finishing 12th in women's singles last night. From Park City, Utah, she discovered luge at an after-school program when she was 11. She loved the sport for the adrenalin rush. Plus, she is tall — an asset in luge.

Mostly, she liked luge for the mental challenge. Every track has new lines and nuances to learn, and when Farquharson began competing on the world cup two years ago, she had to learn fast. After every run, she would ask herself, "Why is this track harder? Why am I slower here?"

Last winter, she won a bronze medal at U23 world championships and was ranked fourth on the world cup among U23s.

Then in November 2021, at the Yanqing World Cup, Farquharson finished eighth — the highest placed American woman. This result put her on the relay squad for that world cup — the one that won the silver medal. While others struggled to learn the new track, Farquharson seemed to learn with every run.

"We had a great time, and our showing this week only speaks to the future that we have," she said. "I think it was amazing. I'm extremely proud of all of us."

DiGregorio, 20, and Hollander, who turns 22 tomorrow, were also proud of their performance, even with the skid at the end.

They were sliding on Jayson Terdiman's doubles sled, which he gave them with hopes that it would help the U.S. finally bring home an Olympic medal in the relay.

Terdiman's sled changed DiGregorio's and Hollander's outlook on racing here at the Winter Games. The duo had struggled with their own sled all season, finishing the 2021-2022 world cup ranked 26th.

On the new sled, they finished 11th in doubles last night but improved with each run. Then in the relay, they were clean at the top. Just one mistake sent them, well, sliding.

For the young sliders on the team, this Winter Games is just a start.

"I'm just so proud about how we how we competed and how we adapted to a new track and a new sled," said Hollander. "I'm taking away so much motivation from this."

"It's just a huge confidence builder going into next year," added DiGregorio. "It just makes you want to train that much harder every single day."

This is Mazdzer's last Olympic Games, but the 33-year-old slider is not going to hang up the sled just yet. He wants to finish out his long luge career (his world cup debut was 16 years ago) at a North American world cup next year — either in Lake Placid or Park City. Both are home tracks for the 2018 Olympic silver medalist. He grew up in Saranac Lake, New York, and now lives with his wife Mara and 10-month-old baby Nicolai in Salt Lake City.

"We've got an amazing group of athletes at USA Luge, we really do," he said. "I just hope to pass the torch to these guys, and they will carry on."
An award-winning freelance writer based in Vermont, Peggy Shinn is in Beijing covering her seventh Olympic Games. She has contributed to TeamUSA.org since its inception in 2008.