Team USA's Figure Skaters In Silver-Medal Position After Day 2 Of Team Event
Vincent Zhou reacts with teammates following his skate in the men single skating free skating team event at the Olympic Winter Games Beijing 2022 on Feb. 6, 2022 in Beijing.
BEIJING — After flying high with personal best performances and grabbing the lead on Day 1 of the figure skating team event, Team USA came down to earth a bit on Sunday at the Capital Indoor Stadium, relinquishing first place to the powerful squad from the Russian Olympic Committee.

Still, Team USA's 42 points puts it in silver-medal position heading into the third and final day of the event on Monday. ROC has 45 points and Japan has 39 points.

The women's short program was the first event contested on Sunday, and competition nerves may have taken a toll on U.S. silver medalist Karen Chen: she fell on one of her strongest jumps, a triple loop. The 2017 U.S. champion earned 65.20 points to place fifth in the segment and add six points to Team USA's total. In the team event, skaters earn points based on their placement in the standings.

"Practices here in general have been very solid for me, the best I've ever felt in practices," Chen, 22, said. "But I will be honest, this morning when I did my warm-up practice, I just felt a little tense. The idea of competing was sinking in, and I just felt tense, my whole body."

The rest of Chen's program, set to a piano medley of "Requiem for a Dream" and "Requiem for a Tower," showcased her elegance, power and superb spins, although the second jump of her opening triple lutz-triple toe loop combination was judged under-rotated.

"I've always felt that short programs are, in a way, more challenging (than free skates), because you don't have room for error," Chen said. "You have to skate clean, and if you don't skate clean, you get dropped off a little bit. Definitely, dealing with those competition nerves is something I'm working on."
Want to follow Team USA athletes during the Olympic Games Beijing 2022? Visit TeamUSA.org/Beijing-2022-Olympic-Games to view the competition schedule, medal table and results.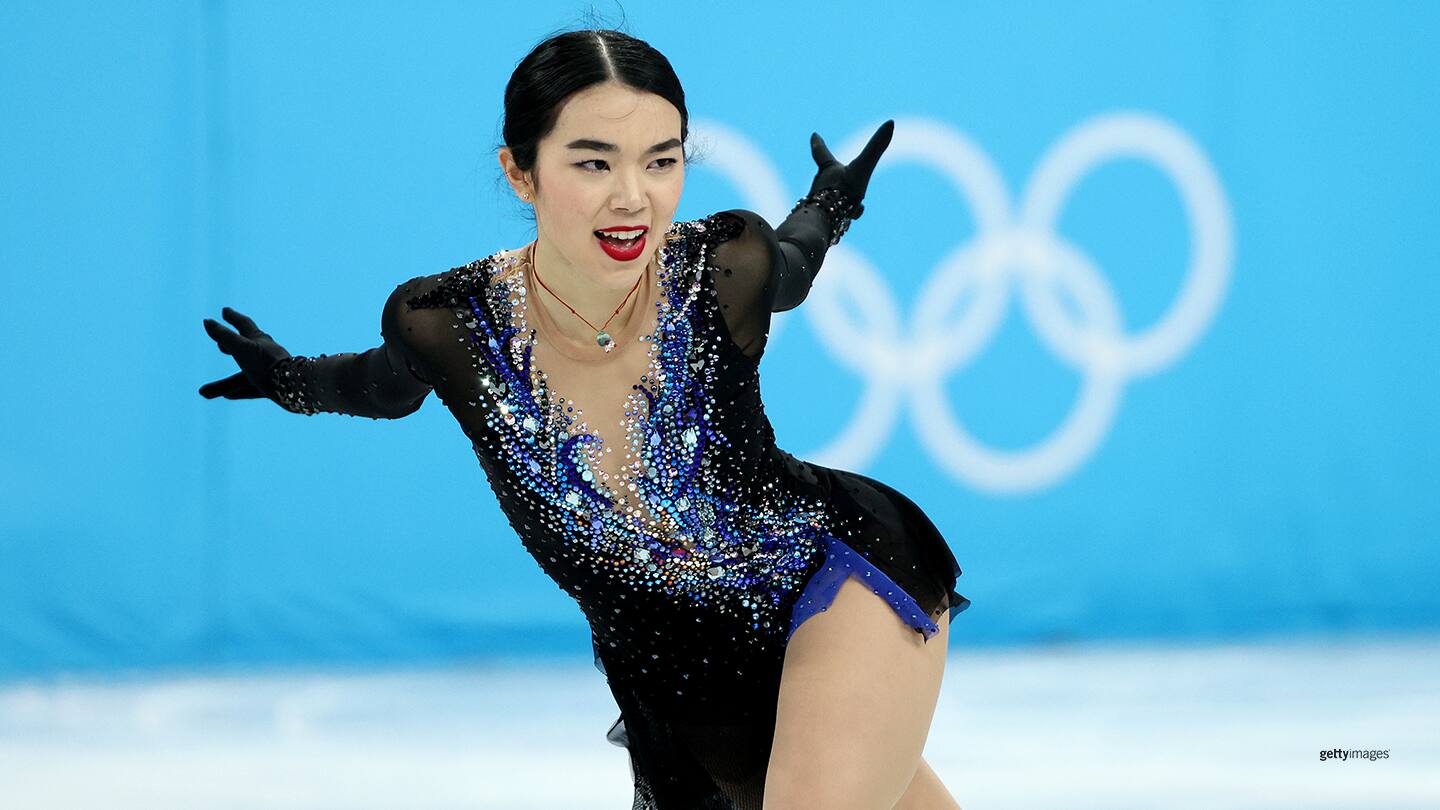 Karen Chen skates during the women single skating short program team event at the Olympic Winter Games Beijing 2022 on Feb. 6, 2022 in Beijing.
Nerves have long troubled Chen, a talented but inconsistent skater who placed 11th in PyeongChang. At her best, she twice finished fourth in the world (2017, 2021), helping Team USA earn three women's spots for both the PyeongChang and Beijing Games. Sunday's short was not her best, but she hopes it serves as good practice for the women's individual event, which starts Feb. 15.

"I know what I am capable of, and my coach and my family know what I am capable of," Chen said. "They see me practice, they see me train, so because of that, there is that expectation to hit it when it counts. There becomes that sort of stress and pressure and nervousness. Now I know how the competition nerves are going to feel, now I know how the Olympic ice is, so I can better prepare for my next event."
. @Karebearsk8 is always stunning when she hits the ice. #WinterOlympics
pic.twitter.com/LoxImvD0uD


— Team USA (@TeamUSA) February 6, 2022
Kamila Valieva of ROC, the 15-year-old favored for individual gold, easily won the women's team short with a stunning program that included a solid triple axel and earned 90.18 points. Japan's Wakaba Higuchi was second, followed by Madeline Schizas of Canada and Anastasia Gubanova of Georgia.
Reporters quizzed Chen on her thoughts on the ROC's women, a trio of teenagers with a strong chance to sweep the podium in Beijing.
"There is no question that what the Russian women are doing is amazing," said the skater, who is taking a two-year break from her studies at Cornell University. "They are hitting all of these quads and triple axels left and right. It's awesome, it's so great they are pushing the boundaries. I wish I was in that position, but I'm going to be honest with myself, I'm not in that position. I'm also 22 years old, and going on to 23, so I'm just in a different phase of my life."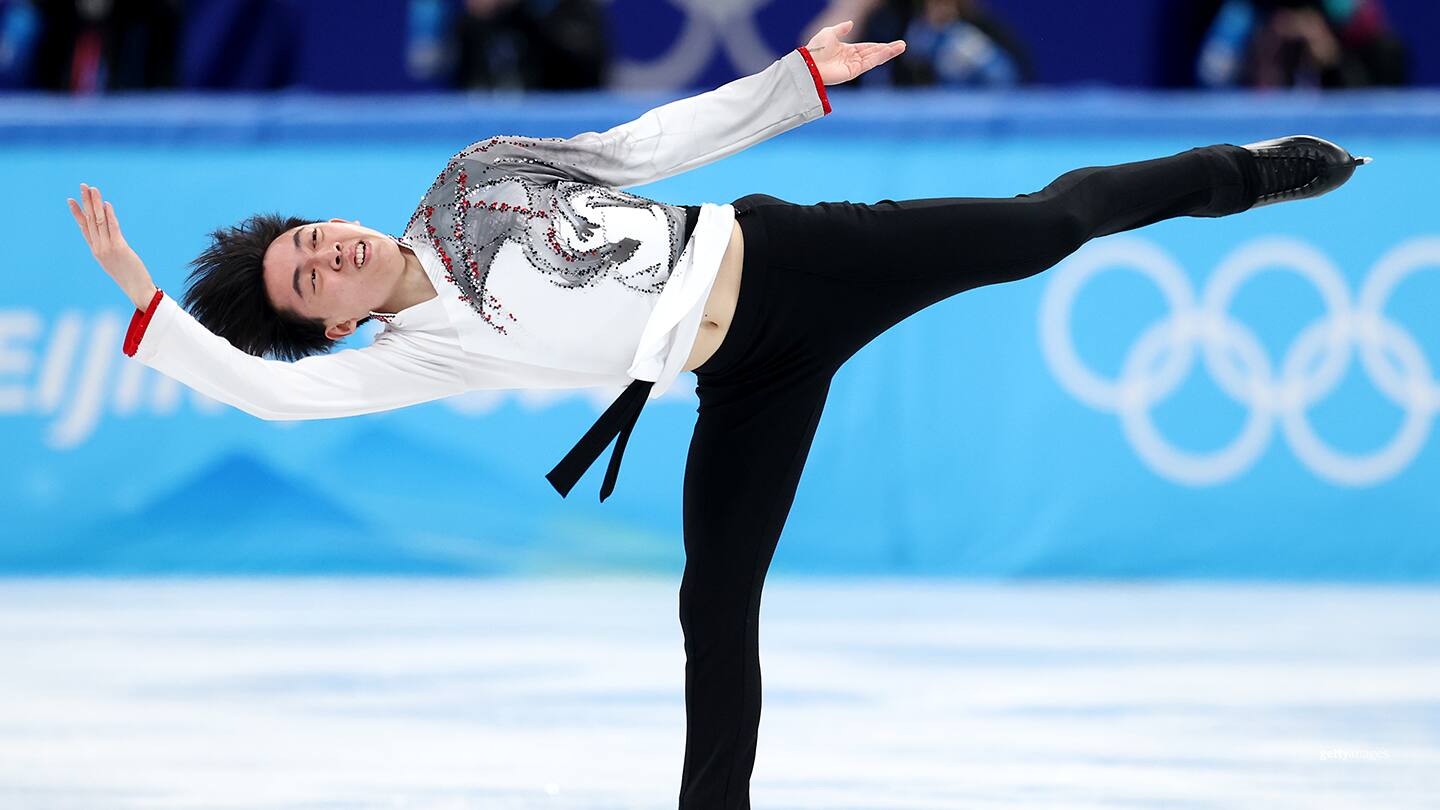 Vincent Zhou skates during the men's single skating free skating team event at the Olympic Winter Games Beijing 2022 on Feb. 6, 2022 in Beijing.
Next up was the men's team free skate, with U.S. bronze medalist Vincent Zhou subbing in for three-time world champion Nathan Chen, who won the men's team short on Saturday.

Skating to selections from "Crouching Tiger, Hidden Dragon," Zhou landed his opening quadruple lutz, but popped his next jump — an intended quad flip into a single. Two more quads, a salchow and toe loop, were judged under-rotated.

Although Zhou landed a quad Salchow combination as well as two triple axel combinations, his 171.44 points was far off the mark he set when he defeated Chen to win Skate America last October. He placed third, earning eight points for Team USA.

Japan's Yuma Kagiyama scored a personal best 208.94 points to take first place and 10 points. Mark Kondratiuk was second with 181.65 points, contributing nine points to ROC.

"Some good things, some bad things," Zhou, 21, said. "I think this was a good way to get into my knees a little before the individual event. … I think I did alright to mitigate the nerves and the pressure. (It was) first touch on Olympic competition ice, things will start to come together better."
We couldn't take our eyes off of @govincentzhou! 🤩#WinterOlympics
pic.twitter.com/E1Z3U2mPOC


— Team USA (@TeamUSA) February 6, 2022
Zhou has one of the highest-risk free skates in the men's game, including five quads and two triple axels. When he hits his jumps cleanly, he can beat anyone, as he proved at Skate America and the 2019 world championships, where he won bronze. But under rotating — landing his quads more than a quarter of turn short — has sometimes limited his scores.
"I've been training this program very well, I've skated plenty of clean programs," Zhou said. "Most of the programs I've done (in training) since nationals have been close to clean, or clean. I definitely don't doubt my ability to execute each element in this program at a high level."
In PyeongChang, Zhou placed sixth, one spot behind Chen. He and Chen take the ice next on Tuesday for their individual short programs.
"There's only about a day in between," Zhou said. "(I'll be) doing my normal recovery, keeping my head level, (not using) up my emotional energy early on. Just stay relaxed and believe in myself."
The figure skating team event concludes on Monday with the women's and pairs free skates and the free dance. The top five teams — ROC, Team USA, Japan, Canada and China — will square off for spots on the podium.
Lynn Rutherford is a sportswriter based out of New York. She is a freelance contributor to TeamUSA.org on behalf of
Red Line Editorial, Inc.